With a majority of the country unexplored by travellers, hopping on a motorbike is the perfect way to access the parts of Cambodia many people miss. From hidden temples and green rice fields to incredible smoky sunsets and abandoned hill stations, you won't want to miss these rides.
Unfortunately a number of Cambodia's roads are either heavily trafficked or heavily potholed. That said, if you're willing to go the extra mile, there are three motorbike journeys in the country you should miss only at your own peril.
With the expansion of tourism, it's easy (and cheap) to rent a motorbike in any of these locations. I've always been a lucky passenger on these trips, as I have yet to master the art of riding a bike myself. If you aren't comfortable renting your own bike and going at it solo, drop me a line in the comments below and I can recommend someone in the area as a driver.
Now, it's time to motorbike Cambodia!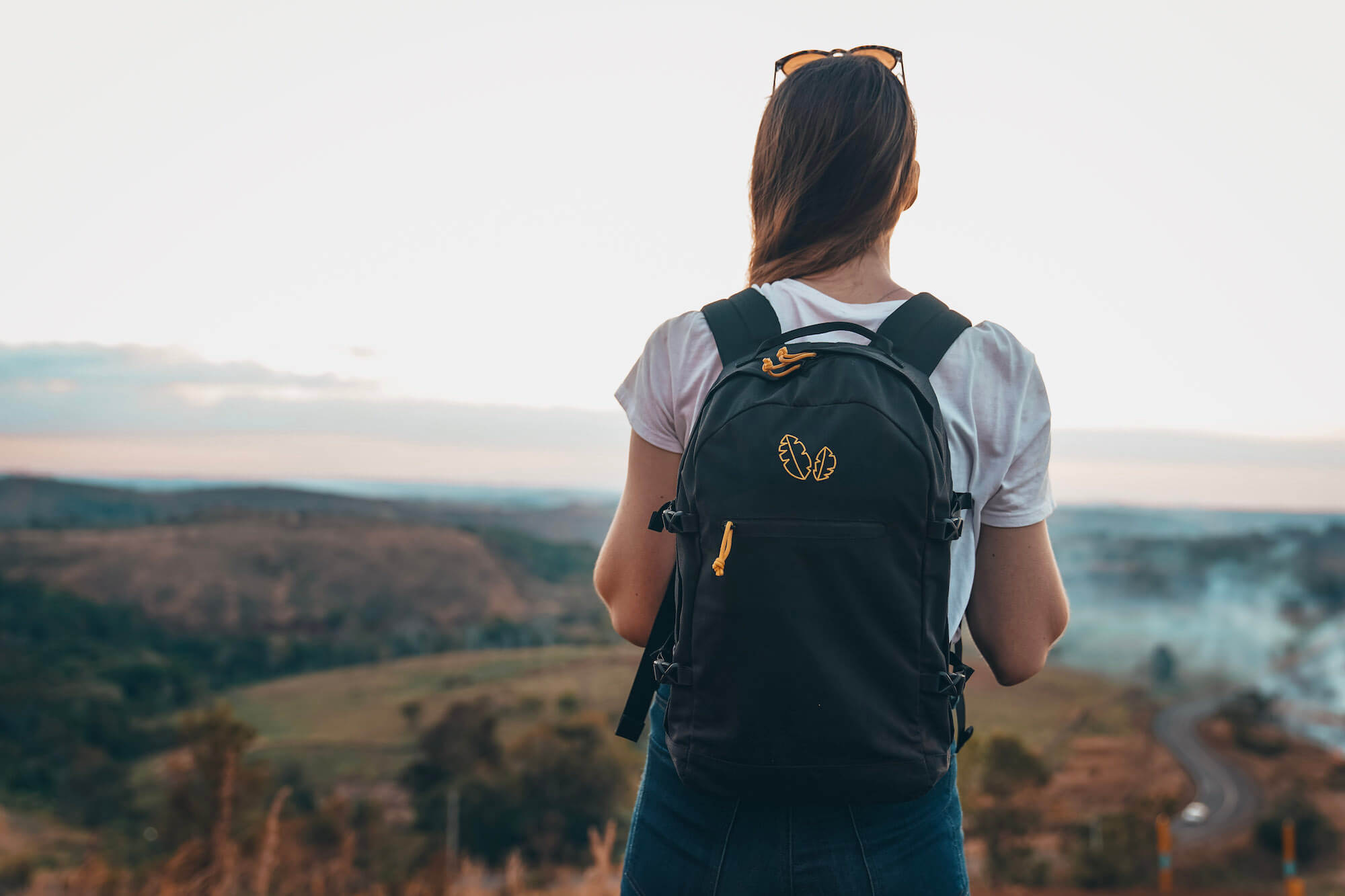 Motorbike Cambodia's Hidden Temples
Siem Reap Town to Beng Mealea, Siem Reap Province
Distance: ~140km roundtrip
This full day temple outing is worth the layer of dust you'll end up covered in. You'll be rewarded with solo adventuring at some of Angkor Wat's most incredible outlying
hidden temples
. Leaving the tourist mania of Siem Reap town, you'll soon be surrounded by the real charm of Siem Reap province. Pass by tiny roadside towns selling fresh fruit, admire the green rice fields stretching as far as the eye can see, and take in the country's signature red dusty roads. 
Start your day of adventuring early in the morning to avoid the midday heat. First up on the temple tour is tiny Banteay Ampil, 35km east of Siem Reap town. When I visited in 2018, the only road access was a tiny dirt single track that was often too muddy/washed out to use in the rainy season. I know there were plans to build a larger road in this area so it may be a different journey to get there when you visit. Ask a local in the area before you rent a motorbike and head out here. 
Once you arrive, you should have tiny Banteay Ampil to yourself. This temple is located outside of the Angkor Wat complex and apart from a few boards propped haphazardly to hold up stray stones, the temple is beautifully unrestored. The trees entangling the crumbling stones are incredible. It's easily my favourite temple in Cambodia for these reasons.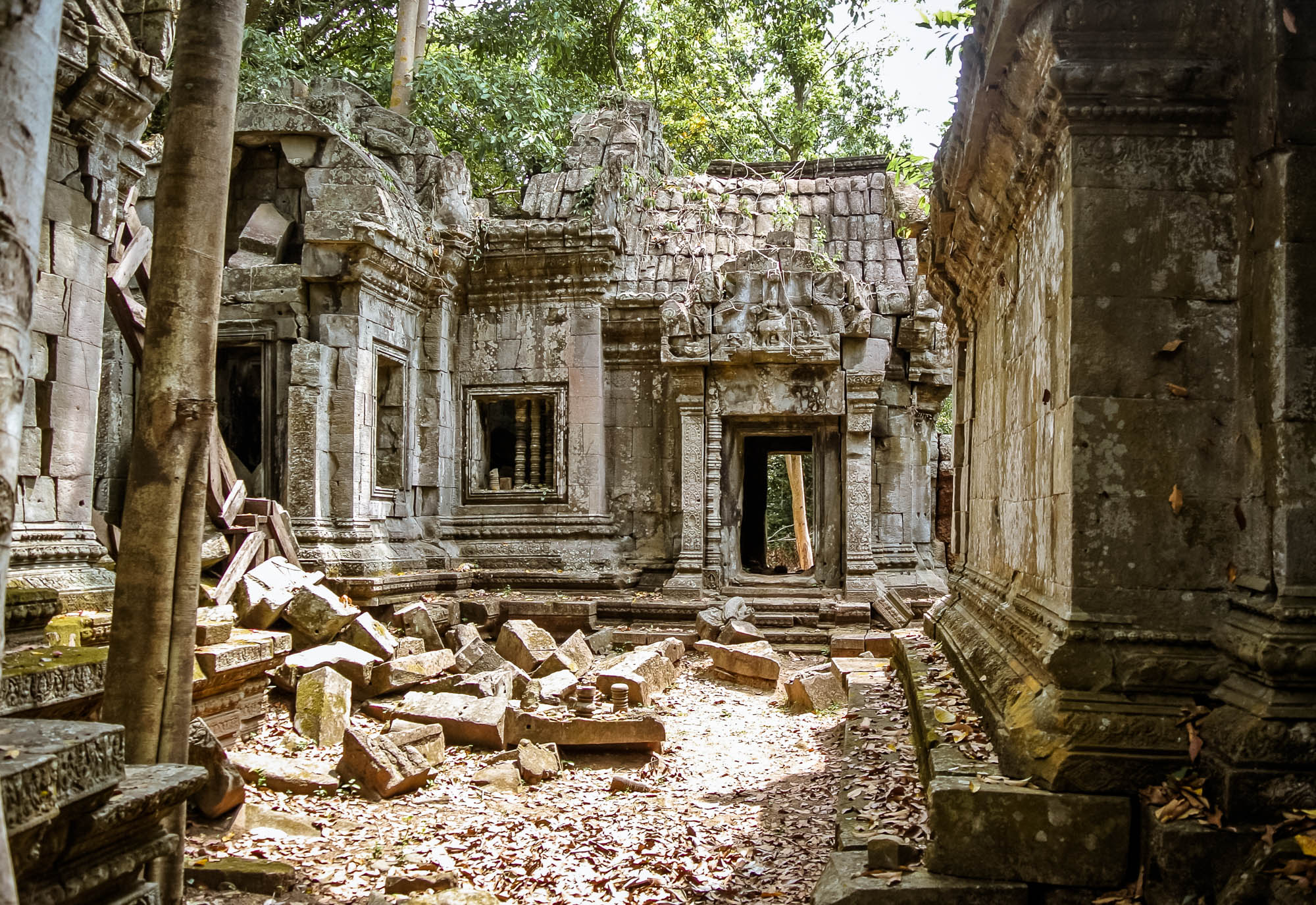 Carry on from Banteay Ampil another 30km in the direction of Beng Mealea. You'll past rice fields and school children biking the dirt roads to get to class. Beng Mealea is where your big exploration off the bike continues. If you avoid the big tour buses, you'll usually only see a handful of other people at this temple and you can largely explore it in solitude. It can take around 2-3 hours if you allow yourself to get lost in Beng Mealea's beautiful dark corridors. Watch out for snakes!
It used to cost just $5 to visit Beng Mealea, however as of 2020 the temple is now included in the regular Angkor Wat admission fee and you will need a full pass. Check out this site before you visit for the latest information on tickets.
Hop on your bike for the long road home, making sure to stop for a coconut and some mangosteens or rambutans at one of the roadside markets to keep your sugar levels up for your motorbike ride home. 
Renting a bike: Expect to pay $10 for a basic bike or more for a dirt bike rental in Siem Reap town.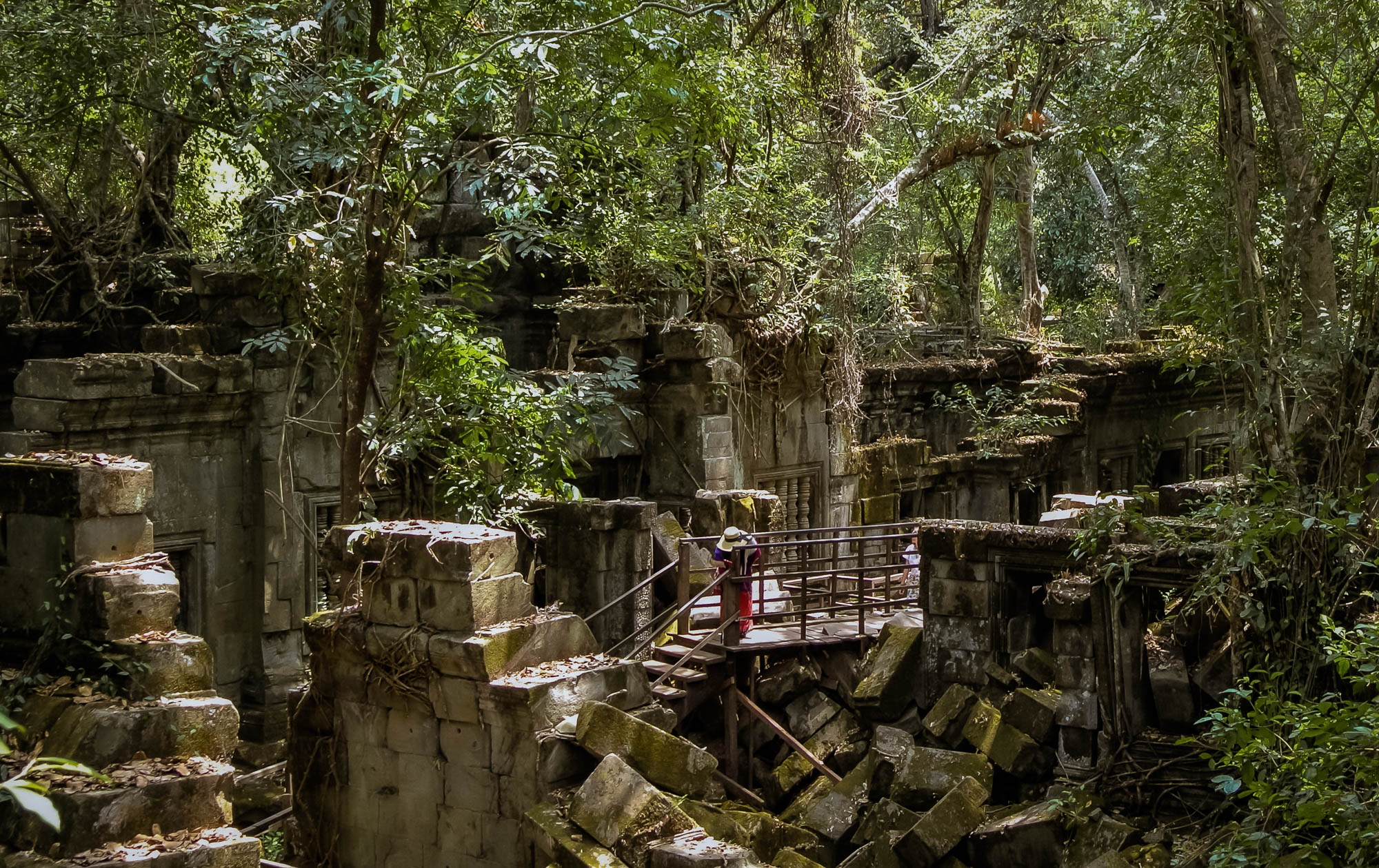 Sunset Hills Motorbike Ride
Sen Monorom to Andong Sne, Mondulkiri Province
Winding through Cambodia's wild eastern province of Mondulkiri, the 20km road from capital Sen Monorom to Andong Sne is freshly paved, largely devoid of traffic, and, simply put, stunning. You'll pass by pine forests and hills that turn golden as the sun sets. It's nothing short of magical, but this road is also bittersweet.
It used to have far more forest coverage than it does today. In spite of the fact that the majority of Mondulkiri province is designated as protected area, illegal logging in the area is strikingly evident. It's part of what makes this drive so powerful. It's a reminder of the fragility of our planet and our responsibility to do better as humans. 
Take a pit stop at "Build Love" Hill for a sunset view, and then carry on back to Sen Monorom town for dinner. It's not a long day on the bike, but it's a beautiful sunset ride.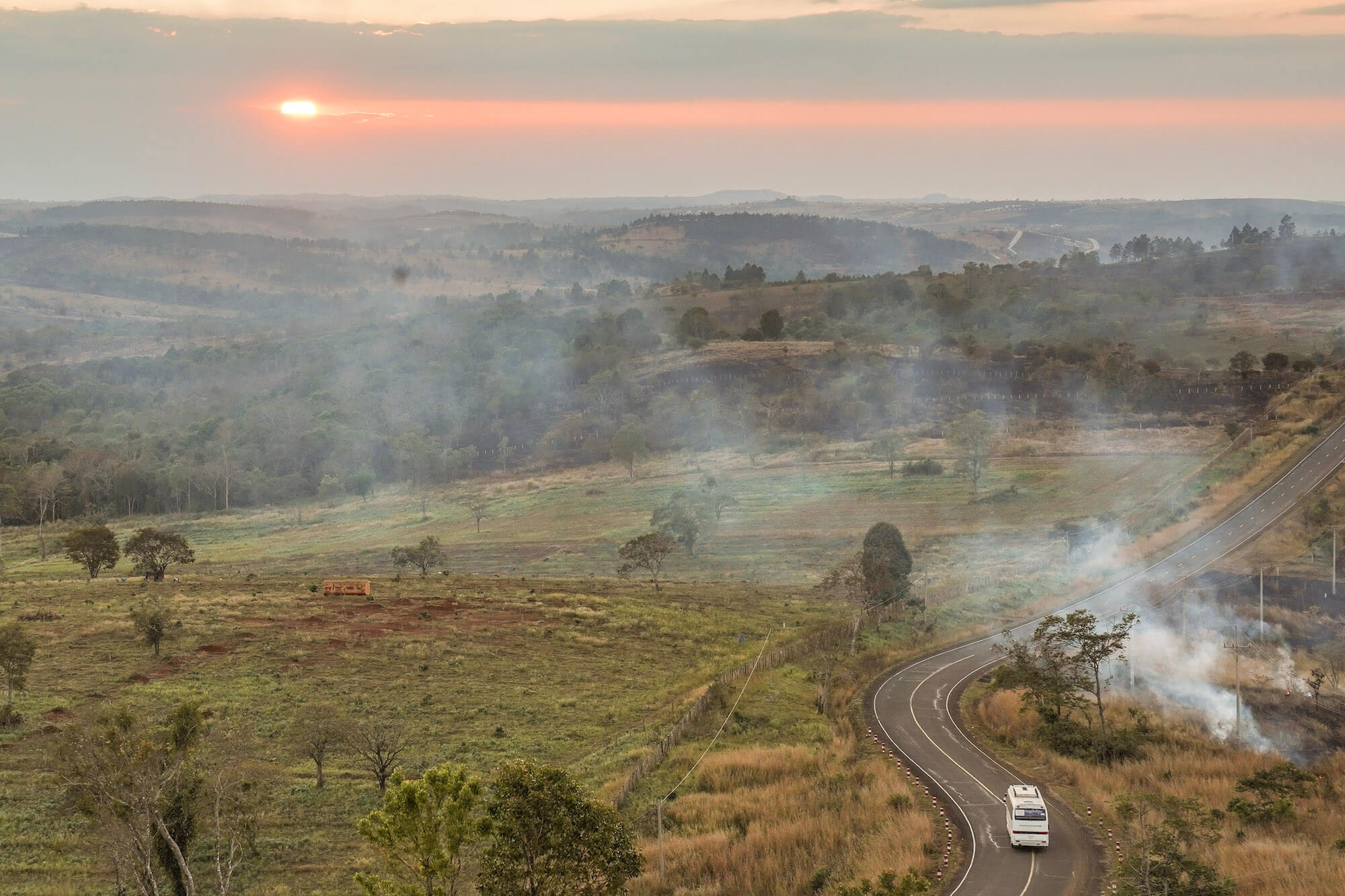 For the more adventurous, add on a trip to Bousra Waterfall earlier in the day (80km roundtrip from Sen Monorom). This road was under construction when I visited and made for a bumpy ride. I would easily say it was still worth it to see the stunning waterfalls waiting there.
Renting a bike: You can rent a motorbike in town for around 5-7 USD per day.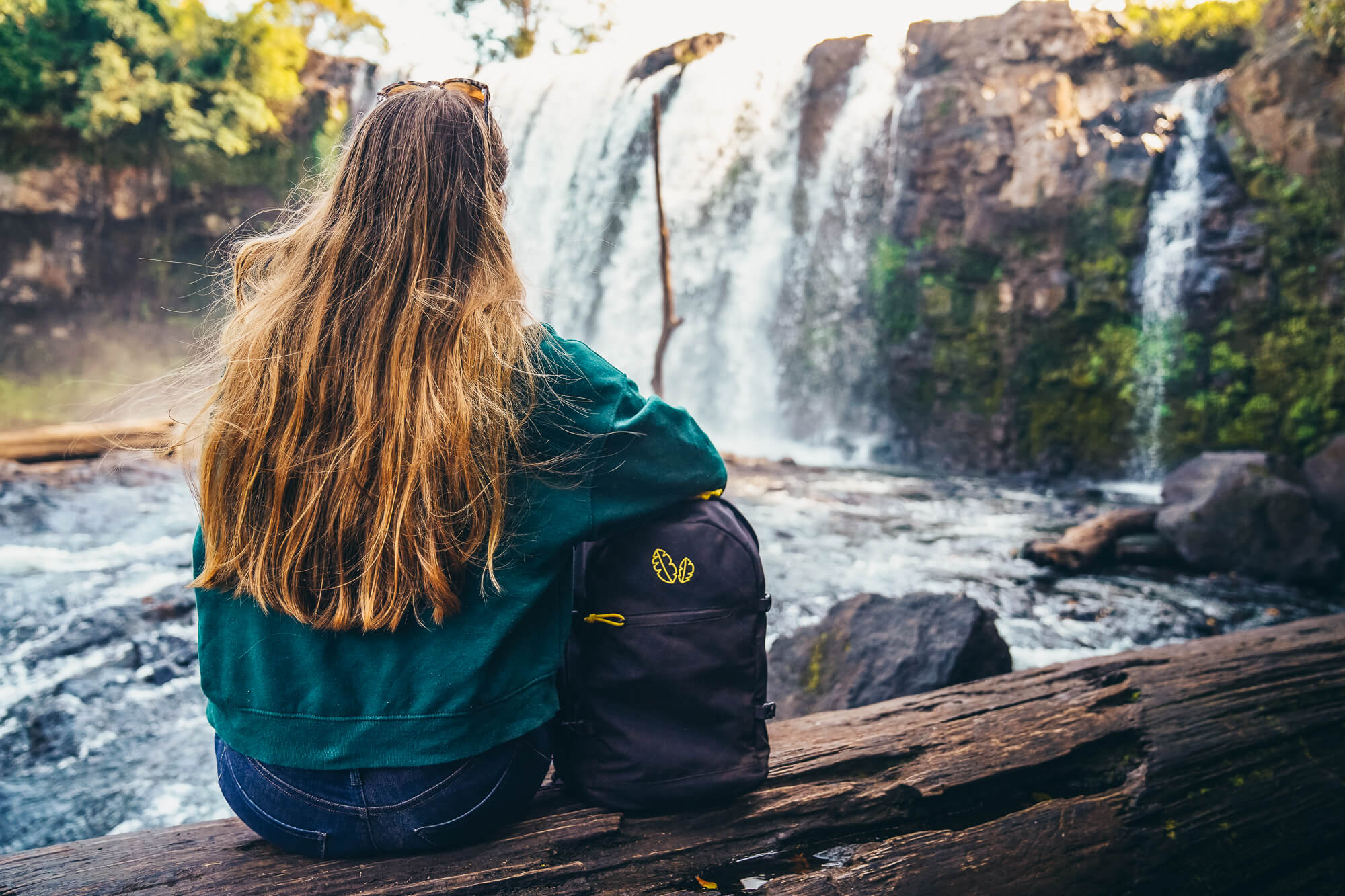 Cambodia's Misty Mountain Motorbike Ride
Bokor Mountain, Kampot Province
Distance: 80-100km roundtrip
If you're craving an escape from Cambodia's heat, Bokor is your dream motorbike destination. Base yourself in the relaxed haven of Kampot town and rent a motorbike to head to Bokor Mountain
for the day. Once you enter the park, a recently repaved road awaits and it makes for a lovely snaking drive up to the top of the mountain surrounded by trees on either side. Once you get above the clouds, you'll see a large Buddha which makes for a good pit stop to stretch those driving legs.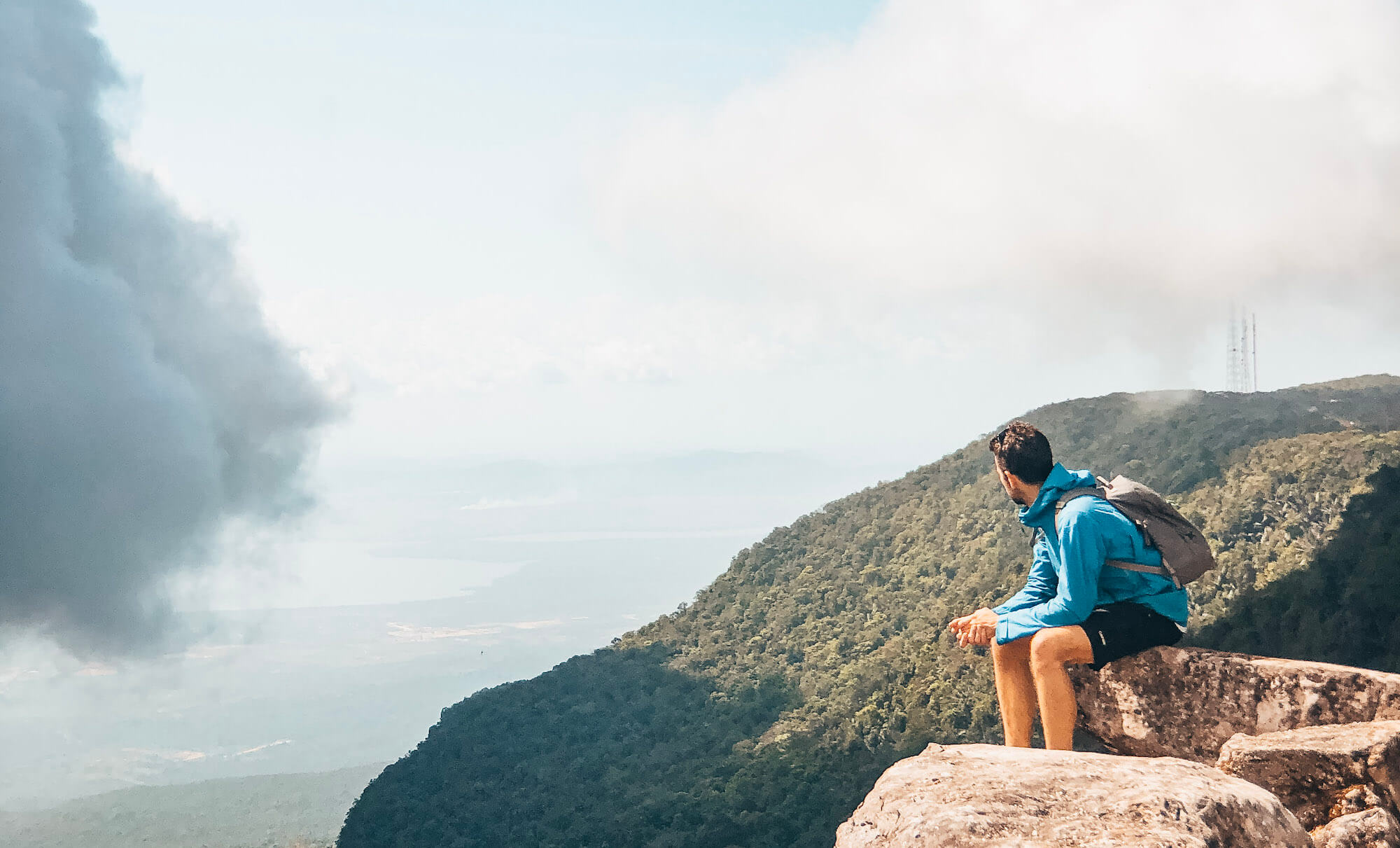 Carrying onwards, you'll pass swan paddle boats on the mountain's lake, a seemingly out of place casino, and an old church. If you're into ghost stories and time travel, stop at the old hill station for a quaint high tea experience in the often deserted old building. Alternatively, bring a picnic from one of the great restaurants in Kampot, and stop at Popokvil Waterfall to eat your lunch at the waterfall (which is at its most impressive during rainy season).
Head back down the winding road into Kampot town for a dinner at one of the town's amazing restaurants.
Renting a bike: A full day costs $5-7 USD at any guesthouse in Kampot.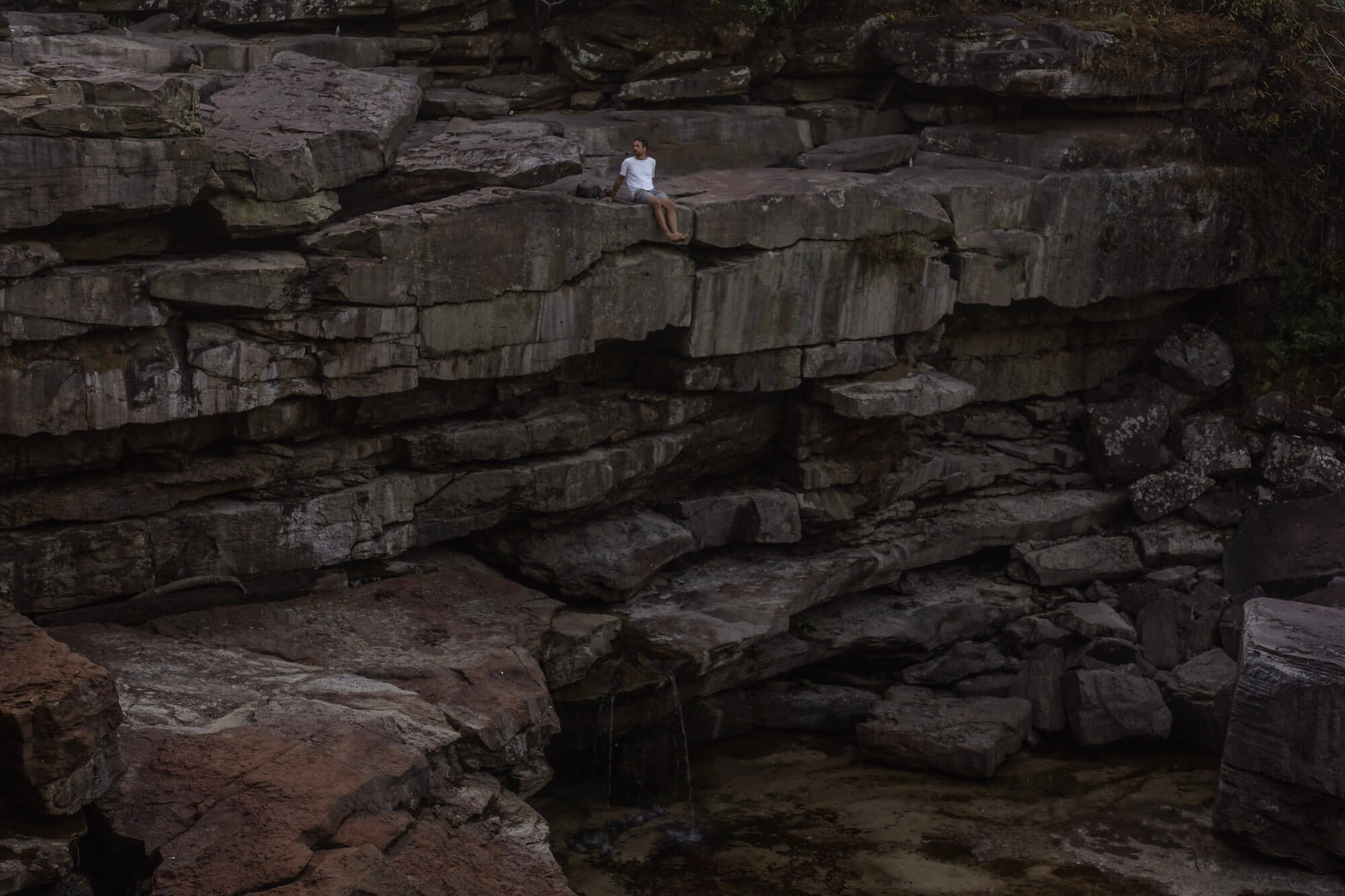 Whatever you do, DON'T FORGET this
Unfortunately, when you're riding motorbikes medical emergencies can happen and you want to be prepared! A friend of mine was medevaced to Bangkok from Cambodia and spent several weeks in the hospital there to the tune of $750,000. Fortunately, she had travel insurance! 
If you don't already have travel insurance, check out World Nomads for a quote*. Their coverage includes medical emergencies, luggage & gear and trip cancellation.  Hopefully, you never need to make a claim, but if you do you'll be beyond happy you were prepared!
*We receive a fee when you get a quote from
World Nomads
using this link. We do not represent
World Nomads
. This is not a recommendation to buy travel insurance.
Disclaimer: Some of the links in this post are affiliate links. If you click one of the links and make a purchase we'll earn a small commission at no cost to you. Just like the travel backpacks we build, we're very particular . So any products or services we suggest, we test and use ourselves before making any recommendations or endorsements.