When the final bell rang at the end of my primary education I wasn't thinking of college, frat parties, scholarships, or my future career. My mind was occupied with dreams of something else. Maybe it was the years of flipping through National Geographic magazines or being dragged around the world by my globetrotting parents. Whatever the reason, I knew that I wanted to do something different. I wanted to travel. As an 18-year-old thirsty for an adventure, I wondered where I should start my once in a lifetime journey. The Banana Pancake Trail was the perfect place to begin.
What is the Banana Pancake Trail?
When I set out to travel independently for the first time, I found myself (like many before me) with an open-ended ticket to Bangkok, Thailand. Unbeknownst to me at the time, Bangkok lies at the heart of the major Southeast Asia backpacking route often referred to as the Banana Pancake Trail.
Yummmm…. I'm sure you're feeling hungry/excited already!
Anyways….
The name found its way into the traveler's lexicon as a way of describing the backpacking superhighway and the network of guesthouses/hostels/restaurants serving up fried banana pancakes and other westernized treats to the throngs of foreigners exploring the heavily backpacked parts of Thailand, Laos, Cambodia, and Vietnam (the exact boundaries are open to interpretation/debate and frequently add Malaysia, the Philippines, Indonesia, and Myanmar).   
The stops along the Pancake Trail include a series of backpacker haunts including Siem Reap (jumping off point to Angkor Wat), Ko Pha-ngan (full-moon party haven), Khao San Road (Bangkok's backpacker mecca), Vang Vieng (former centre of wild tubing) and many more. These famous spots provide backpackers with many of the novelties of travel combined with all the comforts of home and unprecedented opportunities for socializing with fellow travellers (you can always try asking what countries the BP trail includes, if you need a conversation opener). You'll be sampling snake blood or eating bugs one minute, before settling your stomach down with a burger and fries the next. If this juxtaposition doesn't tickle your fancy, fear not!  Many of these backpacker haunts are often only a bus stop/tuk-tuk (3-wheel taxi)/moto ride away from a more authentic travel experience, allowing you to take a sip of a bit of whatever you fancy.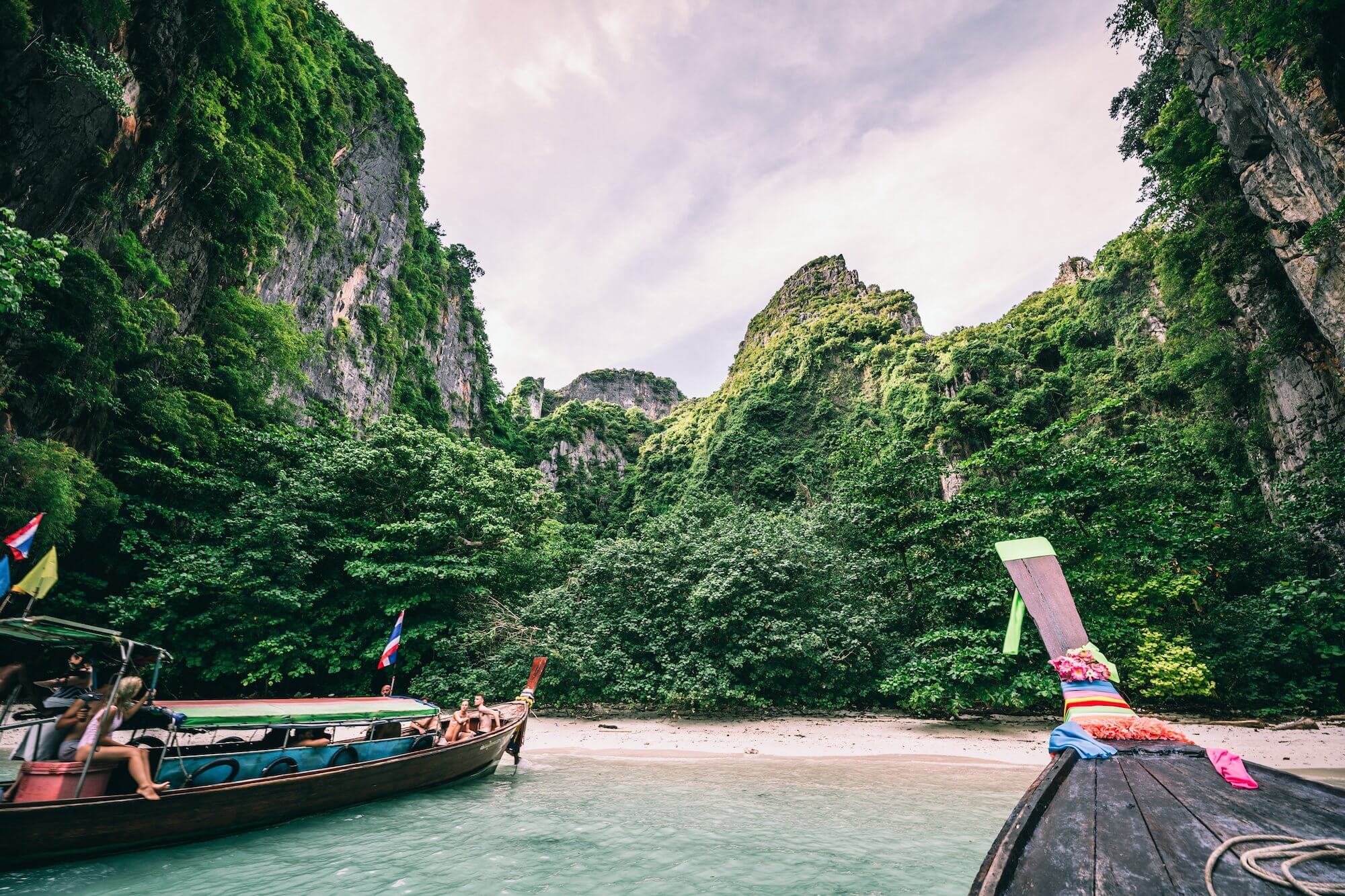 Why travel this backpacking route through Southeast Asia?
If you're looking to travel for the first time, you couldn't choose a better route. My 4-month journey along this Southeast Asia backpacking route afforded me a wealth of incredible life experiences (many that I'm proud of and a few I'm not (drink Thai whiskey with caution…) and kicked off my ceaseless travel addiction. Here are a few of the reasons it's one of the best backpacking routes you could choose for your first trip:
Scared of arriving in a foreign country with no knowledge of the language? No problem, English is commonly spoken by locals in many areas along the Trail, making communication a breeze. That said, I always recommend learning at least a few basics (think hello, goodbye, thank you). You'll be surprised at how many doors a little effort will open for you. If you can pick up saying thank you (cảm ơn bạn) in Vietnamese without invoking hysterical laughter, please reach out to me – your tutoring skills may be required…
It's incredibly easy to get around
Air-conditioned buses roll out every minute and travel agents slap together itineraries including multiple bus rides, speedboats, and pickups in minutes. Sure, you'll have to be careful of being overcharged, but logistical coordination is a breeze. Simply check a couple of neighbouring travel agents and, voila, you can find the best possible prices with hardly any effort! Not to mention Grab (and formerly Uber) have made negotiating a moto-taxi fare easier than ever (don't worry, you'll have plenty of other chances to hone these skills).
Sure you'll hear about the occasional bag-snatch or stolen passport/wallet, but incidents of violent crime against tourists are few and far between. For female travellers, this region is one of the most comfortable places to travel to and feel safe in. I've had my sister, Anika, weigh in here, as she has spent extensive time traveling solo on the Banana Pancake Trail. Compared to Europe or South America, you can rest easy knowing you won't be cat-called, questioned for traveling as a single female, or afraid of walking alone at night in most places. Like anywhere, incidents can still happen (more often with other tourists than locals), so make smart decisions. Generally speaking, this is one of the safer places to get acquainted with travelling.
All of the guest houses, hostels, partying, and inexpensive activities make meeting new friends along the Pancake Trail a breeze. The one key tip  – take a moment away from tik-tok and always mind your surroundings, as there may be a new friend in your midst.
You can step off the beaten path (if you want)
Sure the abundance of fellow travellers, comforts of home, and good wifi connections may make you feel relaxed, but personal growth comes from discomfort. While the Trail is a major backpacking artery, it's easy to step off the beaten path and every country on the trail offers ample opportunities to find the non-Westernized areas.  
Okay, so maybe you're not new to travelling. Don't rule out a trip through Thailand, Laos, Cambodia, and Vietnam. Use the main backpacker haunts as jumping off points for off-the-beaten-path-exploration. The minute you step outside of these heavily visited places, you'll soon realize just how easy it is to get off the beaten path. All it takes is the willingness to look. Don't rule out Siem Reap because Angkor Wat is packed, just dig a little deeper and you may find hidden temples you have virtually to yourself. Sure, Sapa can be touristed, so if that's not your thing, rent a bike and take the trip up to Ha Giang where children chase you down, fascinated to see a foreigner exploring their hometowns surrounded by plunging gorges and jaw-dropping mountains.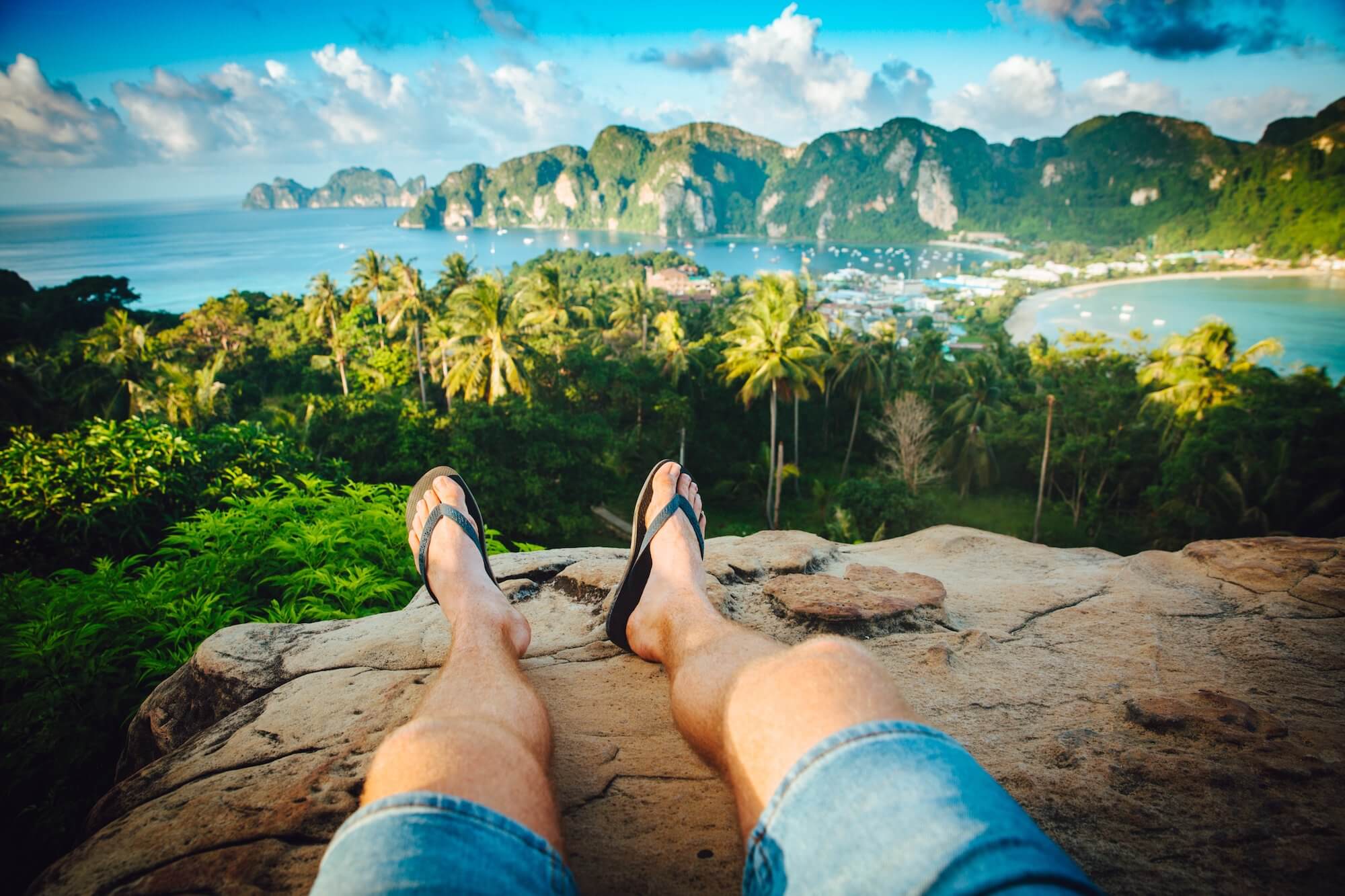 How much does the Banana Pancake Trail Cost?
When I set out on my Banana Trail adventure it cost me $4000 CAD for ~4 months of travel. I spared limited expense. I did skimp on accommodation from time to time and would go for week long stints eating a strictly street food diet. That said, I also took a full week's worth of diving classes on Koh Tao, ate at many nice restaurants, and enjoyed the occasional private room with A/C. Sure, times have changed in the decade since I completed my first solo adventure, but as I've experienced in recent visits, this Southeast Asian backpacking route is still dirt cheap. Here's a 2018 budget to give you an idea:  
You're happy to have found a way to travel, or maybe you're trying to maximize your travel time by minimizing money spent per day. Whatever your reason, if you're watching your dollars, this is the budget for you.
$1-2 dollars. Lots of pho in Vietnam and tons of pad thai in Thailand. Expect to eat a lot of street food and enjoy convenience store beer or bia hoi (Vietnam's answer to the micro brew ;)). You'll be able to venture for more premium meals out on occasion, but it doesn't take long for $10 dollar meals to blow the daily budget.
$5-10. You welcome bunkmates in dorms and may find the occasional fan cooled private room. For an example of what you can expect, here's a fantastic hostel that fits this budget bill, that I've been treated to in recent years in Siem Reap, Cambodia.
You'll be able to splurge on activities like a one day pass ($37 USD) to the Angkor Archeological Park, and the occasional budget cooking class and tour, but you'll have to watch that you're not doing too many of these activities in a given week. You'll also have to watch that you don't have too many excessive party nights (cocktails can be pricey).
Buses, motos, occasional cheap local flight.
You appreciate the finer things in life, but aren't ready to tuck yourself into a 5-star hotel just yet and still consider yourself a backpacker. You want to make the most of your trip. Maybe you'll learn to scuba dive, drink premium cocktails, or go on a few private tours. If this is your style this is the budget for you.  
$20-60 depending on the city/country place/time/luxury level. You'll usually get yourself a private room with A/C for this price (a notable exception is southern Thailand which can easily go higher). Here's an example of what $55 a night (I know it's a bit rich) gets you in Ho Chi Minh City or $35 for a private room with A/C at Lub'd in Siem Reap.
Large restaurant lunches and big dinners. Lunch will often set you back around $5. Dinner can climb into the $10-15 range (more if you enjoy cocktails over beer, water, soda or juice) and usually means going all out. Gluttony at its finest!
The flashpacker budget allows you to enjoy occasional big splurge activities like taking a scuba diving course or canyoning.
More frequent flights $40-100, premium buses, 1st class train coaches.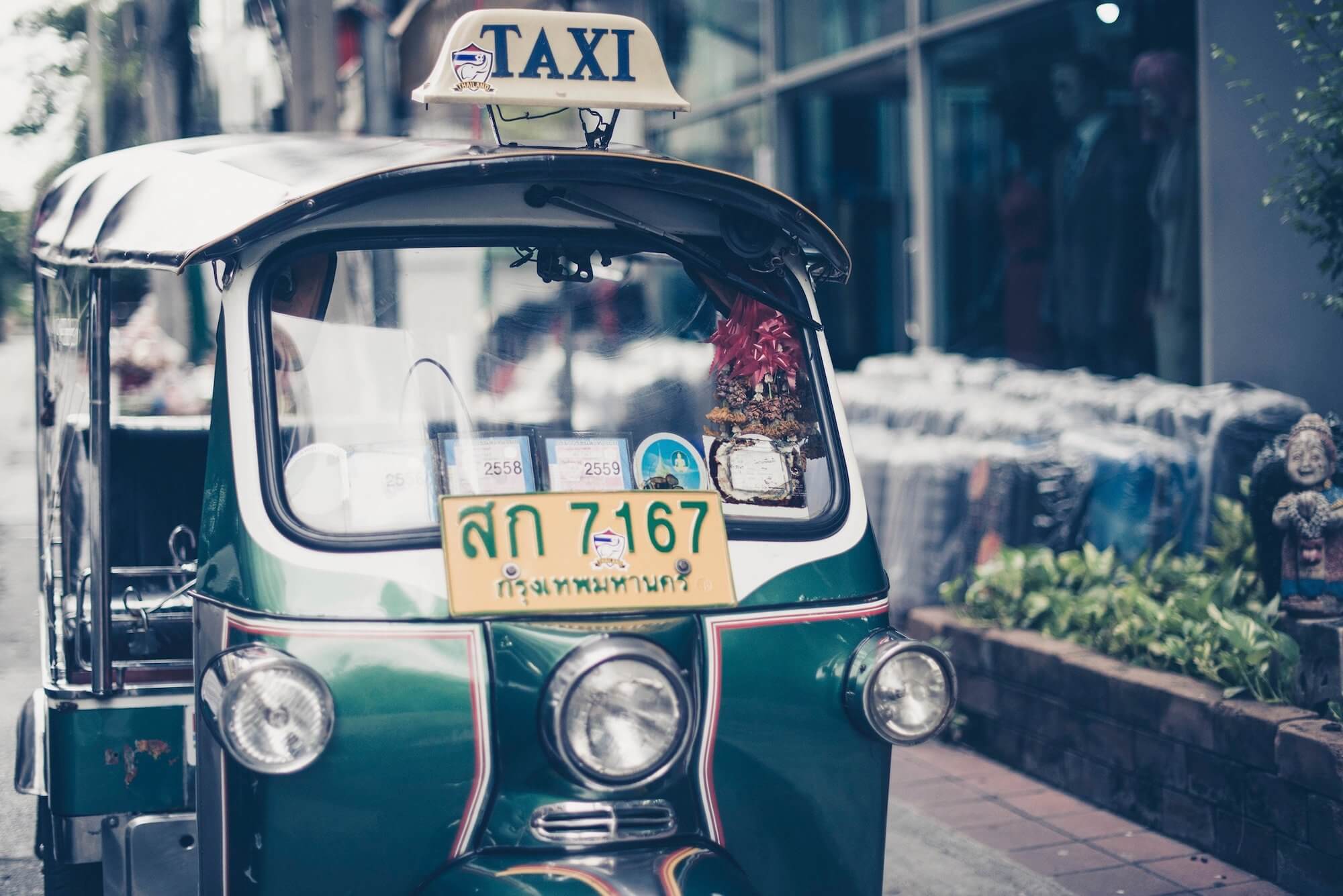 How long should you go for?
To accomplish a multiple country journey along the Banana Pancake Trail I strongly encourage a minimum of 6 weeks. This minimum will allow you to be flexible with your time, linger in the places you love, and not fret the ones you don't. Don't have 6 weeks? Less is more. Pick 1 or 2 countries and do them properly. If you have 2 weeks and are planning on hitting Laos, Thailand, Cambodia, and Vietnam, maybe cut your trip down based on what is most important to you. If you're dying to see the temples of Angkor or hit a Full Moon party, do it! Just don't waste your limited time on border crossings and bus rides (or the sometimes awful combination of the two). Just start planning your second trip.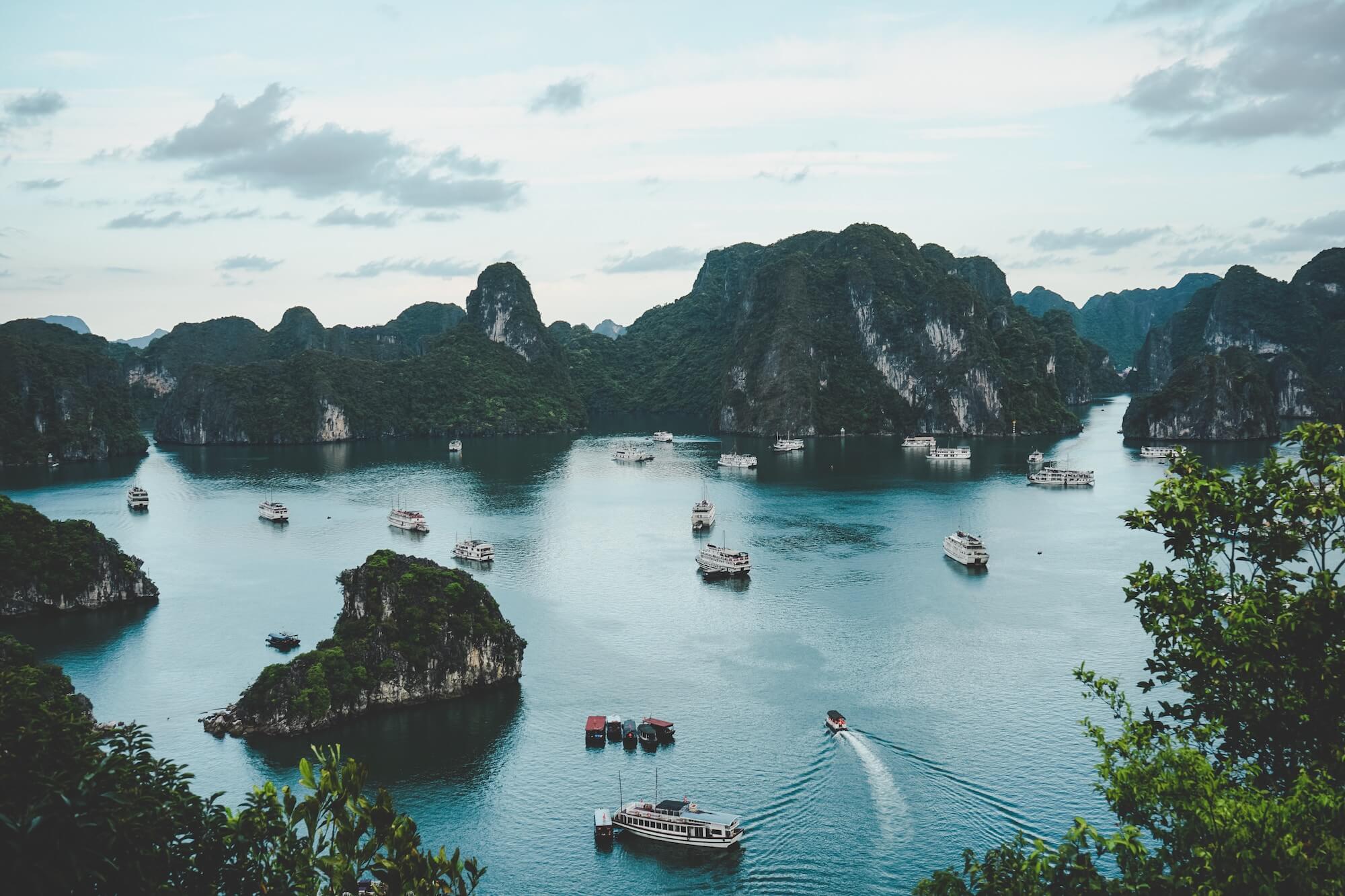 Banana Pancake Trail Itinerary Example
These cover the majority of key stops along the Banana Pancake Trail in Thailand, Laos, Vietnam, and Cambodia.  Stay as long or as short as you want in each and don't be afraid to get off the well-trodden path.
Bangkok → Enter the heart of the Banana Pancake Trail, Khao San Road.
Koh Tao → Learn how to scuba dive by getting PADI certified with every other Banana Pancake Traveller.
Ko Pha-Ngan → The epicenter of the world famous Full Moon Party.
Krabi→ Climbing and beautiful beach chillin'.
Ko Phi Phi →  The world famous "Beach" at Maya Bay (temporarily closed due to overtourism so check before you go… and carefully consider your choice as a responsible traveller).
Siem Reap → The mystical temples of Angkor.
Phnom Penh → Get acquainted with Cambodia's dark and recent past and witness its promising future.
Sihanoukville to access Koh Rong → Restart your beach and party engine.
Ho Chi Minh City → Wander the chaos of Ben Thanh Market and glimpse the horrors of war at the War Remnants Museum.
Da Lat → Not as "pancakey" as the other spots. Enjoy Vietnam's coffee at its finest and experience an easy rider motorbike trip
Nha Trang → Pit stop at Vietnam's largest beach resort.
Hoi An → Beautiful and incredibly touristed. Home to all forms of custom textiles/tailoring.
Hanoi → Experience the wonder of the capital, sit and sip Bia Hoi along a street corner and pay homage to the embalmed Ho Chi Minh himself.
Ha Long Bay → Take the iconic boat ride through thousands of limestone karsts and isles in various shapes and sizes.
Sapa → Train north from Hanoi to the mountains of Sapa to experience trekking and the coldest temperature you've felt in months.
Luang Prabang → Experience the ancient capital with its many Buddhist temples.
Vang Vieng→ The infamous tubing (re-opened after cleaning up its act).
Vientiane → Experience Laos's most important religious monument, the large golden Stupa.
Chiang Mai → Cultural mecca and swarms of digitally nomadic people.
Pai → Mountain/valley exploration.
Are you planning a stop in Cambodia?  Make sure you check out our ultra-detailed Cambodia itinerary or this extensive list of  50 incredible things to do in Cambodia.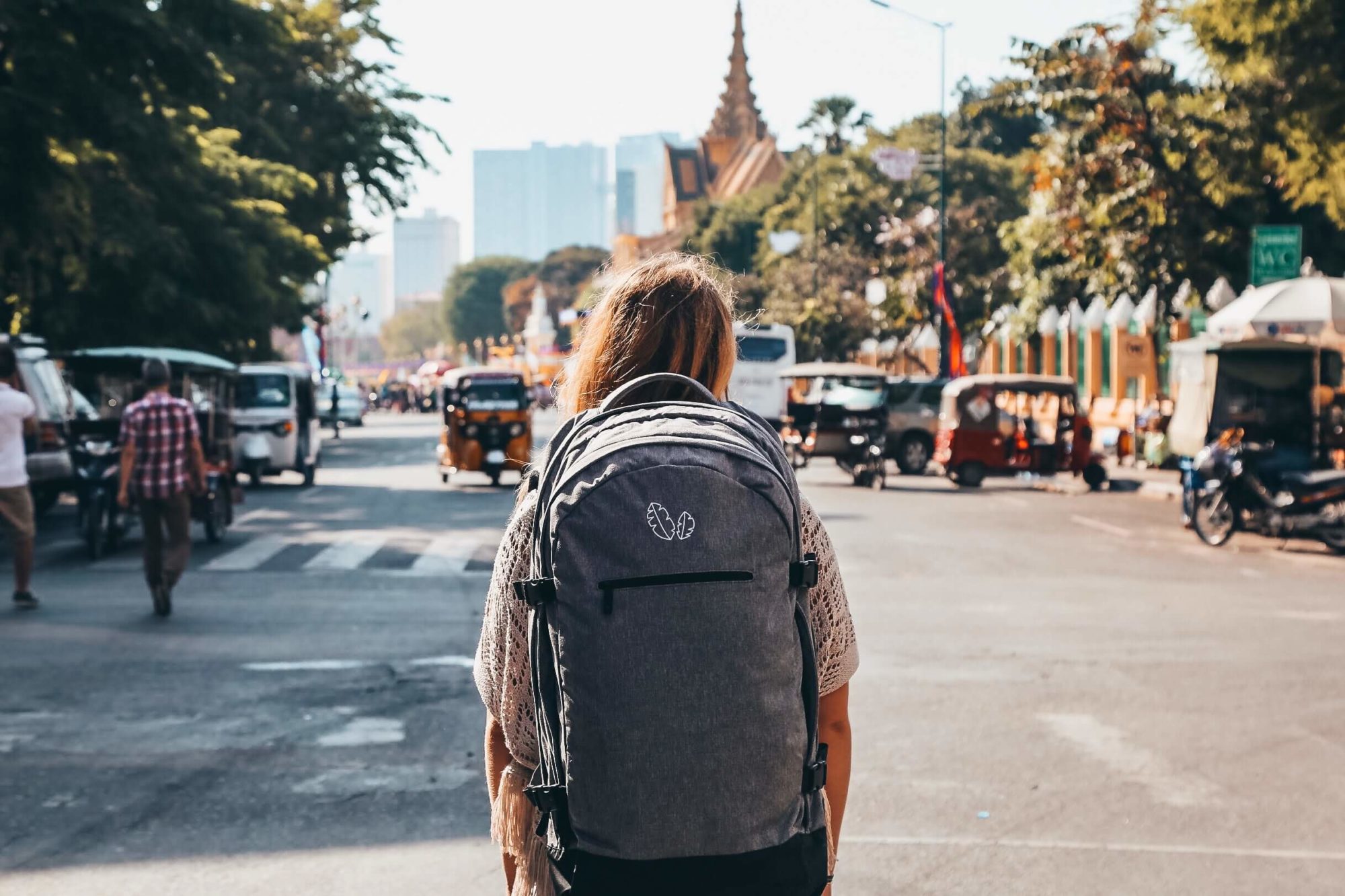 ** Some of the links in this section are affiliate links. If you click one of the links and make a purchase we'll earn a small commission at no cost to you. Just like the travel backpacks we build, we're very particular about travel products. So any products or services we suggest, we test and use ourselves before making any recommendations or endorsements**
What do you need to bring/prepare for the Banana Pancake Trail?
Here are a few pointers/must packs for your Southeast Asia trip:  
A quality travel backpack
Variable terrain and lots of walking make a travel backpack the perfect luggage choice. Leave the roller suitcase at home (you'll thank me later). If you need a new pack, the Khmer Explorer Travel Set was built exactly for this type of adventure.
A everyday backpack or bag
Carry your water-bottle, a raincoat, camera, or beach gear with a great everyday backpack.  For maximum flexibility check out the customizable Kiri collection.
Determine if you require any vaccines before traveling to your destination. If you haven't traveled to an equatorial region before, it's highly likely you'll need at least a few.
Vaccination can be a comprehensive process, so it's a good idea to look into this a few months before departure.
One accident is all it takes to end your vacation and make it a trip that takes a lifetime to pay back. Check out World Nomads for comprehensive coverage and options for adventure activities including motorbiking and scuba diving.
Call your network provider to ensure your phone is unlocked. This way you're all set up to grab a new SIM card upon landing and avoid the pains of massive roaming charges and the sometimes questionable wi-fi (data is often way better and crazy cheap). All the countries along the Banana Pancake Trail tend to have dirt cheap SIMs readily available (although they often do not work when moving from one country to the next (ie. Vietnam SIMs won't work in Cambodia).
Many banks no longer require you to directly notify them of international travel to prevent an unwanted account freeze, that said, best to check the policy to be sure. Thousands of miles from home with no access to money is not a fun way to start.
A first stop after disembarking the plane is usually the cash machine. That said, the last thing you want to deal with when you land is a broken ATM and no money (been there). So take $100 USD in cash (small denomination is usually best). In a pinch you usually find a money exchange at the airport with poor rates (a necessary evil at times).
Bring a water bottle with water purification tabs or a Steripen
It's hot. You'll sweat. A lot. I wouldn't recommend drinking the tap water unless you wish to tempt giardia or worse. Thinking of buying bottled? Please don't. Traveller water bottle garbage is a HUGE problem for plastic pollution in the ocean. Bring your own bottle and use a Steripen or tablets to purify the water if you can't find any that is safe to drink (many hostels have water coolers you can fill up from).
Pack a portable power bank
Comes in handy when you need to charge your phone/tablet in a bind.
Choose clothes you feel comfortable in
I'm not going to tell you to bring 2 t-shirts, 1x, and 1y, because everyone is different. Some of you may view it worthwhile to pack a pair of jeans for a fancy night out in Bangkok or HCMC, others may find that proposition crazy. Some of you may want to bring your favourite tapered sweatpants, that's fine too I guess… Before I hit the Banana Pancake Trail, I loaded up on breathable gear for a hot climate (thanks Dad…). I ended up wearing none of it, giving away a lot of it, and carrying the rest around for the duration of my trip…
The weather in Cambodia, Laos, Vietnam, and Thailand is tropical and hot. There are generally two distinct seasons: rainy (several hours of intense rain) and dry.  Higher elevations (such as parts of Northern Vietnam) may be chilly at night. So pack items you're comfortable in based on this. No need to redo your wardrobe…
A sheet sleeping bag liner
I helped a good pal of mine pack for his first big trip and I told him to get a sheet sleeping bag liner. He wondered why he was lugging this little thing around until one night he was forced to crash in a place with questionable cleanliness. Suddenly, he wasn't wondering why I insisted he brought this.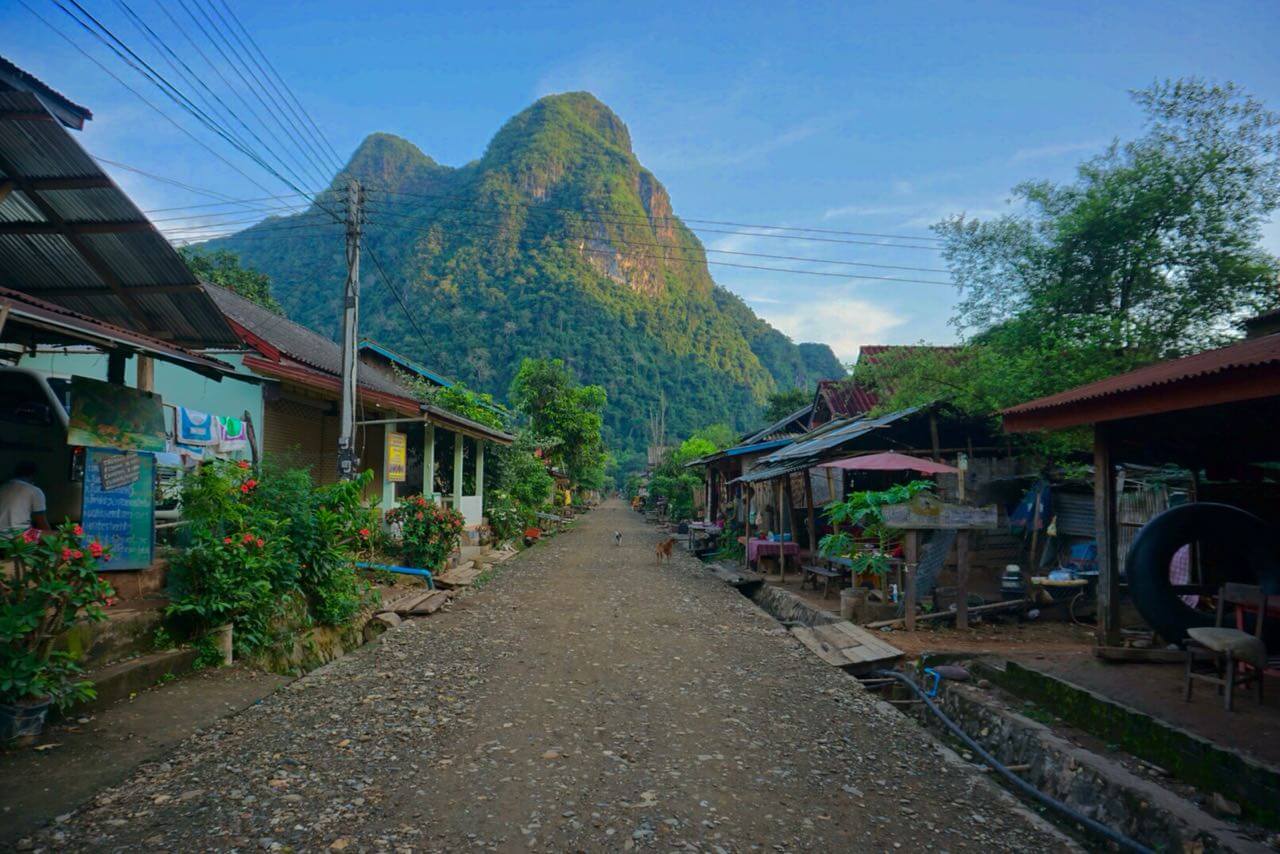 The Banana Pancake Trail has developed fame (and notoriety) as the definitive Southeast Asia backpacking route. It's a great place to start out traveling for the first time or to use a as a jumping off point for more off-the-beaten-path adventures. Over a decade after my first journey here came to an end, I continue to feel immense gratitude for the life experience my first adventure through Vietnam, Cambodia, Laos, and Thailand brought me (I'm tearing up here!). I, the man speaking to you from behind the computer, highly recommends this experience to new and experienced travellers alike whether you're into banana pancakes or not! 🙂

Happy travels friends!
Have you tasted a banana pancake? What did you think? Maybe you have questions about the Banana Pancake Trail or personal experiences? Maybe you're a grumpy travel troll who would like to lambaste me for writing on this subject. Any of these categories are welcome in the comments below, although I'm not enthralled with the last option.