With its crumbling colonial buildings, mouth-watering food choices, and beautiful river guesthouses, Kampot is one of Cambodia's more underrated gems. The city is often skipped in favour of visiting the white sand beaches and parties on Koh Rong, but Kampot is the perfect place to visit if you're looking for somewhere a bit more relaxed on your Cambodia itinerary.
** Some of the links in this post may be affiliate links. If you click one of the links and make a purchase we'll earn a small commission at no cost to you. Just like the travel backpacks we build, we're very particular about products and we only recommend products, services, or accommodation we trust and use ourselves.***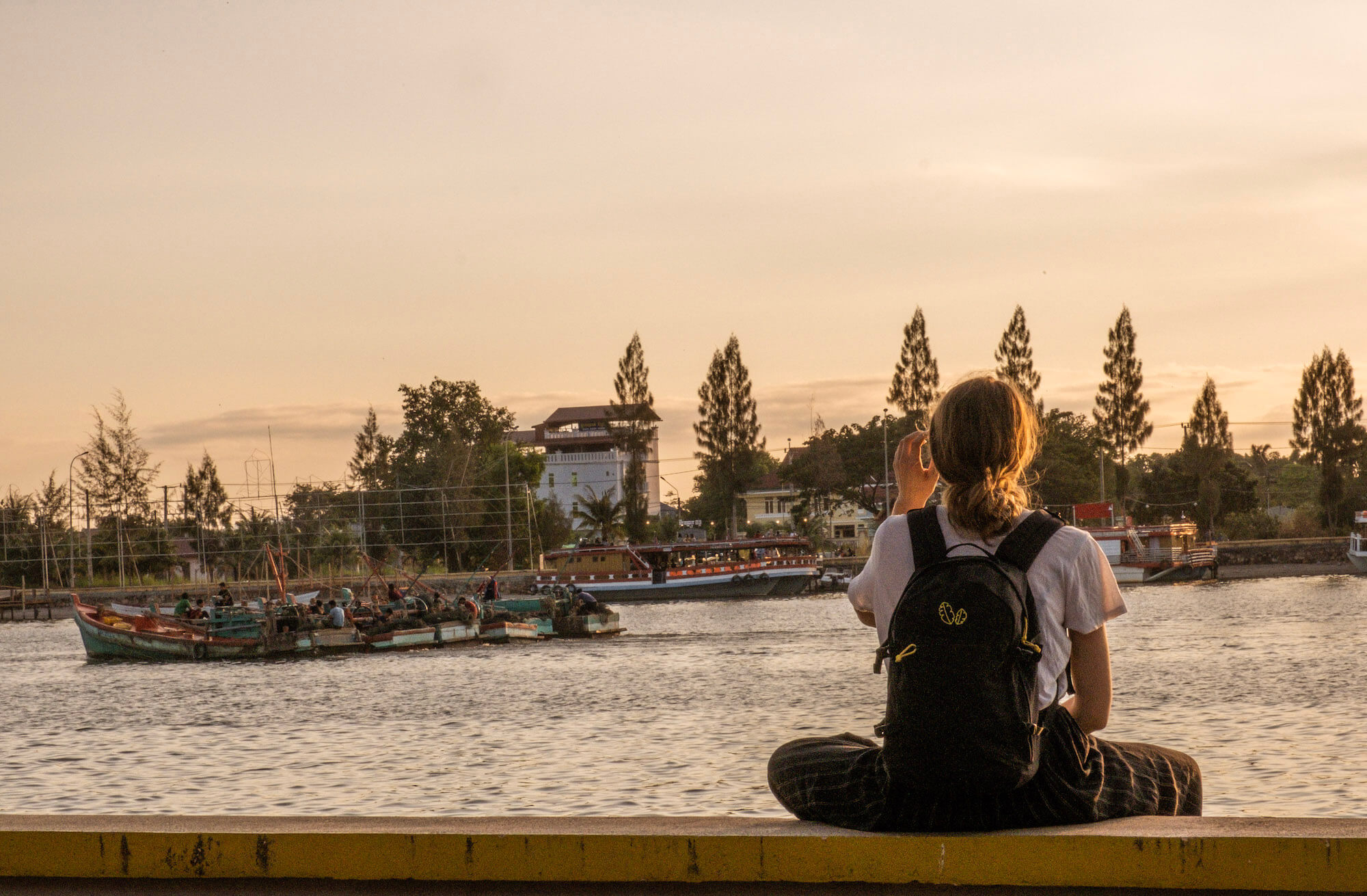 By bus: The bus from Phnom Penh to Kampot takes around 4 hours ($6-10), although the traffic and road conditions can sometimes add additional time to your journey. If you're heading to the islands, you can catch a 2 hour bus from Kampot to Sihanoukville and then a ferry from there. 
It's also possible to reach Phu Quoc Island in Vietnam via the border crossing at Ha Tien from Kampot.  The trip typically takes 6 hours and costs about $20. The trip can easily be arranged at most hotels, hostels or travel agents on Phu Quoc Island. 
By train: Cambodia's passenger trains are running again! You can take the train from Phnom Penh to Sihanoukville with Kampot as a stop along the way. It's worth taking this slightly longer journey (4.5 hours) for the beautiful countryside views along the way and to avoid Phnom Penh's crazy traffic. It costs $6. 
For hostel lovers – Karma Traders
Boasting great live music nights, a rooftop cocktail bar, and social activities galore, this is the place to go in Kampot to get your socializing on. It's located just 5 minutes or so out of town, so it's pretty accessible to get to either by motorbike, bicycle or PassApp (Cambodia's ride sharing service). Fair warning however, the dorm rooms can be a bit noisy as a result of the aforementioned live music, so you may want to consider a private if you're looking for some shut eye.
For boutique countryside fans – The Hidden Oasis Bungalows
The Hidden Oasis has only been around for the past year, but there is a reason for its great rating on online booking platforms. Located about 10 minutes out of town by motorbike ride, the 6 bungalows here are some of the cleanest and most thoughtfully decorated I've found in Cambodia. The owners and their two children are some of the sweetest people you'll meet – they're incredibly representative of the wonderful people you'll find in Cambodia. It's countryside location is a real attraction. 
For riverside romantics – Greenhouse or Eden Eco Village
If you want a real taste of Kampot life, head further out of town to Greenhouse or Eden Eco Village for stunning riverside accommodations. Both are eco friendly and have simple but thoughtful bungalow accommodations. Eden has bungalows in the treetops and directly on the water. Greenhouse boasts a pretty incredible restaurant. This is a one of a kind experience and for really affordable rates.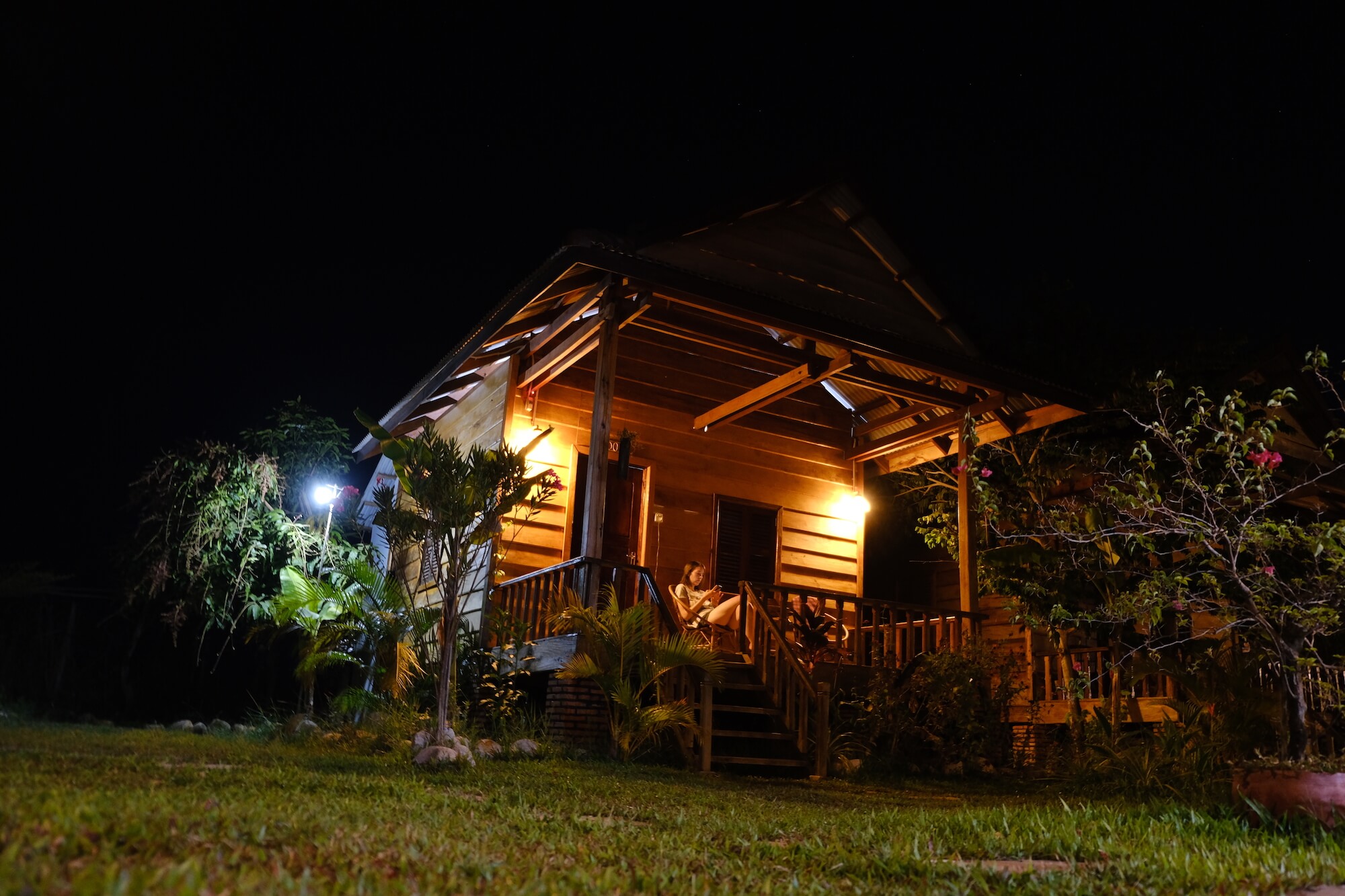 Kampot cools down nicely in the evenings even when you visit during Cambodia's incredibly hot season starting from March. That said, the best months to visit are usually November-February. Avoid Cambodian holidays here if possible as a lot of restaurants close down. 
Top 20 things to do in Kampot
Take a Kampot pepper farm tour
Even if you aren't a raving pepper fan, Kampot's La Plantation will pleasantly surprise you. This incredible farm offers free English and French tours running throughout the day where you can see not only how pepper is grown, but also how everything from turmeric and passionfruit are grown. The best part? After your tour you'll be led through a free sampling of the different types of pepper and ideas as to where you can use them in your own cooking – from chocolate ice cream to mashed potatoes.
One of the best ways to experience the culture of a new place is through their cuisine! Head to La Plantation (before or after your pepper farm tour) to learn how to cook a variety of wonderful Khmer dishes. It's not the cheapest cooking course in Cambodia ($20), but it is a pretty unforgettable three hours.
Admire the Secret Lake and grab some food
 On the way to La Plantation is Kampot's Secret Lake. Grab some food at rustic, family owned Khmer Roots Cafe and admire this beautiful lake view. There's not much to do here, but it's a pretty scenic place to take a rest from the bumpy motorbike ride to your pepper farm tour.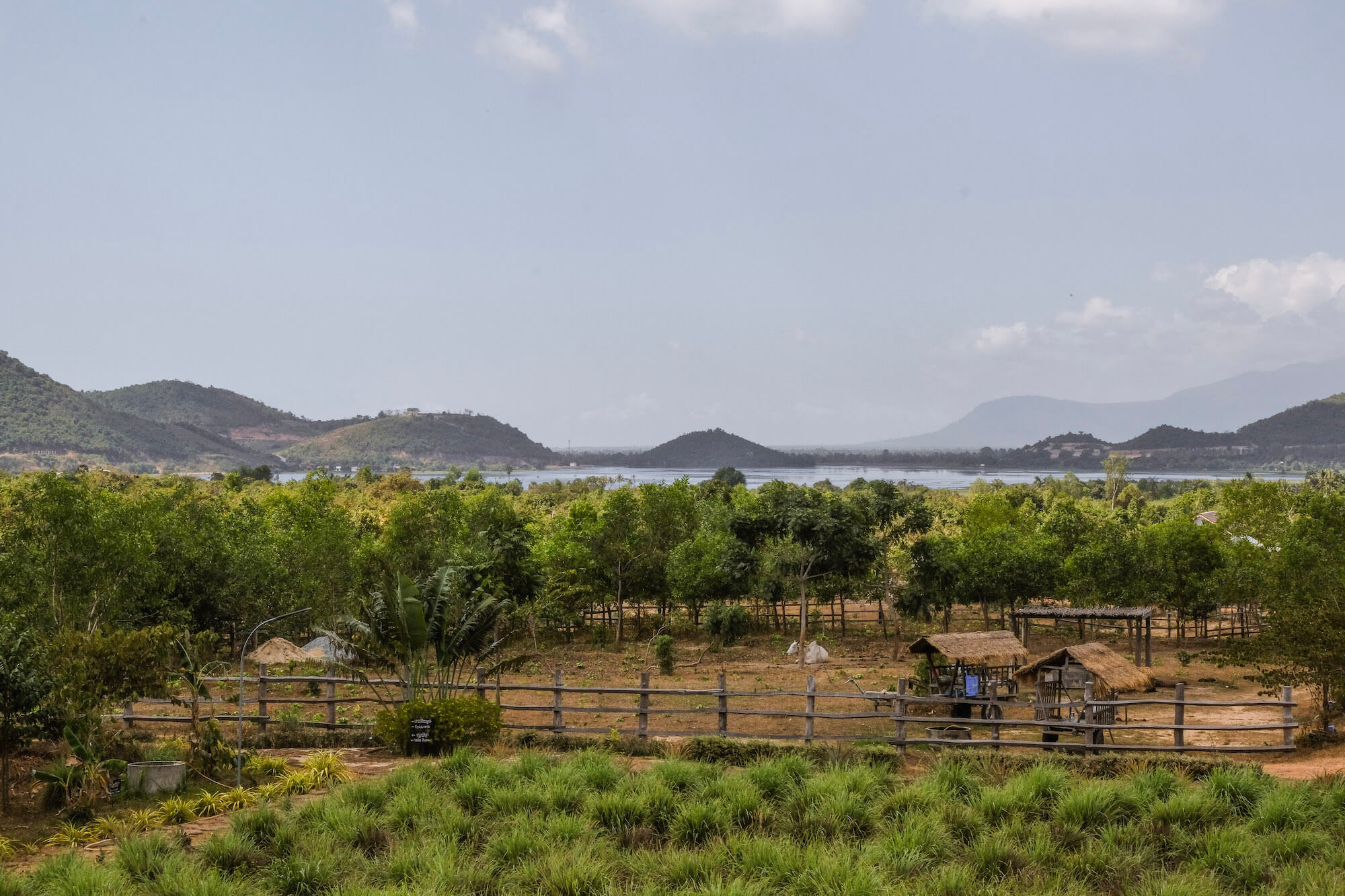 Motorbike the snaking road up Bokor Mountain
If you're looking for a smooth road in Cambodia to motorbike, you're largely out of luck – but Bokor is one of the blissful exceptions! This newly paved winding road that takes you up into the clouds of Kampot's Bokor Mountain is a perfect place to enjoy smooth roads and cool temperatures. You can rent motorbikes in Kampot for around 5 USD per day and hit the road yourself, or if you aren't as comfortable in the driver's seat, you can also hire a motorbike driver to take you, which may cost you 20 USD for the full day. If you need a good driver, drop me a comment below and I can share one with you!
This waterfall is less impressive in dry season, but is still a very welcome sight after a long motorbike ride up Bokor mountain. It's another popular place to have a picnic, so bring some snacks and really get into the Khmer picnic culture.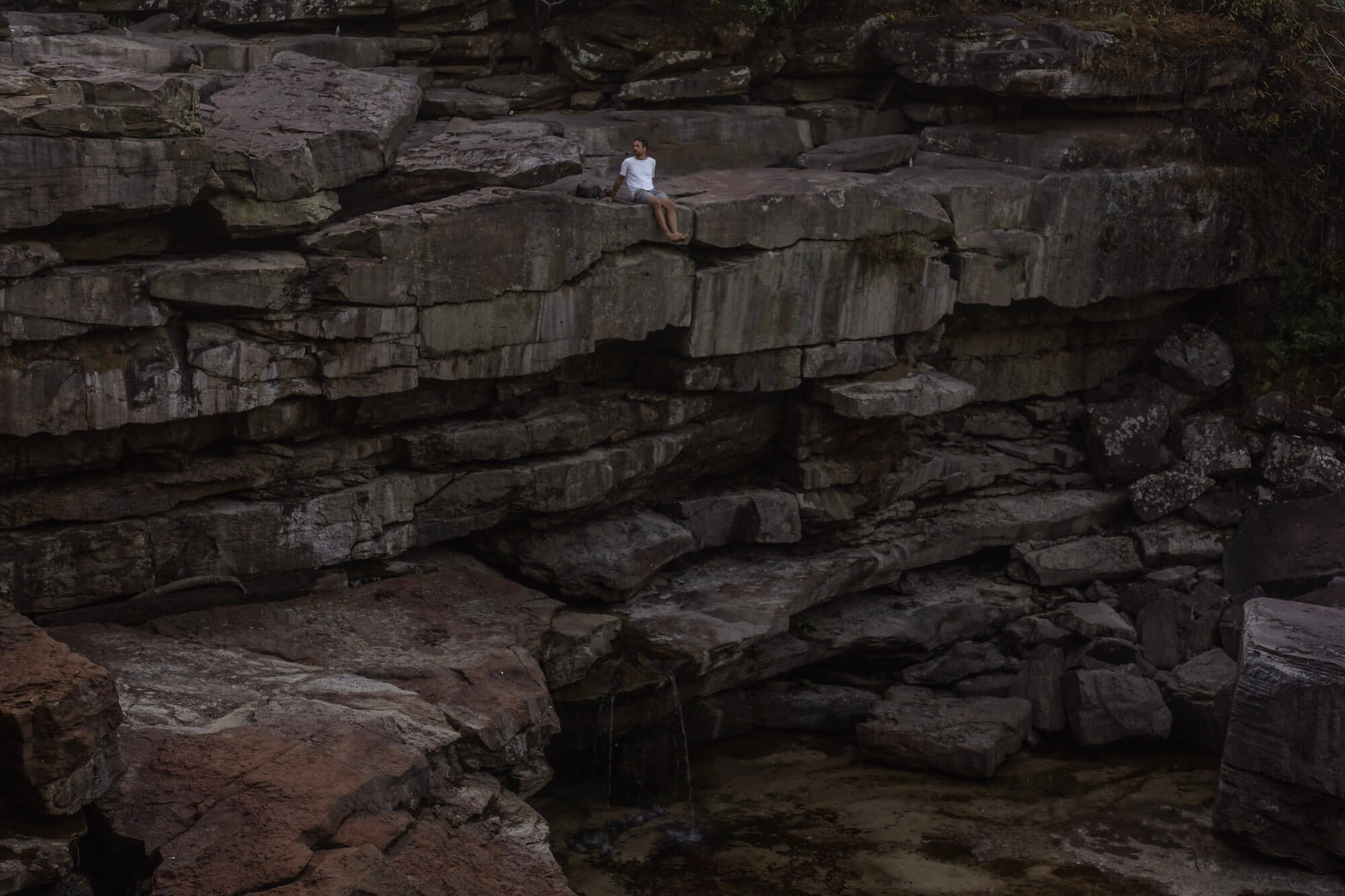 Take a swan paddle boat ride
The Mountain Lake on top of Bokor offers a unique and kitsch opportunity to rent swan-shaped paddle boats to explore the waters. If you're looking for something unique to do, or you happen to be traveling with kids, this may be for you. 
Treat yourself to high tea at a deserted hill station
 At the top of Bokor Mountain, this formerly abandoned hill station has been recently revived and turned into a restored colonial hotel. If you'd like to splurge, the $12 authentic high tea is quirky, kitsch and extremely filling. Furthermore, the hotel and restaurant were far from capacity at the time of my visit, adding a certain murder mystery feel to this not to be missed experience.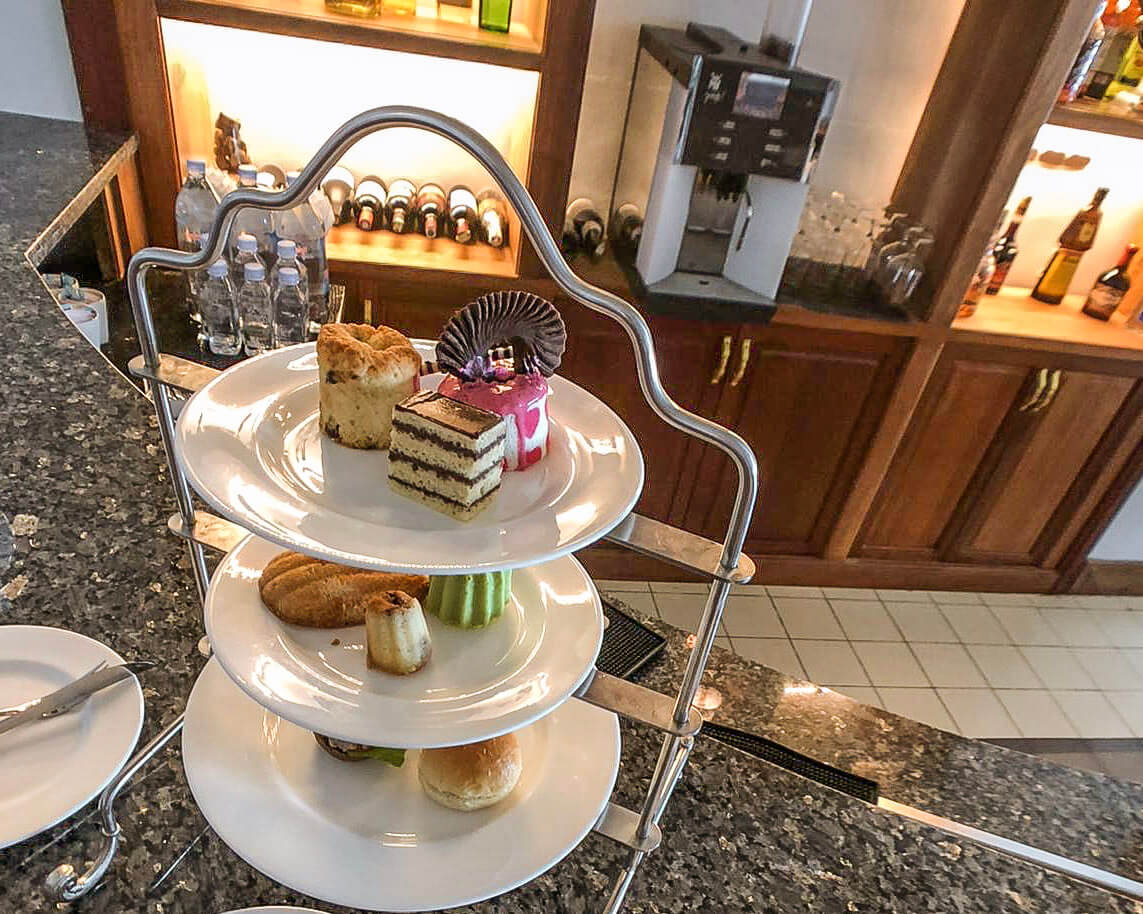 Indulge in Cambodia's best coffee
If you're a caffeine fan, don't pass up Kampot's Cafe Espresso. They roast and serve the country's rather famous Rumble Fish coffee beans at this location, and it's really some of the best coffee I've had in the country. The food is also all local and seasonal. A great place to cool down and relax after motorbiking the day away. 
Bicycle to the salt fields 
One of the things I love most about Kampot is the quiet rural roads you can bicycle on. Head down the river or out to the vast salt fields in the area. 
Kayak the green cathedral
This spot in Cambodia has understandably earned its iconic name for its magical foliage arches covering narrow river channels. It's a beautiful place to hit the waters for some peaceful kayaking. The hotels renting kayaks will give you a map for a loop that takes around 2 hours. I rented my kayak from Champa Lodge. Do watch out for snakes in the water though!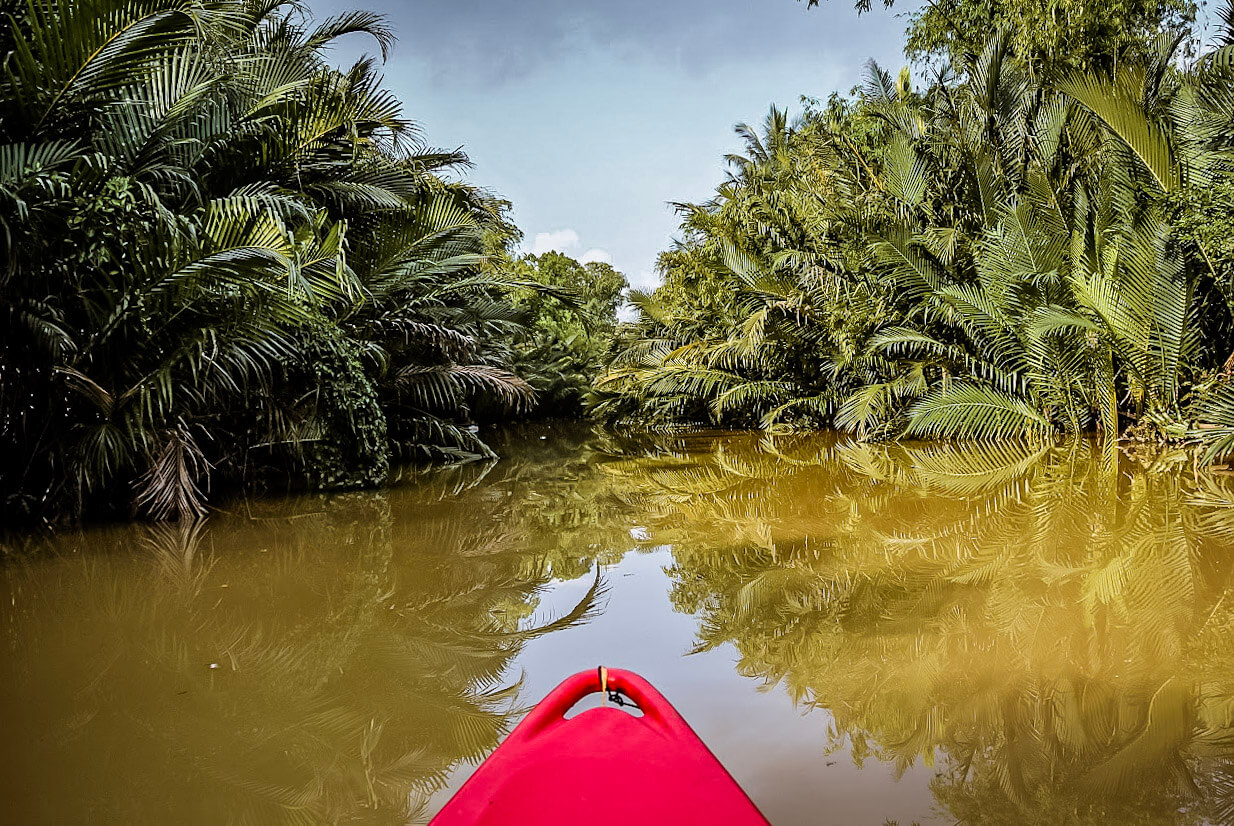 As we become more cognizant of the impact our fashion choices have on creating waste, shopping ethically has never been more important. Dorsu is a trailblazer in this area – offering minimalistic and high quality pieces for affordable prices. It's a perfect place to see their workshop and buy some souvenirs for yourself or loved ones back home. Their staff are also fantastic. 
Get flexible with a yoga class
There are plenty of yoga classes to choose from in Kampot. I would recommend social enterprise and vocational training center Banteay Srey to get your workout in while doing good for women in the community. 
Photo tour Kampot's colonial buildings
Part of Kampot's charm is its old colonial buildings. Wander around the city center to snap photos of its colourful heritage.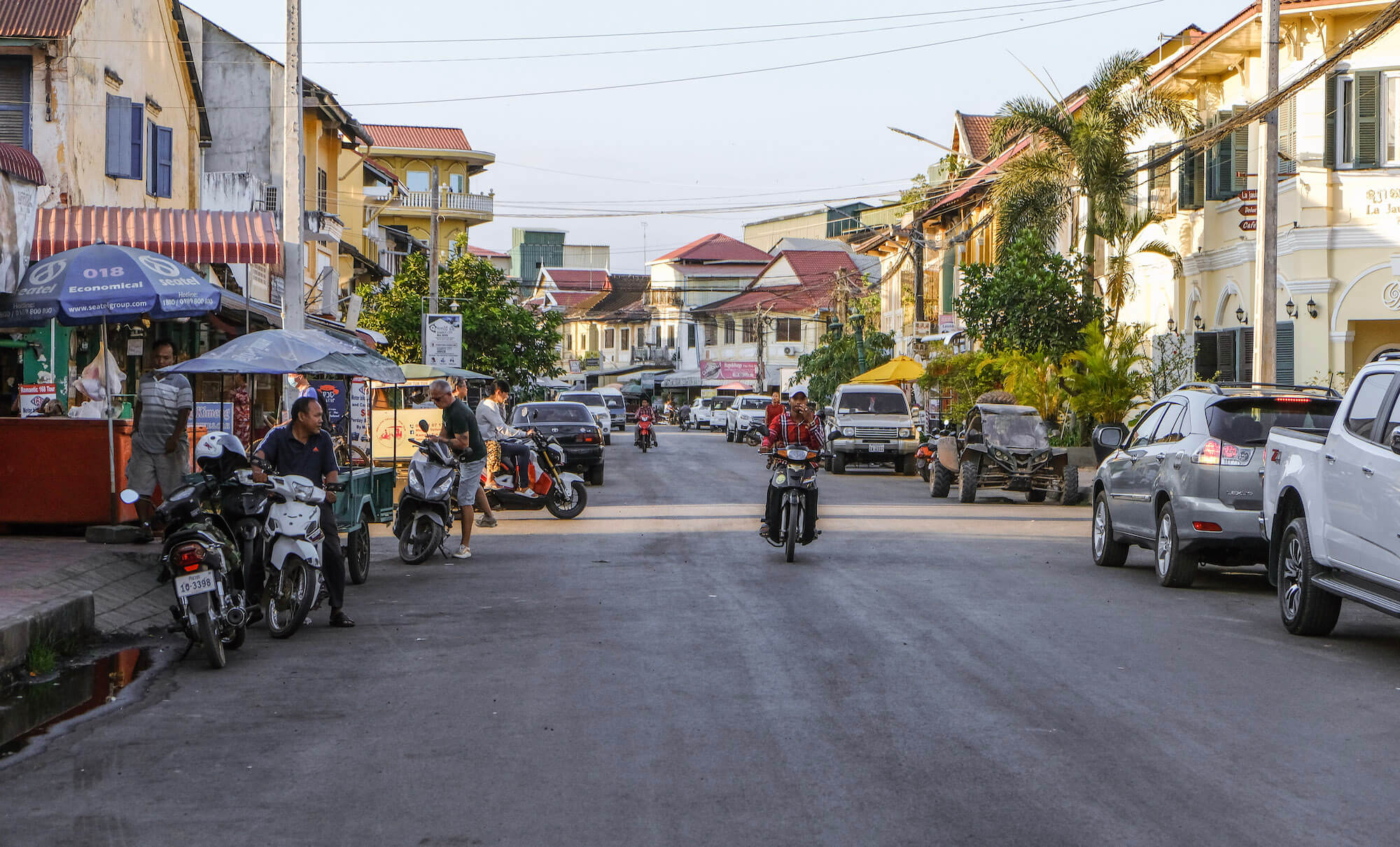 Experience traditional Khmer healing practices
After your yoga at Banteay Srey Project, really reward yourself with one of their healing treatments. From reiki to a turmeric scrub to a traditional massage, really allow yourself to heal after being on the road!
Day trip to Kep National Park
Are you into outdoor activities? Take the one hour drive to the charming seaside town of Kep to access its national park. It takes about two hours to walk the main hiking trail in the park. It's one of the few places in Cambodia that's safe to walk independently, with unexploded remnants of war still active in parts of the country. There are plenty of birds and monkeys to see here (and hopefully no more snakes). After your hard day of hiking, you can head down to Kep's Sailing Club for a beautiful sunset drink looking out on the water.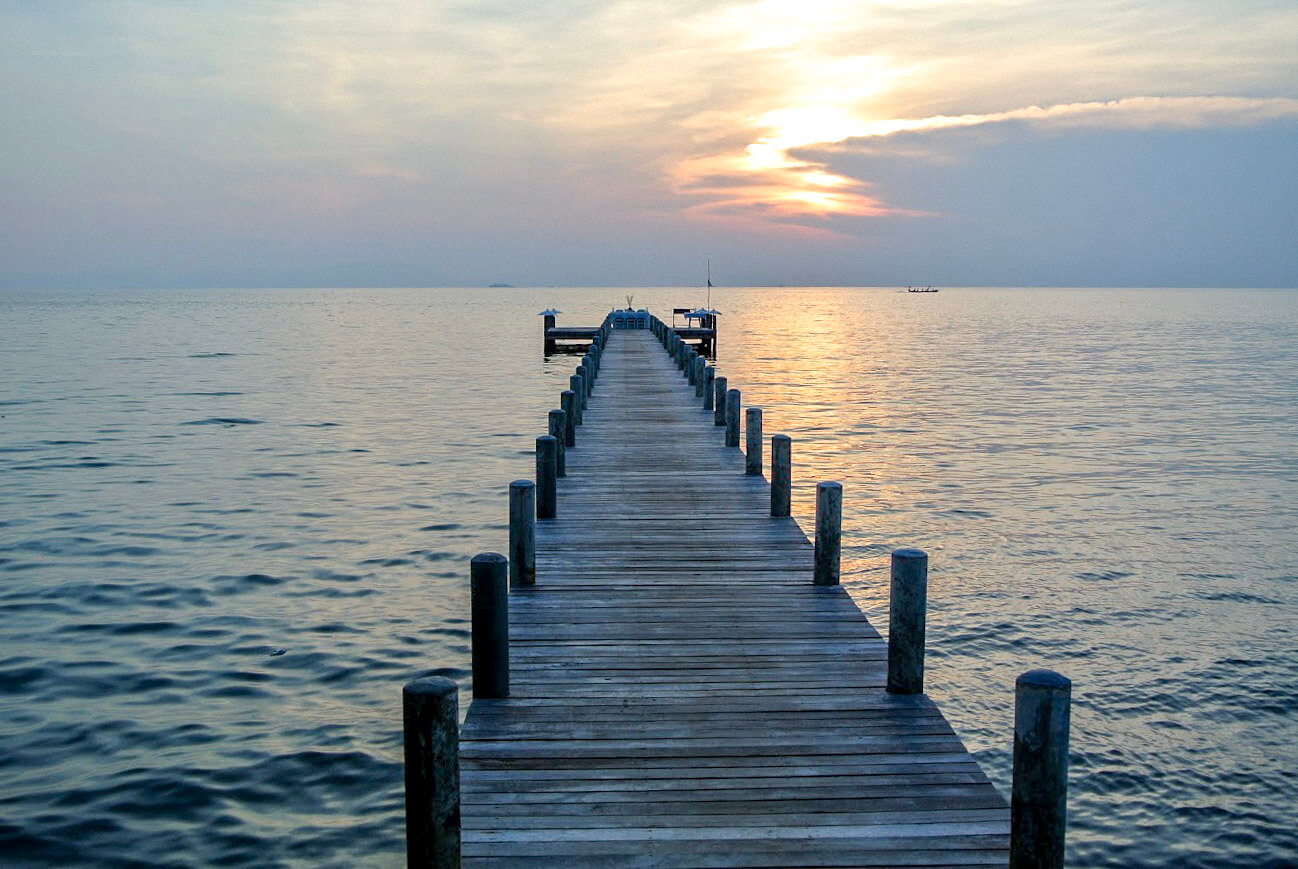 There are plenty of amazing restaurants in Kampot, but why not eat at one that also has a great social impact? Epic Arts Cafe is one of the most popular cafes in Kampot for this very reason. This social enterprise generates funds for their Inclusive Arts projects and the majority of their staff are deaf to promote an inclusive working environment. 
Relax with a cocktail in the evening
Kampot has no shortage of restaurants, or bars for that matter. For a breezy experience, head to the Rikitikitavi and get in on their happy hour deal. Alternatively visit, Voodoo boulevard to sample one of their delectable cocktails. 
Hop on a sunset boat ride
Kampot's lazy evenings are best kicked off with a boat ride starting at sunset. Most tickets are very affordable at $5-7 USD and include a drink or two.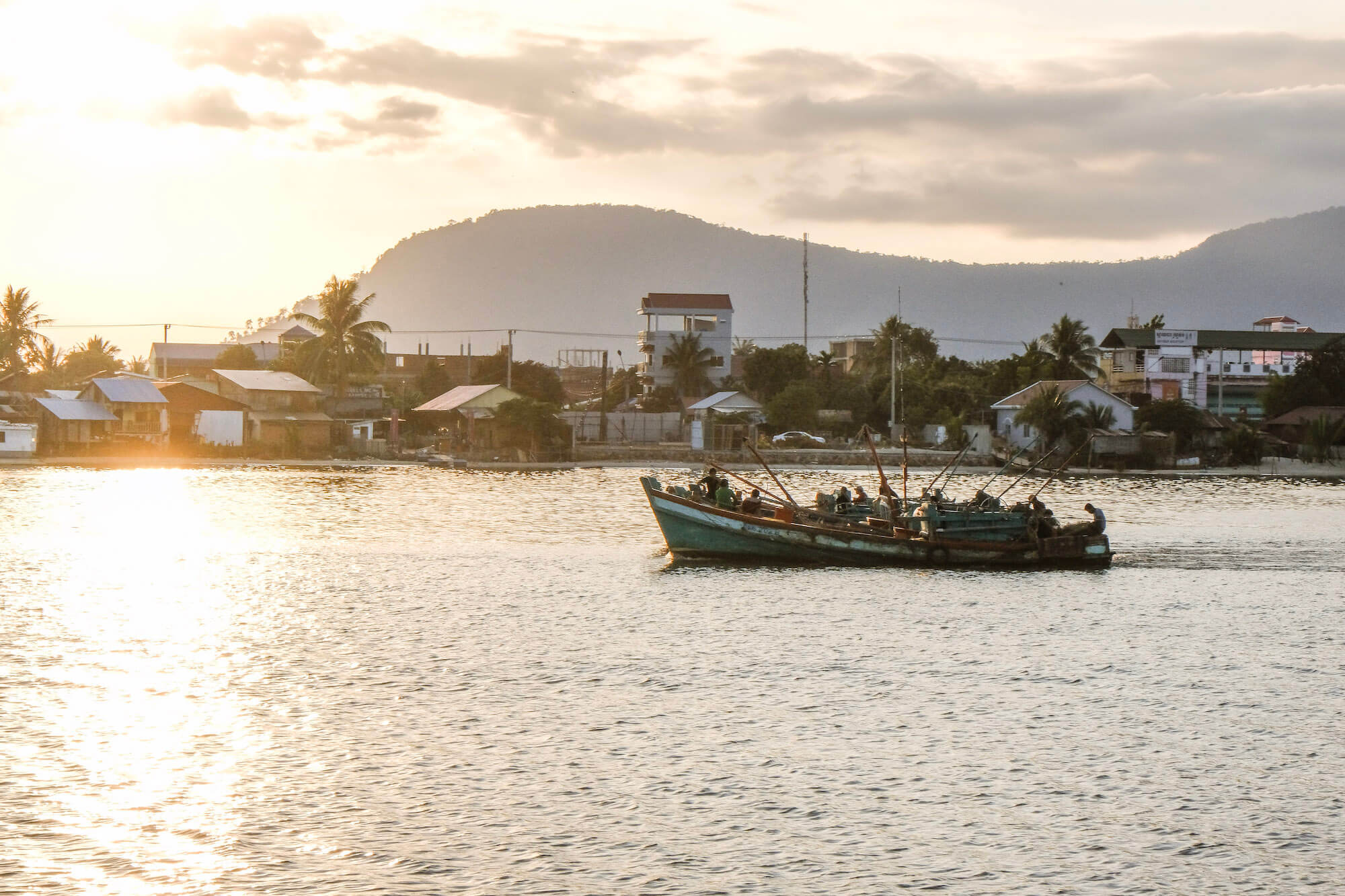 Stay in some of the most unique accommodation in Cambodia
From tree top bungalows to bungalows where you can dive straight from your hammock into the river, Kampot is a place to really have a unique sleeping experience, and for a good price at that. Eden Eco Village has become somewhat Insta-famous for this very reason.
Eat, eat, and eat some more in town
To cap off this list, we can't begin to name all of our favourite restaurants in town. Somehow Kampot is truly a mecca for amazing food from vegan options to tapas to homemade dumplings. Check out TripAdvisor and get your decision hat on to choose from all of the highly rated restaurants in the area.