If you're seeking an epic adventure, Vietnam's Ha Giang Loop should be at the very top of your bucket list on a trip to Southeast Asia. This motorbike loop takes you across 400km of dizzying roads that wind their way through limestone mountains, dropping steeply off to deep turquoise rivers often concealed under a blanket of mist.  
Located in the most northern section of Vietnam bordering China, Ha Giang province is the place to go to escape the heavily pounded Banana Pancake Trail, admire some of Vietnam's finest landscapes, and bask in the kindness of the country's ethnic minority groups.
The area is best explored by renting a motorbike in Ha Giang city and completing the infamous "Loop" of 4 days and 3 nights. With winding roads and unpredictable weather, driving here is sure to satisfy your appetite for adventure.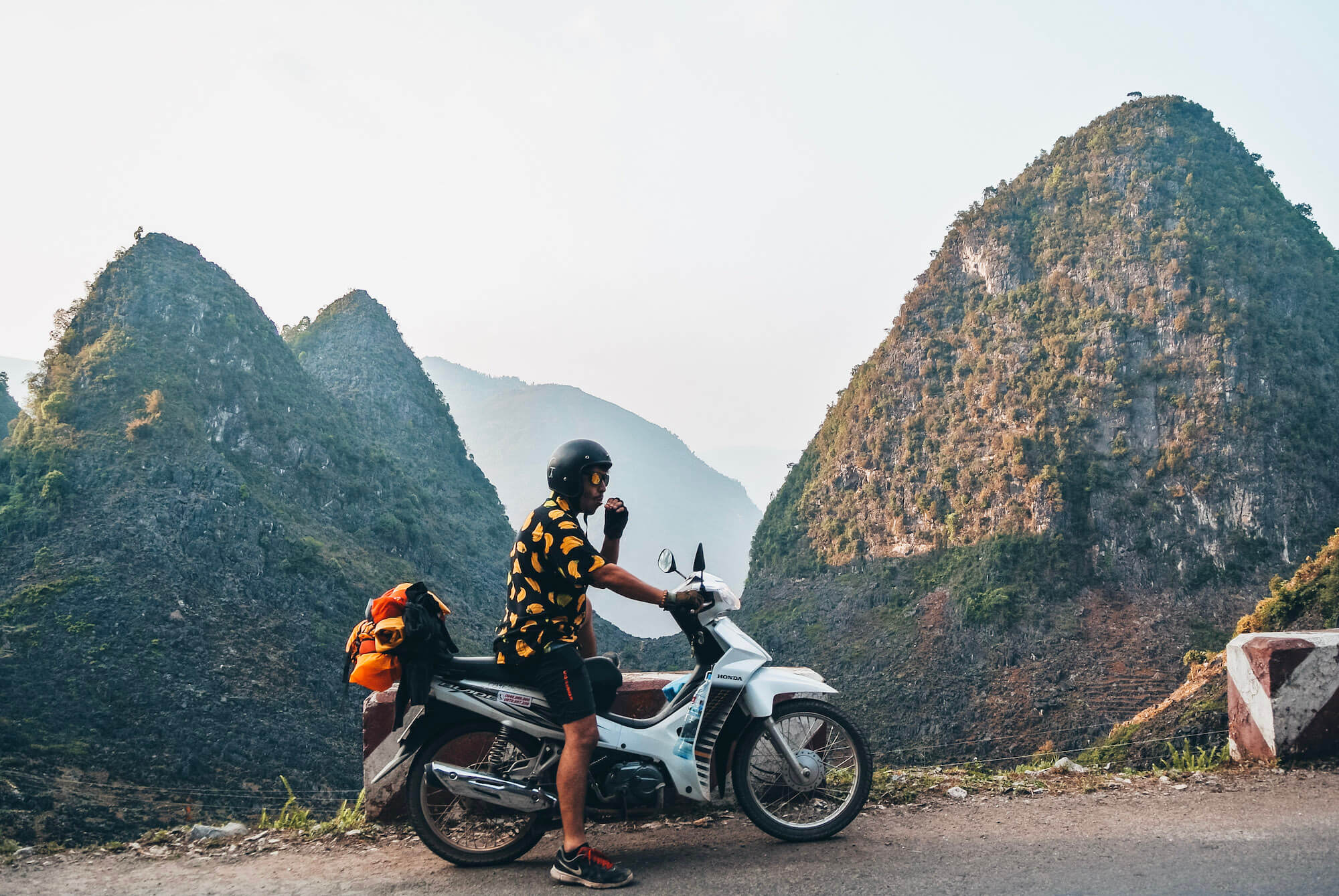 How to long does it take to motorbike the Ha Giang Loop?
The length of the Ha Giang loop is up to your timeframe. You can cut off sections and complete it in 3 days or shorten your days on the bike to make it 5 days. However, most travellers choose to do it in 4 days and 3 nights, which is the itinerary I'll cover here.
From Hanoi, hop on a night bus to Ha Giang city to save precious travel time. The trip takes around 6-7 hours. Note that if you do take a night bus, you will often arrive in the very early morning, so it may be worth getting a bed to crash in when you arrive in Ha Giang. 
You can also travel from Sapa to Ha Giang which will take between 7-8 hours.
How to rent a motorbike in Ha Giang
Ha Giang is well groomed for motorbike rental. Bong Hostel rents great and new motorbikes (plus helmets and padding to protect your elbows and knees!). The staff will also provide you with their phone number in case you have any issues with your bike on the road and need roadside assistance or repair. If you're new to riding a semi-automatic bike, they'll also give you a tutorial so you feel comfortable hitting the roads. Depending on where you rent your bike, it will cost around 150,000 Vietnamese dong per day. 
And if you aren't comfortable riding your own bike? Find a travel buddy who is a more experienced driver and willing to take you on the back of their bike. Alternatively, you can also hire a driver from the area to really enjoy a safe and relaxed ride. 
What to pack for motorbiking the Ha Giang loop
Leave your travel backpack (like the Khmer Explorer Travel Set) at your Ha Giang hostel and bring only the essentials:
A small day pack like our Kiri backpack
A backpack cover or wet/dry bag for your valuables like Kiri's No Sugar Kit – the rain can be torrential on this loop!
Rain poncho for inevitable downpour days 
Sunscreen
A small first aid kit(including antiseptic, bandages, and ibuprofen) 

Clothes for 4 days – be sure to bring a sweater for the evenings, long pants and long-sleeved shirts to protect your skin from the sun. A sun hoodie is a great option for this trip! 

 Check out the Outdoor Research Echo Hoodie available in mens

 and 

womens.

Running shoes

Toiletries 

Offline map app on your phone like maps.me

Phone charger/power bank 

this one by Zendure, is tiny and provides over 2 full charges on my Iphone 13.
Bring your own bottle and use a Steripen to treat any water.
Your hostel's phone number in case you have any motorbike issues
Other essentials for the Ha Giang Loop
Whatever you do, don't forget this
You'll be motorbiking or riding on the back of one across steep and windy roads! Comprehensive travel insurance is an absolute must. A friend of mine was medevaced to Bangkok from Cambodia and spent several weeks in the hospital there to the tune of $750,000. Fortunately, she had travel insurance! 
If you don't already have travel insurance, check out World Nomads* . Their coverage includes medical emergencies, luggage & gear and trip cancellation.  Hopefully, you never need to make a claim, but if you do you'll be beyond happy you were prepared!
*We receive a fee when you get a quote from
World Nomads
using this link. We do not represent
World Nomads
. This is not a recommendation to buy travel insurance.
Best season to motorbike Ha Giang
Vietnam's dry season, October-April, is usually the best time for the loop. I visited in April and the road was starting to get pretty slick with rain, which increases the danger of driving here.
Where to stay on the Ha Giang loop
Where to stay in Ha Giang
Bong Hostel – I highly recommend staying at and renting bikes from the lovely staff at Bong Hostel (which means flower in Vietnamese, I learned). The beds here are incredibly soft compared to the rock hard ones you will find in most of Ha Giang province. The hostel also offers an incredible family dinner under a beautiful paper-leaf tree in its adjacent restaurant. When you rent a bike here you'll get equipped with a map and helmet, plus knee, wrist, and elbow pads you can wear to combat any potential road rash on The Loop. 
Where to stay in Yen Minh
Milk Milk Homestay is a fantastic new spot that has been earning top reviews (pictured above)!

Tom Homestay – Tom's features large double mattresses on the floor, each with an individual mosquito net and warm blanket. The family dinner at Tom's is delicious and, vegetarians rejoice, there are a lot of vegetable dishes to enjoy!
Mr Hung Meo Vac Hotel – I stayed at Mr Hung Meo Vac Hotel, which had the hardest beds I have ever encountered on my travels, but the incredible view from the balcony really made up for the lack of sleep.
Homestay or Hostel – There are only three places to stay in Du Gia: two homestays and a hostel. It's thus wise to book ahead before you get here. All of these are excellent with wonderful family dinners served in the evening. The town itself is a simple street cut into the striking landscape. Check out the Du Già Mường Trà Garden Homestay.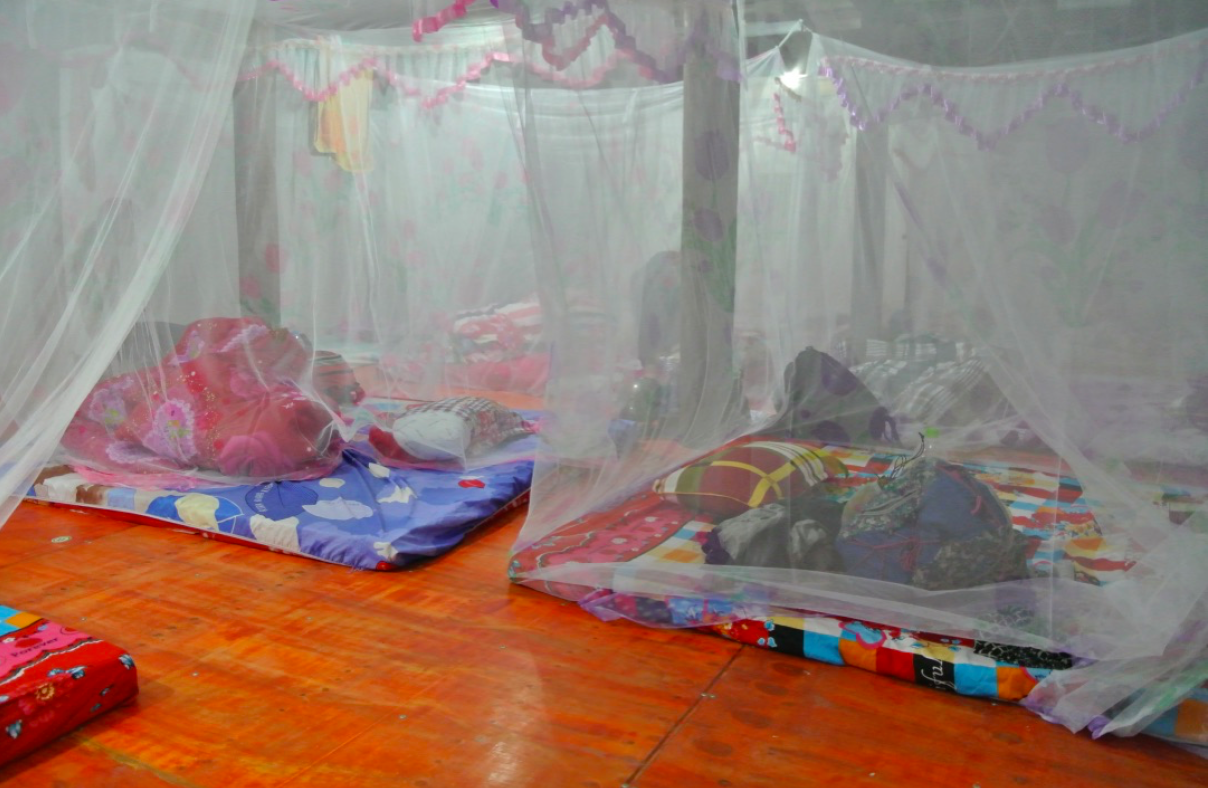 Itinerary for the Ha Giang Loop
Day 1 - Ha Giang to Yen Minh (~100km)
The city of Ha Giang is the logical starting point for the Extreme North Loop. After you rent your bike and fill up with gas, be sure to stop for a delicious raspberry smoothie in town at King's Coffee before you hit the road. After a sugar kick, you should be ready to set out on the 100km journey to the town of Yen Minh. Only five minutes out of Ha Giang, the countryside unfolds in front of you and the incredible views of the next four days begin. 
Stop for lunch in the town of Tam Son (also called Quan Ba) and once you reach Yen Minh, navigate your way to Tom Homestay.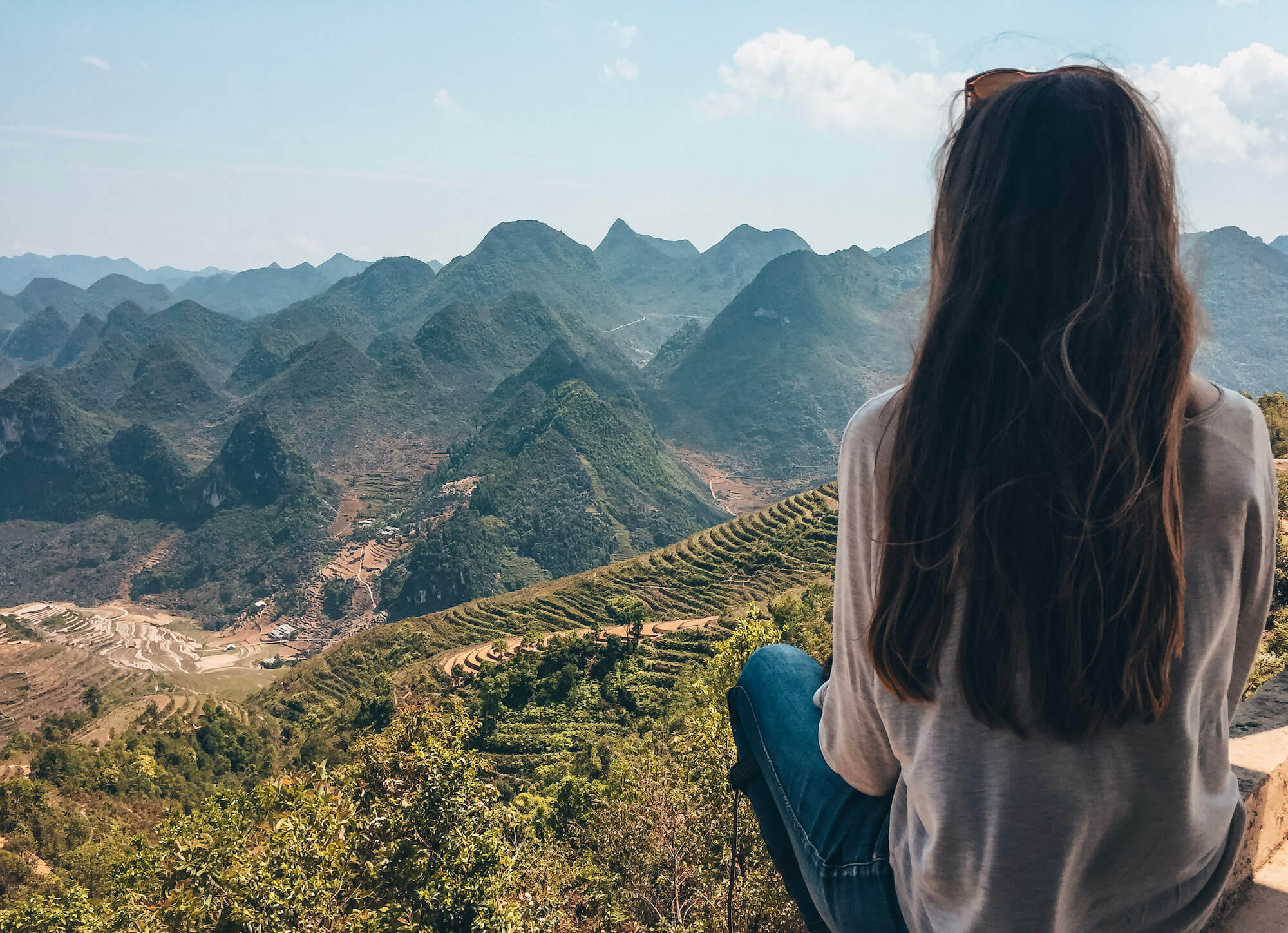 Day 2 - Yen Minh to Meo Vac via Lung Cu (~120km)
After a night at Tom Homestay, set out from Yen Minh for the most northern point in Vietnam, Lung Cu. At the time we visited, the road to get to Lung Cu was undergoing significant construction and it was one of the dodgiest patches to navigate on a bike. Once you finally arrive here, you can stretch your legs by climbing to the top of a tower with a famous Vietnamese flag pole and lookout over both China and Vietnam. Be sure to stop along the way to look out over the incredible terraces. 
After getting your view fix at Lung Cu, you can end your day in Dong Van or press on through the famous Ma Pi Leng Pass to reach Meo Vac. Meo Vac is a more scenic place to stay than Dong Van, although it has fewer food options. 
The Ma Pi Leng pass itself is an epic 22km pass that stretches from Dong Van to Meo Vac. Cut precariously into the limestone karst mountains and dropping off to the river below, Ma Pi Leng provides some of the most breathtaking views in Ha Giang province and it's the stretch of road most people go on the Loop to see. While it may not be called the Death Road, this road can be slick and dangerous when it rains, so do be careful here.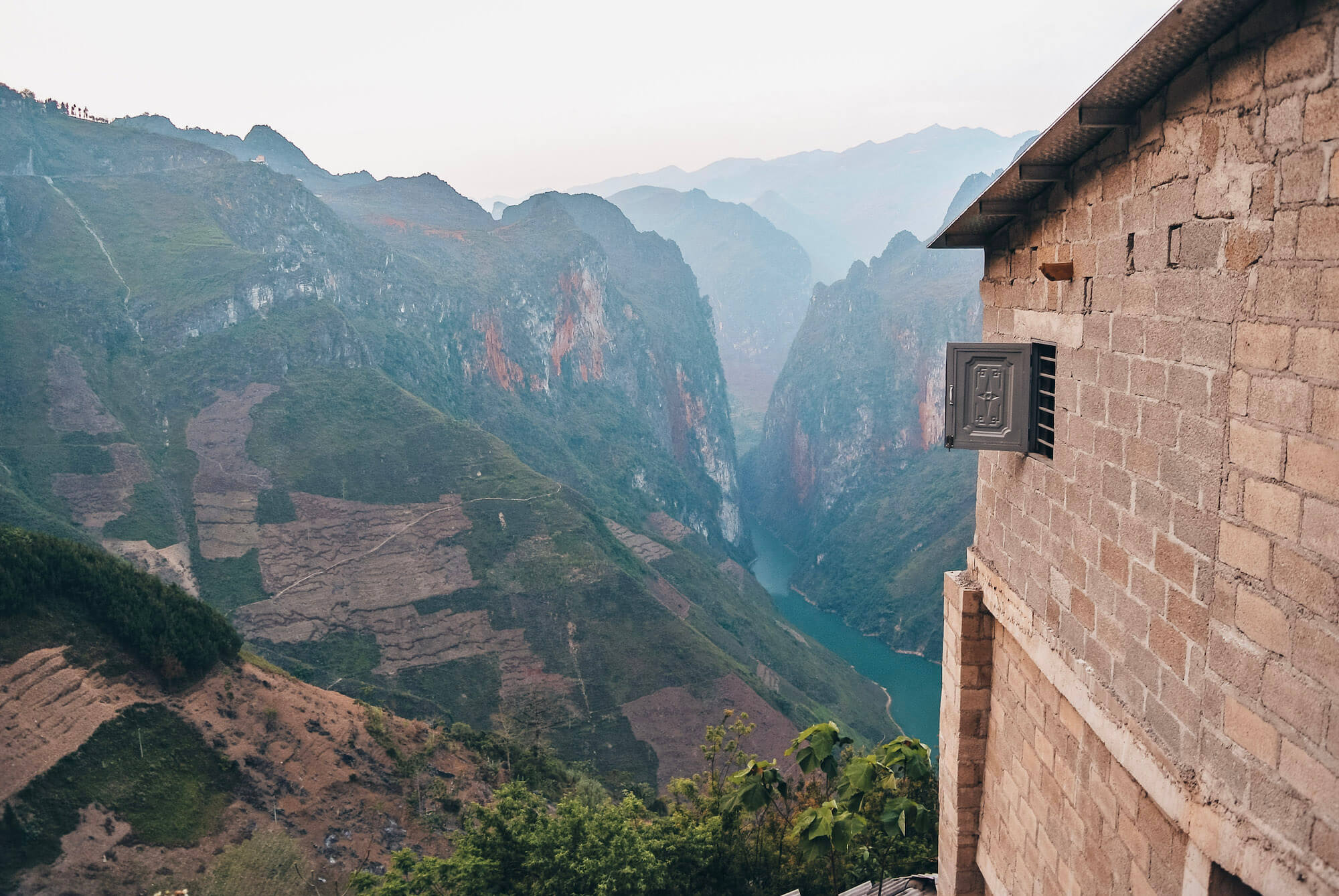 Day 3 - Meo Vac to Du Gia (~80km)
The journey from Meo Vac to the tiny village of Du Gia is easily the most beautiful day on the bike. With incredible views of rice terraces, ethnic minority villages, and old French hill station ruins, this is the day to take your time and experience Ha Giang at its finest. 
The town itself is a simple street cut into the striking landscape. Be prepared for a lot of rice wine and karaoke on this final evening in tiny Du Gia.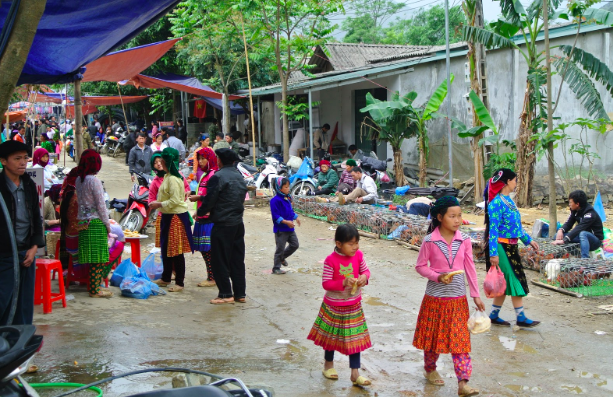 Day 4 - Du Gia to Ha Giang (~80km)
In the morning, you'll often find a market happening along the main street. With all sorts of fruit, traditional dresses, and animals for sale, it's a fascinating experience. The final day of biking is a long haul back to Ha Giang. You'll cross a number of rather precarious looking bridges on your way and can stop in Quan Ba for lunch once again. Once you reach Ha Giang, pat yourself on the back for making it safely (we hope!) and treat yourself to another smoothie.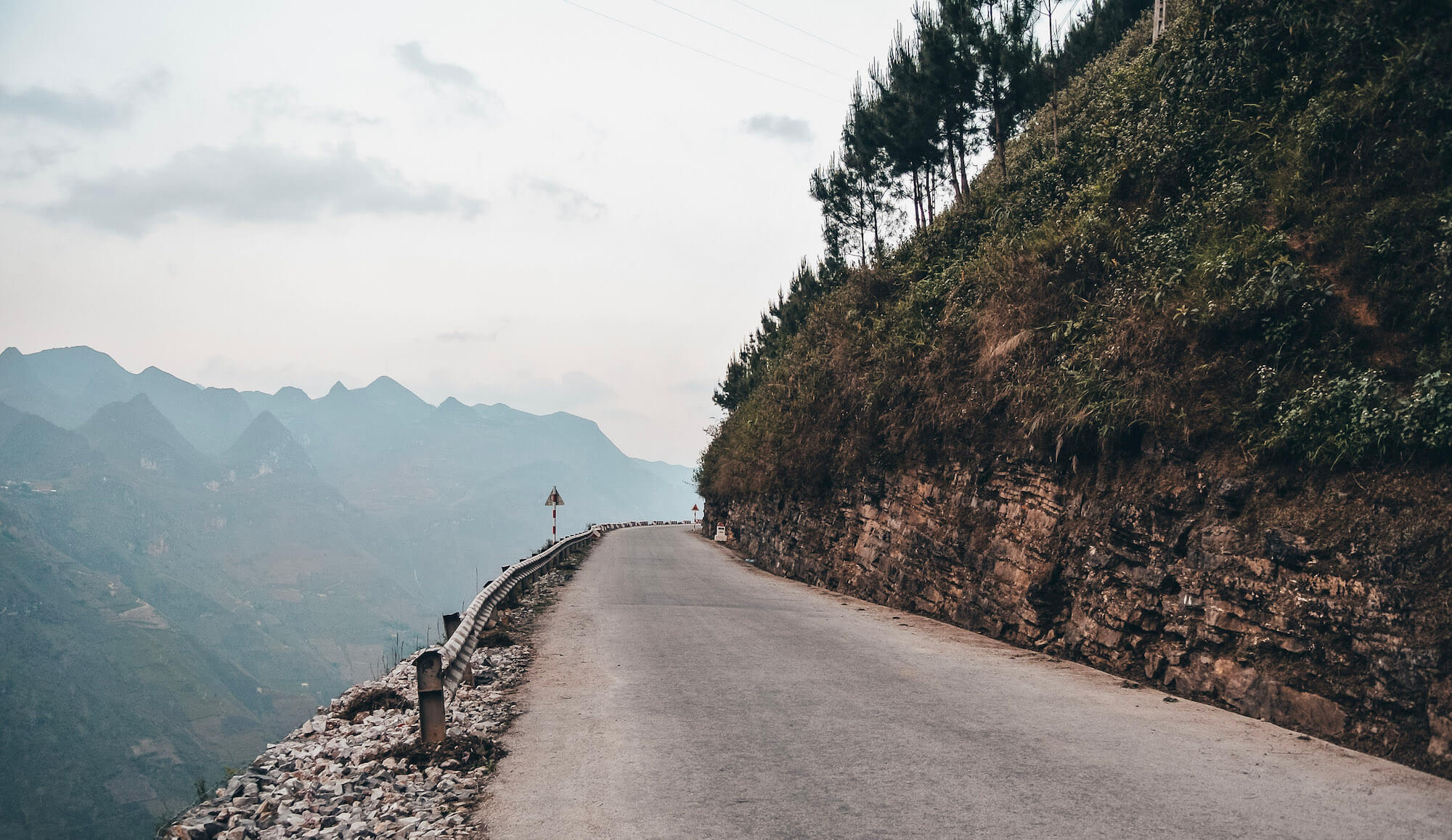 The Ha Giang loop is likely to be a highlight of any trip to Vietnam. Be safe, plan ahead and enjoy the incredible scenery. Happy motorbiking!
Disclaimer: Some of the links in this post are affiliate links. If you click one of the links and make a purchase we'll earn a small commission at no cost to you. Just like the travel backpacks we build, we're very particular . So any products or services we suggest, we test and use ourselves before making any recommendations or endorsements.
Banana Backpacks Inc. is a participant in the Amazon Services LLC Associates Program, an affiliate advertising program designed to provide a means for sites to earn advertising fees by advertising and linking to Amazon.com