Cambodia is one of the best countries to experience every extreme of travelling. It's home to some of the world's most jaw-dropping ancient architecture from the 12th century at Angkor Wat. But just a few hours south, the contrast is stark as you experience the country's heart-wrenching history. Phnom Penh's Killing Fields and the S-21 Genocide Museum are potent reminders that one quarter of this beautiful country's population was killed in the 1970s.
Today's Cambodia is a unique and incredible mix of this grandeur and tragedy. It has an eager, youthful population who are bright eyed and ready for change. With strikingly beautiful islands, quiet backwaters where you can kayak or SUP, lush rice fields, red roads, and some of the kindest people you'll meet, Cambodia will unabashedly capture your heart as it first captured mine 9 years ago. After living here and exploring the country over the past year, I hope to be able to share some of the greatest gems of Cambodia with you, whether you're looking for a 1 week Cambodia itinerary or to spend a full 3 weeks exploring.!
** Some of the links in this section are affiliate links. If you click one of the links and make a purchase we'll earn a small commission at no cost to you. Just like the travel backpacks we build, we're very particular about travel products and we only recommend products, services, or accommodation we trust and use ourselves.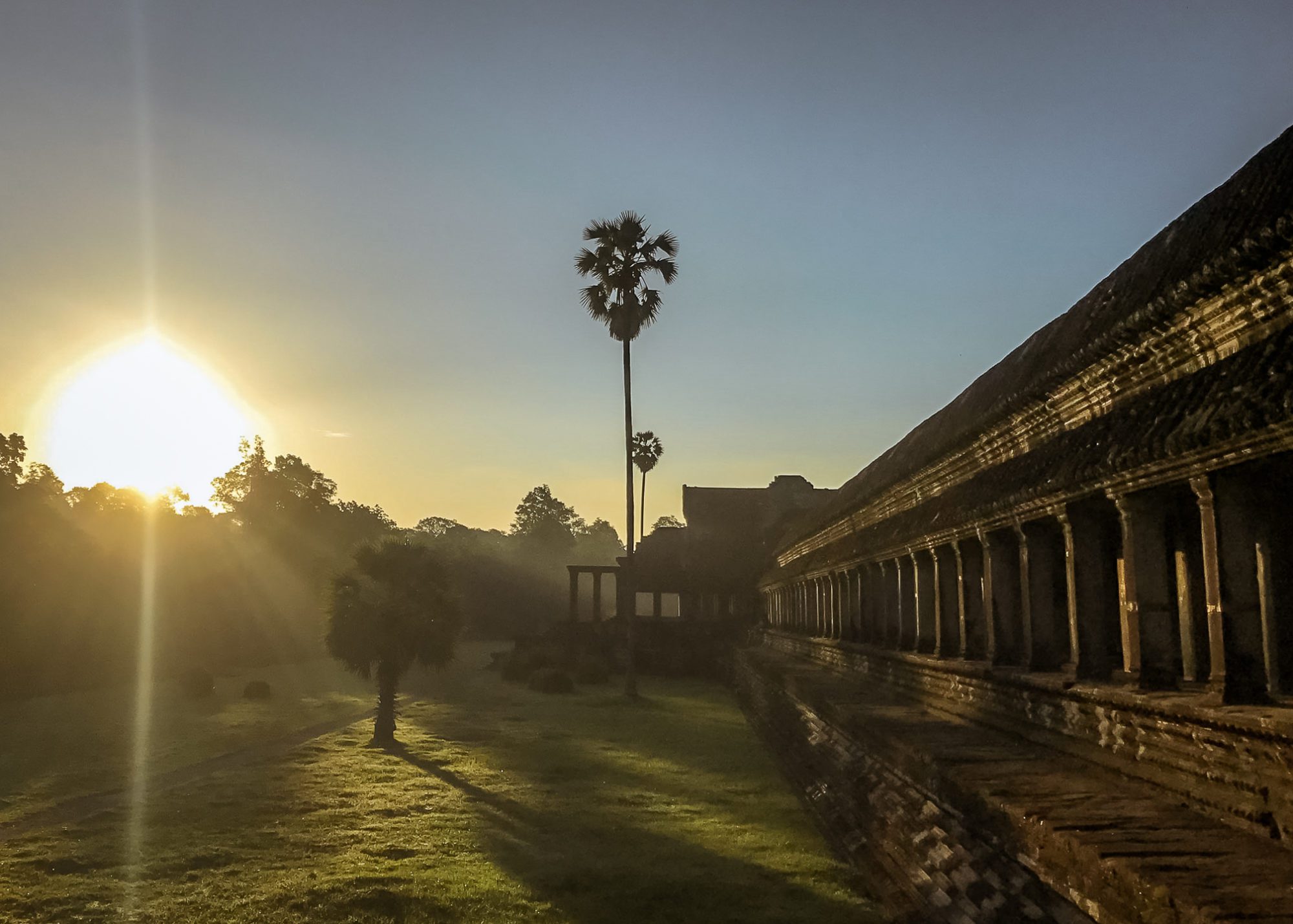 Cambodia Itinerary Options
Cambodia offers plenty of experiences for trips of all lengths. The following outlines are a good starting point for your adventure with the option to speed up or slow down any of these itineraries as you see fit. Scroll through the whole post or click on any of the
individual
stops to skip ahead to the sections most relevant for your own Cambodia itinerary.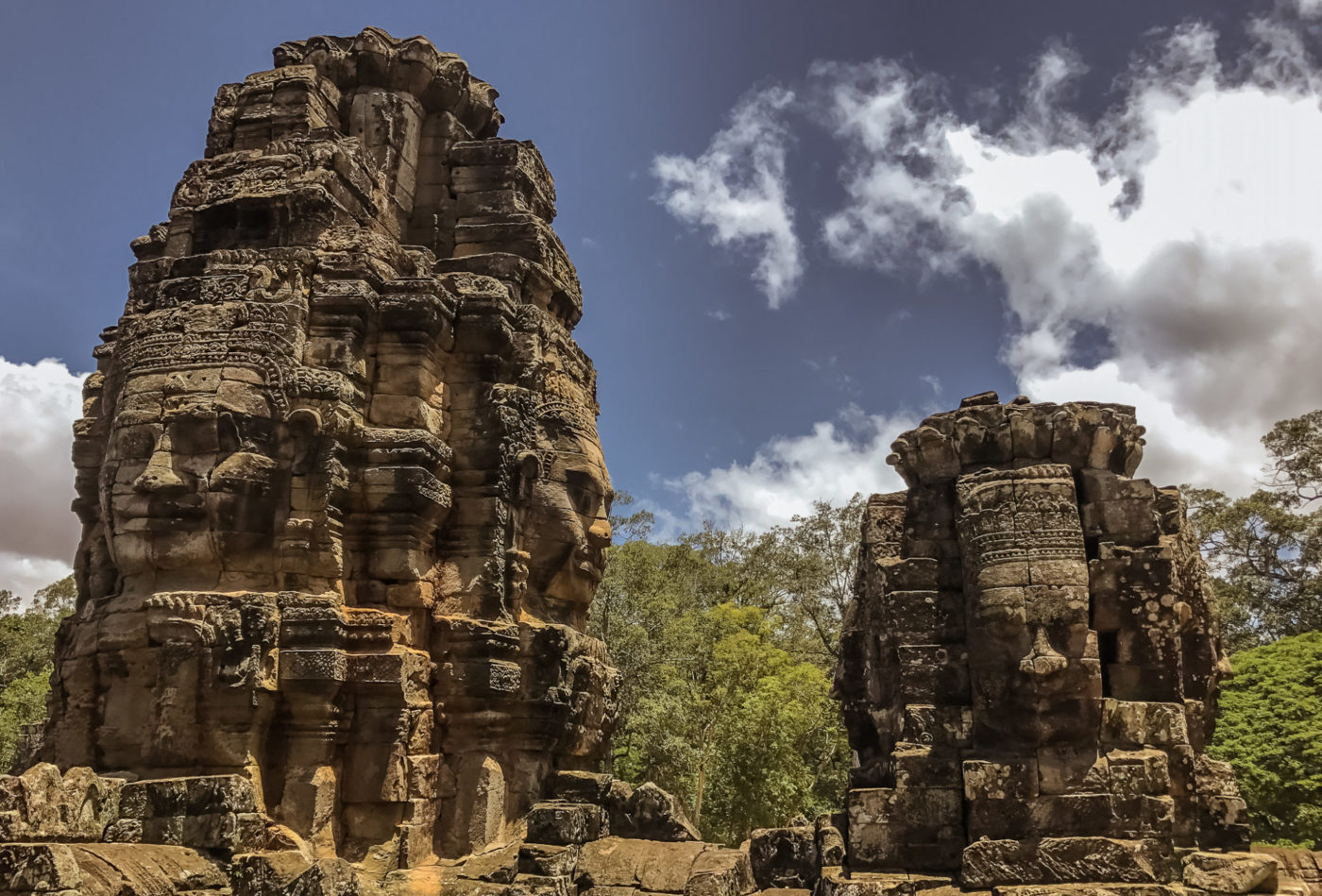 Basic information for your Cambodia trip
Visa requirements for Cambodia
You can purchase a visa upon arrival at air or land borders. It costs $30 USD for 30 days. A passport photo is required. If you don't have one you'll be charged an extra $2 USD.
Cambodia's official currency is the Cambodian riel. In practice, the country uses both US dollars and Cambodian riel. It's common to pay for anything less than 1 USD using riel (e.g. 25 cents = 1000 riel) and anything over this using US dollars.
When is the best time of year to visit Cambodia?
To avoid the intense rain and heat in Cambodia, it's best to visit between November and March.
No matter your Cambodia itinerary proper travel insurance that protects you for the adventure activities is a must! Check out World Nomads for options that include coverage for all adventures like scuba diving and motorcycling. 
How to get around in Cambodia
Download Grab (the regional ride-sharing app) and PassApp (the Khmer version) on your phone when you arrive in Cambodia. These apps take away the stress of getting ripped off for a tuk-tuk or rickshaw ride and also save you having to direct your driver around a new city. If you're booking buses between Cambodia's cities you can use the online service Book Me Bus
.
International flights now arrive at both Phnom Penh's airport and Siem Reap's extravagant new airport. Flights to get here don't tend to be the cheapest in Southeast Asia, so if you have some extra time to spare you might consider flying to Bangkok and overlanding to Cambodia from there.
You can take the bus into Cambodia from neighbouring Thailand, Vietnam or Laos. Buses from Ho Chi Minh City to Phnom Penh take 6-7 hours while buses from Bangkok to Phnom Penh take 12 hours and from Bangkok to Siem Reap around 8-10 hours.
How much should you budget for your trip to Cambodia?
On average plan to spend about $5-8 for a dorm bed, $2 for a plate of noodles, $9 for a bus ride within the country, and $1 for a glass of Angkor draft beer. Angkor Wat ticket entry will be your big splurge.
On average plan to spend about $20 for a private room in a hostel or guesthouse, $6 for a great meal, $45 for a one-way flight within the country, and $3.50 for a cocktail.
Is it safe to visit Cambodia?
Yes! Cambodia is one of the countries I've felt the safest in as a solo female traveller. That being said, like anywhere in the world (including your home country), you should keep your wits about you. On that note here are a few things to be aware of:
These have become sadly commonplace, especially in Phnom Penh. Wear your backpack with both straps on and if you're going out in the evenings, try to just carry your belongings in your pockets. Watch out for motorbikes passing by when you're taking photos with your phone, or all of those beautiful travel photos and your means of communicating will disappear in a flash! If you're looking for peace of mind, check out
World Nomads
 for comprehensive travel insurance including theft
(I've used their insurance to cover me while living in Cambodia).
This one used to be a favourite in Siem Reap and it still pops up from time to time. A woman will stand nearby a shop and ask a passerby to buy milk for her baby. She'll explicitly tell you she doesn't want money, just milk. Unfortunately these women have a deal with the nearby shopkeeper, so once you buy that milk and leave, they will return the milk and grab the cash. There are much more sustainable ways to support those who need help in Cambodia. Try visiting a training restaurant or donating your time or money to a reputable local NGO instead.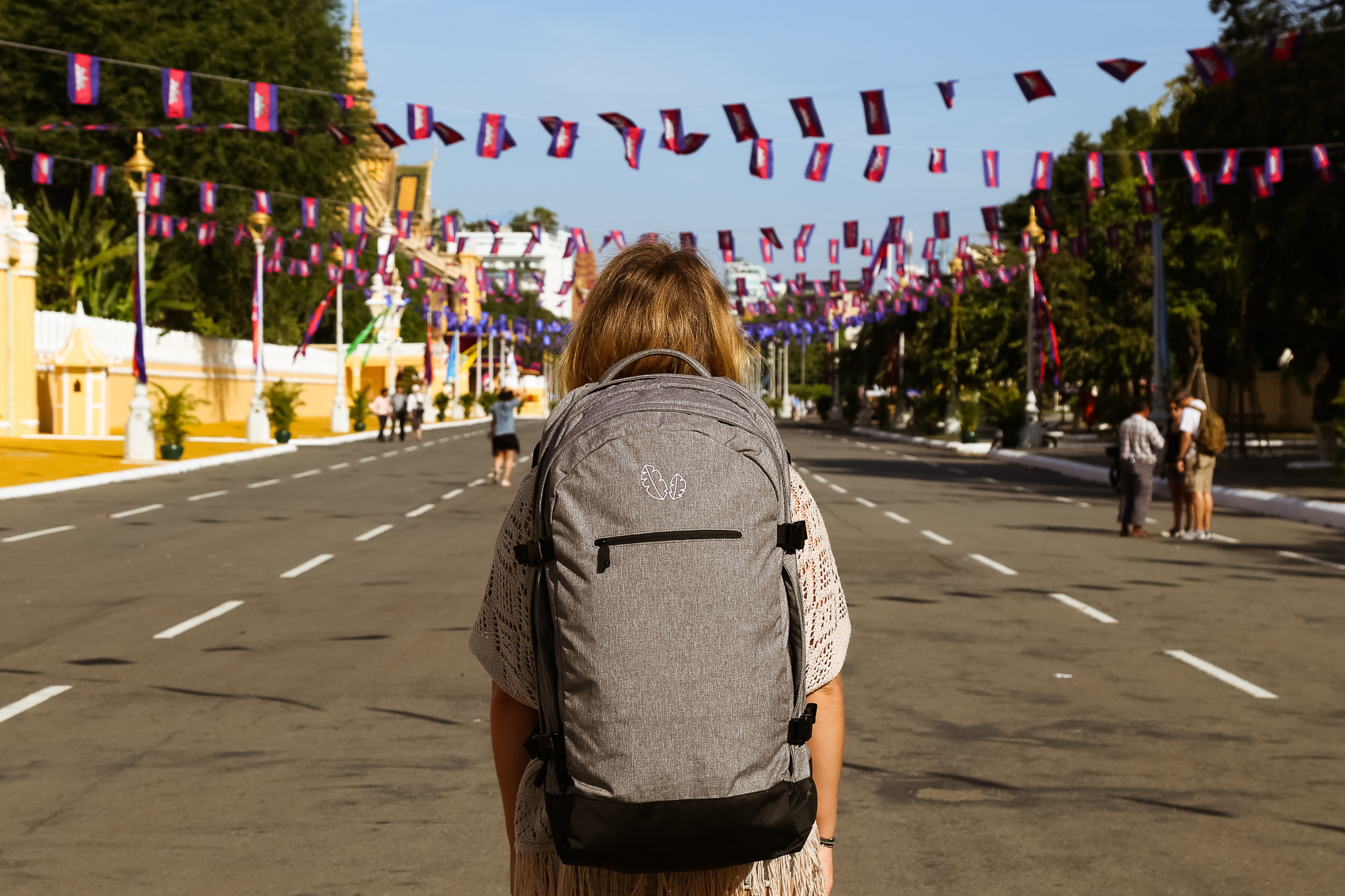 What should you bring to Cambodia (the essentials):
Uneven terrain and frequent bus, boat, and tuk-tuk rides make a travel backpack the perfect luggage for your Cambodia adventure.  Your pack should be weather resistant, ergonomic, and help you stay organized. If you need a travel pack check out our Khmer Explorer Travel Set which was built for adventures  just like this. Plus every bag helps a child in Siem Reap province go to school, so you're giving back to this country before you've even landed!
Comfortable clothing for hot weather
Think linen, organic cotton, sweat wicking, quick drying, and light colours. Cambodia gets crazy hot, even during the cool season. Leave the jeans at home!
Water bottle & water purification device
Cambodia is one of the hottest countries I've every travelled too, meaning you're going to be really, really thirsty. Plastic pollution is a major problem, so grab your favourite water bottle and use the ever more readily available water coolers or your own purifier (like a steripen) to stay hydrated and cut down on plastic waste. Also, bring along some electrolyte tablets if possible. The water here doesn't have many minerals and these tablets will help prevent dehydration.
A comfortable pair of sandals or shoes for walking
If you're visiting the temples of Angkor you'll be doing a lot of walking and climbing!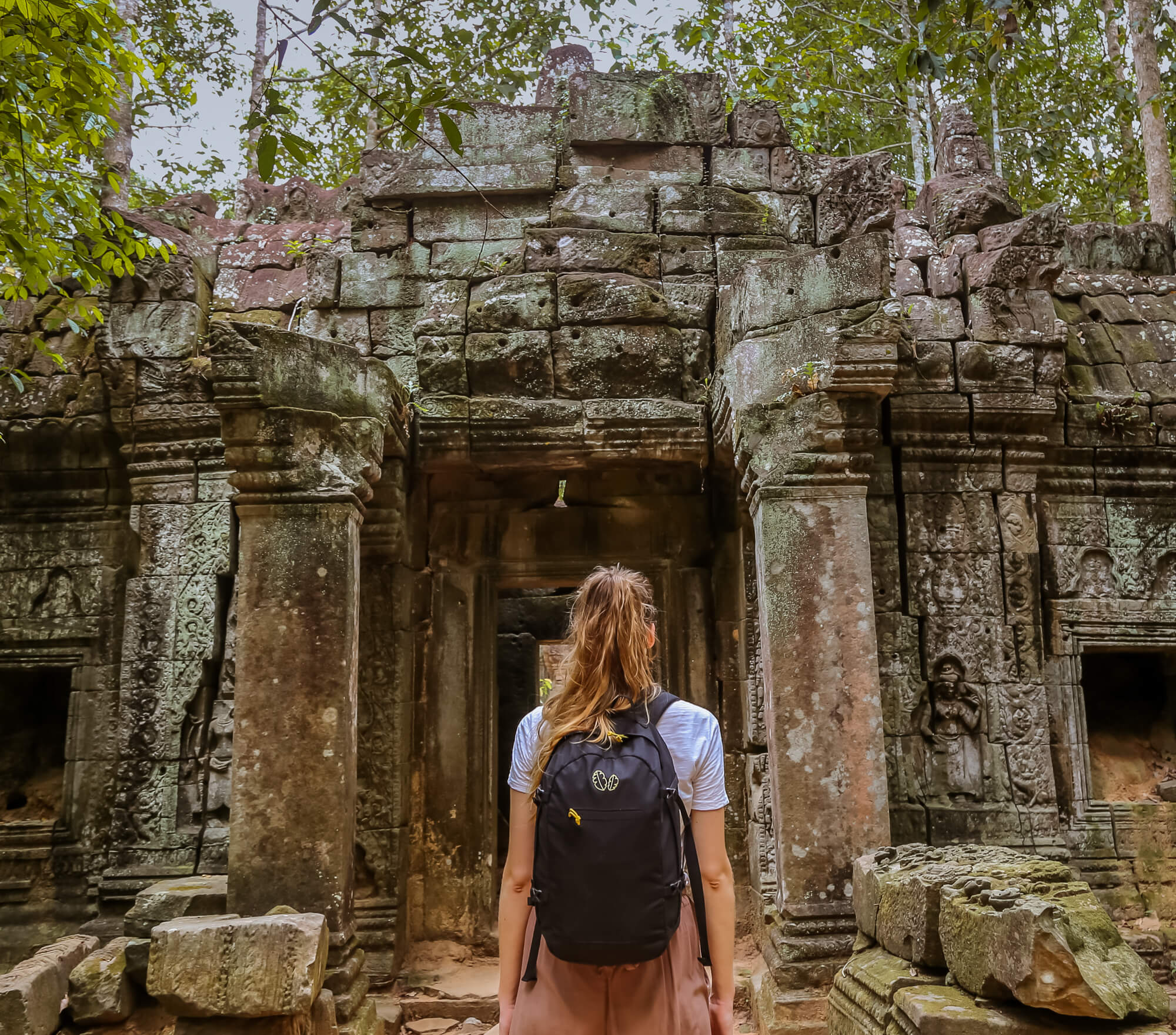 Travel Guide to Siem Reap
Siem Reap is the jewel of Cambodia and an essential stop on all Cambodia itineraries. The jumping off point to visit the temples of Angkor Wat, many tourists make this their only destination in the country and if you're short on time in Cambodia, this is the place to see. While the town itself has become a bit of a tourist madhouse, heading just a few streets away from the notorious "Pub Street" brings you to a different world of beautiful green fields, sleepy villages, and hidden temples to explore. Many people cram a marathon visit to Angkor Wat in one day and move on, but there is so much more to enjoy in Siem Reap and it's worth spending a few more days in this little town. 
International flights arrive straight into Siem Reap, so for those limited on time, flying directly here is a great option. Your guesthouse or hostel will usually offer a free pick up service from the airport. Alternatively, you can use PassApp or Grab to book a tuk tuk. 
Buses arrive to Siem Reap from across the country. From Phnom Penh it takes about 6 hours by bus. We would recommend Giant Ibis ($15) for their great safety standards and conservation efforts. Cambodian roads can get a bit crazy at night so try to travel during the day for your own safety when possible.
Visiting the Temples of Angkor
The ancient city of Angkor was once home to a population of over 1 million people and held the title of the world's largest city. During the period between its creation in 802 AD to its abandonment in 1431, the God Kings of the Khmer Empire constructed a series of magnificent temples and religious monuments across hundreds of square kilometres of modern day Cambodia, Thailand, Laos, and Vietnam.  The crown jewels of this era are housed within the Angkor Archaeological Park adjacent to the town of Siem Reap. From taking in sunrise over Angkor Wat, to gazing at the many faces of the Bayon, or wandering the tree-engulfed corridors of Ta Prohm, no trip to Cambodia is complete without a journey here. Is it crowded? Absolutely. Can the tourism be overwhelming? For sure. But just like many of the world's great wonders, a trip here is sure to be unlike anything you've ever experienced.
Complete Guide to Visiting Angkor Wat
Basic Information for Angkor Wat
One day $37 (valid only on the day of purchase)
Three days $62 (valid for 10 days from the date of purchase)
Seven days $72 (valid for one month from the date of purchase).
What to bring to Angkor Wat
A small everyday backpack like our Kiri pack 

Water (lots) and a few snacks.

Your ticket (it will be checked at numerous checkpoints).
Sunscreen.
A hat.
Sunglasses.
Bug spray.
Buy your ticket the evening before your after 5pm to avoid the chaos of getting it on the first morning. You'll also get access to the Park that night, offering you the bonus of watching the sunset to kick off your temple touring. The most popular sunset spot, Phnom Bakheng, is extremely busy and you're unlikely to get a spot (given you won't be getting your ticket until 5pm), but the temple Pre Rup is also open until 7pm and is a great way to start your adventure after buying your ticket.
What should you wear to Angkor Wat?
The Angkor Park remains an active religious site. As such, it's recommended that you wear a shirt that covers your shoulders and shorts/pants/skirt/dress that extends below your knees. Individuals not meeting this dress code have been rejected entry in some cases, so do air on the side of caution and respect.
While rare, in some of the smaller temples you may be chatted up by a child or adult who gives you a tragic tale about a series of unfortunate events that led them to a very poor financial position. The conversation may start out as just a friendly conversation that you can easily mistake as getting to know a local, but it will inevitably find its way to their dire situation. These individuals are generally cons, so do your best to get out of the conversation and politely leave when it starts taking a turn. There are plenty of ways to help out by donating your money or time to organizations truly making a difference in Cambodia, so choose this option instead to be a responsible traveller.
How to Get Around Angkor Wat
The vastness of Angkor Archeological Park is only realized once you begin exploring it. It's big. Really big! In light of this, walking from temple to temple is out of the question. Generally the two most common options are traveling by tuk-tuk or by bicycle:
From the minute you arrive in Siem Reap, every driver, tuk-tuk driver, and tout will ask you how you plan to see the temples and more than eagerly offer their expert guiding services to you. Seeing the temples by tuk-tuk is a great way to go when it comes to staying as comfortable as possible in the Cambodian heat. Generally, many tuk-tuk drivers have a good idea of which temples to visit and at which times. They'll help you plan out your itinerary and wait for you while you take the time to tour each one. Often the biggest challenge is finding the right driver. I've had good luck taking a driver affiliated with my hotel, hostel or guesthouse and usually recommend going this route. Alternatively talk to a few before committing and pick the person you like the best!
Bike: $1-9 (rickety old bike or a more polished mountain type bike)
Cycling is a great way to explore the temples of Angkor and truly appreciate the beauty of the magical scenery in this area. Many hotels and guesthouses make bikes easily available for rent to guests. Don't underestimate this though, as you can easily be cycling for 17 km (Small Circuit) or 26 km (Big Circuit) in the scorching Cambodian heat depending on the route you choose. If you decide to take a bicycle, be prepared to sweat, and remember to bring a headlamp if you go out for sunrise. I'll never forget the intense paranoia I had of becoming roadkill in the pre-dawn as hundreds of tuk-tuks and tour buses cruised past me as I peddled furiously along the road to Angkor Wat. If you need help planing your cycling excursion, use the map and guide below.
You'll be able to pick up a general map of Angkor at your hotel or hostel, but here's one you can use for quick reference (just save the image to your photos). The Angkor Park is broken down into 2 circuits, the Small Circuit (~17km) and the Big Circuit (~26km). If you're only here for 1 day you will likely stick to the highlights of the Small Circuit. If you have 3 days, you'll move onto the Big Circuit. If you have 7 days, you'll be able to spend a lot of time wherever you want and potentially double down on your favourites.
The largest religious site in the world, Angkor Wat is a spectacular 12th century temple that was originally dedicated to the Hindu god Vishnu and designed to represent Mount Meru, the sacred 5-peaked mountain of Hindu, Jain, and Buddhist cosmology. Despite the mass of crowds, a sunrise (~5 am) here is a truly unique experience. Make sure to spend time admiring the massive lengths of bas-reliefs and finding some relative solitude as the bulk of tourists eat breakfast or rub the sleep out of their eyes following the sunrise.
This hilltop temple near to Angkor Wat is a hotspot for sunset vistas. But with great views come great crowds. If you plan on watching the sunset here, arrive early otherwise you won't get a spot. During the day this is a place to find solitude, although it gets extremely hot during midday as there is no tree cover once you reach the temple
 Literally means "Great City". If ever there was an ancient city worthy of its namesake, it's Angkor Thom. The minute you enter, over the gigantic moats, through the walls, and beneath the faces that watch over each gate, you will be taken aback by the size and scale of this ancient citadel. The following temples are highlights within the Angkor Thom complex:
At the heart of Angkor Thom is the Bayon. While smaller than Angkor Wat in size, the detail and 216 smiling faces adorning its towers make this temple a fan favourite.  Many theorize that the faces depict King Jayavarman VII the builder of Bayon and Angkor Thom. This temple is truly spectacular in its level of detail. Explore the beautiful lower levels of the Bayon to escape the crowds while still being able to peek up at the towering faces above.
Slightly north of Bayon lies the 30m tall 3-tiered Baphuon. Climb the steep steps to take in the view over Angkor Thom. As you journey around this magnificent structure and observe its details, take a moment to appreciate that you're standing on a restoration project that was 50+ years in the making.  By the 20th century the Baphuon had almost entirely collapsed and an epic restoration project began. Over 300, 000 of the blocks were labelled and arranged around the area and a detailed catalogue created. Then the Khmer Rouge conflict followed and the plans were lost. In 1996 restoration resumed, and piece by piece the temple was reassembled over the span of 15 years.  On April 2011 the temple reopened, fully restored. Some call it one of the world's largest puzzles, and for good reason.
Continuing north from Baphuon, the often forgotten jungle-gem of Preah Palilay is one of my most recent favourite discoveries within Angkor Thom. Tucked away behind a Buddhist monastery in the forest, this little temple has a chimney-like tower at its centre and several huge trees entangling its base stretch almost as high as the tower itself. This temple is worth a quick visit to really feel like Indiana Jones.
Banteay Kdei is similar in style to Ta Prohm and Preah Khan, but a smaller version. It's a charming little temple located across from Srah Srang lake.
This large water reservoir demonstrates the engineering capabilities of the Khmer Empire. It also happens to be a nice place to watch sunrise with fewer crowds.
Just outside of Angkor Thom lies Ta Keo. A mountain style temple dedicated to Shiva, Ta Keo was left unfinished in the 11th century. An inscription claims it was struck by lightning, a bad omen that led to a halt in its building, but the death of the temple's commissioning King is another potential reason. Regardless, climbing Ta Keo's three tiers of steep steps is worth the fear of slipping to get a nice view from the top level.
The iconic tree temple that was brought to fame by Tomb Raider lies about 1km to the east of Angkor Thom. Ta Prohm was originally built as a Mahayana Buddhist monastery and university. Today Ta Prohm is one of the most popular temples in the Angkor Archeological Park due to the fact is was left almost as it was found when rediscovered. Massive trees drape their roots over ancient stones striking up an incredible contrast of man vs. nature.
 Reminiscent of Ta Phrom (including the unrestored style), but with half the crowds. This temple is a must visit. Wander the many corridors and meditate among the trees. If you get your timing right, you may even have the place virtually to yourself.  
 A small temple in the theme of Preah Khan and Ta Prohm, Ta Som is another one of my favourite places. Tucked away in the jungle on a dirt road off of the main concrete circuit, this temple is often missed by the tourist hordes and I've had the place to myself on multiple occasions. It's a beautiful place to navigate through the rubble and admire the trees soaring through and beyond its stone walls.
Just down the road from Preah Khan lies this small and peaceful water temple. Its small size and boardwalk access can make it a little crowded during busy times, but it's a beautiful place nonetheless.
A great choice for sunset if you're looking to avoid the insane crowds of Phnom Bakheng, Pre Rup offers striking views over the surrounding area. Remarkably it never gets too busy here, so climb up to Pre Rup's top tier and sit down for a bit of relaxation to absorb the beauty of the Park.
 25 km northeast of Angkor Thom lies Banteay Srei. This small temple is frequently raved about for its elaborate carving that may be the most elaborate of all the temples of Angkor. You'll need a tuk-tuk to get here, but if you have the energy after all the other temples, the carvings are worth the trip.
How to visit Angkor in 1 Day
Note: To do Angkor in 1 day is a whirlwind, but if you're short on time here's my recommendation on how to do it:
If biking, count on a commute of 1 hour to Angkor Wat if you're staying on the northern side of Siem Reap, longer if you're staying elsewhere. (Take it from someone who missed the sunrise not once but twice. Don't miss it…)
5:00 am sunrise at Angkor Wat

7:30 am Angkor Thom

12:30 pm Lunch in Angkor Thom

1:30 pm Quick stop at Ta Keo

2:00 pm Ta Prohm

4:00 pm Banteay Kdei

5-6 pm Watch the sunset at Srah Srang or frantically back pedal through Angkor Thom and watch from the hilltop temple of Phnom Bakheng (leave early or cut Banteay Kdei if choosing this option otherwise you won't get a spot).

7 pm Relax. Take a deep breath. You saw the highlights of Angkor in 1 crazy day.
Best Way to Visit Angkor in 3 days
3 days is often cited as the perfect amount of time to explore the temples of Angkor. It's a busy 3 days , but affords you the time to see all the temples you want at a somewhat relaxed pace.
Day 1: Angkor Wat & Ta Phrom
Start the day at the world famous Angkor Wat if you can bring yourself to wake up for the sunrise (5 am). It really is a breathtaking (albeit crowded) experience. Spend several hours admiring the vast bas-reliefs and queuing up to climb the steep steps to the upper level. Grab breakfast, a less than fantastic coffee, or the snack of your choosing at one of the many stalls/cafes along the north side of Angkor Wat.
Srah Srang & Banteay Kdei
 Instead of proceeding north to Angkor Thom (we'll save that for day 2), head east to Srah Srang and Banteay Kdei. Spend some time enjoying the reservoir and small temple.
Explore the magnificent Ta Prohm and get to know your inner Indiana Jones or Lara Croft (among many other people trying to do the same thing).
Take the time to climb up the Ta Keo mountain temple, before calling your first day. If you made it for the sunrise at Angkor Wat, you may be itching for a nap.  Even if you didn't make sunrise, you're likely going to be itching to cool down poolside with an ice cold Angkor draft, or maybe a nap and a cool down…
Cycle past Angkor Wat and proceed through the south gate into the great city of Angkor Thom. The temples in here don't open until 7:30, but if you take the time to arrive around this time you'll be rewarded with far fewer crowds than later in the day. Better yet, the morning is generally mildly cooler.
 No matter how you enter Angkor Thom, you'll pass over the great moat and through an intimidating set of gates and walls towering over 9m tall.  
At the centre of Angkor Thom this incredible temple can easily occupy several hours of exploration. Wander along the Terrace of the Leper King and Terrace of the Elephants, transporting yourself back to a time when this parade route would have seen kings returning victorious from battle.
Conclude your day by summiting the world's biggest jigsaw puzzle and admiring the amazing restoration work.  
Afternoon (time dependent) in Siem Reap or visit further out Banteay Srei by tuk-tuk or motorbike.
An early start will once again be to your advantage. Set out biking past Angkor Wat and Angkor Thom before continuing through the north gate until you reach Preah Khan.
Wander through this massive temple and enjoy the relative quiet compared to the temples along the small circuit. Find a spot to sit and appreciate the power of the gigantic trees that engulf this temple.
Neak Pean, Ta Som, and Pre Rup
Once you've finished at Preah Khan, continue down the road, stopping at Neak Pean and wandering across the boardwalk before proceeding onwards to Ta Som and concluding at Pre Rup.
Conclude Your Time at Angkor
If you're not templed-out, bike back past Ta Prohm and through Angkor Thom, taking the time to stop at your favourites one more time. You also have the option to climb up Phnom Bakheng and bid adieu to your time at Angkor with a view. If it's later on in the day already, you may even want to take the time to linger and watch the sunset over Angkor Wat. The perfect conclusion to the way you started.
The most scenic way to get to Battambang is to take a 7-9 hour boat ride from Siem Reap. It costs $20. 
The bus from Siem Reap to Battambang takes just 3-4 hours and costs about $6. 
International flights arrive here from across the world. From the airport to the centre of town (Riverside, BKK1 or Russian Market) a rickshaw booked through Grab costs around $6. An official airport taxi has a fixed rate depending on the area of your destination ($12-$15). You can also take the public bus which costs just 1,500 riel ($0.37).
Phnom Penh is a hub to access Bangkok, Ho Chi Minh City, and destinations across Cambodia. Buses coming into Phnom Penh will drop you off at different locations depending on the bus company you choose. Most bus company stations are located along the riverside or near Orussey market.  
Cambodia's passenger trains are running again! You can take the train from Phnom Penh to Sihanoukville with Kampot as a stop along the way. It's worth taking this slightly longer journey (4.5 hours) for the beautiful countryside views along the way and to avoid Phnom Penh's crazy traffic. It costs $6.
The bus from Phnom Penh to Kampot takes just 3-4 hours (depending on traffic getting out of Phnom Penh). It costs around $6-10 depending on the bus company.