Nestled off the coast of Cambodia in Vietnam's far south lies Phu Quoc Island. Phu Quoc was once a remote backwater paradise ringed with pristine white sand beaches and filled with dense jungle. Sadly, these days are now a thing of the past with massive new developments rising across every corner of the island and rubbish adorning many of the beaches. Despite this, Phu Quoc island  still offers many great things to do and the island does serve as an incredibly easy ocean escape (1 hour flight) from Ho Chi Minh City.  If you're looking for any easy way to get a bit of salt in your hair and sun on your skin, this list of things to do in Phu Quoc may be just what you're looking for!

** Some of the links in this post may be affiliate links. If you click one of the links and make a purchase we'll earn a small commission at 

no

 cost to you. Just like the travel backpacks we build, we're very particular about products and we only recommend products, services, or accommodation we trust and use ourselves.*** 
The easiest way to get to Phu Quoc is by plane. Flights are offered from numerous cities across Vietnam and several from international airports. Multiple flights leave from Ho Chi Minh daily with the sub-hour flight costing between $25-$70 dollars. 
Phu Quoc is accessed by boat via the port at Ha Tien.  Accommodation can be easily arranged from Kampot or Kep in Cambodia to Phu Quoc. If travelling this route, make sure you obtain a visa for Vietnam in advance. 
Where to stay on Phu Quoc
The bulk of accommodation is based along Long Beach and budget options are typically located inside or close to the town of Doung Dong. Quieter stays can be found in the smaller towns and beaches and the quieter roads that snake off the main highway leading from the airport to Doung Dong. Valley Sen Bungalows is an excellent value option with a series of air conditioned bungalows set beautifully around a pool in the hills near Long Beach. For a luxury beachfront experience check out Cassia Cottages
Things to remember for your trip to Phu Quoc
From motorbike rides to scuba diving, Phu Quoc offers a variety of adventure activities. Make sure you're properly insured if something goes wrong. Check out World Nomads for comprehensive coverage for all kinds of adventure activities.
Do you need a visa for Phu Quoc?
Phu Quoc offers a rare visa exemption for stays up to 30 days. If you plan on doing any further travelling within Vietnam or are going to Phu Quoc overland/by boat, a Vietnam visa will be required. Learn how to get a visa for Vietnam here.
Beach days, motorbiking and boat tours require a variety of different gear. Carry it all in the most efficient way possible with Kiri the customizable everyday adventure pack.
Best Things to do on Phu Quoc island
Hit the beach | The best beaches on Phu Quoc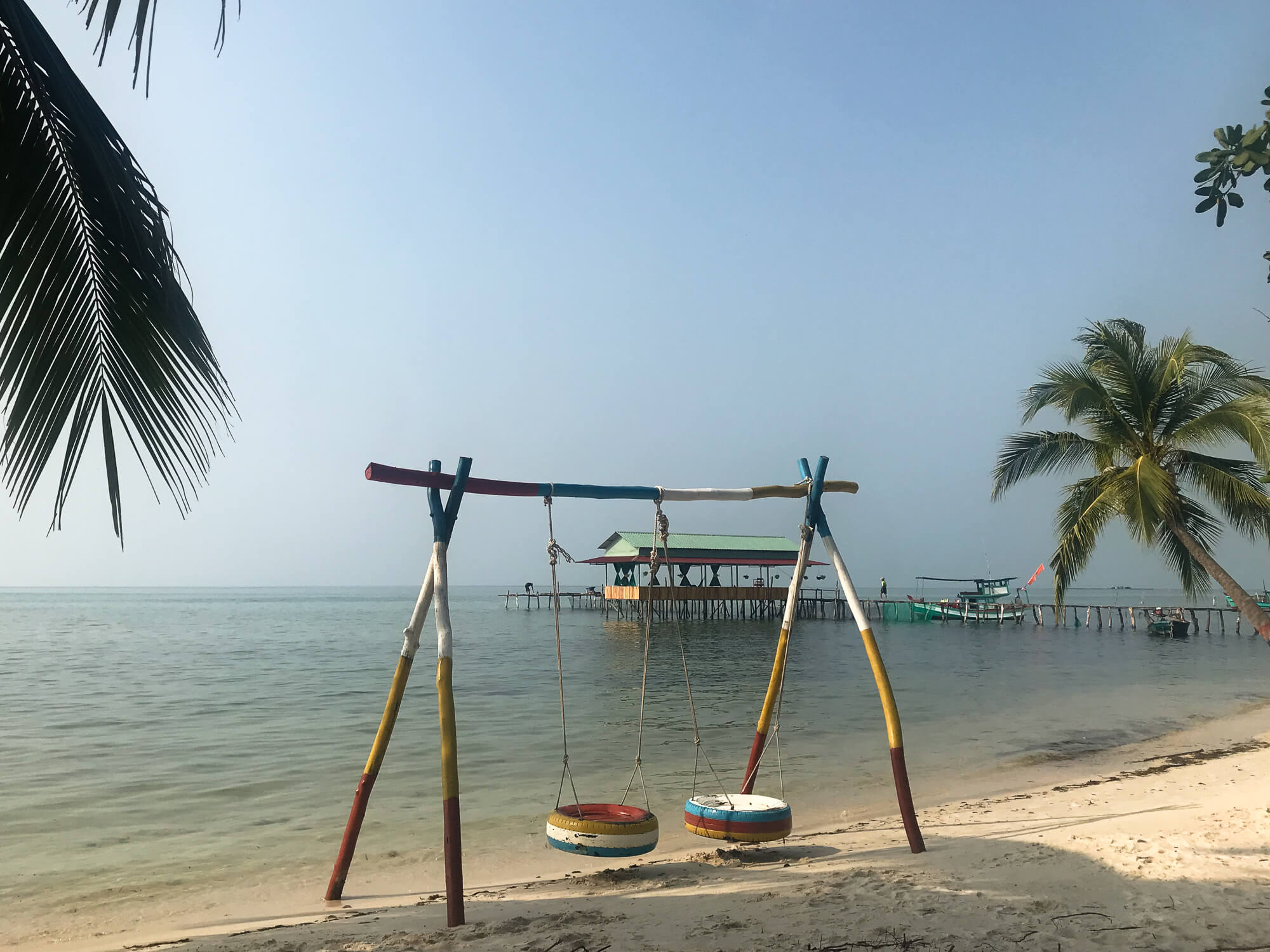 Bounce your way down a few dusty roads on the island's north side to find Starfish Beach. The beach retains some of the original Phu Quoc charm with local restaurants serving up cold drinks and seafood to beach loungers. The shallows are also filled with numerous beautiful starfish, unfortunately this also makes for the worst part of the beach with irresponsible tourists throwing them or lining them up on the beach simply for the purpose of a photoshoot.  Walk further to the east and the crowds will thin a bit. The beach is worth a trip and is one of the least polluted on the island. 
North of Doug Dong town, Cua Can is by far the island's best beach for crowds and providing a taste of what all of Phu Quoc must have been like pre-development!  The beach is nicest up towards Chez Caroles, but more remote to the south.
Phu Quoc's major destination, Long Beach begins at Duong Dong and runs south along the bulk of the eastern coastline. Nearly the entire expanse of the beach has become blockaded/privatized by resorts making even accessing it a challenge. It's not a bad place to spend a day renting out a lounger or for a sunset walk and beverage.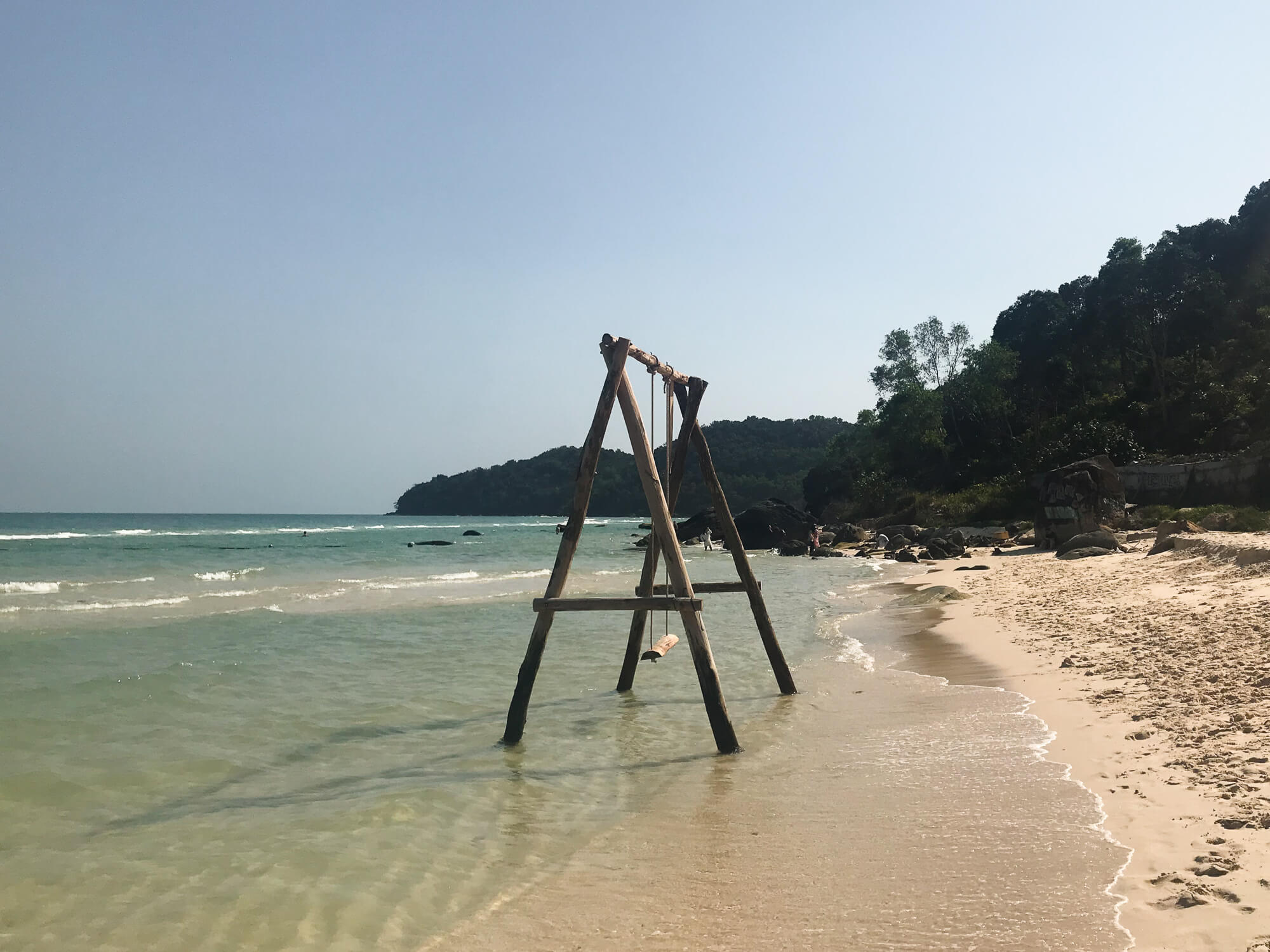 If you're looking for Seadoos, parasailing, instagram swings, and a stairway to heaven, this is the beach for you! It's a beautiful strip of white sand that gets quite crowded. If you proceed past the rocks to the south you'll find some solitude, unfortunately you'll share it with a heartbreaking amount of garbage.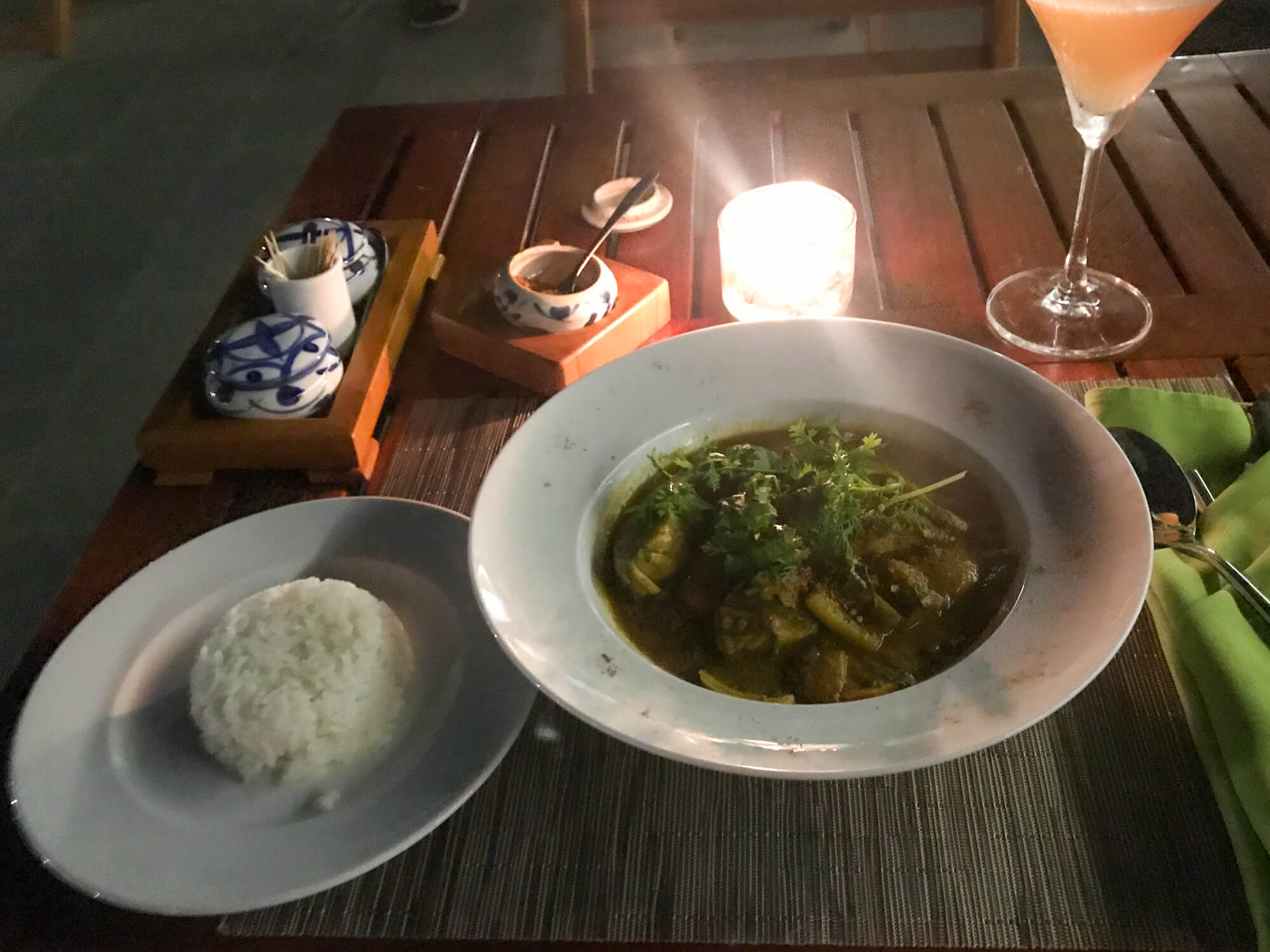 Enjoy a romantic poolside meal
If you're looking to enjoy a top calibre meal poolside with the waves crashing just beyond look no further than the Spice House at Cassia Cottages.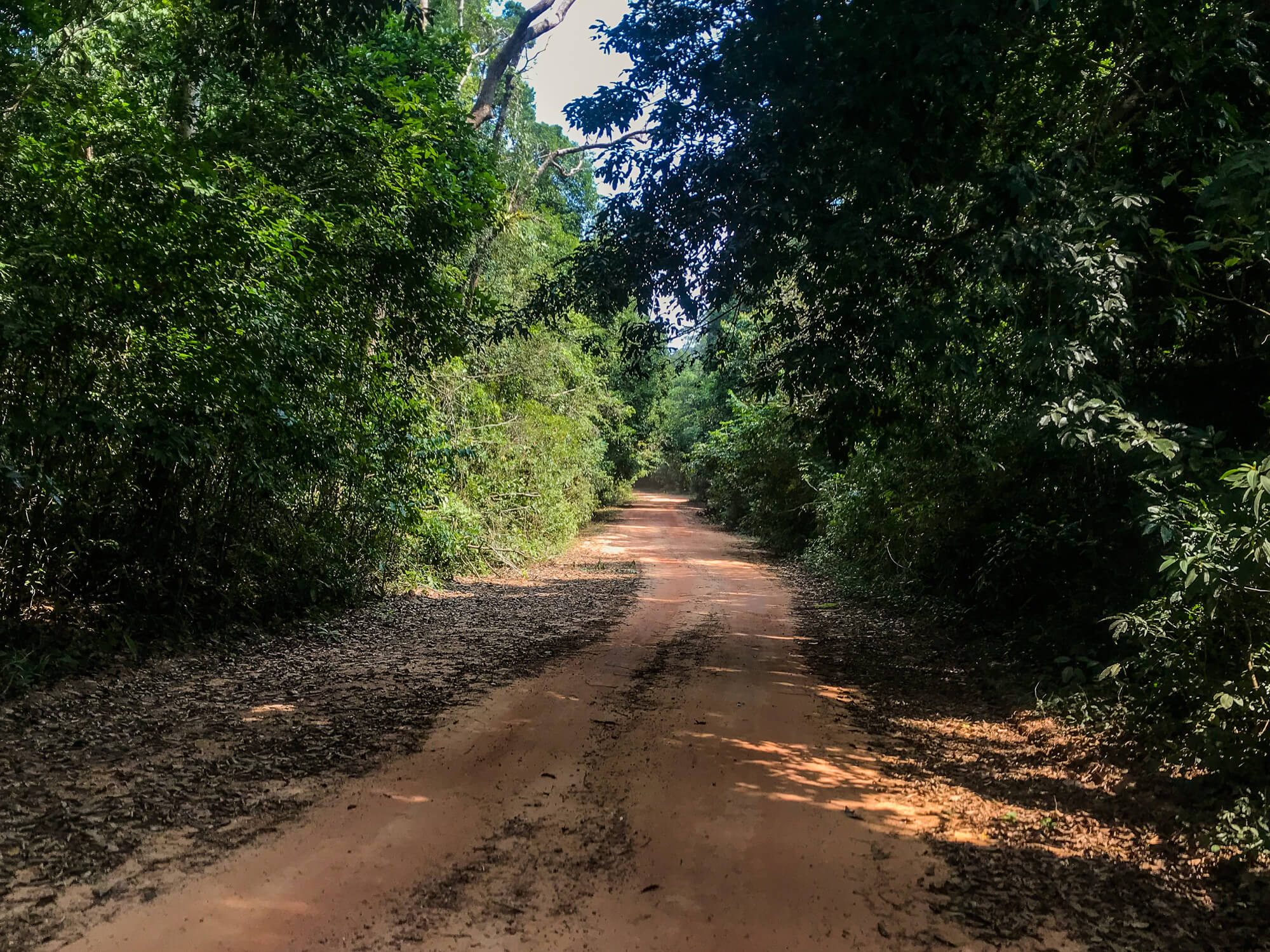 Explore Phu Quoc on motorbike
The spread out nature and vastness of Phu Quoc make renting a motorbike the best way to get around! The positive of all the recent development is the island's numerous smooth, wide, and relatively quiet roads. Bikes can be rented for about 150,000 VND for the day just about anywhere. Take a trip to the islands far north on the way to Starfish Beach where a few of the original red dirt roads remain surrounded by lush jungle.
Near Bao Sao on the island's south coast is the Phu Quoc Prison, or Coconut Prison. Built during the French colonial period, the prison was later taken over by the South Vietnamese and at times held over 40,000 communist prisoners. Today the prison museum houses numerous mannequins depicting gruesome representations of the torture and violence that occurred here.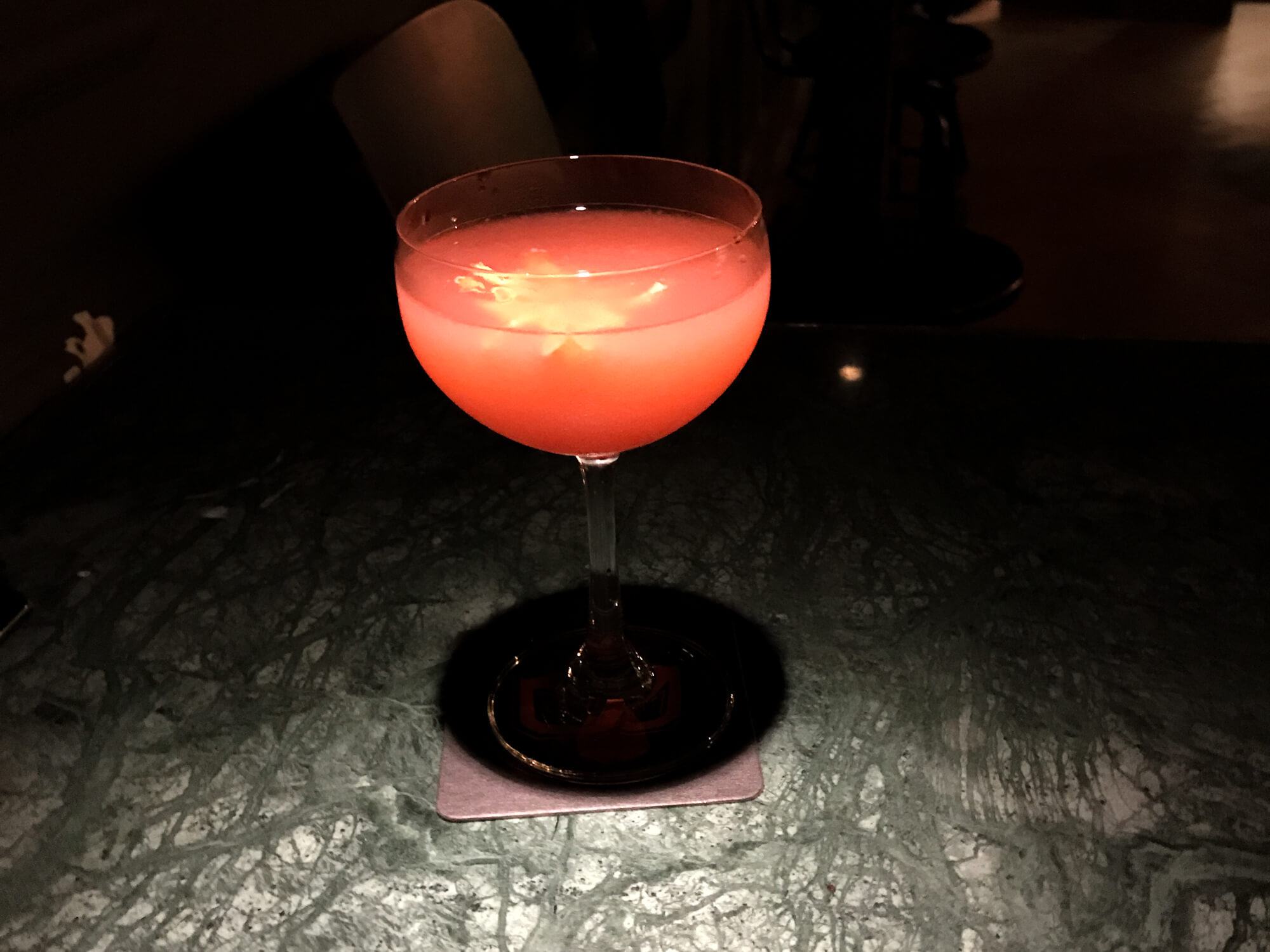 Go for a custom cocktail at a speakeasy
Behind a clothing and leather goods shop south of Duong Dao in the Long Beach area is Phu Quoc's only speakeasy, Bittersweet Cocktail Bar. Step through the curtain in the back to a hidden cocktail lounge. Forget about asking for the menu, there isn't one.  Every drink is custom crafted. Simply tell the bartenders a liquor and/or flavor profile you're into and they put together something amazing. I was sceptical, but the cocktails were top notch and didn't disappoint!
Go on a jungle tour with Jerry
Take a trip with the highly recommended Jerry's Jungle Tours for everything from jungle walks, to bird watching, to tours of the An Thoi archipelago. Jerry's been living on Phu Quoc for well over a decade and has plenty of insight and off the beaten path adventures to help you make the most of your trip and experience the real Phu Quoc. 
Tour a fish sauce factory
Phu Quoc is known for producing some of the world's highest quality fish sauce and the island has 80+ producers. If you're a connoisseur and wish to get a better understanding of what goes into its production, several of the larger factories in Duong Dong offer tours sure to provide an olfactory overload.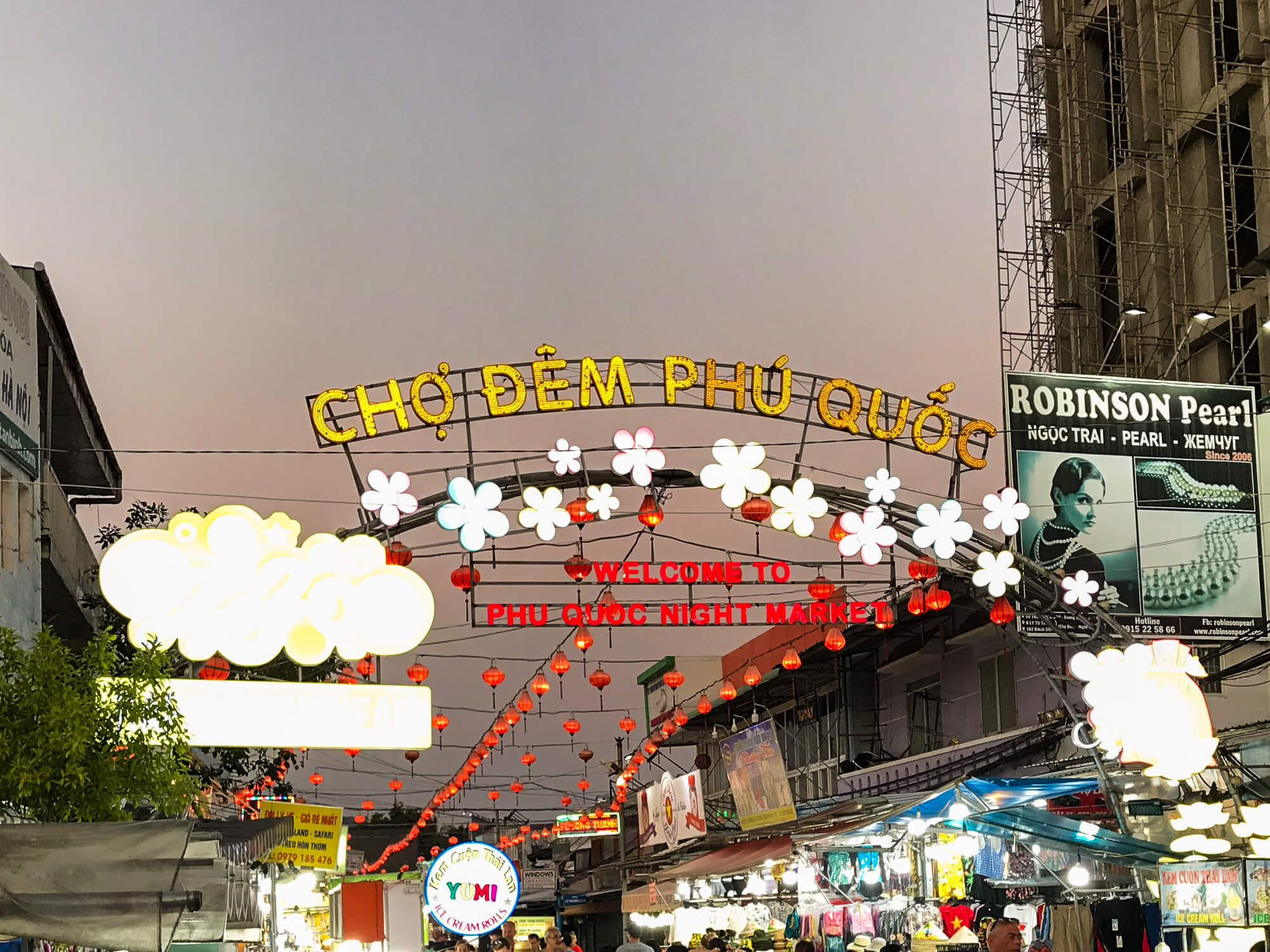 Wander the Phu Quoc night market and grab a bite
From 6pm onwards Phu Quoc's night market comes alive. Stop for a drink, dine on some seafood, or step off the main drag and find a stall with the iconic Vietnamese red stools and begin the feast. Seven Teo a block back from the main market street did not disappoint.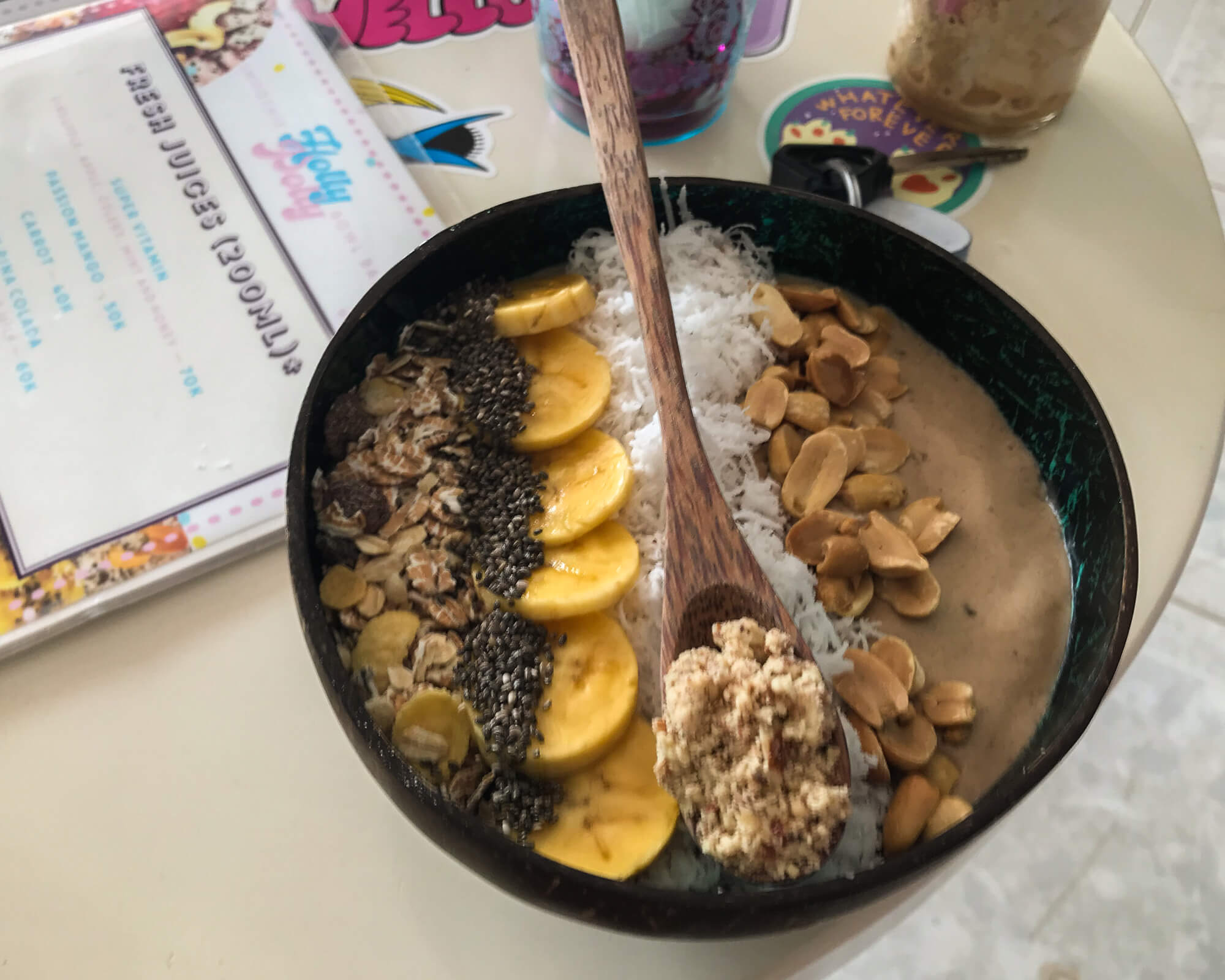 For a delicious smoothie bowl and Phu Qouc's most instagrammable breakfast head to Holly Polly. If the vibes and bowls aren't enough, Polly's incredible energy will unquestionably start your day off right!
Treat yourself to a burger and a brew
If you've got a craving for some western fare, head to Winston's Burgers and Beer for some classic American dishes. The burgers and fries are the best you'll find on the island and there's a fantastic selection of craft beer on tap. The perfect remedy for those facing a bout of homesickness. The bar owner Winston's company only improves an already fantastic experience!
Take the cable car to the waterpark
Phu Quoc is home to the world's longest cable car which stretches from An Thoi on the south coast across to Pineapple Island. Take the 15 minute trip to Pineapple Island for some captivating views. Once you get there you'll reach the newly opened Aquatopia Water Park, Southeast Asia's largest waterpark and another sign of the immense level of development that has happened on the island in the last 5 years.
Enjoy Phu Quoc's largest selection of craft beer
If your beer palette has been worn down by endless consumption of Tiger, Bia Saigon, and 333, head to The Bench eatery and bar for the islands largest selection of craft beers.
28 islands make up Phu Quoc District. Take a trip to a few of them for beaching, snorkeling, and swimming. Jerry's Jungle Tours offers several different island adventures.
Go scuba diving on Phu Quoc

Phu Quoc is far from a mecca for scuba diving, but if you're interested in getting certified or simply would love to get back in the water it's a great place to do it! Several shops offer PADI certification and fun dives around the island and surrounding archipelago. If you're diving make sure to double check your travel insurance covers this type of adventure sport. If you need insurance, click here for a quote.
Watch the sunset at Din Cau temple
The temple of the sea goddess is part temple and part lighthouse and makes for a great place to watch the sunset and experience the more authentic (and less touristy) side of Phu Quoc. Locals congregate around the entrance at sunset selling snacks and cold drinks. Make a walk up the stone steps for a view over the ocean as the sun dips below the horizon.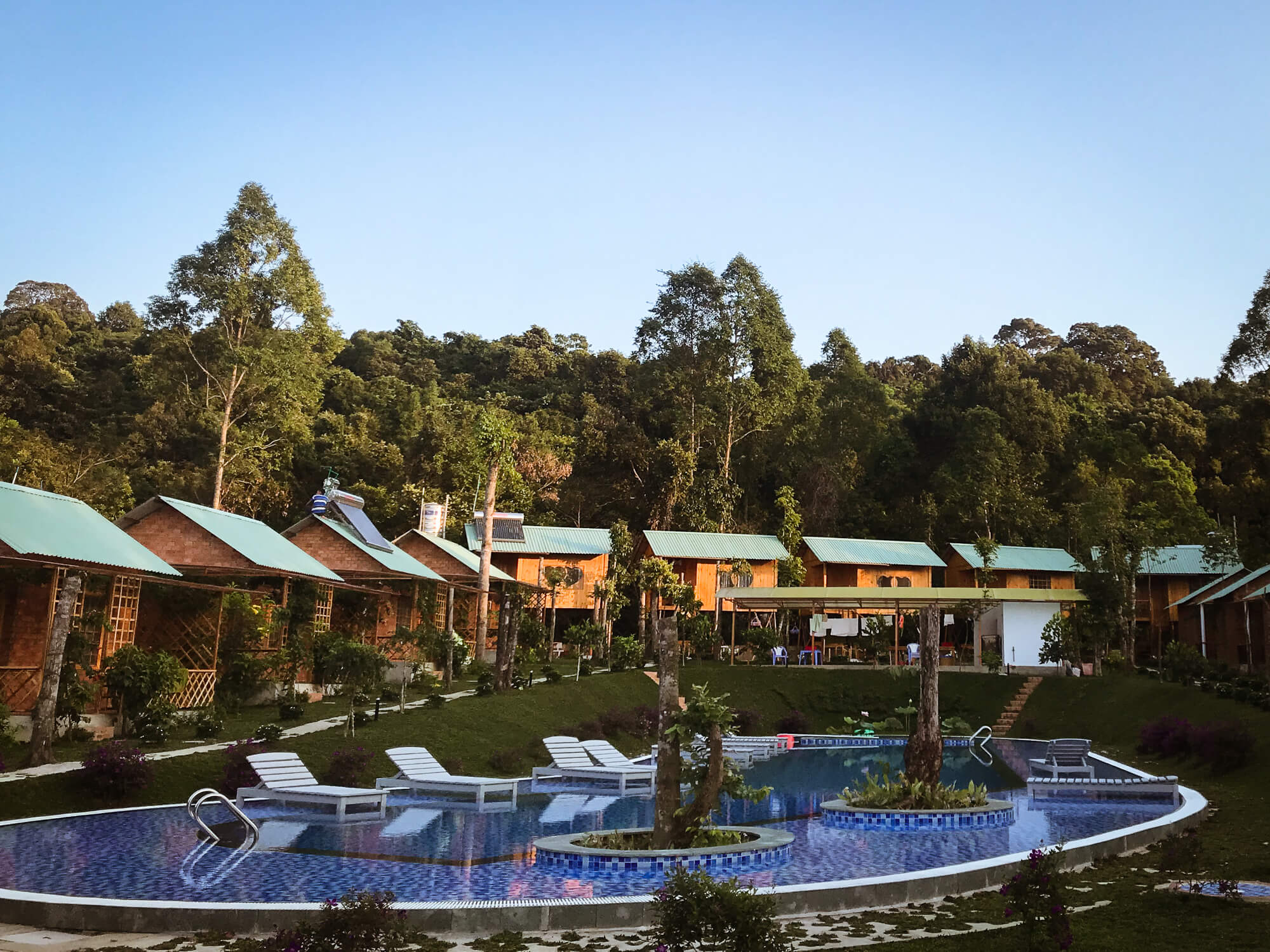 Lounge poolside at your resort
Kick back into island life. Take the afternoon or morning,  grab your book and catch up on some reading poolside. The hillside retreat of Valley Sen was the perfect spot for this. If you're travelling with a lavish budget, the 3 pools at Cassia Cottages will be nearly impossible to leave.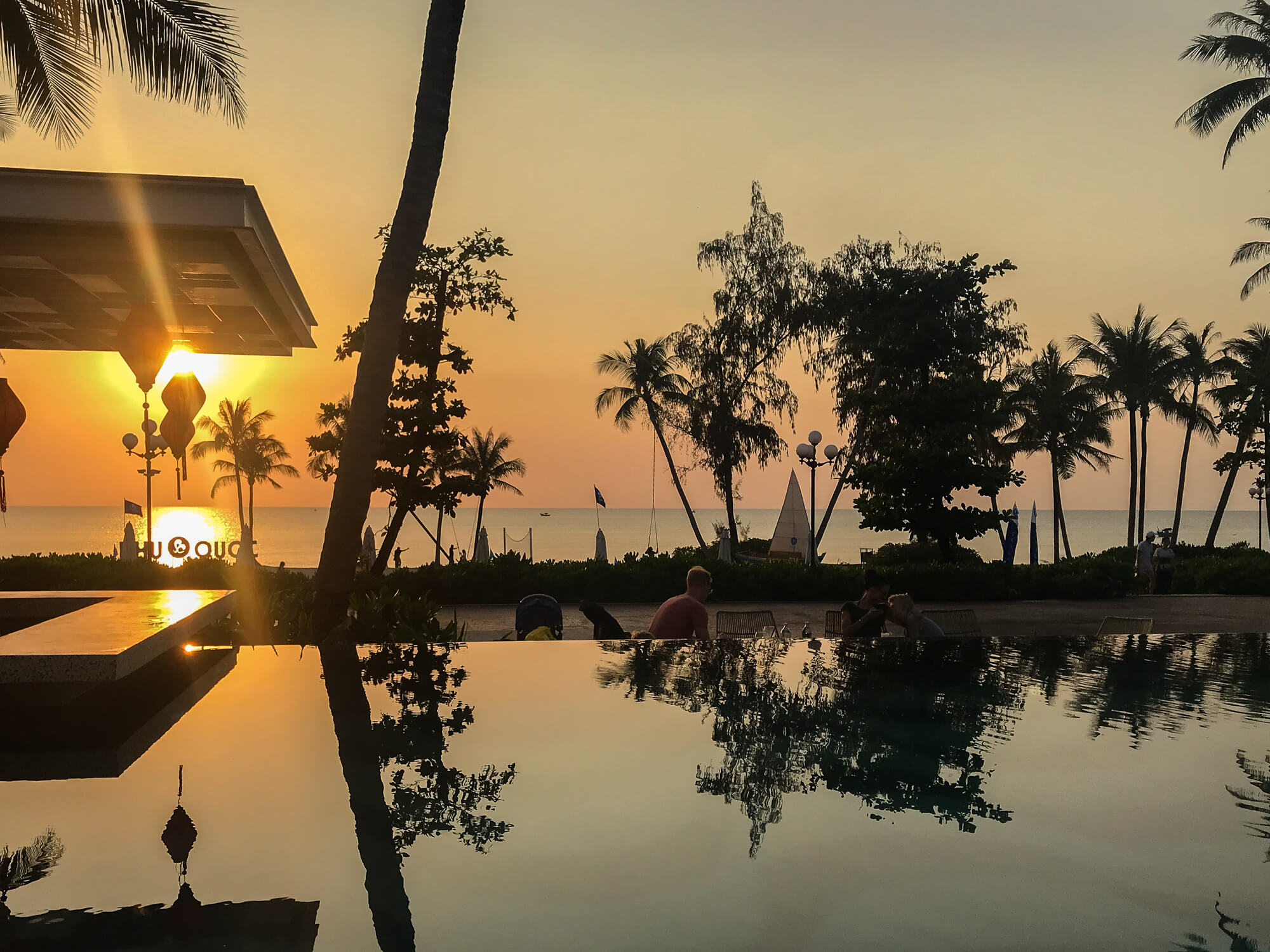 Chill out or turn up at the Sailing Club
Take the main road south and drive into a massive new resort looking complex to experience the bougiest item on this list. The Sailing Club is a modern Ibiza style beach club that transforms into a nightclub during the dark. For a minimum restaurant tab of 500,000 VND (~$25) you can hang out at the beachfront infinity pool all day or just come for a sundowner at the bar. It has a real resort feel which you may or may not enjoy.