Charming Koh Lanta may just be Thailand's perfect island. The island boasts stunning beaches, miles of peaceful roads, a picturesque old town, and a Goldilocks level of development and culture (yes, that means just right).
Koh Lanta is one of those places where a three day stop can easily transform into a month (or longer) stay. Only two hours away from Krabi airport, Koh Lanta has been spared the plague of overdevelopment that has spread to so many of the Thai islands (and the Banana Pancake Trail), most notably the island that is ominously visible from Koh Lanta, Koh Phi Phi. 
Unfortunately, places change quickly in Thailand and with major road construction (twinning and a second bridge connecting to the mainland) already in the works, Koh Lanta's days of tranquility may be numbered… so book your trip and use this guide to make the most of your time on this incredible island.
This post contains affiliate links. We'll earn a small commission at no cost to you if you click the links and make a purchase. Just like the travel backpacks we build, we're very particular about travel products and services. So any products or services we suggest, we test and use ourselves before making any recommendations or endorsements
The best things to do on Koh Lanta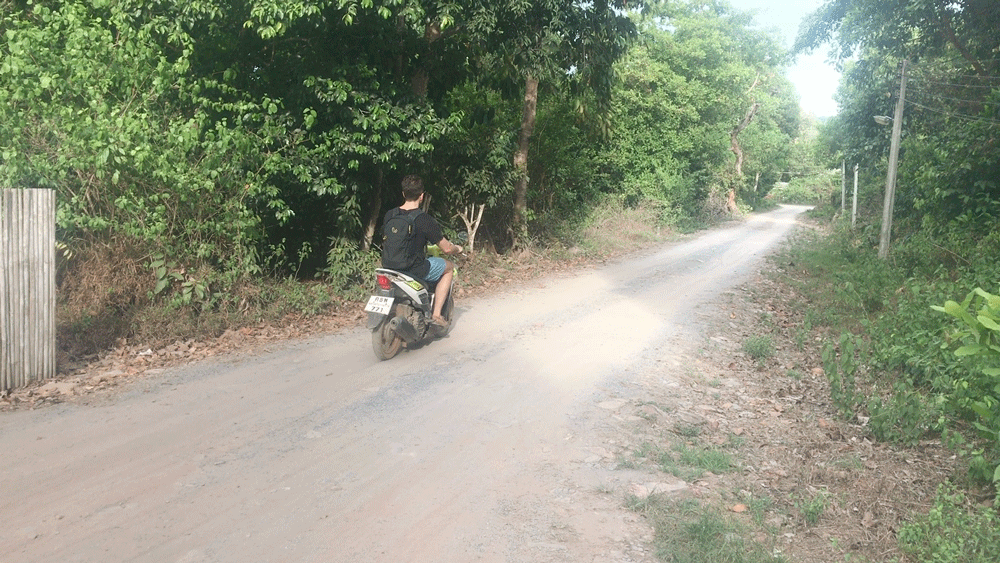 Koh Lanta is best explored by motorbike/motor-scooter, allowing you the flexibility to explore all that the island's 22km coastline has to offer at your own speed. Not to mention the thrill of zipping up and down steep roads with the breeze blowing through your hair/helmet as you hop from one palm-lined beach to the next and pray you have enough throttle left to ascend the next hill. Not only is motorbike the best way to explore Koh Lanta, but it's also the most economical. Full-day bike rentals are available for 200 baht a day or less. The island is also reasonably relaxed in terms of traffic, so it's a great spot for farangs (foreigners) to cut their teeth on #scooterlife.
If you go this route, make sure you're well insured with a comprehensive travel insurance. Riding a motorbike is a blast, but it's not the safest activity out there. So be smart and make sure you're prepared if something doesn't go according to plan.
If you're not comfortable with driving a bike, there are transportation options available including hiring moto taxis or a private driver, but be prepared to have less freedom and spend as much as 600 baht for taxi transport to some of the remote southern beaches or up to 3000 baht for a full-day private driver.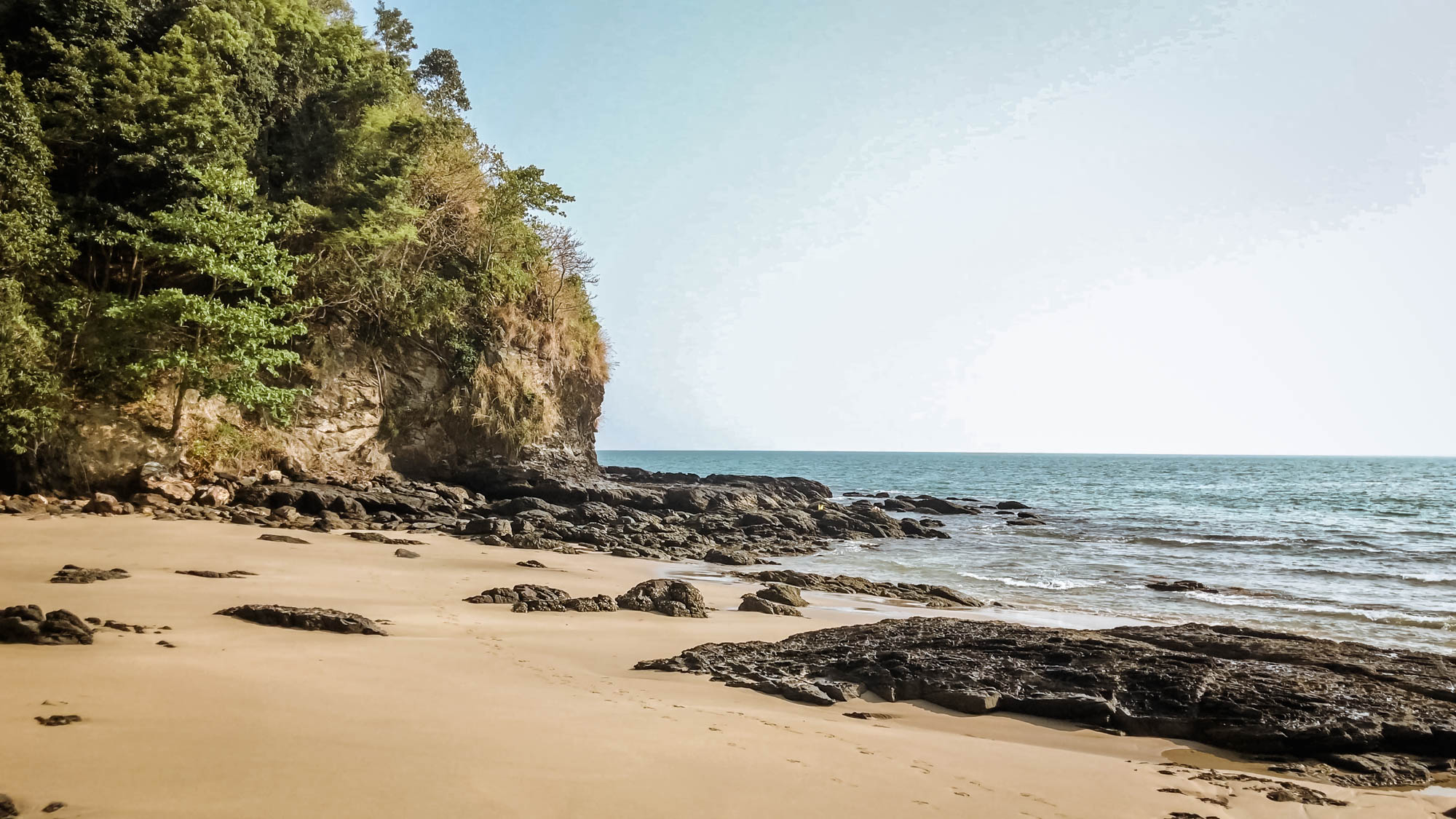 Koh Lanta offers a plethora of jaw-dropping beaches all along the island's western coast, which get more breathtaking the further south you head. If you're exploring the island by motorbike, you'll have the freedom to beach hop at your own leisure! Go in low season (mid-April to November) and you may have many of these beaches completely to yourself. Because Koh Lanta's beach endowment can be somewhat overwhelming (who is complaining!), here's my ranked list of Koh Lanta's top beaches:
Klong Jark Bay – A stunning stretch of white sand. This beach was our personal favourite. It's big enough that even with a few people you'll still feel like you're completely alone. 
Nui Bay – Journey down a series of steps to access this small beach protected by rocks on either side. A rustic bar in the middle of the beach serves ice cold Singha and Chang. A word of warning – monkeys roam this beach and may be ready to snatch your unattended coconut. 
Mai Phai Bay – The last beach before the National Park.
Kantiang Bay – Adjacent to Kantiang village, this beach tends to be a bit busier but serves as a great option if you're staying in Kantaing village or stopping there for a mid-day meal. 
Relax Bay – A great option if you're looking for something quaint and close to Long Beach.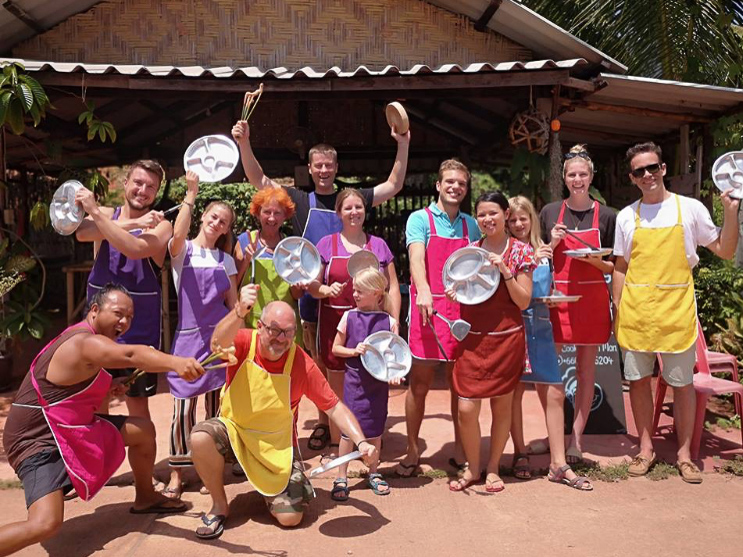 Take a Cooking class with Mon
Learning to cook is an incredible way to experience Thai culture and bring your memories of Thailand home to graciously share with all of your friends and family. Cooking with Mon is an incredible option for learning to prepare all your Thai favourites. From khao soi to phad thai and mango sticky rice, Mon masterfully guides you through a marathon cooking session (ours was five hours!) that familiarizes you with the staples of Thai cuisine. Best of all, he gives you a feel for Thai cooking, by discouraging exact measurement and letting your palate be your guide. He tops the whole class off by providing you with a pdf recipe book with over 30 Thai favourites. Truly a must do on Koh Lanta!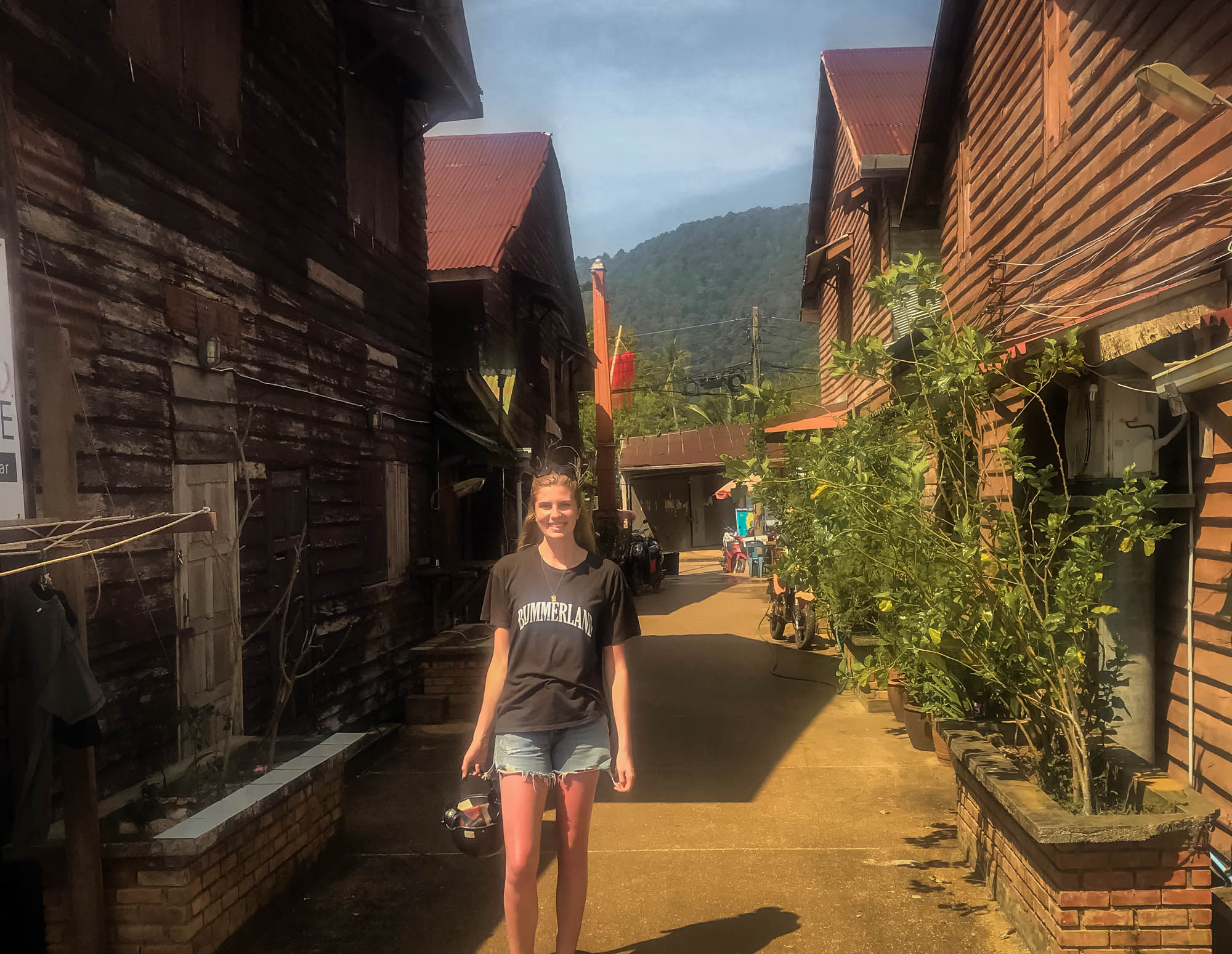 Check out Koh Lanta Old Town
Ban Si Raya or "Lanta Old Town" is a trip back in time to an era when this port served as a safe harbour for Arab and Chinese trading ships navigating the Andaman Sea. Today, century-old stilt houses have been converted into guesthouses, shops, and cafes that overlook the sea. While slightly touristy in feel, a walk down the main drag makes you forget where you are and begin contemplating life as a trader, sailing the high seas and trading in tea, spices or perhaps even opium (for the adventurers in the audience).  If you're cooking with Mon (see the prior point), the cooking school is located near the Old Town. So go early, have breakfast in the Old Town and take a moment to explore this cool spot.
Dive Thailand's Best Dive Site
Koh Lanta provides access to Hin Daeng, a site that is often ranked as Thailand's best dive site. Hin Daeng is a large mid-sea pinnacle that frequently serves as home to massive shoals of fish and large pelagic fish like sharks, tuna, and barracuda. Dives to Hin Daeng are often paired with dives at the also spectacular Hin Muang. Unfortunately, the mid-sea location makes this an expensive dive (4000 to 5500 baht) with a lengthy commute (2 – 2.5 hour boat ride to the site). Scuba Fish and Lanta Diver are both excellent operators. Email or call in advance to find out trip timings to these sites or face disappointment like I did…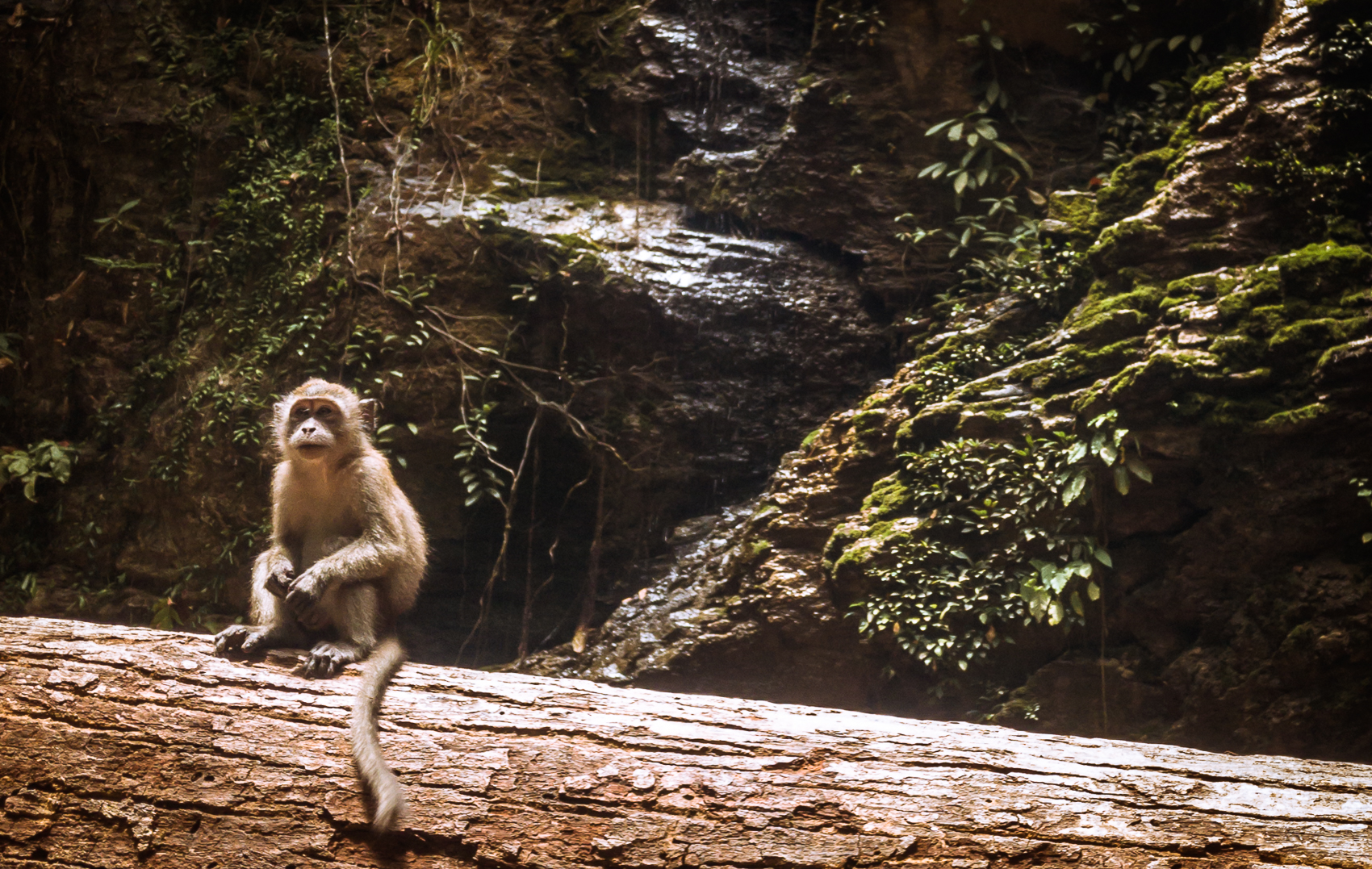 Go for a jungle hike to the Lanta waterfall (tricklefall)
Thailand's climate is hot and humid and you'll be sweating profusely and constantly. So what better activity to partake in than a hike through a steamy jungle? Surprisingly, the foliage provides a great deal of shade, and the hike alongside a small creek does actually prove to be a refreshing 30-minute walk! If you're visiting outside of the wettest part of the year, don't expect a waterfall at the end, rather more of a trickle and a monkey or two! Despite the anticlimactic conclusion, this adventure makes for a great way to get out of the sun in the heat of the day, after or before a stop at the stunning Klong Jark Bay beach. The hike is free to access, but motorbike parking at the start costs a small fee.
Knock back a sunset cocktail/beer (or 2, 3 or 4...)
Despite the occasional well-marked sign pointing in the direction of this week's mushroom shake or poster for the next ¼ Moon, ½ Moon, Dark Moon, Blue Moon, Purple Moon or Full Moon Party, Koh Lanta isn't an island that attracts a lot of the "let's get lit on buckets" crowd (a real blessing IMO). What it does offer is a few great options for enjoying a drink and toasting another incredible sunset beachfront! Here are a few places to wet your whistle: 
Fat Turtle – Terrific views from this very comfortable and expansive beachfront bar/restaurant. Great mojito. Cold Singha. Avoid the frozen margarita unless you are dealing with a severely depleted blood sugar level.
Majestic Bar – Comfortable lounge chairs and good happy hour cocktails for taking in the sunset beach front. 
Salty Fish – Absolutely charming owner and family staff with great food and delicious cocktails. The beach isn't Koh Lanta's most scenic, but the ambience and quality more than make up for this. 
Why Not Bar – The intimate feel of Kantiang village compared with the other parts of Koh Lanta combined with Why Not's beachfront location make this a no brainer for one drink at least.   
Go spelunking in Tham Khao Maikaeo Cave! Kinda...
Looking for a new activity to try? Why not check out Koh Lanta's take on spelunking (cave exploring) and check out Tham Khao Maikaeo. This two-hour trip (300 baht) takes you through a series of caves and tunnels on a guided adventure tour. Make sure to bring good footwear, flip-flops don't count. 
Go for a backroads run (really!!)
I love to run when I travel, but there is a catch… You have to go early or you won't go. Set your alarm for 5:30 and hit the road by 6 to experience Koh Lanta at first light. Limited traffic on the roads and a much more comfortable temperature make this a great way to get to know your surroundings, witness people meditating quietly outside of their homes, and even receive cheers and encouragement from locals. If you're close to one of the roads that intersect the island's east and west coast, take a jog up and down a backroad. You'll get to see what life is like outside of the more touristed spots of the island, or in my case, take a run through a massive garbage dump (unquestionably the nadir of my run).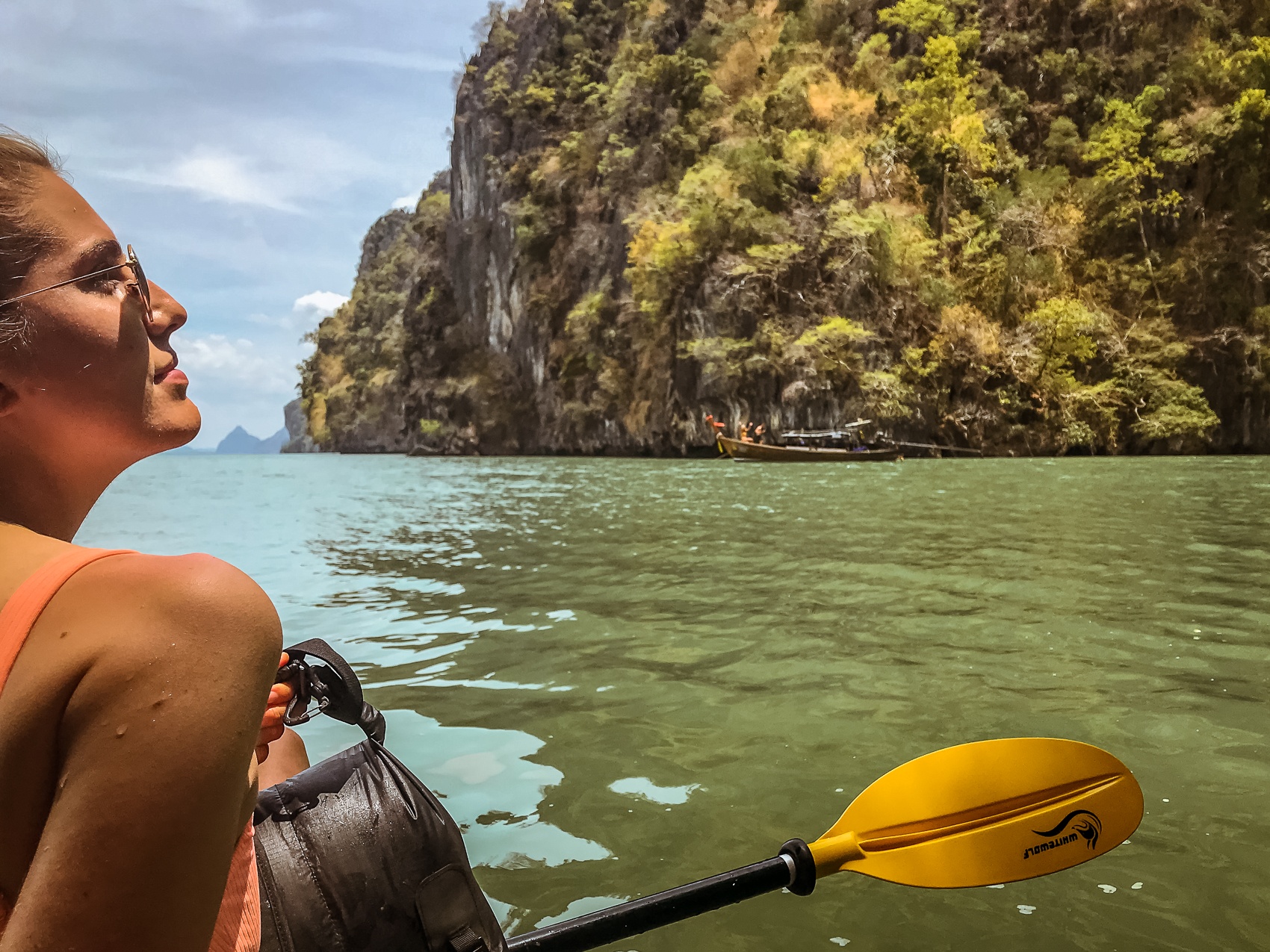 Push past the crowds into the Emerald Cave, snorkel, or enjoy a relaxing kayak tour
In Bangkok, you have the famous Emerald Buddha. Near Koh Lanta the famous Emerald Cave. The Emerald Cave is a small beach surrounded by cliffs that can be accessed only by swimming through a dark cave and into the hollowed out interior. Sound serene? It is! The only catch is that you shouldn't expect to have it to yourself. The Emerald Cave is extremely crowded, as are many of the snorkelling tours that visit the islands nearby Koh Lanta for day trips. If you're looking for something a little less crowded and less conventional, check out Talabeng Sea Kayaking. You'll climb/explore the Ghost Island and Cave, kayak around deserted islands, and enjoy a delicious lunch on a beach that you'll have all to yourself! Fahreed makes this an experience to remember, pointing out all of the best photo-ops and adding hilarious commentary. Just make sure to bring a pair of shoes with a decent grip and your adventurous spirit. 
Volunteer opportunities on Koh Lanta/where to volunteer on Koh Lanta
It doesn't take long before Thailand's plastic garbage problem completely overwhelms you. If it bothers you to the point of needing to take action, join one of Trash Hero Koh Lanta's Sunday cleanups typically held at Klong Hin Beach. It's a great opportunity to make a difference and meet a few new friends who are all working to make a difference too. Check their Facebook page for upcoming cleanups.
This long running animal rescue centre helps support both dogs and cats. Stop by for a tour of the facility, play with their 30+ cats, or check in to see if they need help exercising the dogs (orientation required). Lanta Animal Welfare is open every day from 9 am to 5 pm and is truly the purrrfect spot for any animal lover looking to help make a difference while visiting Ko Lanta. 
Fly to Krabi Airport then take a 2-3 hour mini-bus (+ferry) ride to Koh Lanta. The bus can easily be booked when youland at Krabi airport. Don't worry, the location is obvious. Mini-buses leave when full or if you get lucky in the low season  you may be given a private driver.
Ko Lanta will appear on most tour agency and hostel transport lists. This cheapest, but slowest way of getting to Koh Lanta. 
Speed Boats depart from the main pier for most neighbouring islands. Ask ahead of time about the schedule during low season.
Best places to stay on Koh Lanta
Koh Lanta is quite spread out and as such, there is no perfect location to stay. Places on/near the beach tend to be lacklustre and overpriced. Not to mention, the beauty of Koh Lanta is the sheer quantity of beaches that you can explore. So going to the same one by your hotel every day isn't necessarily a selling feature. I spent a ton of time scoping the island for the best spots and here are the results:
Best Koh Lanta Accomodation:
Green Pepper – The best place to stay on Koh Lanta, charming Green Pepper consists of several small bungalows spread out in a lush garden. Run by lovely Mayaan and Mon (from Cooking with Mon), you are instantly made to feel incredibly welcomed and cared for in this beautiful spot. They're both versed on all Koh Lanta has to offer, and are happy to go above and beyond to make sure you feel comfortable and help you make the most of your time on Lanta!  We were a little unsure when we first booked given its location in the hills and slightly away from the beach, but as a motorbike is essential for making the most of Koh Lanta regardless of where you stay, it ended up making little difference. If you're still not convinced, the peace and quiet of the hillside location makes you feel like you're staying at a private retreat and the value can't be beaten. Click here to check rates for your visit.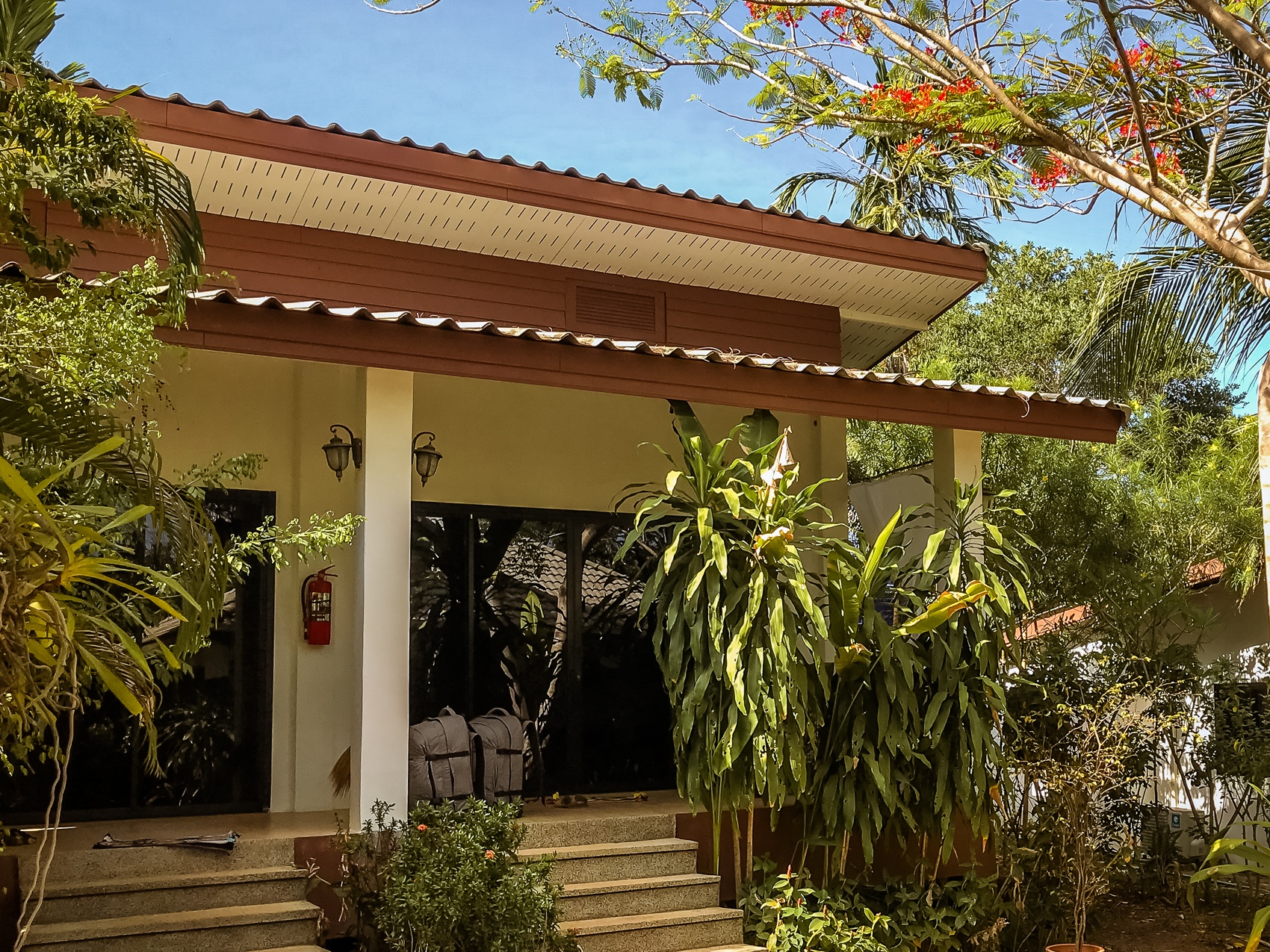 If you need to be by the beach and can afford to spend:
Lazy Days – Situated on Relax Beach, these charming bungalows take the cake for beachfront accommodation on Ko Lanta. The only catch is they're not cheap and start at 4400 baht per night in peak season. If you're going in low season, check for deals. They can be as much as 60-70% off. 
Others hotels we perused on Lanta:
La Lanta: The incredible location, made me have to go and check this place out! Unfortunately, the resort looks as if its prime has passed, despite being set right on the beautiful Mai Phai Bay. A 5-star location, but isolated from any bars and restaurants and in some serious need of some TLC… If the price was right it may be worth checking out, but not for the high season rates.
Sri Lanta: This sprawling expanse of time-share like condos and bungalows would feel perfectly at home on Phuket with golf carts and manicured lawns. Unfortunately, on Koh Lanta, it feels a touch souless. 
Best places to eat on Koh Lanta: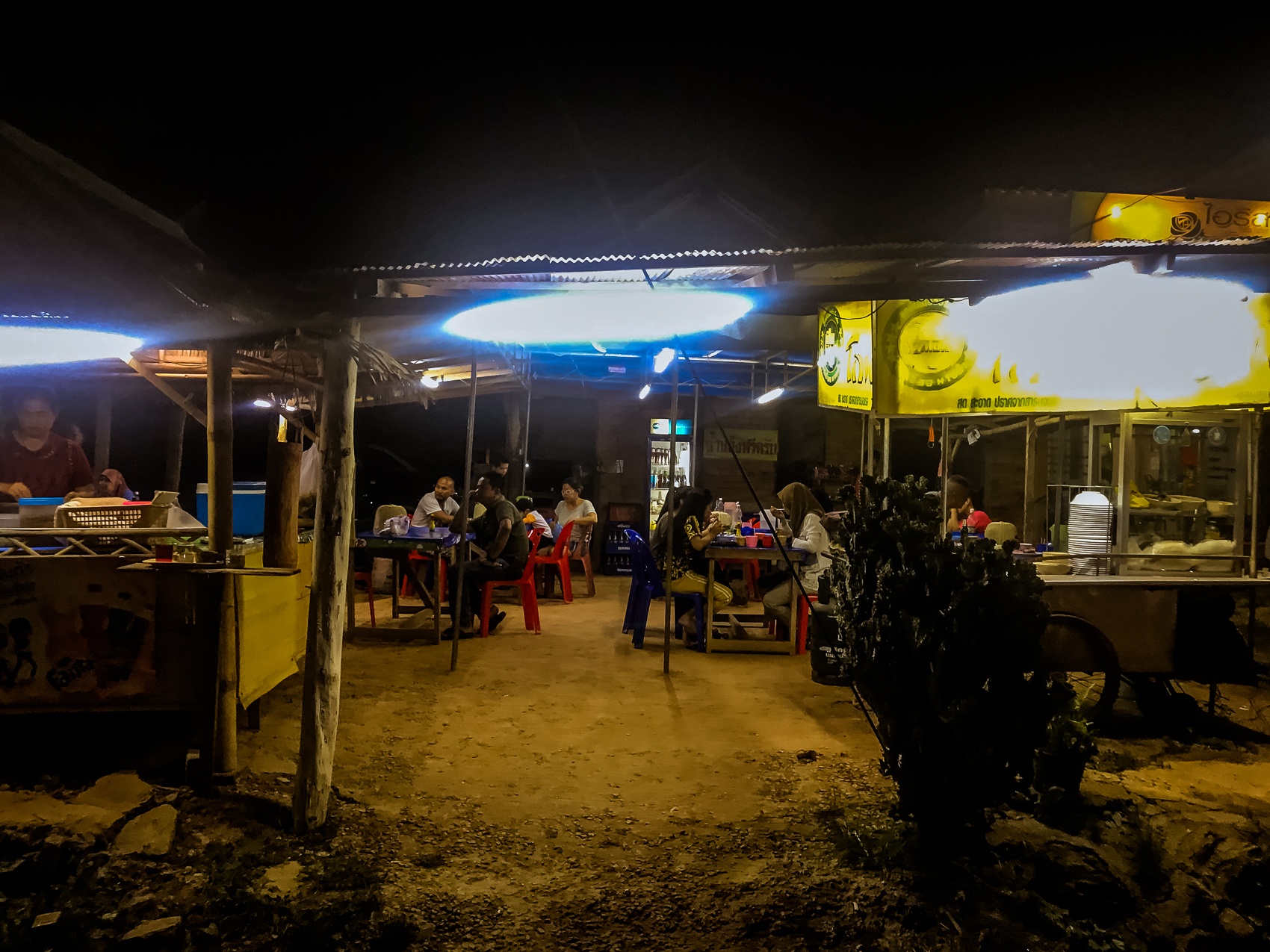 Can't miss food stops on Koh Lanta:
Go Deng – From the street it looks like not much more than a glorified street cart (or 2 of them put together), but from the comfort of your plastic chair you will enjoy Ko Lanta's most enjoyable dining experience. Delicious Isan food and treats such as papaya salad, spicy duck and noodle soup await the fortunate diner, all for rock bottom prices. Miss the place at your own peril, although be warned the dishes can have some kick!
How to find it: Google Maps might be a challenge for this one, so look for the fluorescent lights and food carts next to Mr. Wee Pizzeria and Body and Mind Massage in Long Beach just north of the 7-11.
Kindee – An excellent night out. Kindee provides the closest thing to a luxurious dining experience available on Koh Lanta and doesn't disappoint. Kindee top-notch  presentation with the flavours to match. Both the duck and the whitefish were incredible. In high season make a reservation to avoid disappointment.
Other recommended eats on Lanta: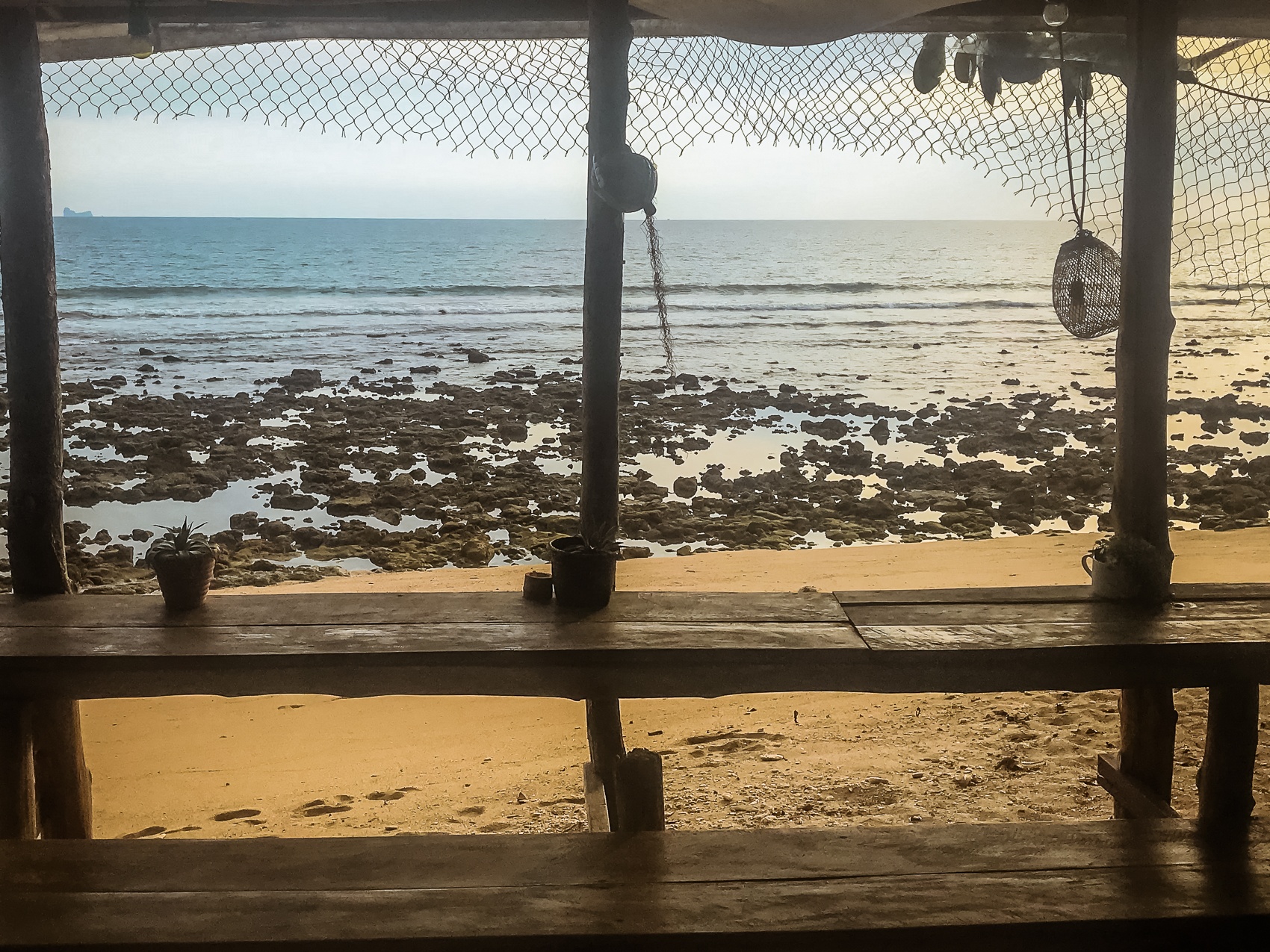 Happy Veggie
; Tasty veggie options including a delicious falafel burger. They're also happy to refill your water bottle and help you cut down on plastic! 
Patty's Secret Garden
– Serving up Thai and western, the service was great and so was the food.
Drunken Sailors –
 Awesome place to chill out in Kantiang for a beach break lunch or a late breakfast. Their coffee is the best on Lanta and the both the western and Thai food are fantastic (surprising I know!)
Peak Cafe
– Cute little cafe with a nice outdoor sitting area. The owner is absolutely charming and serves up great hot and cold coffee. Not to mention the most delicious bacon I've ever tasted in Thailand (usually not a bacon destination…).
Salty Fish
– Not only a great spot for drinks, Salty Fish scores high marks for food as well. Scrumptious Thai dishes are cooked up here including a 24-hour slow roasted pork that needs to be ordered in advance. Sadly, we only had the opportunity to try appetizers here, which did not disappoint. 
Things to bring on your trip to Koh Lanta:
A great travel backpack: 
Thailand's wide ranging transportation methods and uneven terrain make a travel backpack your best choice for an adventure like this. A great pack helps you stay organized, makes travel easy and will save you money. With a 60L capacity, rugged weatherproof materials, and an integrated packing system, the 
Khmer Explorer Travel Set
 was built for an adventure like this.
A great daypack: 
From lazy beach days to waterfall hikes, motorbike rides and dive trips, Koh Lanta has not shortage of activities. The best bet for something like this? A customizable everyday backpack like the customizable 
Kiri Collection
.
Travel insurance:
 Don't even think about taking a trip without proper travel insurance. One mistake or accident could turn your dream Lanta trip into a nightmare. Check out
World Nomads
for a quote.
Runners/water shoes:
 From sea kayaking to hiking to exploring caves, good grips are a must. Reusable water bottle: The island has numerous spots to fill up your bottle. Help reduce the impact of your adventure by taking this small step. The ocean and the fishies will thank you! That's a wrap. With quiet roads to explore, an abundance of beaches, and an incredible vibe, Koh Lanta is not to be missed.  This is Thailand and things change fast, with one bridge already connecting Ko Lanta Yai and Ko Lanta Noi (the undeveloped northern island), major road construction, and a second bridge on the way, Koh Lanta may change very drastically, very soon. So plan quickly, my friends!