The Howe Sound Crest Trail (HSCT) offers the ambitious hiker a taste of the best of the incredible BC backcountry! The 33 km HSCT crosses over and around some of the North Shore's most iconic mountains including the Lions, James Peak, Mt. Harvey, and Brunswick Mountain. Along the way you'll be inundated with stunning vistas of the coastal mountain range and Howe Sound. Frequent scrambles, mild exposure, and a few precarious sections with chains/ropes make the Howe Sound Crest Trail an ambitious 1-2 night backcountry trip (or an even more ambitious trail run) not for the faint of heart. To the ambitious hiker the rewards of this journey are unmatched by anything with this proximity to Vancouver.
** Some of the links in this post may be affiliate links. If you click one of the links and make a purchase we'll earn a small commission at no cost to you. Just like the travel backpacks we build, we're very particular about products and we only recommend products, services, or accommodation we trust and use ourselves.***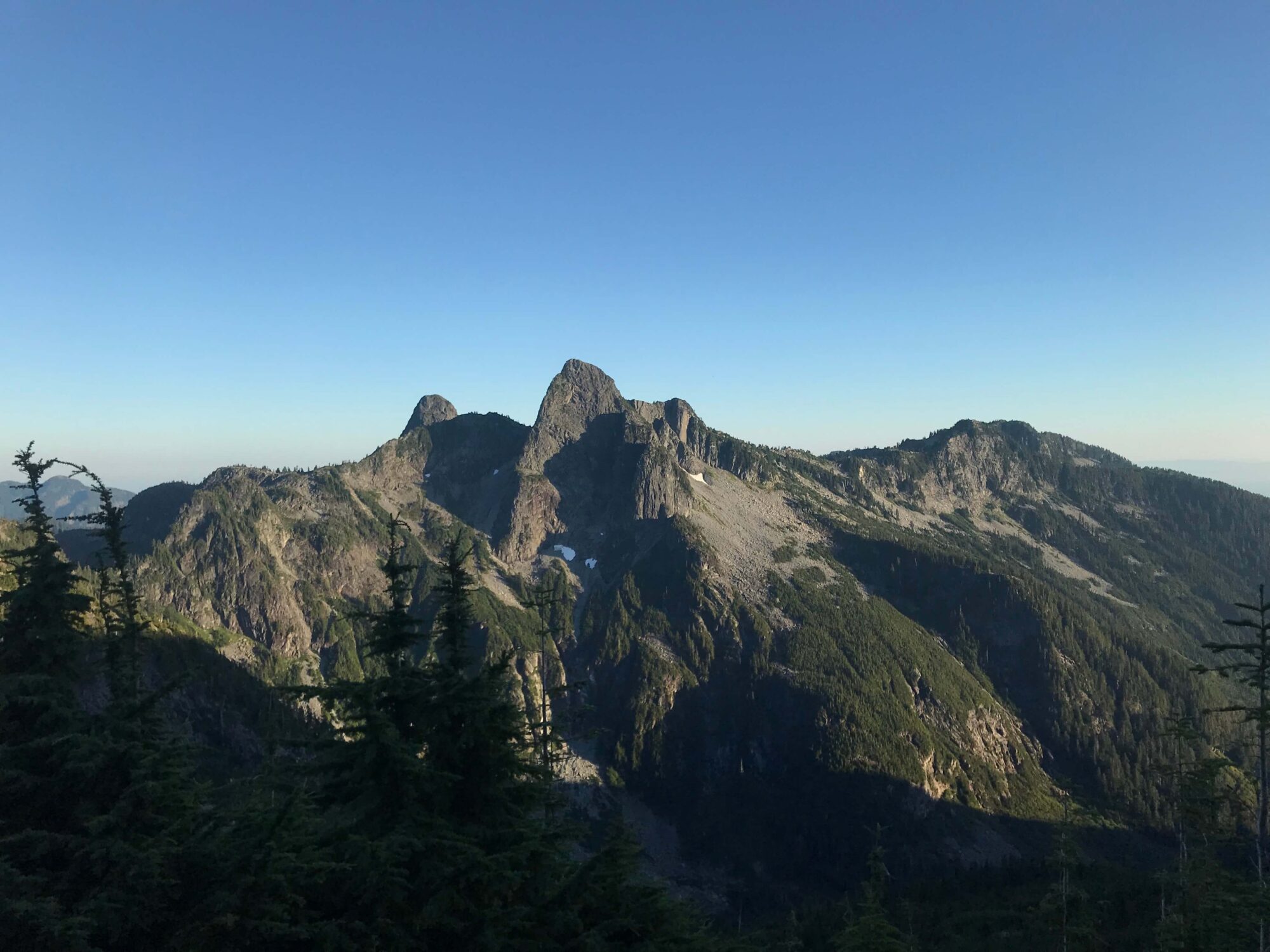 How to get to the Howe Sound Crest Trail
The Howe Sound Crest Trail is typically done as a point-to-point hike from south to north starting from Cypress mountain near West Vancouver and finishing at Porteau cove. North to south navigation is also possible, but adds significant elevation gain to your hike.  There is no Translink (public bus) available to Cypress mountain or Porteau cove, but Parkbus does offer transportation to the Cypress provincial park on weekends during the summer months.  
Without Parkbus, a multi vehicle solution or a generous friend willing to pick you up and drop you off is required. It is also possible to hike up the Baden Powell from Horseshoe Bay (public transit accessible) to begin your hike, but this will add an extra 9km and over 1000 meters of elevation gain to an already long and strenuous adventure.
Important considerations for the Howe Sound Crest Trail
Water: As the trail spends a lot of time meandering along ridges and on summits, water can be an issue on this hike. Come prepared by carrying at least 5L.
Dogs: There are several segments of the trail that your furry friend will not be able to negotiate and there have been several forced evacuations as a result of people trying, so make sure to leave your dog at home for this one.
Cell Reception: Good reception is available until Brunswick lake. After that, expect to lose it until the gruelling final slog down the 5km of access road.
Insurance: If you're travelling from outside Canada, make sure your travel insurance covers you for this type of adventure. If you're looking for comprehensive coverage, World Nomads has many great options for protecting adventure lovers.
Backcountry Camping: No outhouses, no camping pads, no bear caches. Come prepared with your trowel, and rope for hanging your food and don't forget to pack out everything you bring in.
Bears: You're in bear country. Make lots of noise, bring bear spray and be extra noisy in the obvious areas overgrown with berries (I spooked a bear in the berry-laden meadow between David Peak and Magnesia Meadows).
Other information: Check BC Parks website for important updates on trail access or warnings.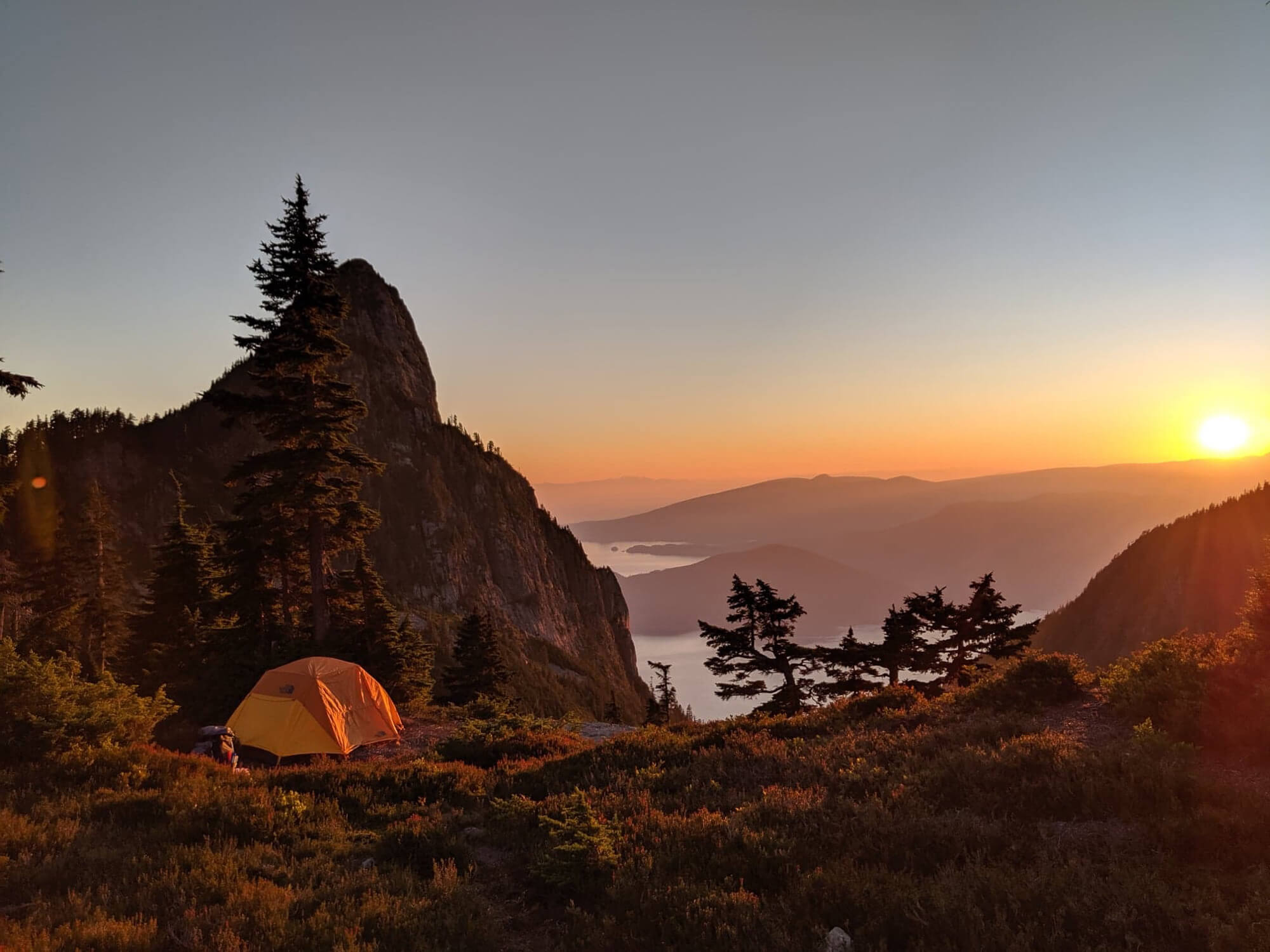 Camping spot recommendations for the Howe Sound Crest Trail
1 night on the trail:

Magnesia Meadows

 A long first day brings to you this beautiful campsite situated in a gorgeous alpine meadow with an incredible sunset view of Mt. Harvey and out towards the Howe Sound and Sunshine Coast. Magnesia Meadows has a good consistent water source provided by a small tarn that is a close walk from the emergency shelter.
For night 1 find a spot with access to a tarn for water near Unnecessary Mountain or the East Lion. For night 2 camp on the beautiful shore of Brunswick lake.
How long will it take to hike the Howe Sound Crest Trail
To give you an approximate idea, here's my rough timing for the Howe Sound Crest Trail done as 2 days and 1 night. Please note I added several hours and a lot of energy by hiking up the Baden Powell trail from Horseshoe Bay. If you go this route, I'd suggest taking the first possible morning bus to Horseshoe Bay to limit the potential of being forced to hike in the dark. As a baseline, I'd classify my pace on the faster side. Leave early on day one to avoid hiking in the dark, especially in the fall as the days grow shorter.
Horseshoe Bay to Cypress Mountain via Baden Powell Trail – 2.5 hrs
Cypress Mountain to Magnesia Meadows (with a couple quick stops and 30 minute lunch) – 9 hours
Magnesia Meadows to Highway 99 (including ascent up Brunswick Mountain, swim in Brunswick lake and lunch) – 7 hours
Hiking the Howe Sound Crest Trail:
From the parking lot at Cypress Mountain pass the lodge on the left hand side and head toward the main wooden sign post for the ski resort. You should see several sign posts indicating St. Marks summit and the Howe Sound Crest Trail.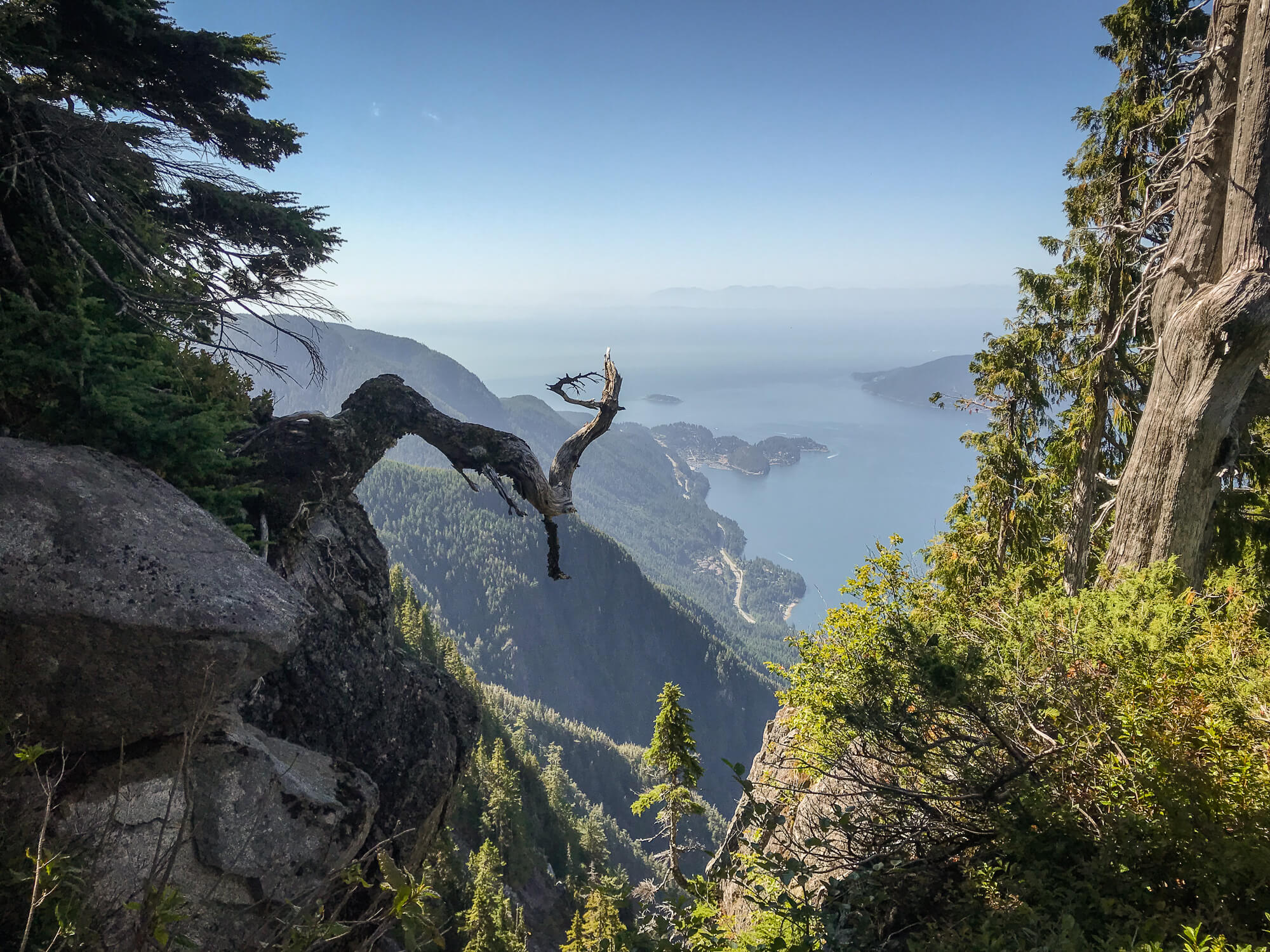 Cypress Mountain to St. Marks Summit
You're off! The first 6km of the Howe Sound Crest Trail meanders through the trees before making several switchbacks to the top of St. Marks summit. The first part of the trail is relatively uneventful and can be quite busy. St. Marks is a hugely popular day-hike and the throngs of running shoe, jean clad, hikers may leave you wondering if you've somehow gotten lost … fear not! Following St. Marks the crowds thin and the hike becomes a lot quieter.
Once you've reached the summit of St. Marks, follow the paths off to the left to find the best view spots and take a moment to savour your first great vista. You likely won't have the view to yourself, but it's gorgeous nonetheless and worthy of a snack stop (or lunch if you'e been really ambitious and come up the Baden Powell from Horseshoe Bay or are taking 2 nights to complete the trail).
Once you've savoured the views you'll drop steeply down the backside of St. Marks before beginning the steep ascent up the appropriately named Mt. Unnecessary.
St. Marks to Mt. Unnecessary
While not the most technically challenging part of the trail, I found the ascent up Unnecessary to be the most mentally gruelling. It's in the trees, your pack is at its heaviest (assuming you haven't already eaten too much food) and the toll of descending St. Marks just to make an unnecessary up again (pun intended) is a touch taxing.  After making the slog up for a while, the trees begin to thin out and you're granted an incredible view of the Howe Sound – the perfect antidote to unnecessary suffering!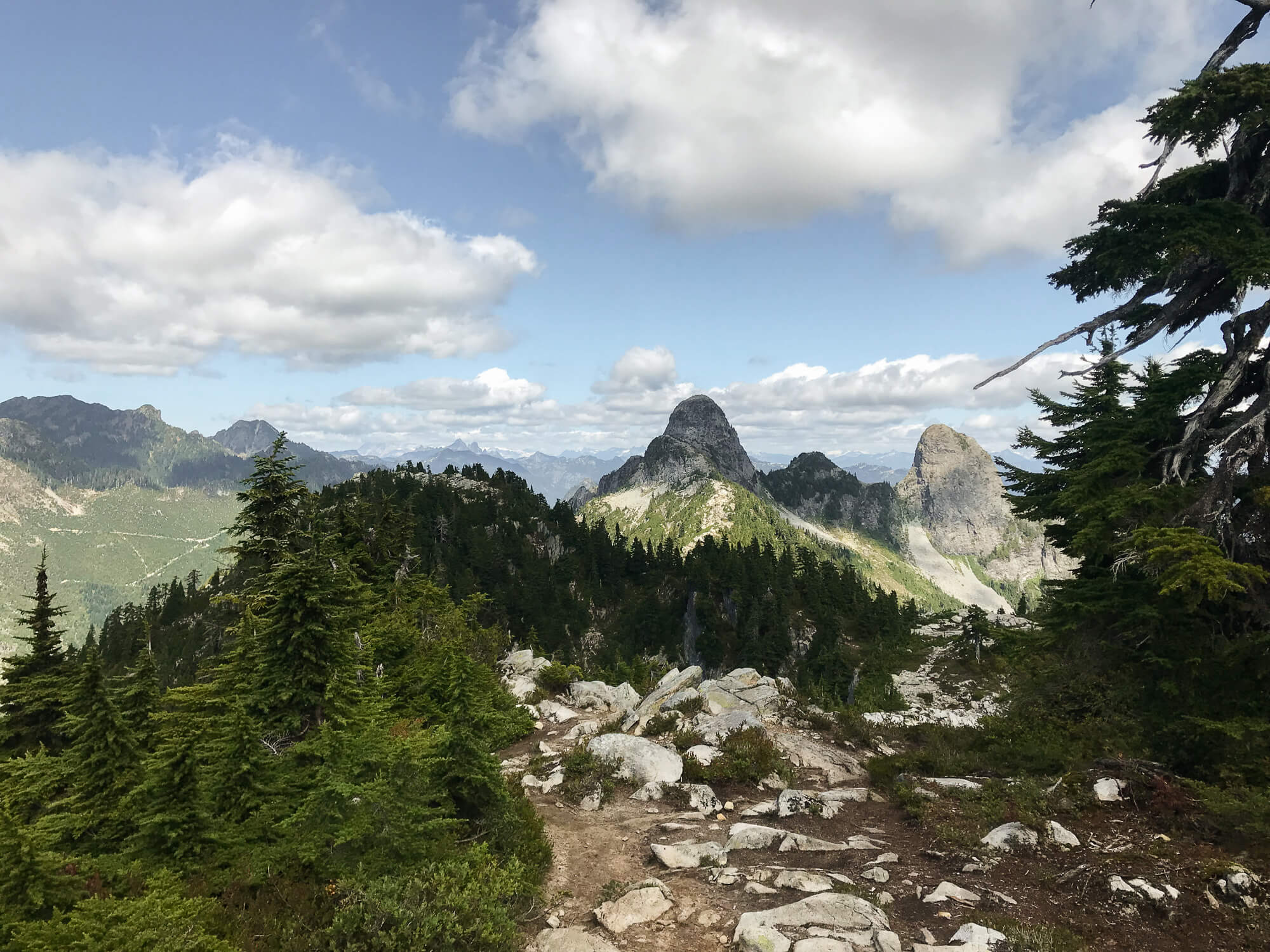 Unnecessary Mountain to the Lions
From the top of Unnecessary mountain you'll make a scramble down a steep roped section before the grade eases briefly as you continue towards the base of the Lions. Keep your eyes peeled for a small detour trail to the right of the main Howe Sound Crest Trail that provides a potential water fill up spot should the need arise! There's also a few spots in here to make camp if you're planning a multi-nighter. From here, the trail begins to ascend steeply giving you a taste of the scrambling and challenges to come! Near the top of the ridge a stunning view awaits with huge cliffs dropping off around you! If you're spending several nights on the trail and time is on your side the Lions provides the opportunity for a scramble and the chance to bag another summit on your epic Howe Sound Crest Trail adventure. Near the base of the Lions, the trail cuts down to the right and the more technical part begins!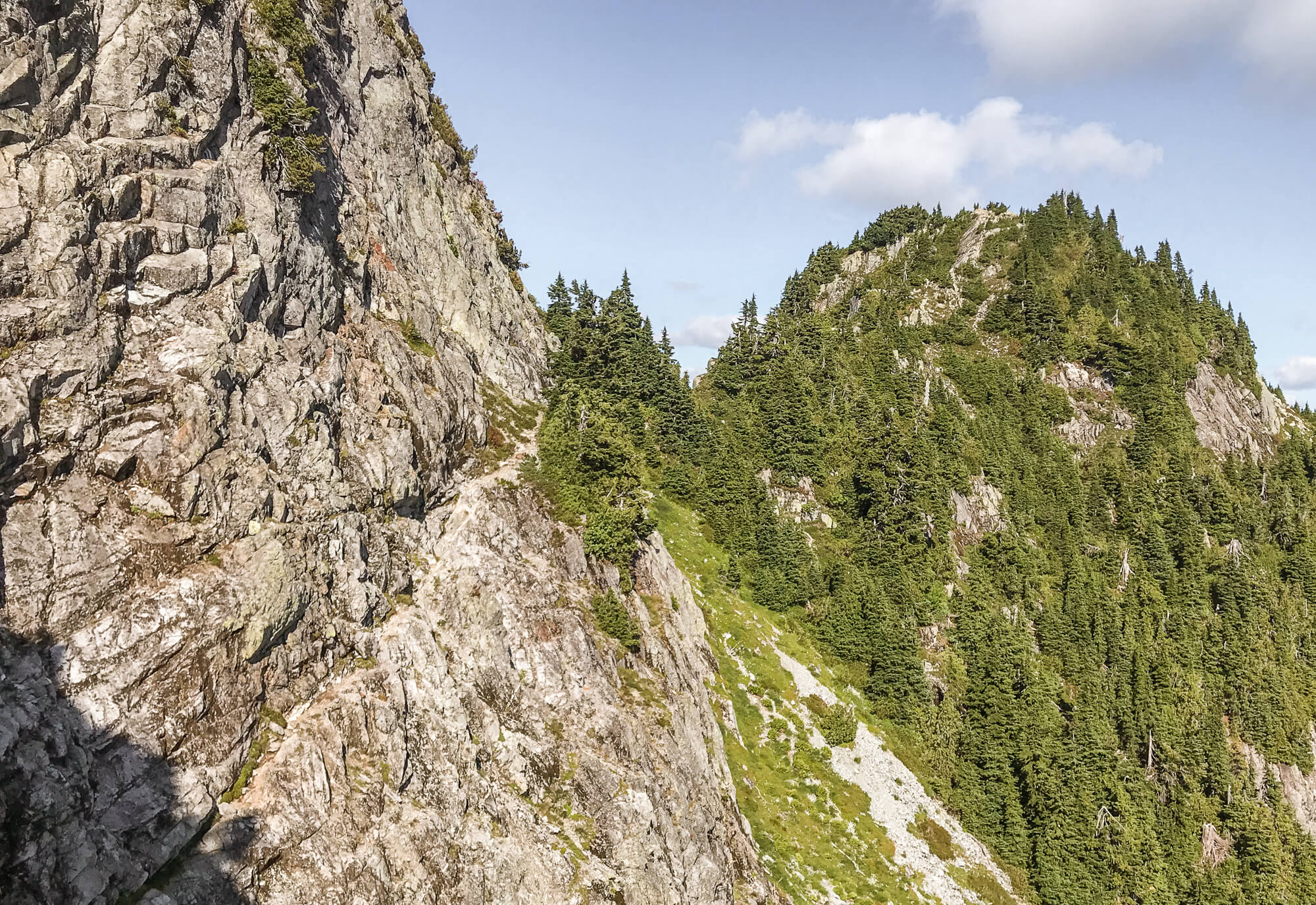 After dropping down slightly the trail traverses a gully along which a series of rock ledges give you your first taste of some exposure. Following the traverse, you'll ascend steeply to a beautiful spot before another brief descent and level off  to yet another beautiful viewpoint! From the viewpoint, you'll descend steeply before entering a talus field. Mind your footing through the ankle twisters and keep your eyes peeled for the occasional orange trail marker indicating that you're on the right path. Towards the left side of the field you'll exit and begin a steep journey up James Peak. Once at the summit you'll find a chain rope that can be used for support in crossing a thrilling ridge!  Once across, James peak opens up into a meadow – a great spot to stop and catch your breath!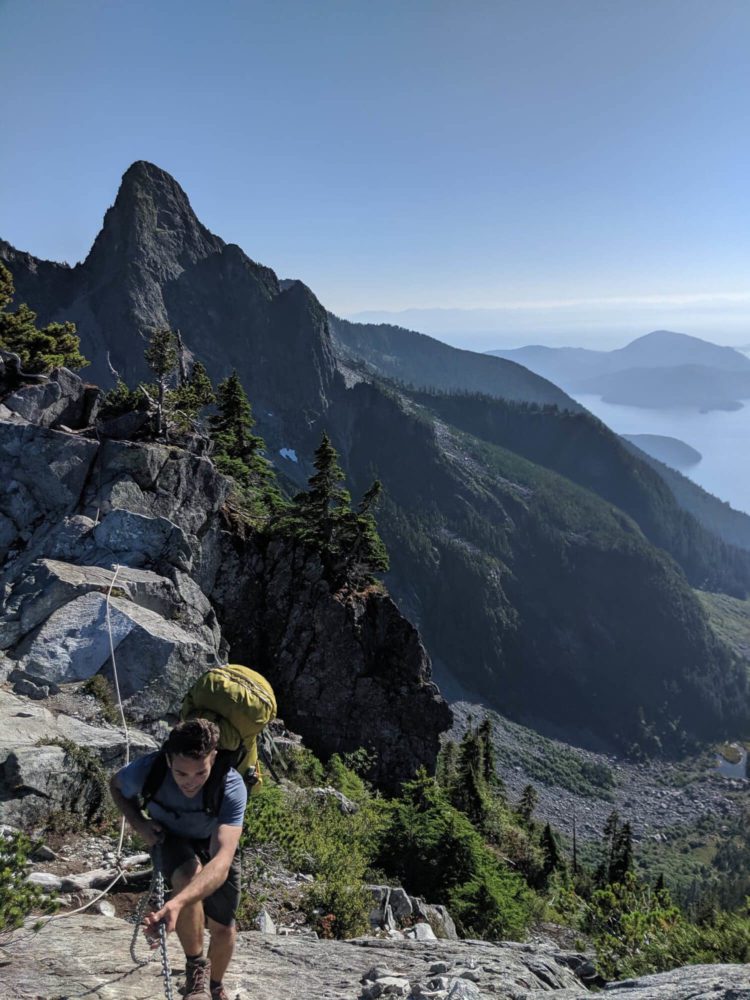 James Peak to David Peak to Magnesia Meadows:
When you're ready to continue, look for orange markers or flags toward the left side and descending through the meadow. Avoid the false trails leading straight, they end abruptly in descents that would only work with a squirrel suit!
Once you've completed your descent through the meadow after James peak, you'll come to a fork in the road. The left fork leads up and over David peak with a steep scramble through the bush and several roped sections. To the right, the trail circumnavigates David peak, losing significant elevation before forcing you to regain it. During my hike in September of 2019, the route left over David peak appeared to be the only option and was clearly marked as the main route. After ascending and steeply descending David peak the trail veers off to the left passing through a field of berry bushes and ascending towards Harvey pass. Make lots of noise in this area, as tons of ripe berries make this prime prime bear feeding territory late in the season. I spooked a black bear fattening himself up for hibernation on my hike. Once you've ascended through the berry-lane you'll reach Harvey pass and almost immediately see the Magnesia Meadows emergency shelter. Magnesia Meadows is a stunning location to spend the night and the views of Mount Harvey and the Howe Sound are nothing short of spectacular! Set up camp, savour the sunset and rest well, the hardest part of the Howe Sound is now behind you!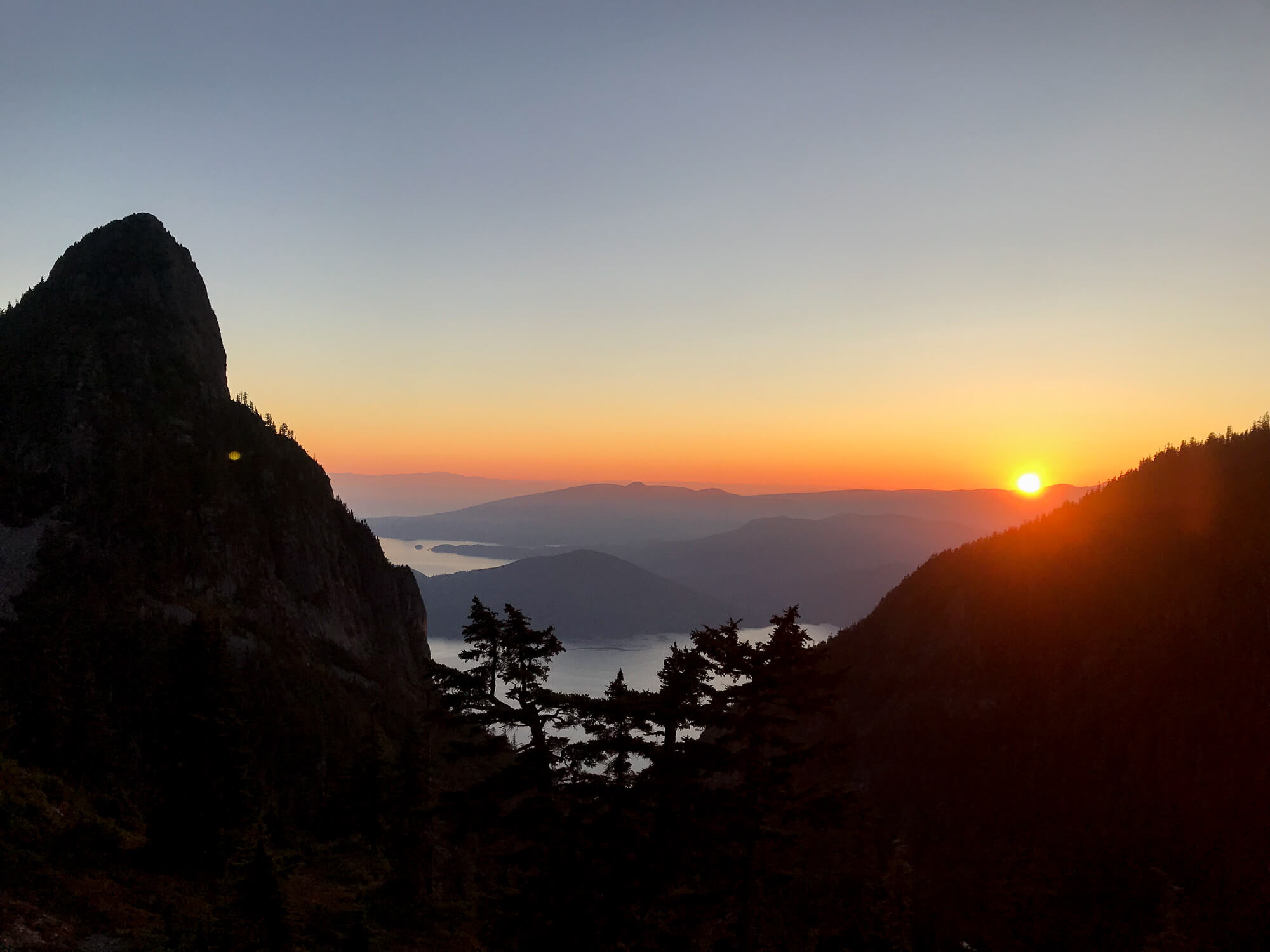 Magnesia Meadows to Brunswick Mountain trail:
After packing up, continue past the emergency shelter before veering to the left and hiking through the trees and several meadows with a few views of Mt. Harvey. Around 2km in you'll encounter a fork in the road for the Brunswick Mountain trail. If you're up for it, dump your pack (remove your bear can or take food with you) and make the 30 minute scramble to bag yet another peak, not to mention some incredible views of the Howe Sound, Mt. Harvey, and the Coast mountain range.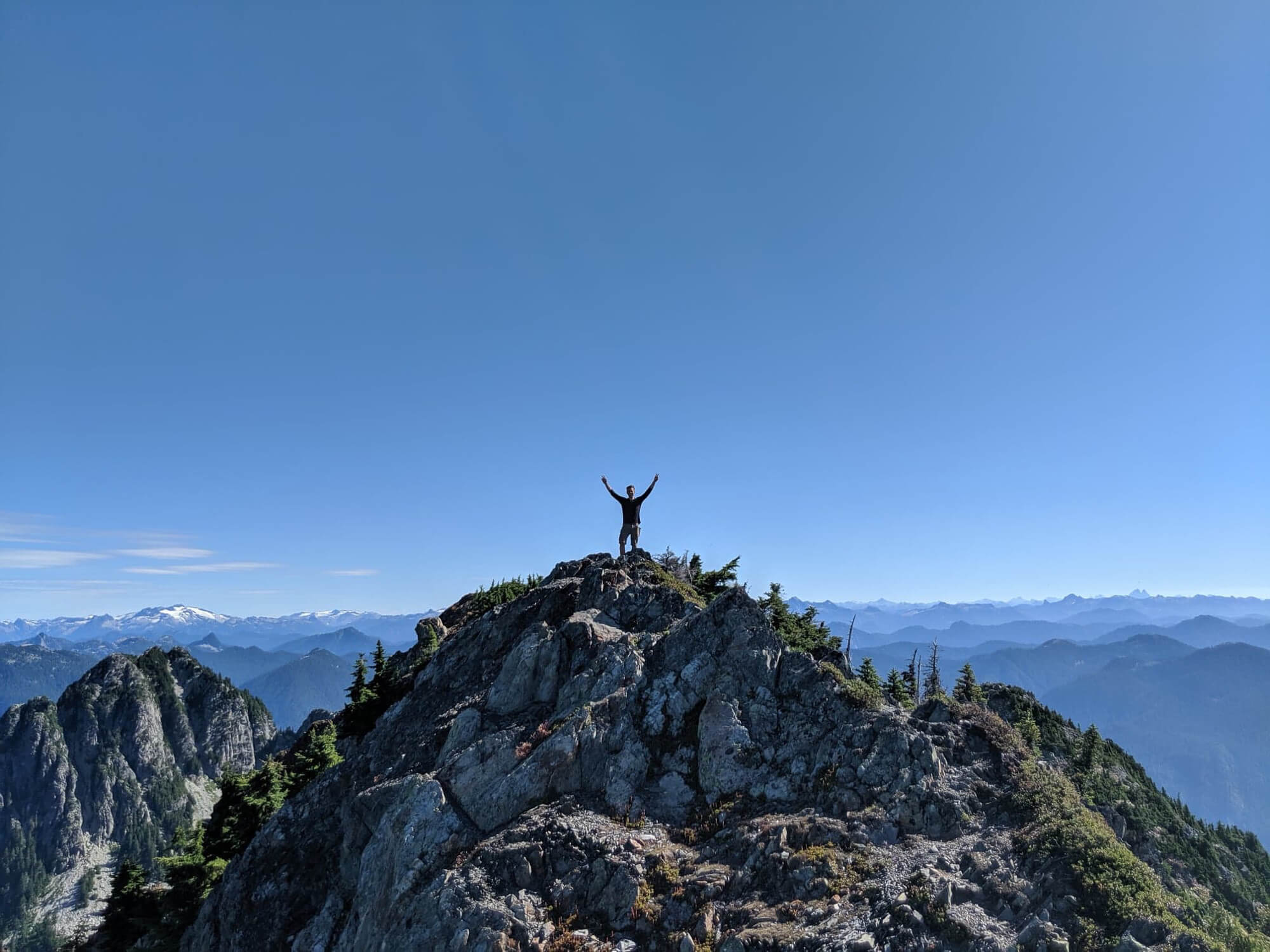 Brunswick Mountain to Brunswick lake:
When you've finished the detour up Brunswick mountain, continue along the trail crossing another meadow and a forested area with several tarns before descending to the sublime beauty of brunswick lake. Brunswick lake offers an incredible spot to camp if you continue a ways past the emergency shelter and take a right at the fork to the lakes south shore. It also provides a great spot for a refreshing dip to help cool those aching muscles and joints before continuing the bone crunching descent!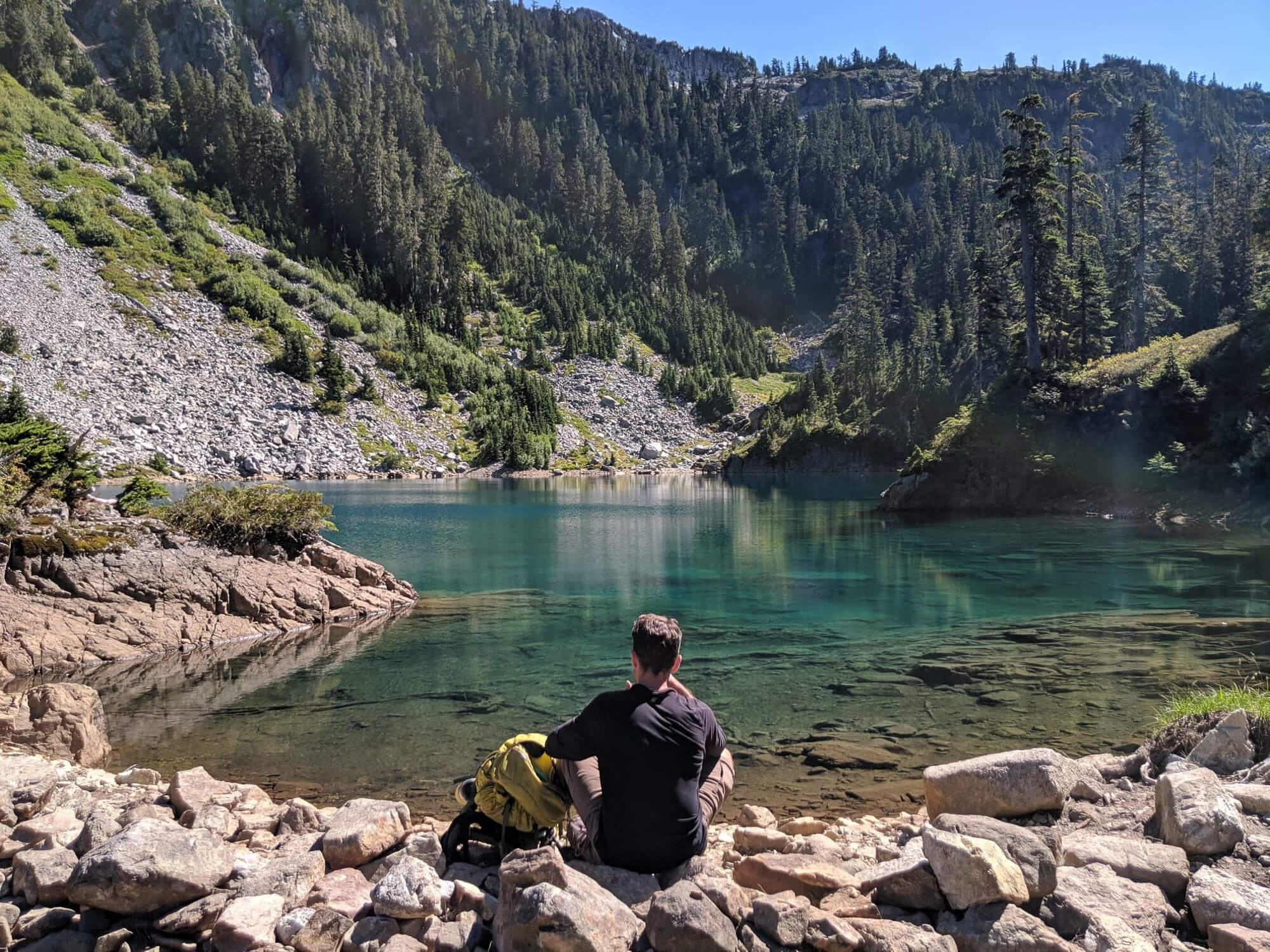 Brunswick Lake to Deeks Lake
After you've enjoyed some time relaxing at Brunswick lake follow the fork to the left and cross a small rock bridge (another great spot to swim). After descending further, you'll reach a roped section that helps ease a slippery section by a waterfall. From here you'll pass along meadows and rocky sections before descending and then eventually crossing a small stream. Eventually you'll reach deeks lake and traverse the lake through beautiful trees and mossy grounds to the log jammed area and campsite at the opposite side.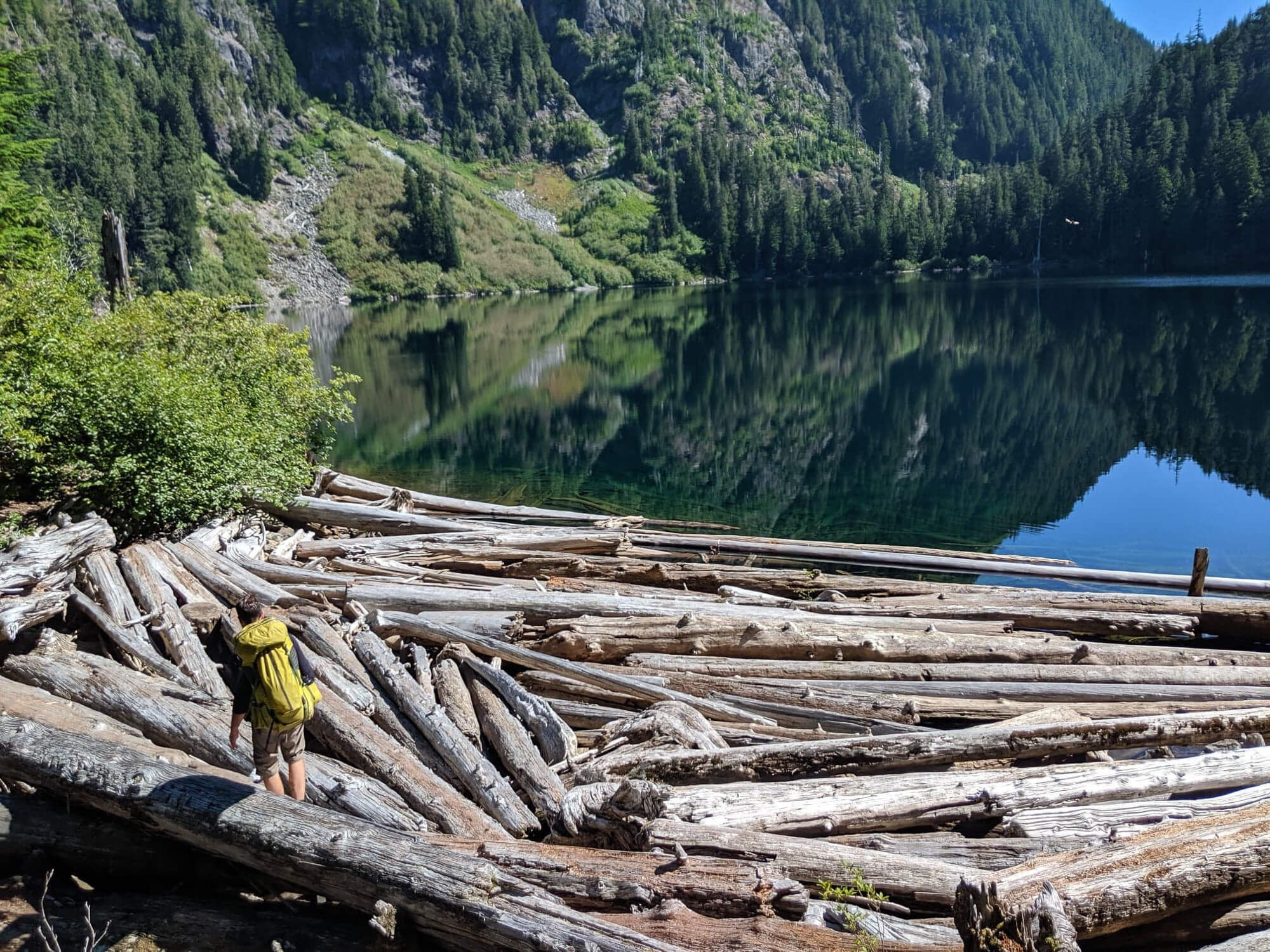 From Deeks Lake you'll descend and pass a small waterfall before continuing to descend uneventfully through the forest. From the boundary of the trail, you'll slog the last 3.5km along a gravel road before shooting out near Porteau Road. Chuck off your pack, pat yourself on the back and drive down the road for a celebratory brew or post adventure feast in Squamish! 
Essential Gear & Packing List for Backpacking the Howe Sound Crest Trail
Since I first wrote this post I've changed my gear setup quite a bit and moved towards a lightweight setup. Intense backpacking trips like the Howe Sound Crest Trail are a lot more enjoyable with less weight, letting you cover more distance with less pain. If you're
new to backpacking
, don't stress out about buying the latest and greatest equipment. Save money and use things you already own  or borrow things from a friend. Later, when you've gained more experience, modify your kit and change out gear as you get a better understanding of what creature comforts you can and can't live without.
With this in mind, here's some gear suggestions for taking this trip:
Tent
MSR makes fantastic backpacking tents. Their 2 person tents have enough space for 2 extra-wide sleeping mats ( a rarity) as long as you don't mind getting cozy with your hiking buddy. The Hubba Hubba has been a backcountry staple for years and was redesigned for 2022! Get excited! If you're already into counting grams go for the Freelite at almost 2lbs to save even more weight. If you never backpack alone and don't mind the extra weight consider sizing up to the 3-person for extra space.
Backpack
If you're relatively new to backpacking and building out your kit slowly, there is nothing wrong with using a large size travel backpack with a decent suspension system and padded hipbelt or borrowing a pack from a friend. This gives you time to decide what features you need and whether or not backpacking (and the gear) is something you're going to invest in. When I first started backpacking, I used our Khmer Explorer Travel Set on the West Coast Trail and Sunshine Coast Trail which worked great despite my poor packing skills!
If you've begun dialing in your backpacking kit, checkout the Gregory Focal or Women's specific Facet which at ~2.5lbs provide a great compromise between barebones ultralight packs and the heavier feature laden packs.
If you're ready to go to an extreme level of gram counting and have eliminated all creature comforts check out the Hyperlite 3400 southwest.
Sleeping Mat
I used to have terrible sleeps in the backcountry until I switched to the Therm-a-Rest NeoAir Xlite. It's incredibly lightweight, comfortable and packs down to the size of a Nalgene bottle. This is probably one of my favorite backpacking items! Try it out. You won't regret it. Sleep well!
Pillow
Yes, you can sleep with a pillow not made of bunched up clothes in the backcountry. Check out the Nemo Fillo. It packs down ultra small and provides a new level of comfort after long days on the trail.
Sleeping Bag
I can't speak highly enough of Patagonia's sleeping bags I invested in one several years ago. It's unbelievably lightweight and packs down small. I found the 30°F / -1°C to be perfect for most outings. Like all Patagonia products, it's not cheap, but they stand behind their gear and the quality matches the price point. If you spend a lot of time in colder environments they also make a 20°F / -7°C version. These bags are a very worthwhile splurge you won't be disappointed in.
Water Purification
For purifying water, I'm a huge fan of the Steripen. It's light, portable and only takes minutes to purify a liter of water in a Nalgene. Press the button, place the pen in your bottle, and stir for a couple minutes! Make sure to bring tablets as a backup though should you run into any technical problems/dead battery with your Steripen.
Swiss Army Knife
Fixing gear, cutting food, a swiss army knife is your go to everything too for backpacking.
Stove & Fuel Canisters
Lightweight, convenient, and reliable, the MSR pocket rocket has been my go to backpacking stove for years.
Cookset
I love the GSI Halulite Microdualist II, Two-person cookset. It's lightweight and I can fit my MSR pocket rocket and a fuel canister inside. If you don't already have a stove consider the MSR PocketRocket Stove Kit for an all-inclusive solution.
Water Bottle
Nalgene are always backcountry favorite. If you're cutting weight or looking for a way to save a buck, a simple smart water is the go-to for ultralight backpackers.
Water Container
Extra water storage capacity makes cooking that much easier and camp life more enjoyable so make sure to invest in something like the MSR DromLite Bag V2. It's also a must for a trip without reliable water sources (like the Howe Sound Crest Trail later in the year) where hauling more water may be essential.
First Aid Kit
From blisters, to scrapes, and cuts. A first aid kit is an essential item to have. The pre-built kits from Adventure Medical Kits have served me well on many adventurers. At the end of your trip write down any items you used and replace them so they're ready for your next adventure.
Hiking Poles
When I completed the Howe Sound Crest Trail several years ago, my knees screamed at me for the next week. My overweight pack and lack of poles were to blame. Poles are great for reducing the strain of long grueling descents and providing extra stability on exposed sections. Both these features you'll experience on the Howe Sound Crest Trail, so do yourself a favor and get a pair of poles. For a reliable entry level option try these Black Diamond Poles or consider upgrading to the carbon fiber to save extra weight.
Bear Spray
When traveling in bear country, Bear Spray is a must. Make sure to remove the packaging and check the expiration date before heading out.
Bear Canister
*DONT FORGET THIS**
Keeping your food safe from bears is an essential part of keeping you safe and being a responsible backpacker. The Howe Sound Crest Trail doesn't offer any food storage so bring a bear canister to keep your food safe. They're bulky, they're annoying to pack, but they work well as stools and are far more convenient and effective than hanging your food. For several people go with the BV500 for solo adventures the BV450 works great. To save weight Ursacks are also a great option, but they need to be tied to a tree and don't prevent your food from being crushed and smashed by a hungry bear.
GPS, Compass & Map
Download the GAIA app for maps and gps. I always bring a traditional compass and map as well in the case of technical problems or dead batteries.
Luxury Items
These items are by no means necessary, but may be worth it depending on your weight priorities and the distance you plan to cover.
Camp Chair
After a long day on the trail there's nothing better than finding a nice comfortable spot to rest your weary glutes. I'm a big fan of the Big Agnes Mica Basin Camp Chair. At just over 1kg, it's light enough to justify bringing on slower/easier backpacking trips where weight isn't as big of consideration or for trips where you're taking day trips from an established base camp.
Hammock
If you've never strung up a hammock between two trees deep in the backcountry you're missing out! Nothing beats getting horizontal with some great reading material in the pre-dinner hours or taking in an amazing sunset from your own outdoor couch. The ENO Double Nest has room for two and at ½ kg it's hardly even a splurge to pack. P.S don't forget the straps to hang it.
Clothing & Accessories
Shell Jacket
Patagonia Torrentshell Mens or Womens.
Hat & Winter Hat (Toque)
Sunglasses
Rainpants
Puff Jacket
I've had the Patagonia Men's Nano Puff® Hoody for years. It's perfect multi-functional item for everyday, backpacking, and pretty much anything where you might need a bit of warmth. I'm still looking for an activity it doesn't work for. They also make the Nano Puff in a women's version.
Base Layers Top x 2
These Capilene Cool shirts have worked well for me, but pretty much any athletic top will work fine.
Base Layer Bottom
A merino bottom baselayer are perfect for warming up at night or during chilly mornings.
Underwear
Patagonia makes fantastic underwear with quality, durability, and comfort far exceeding lululemon, and saxx (I've tried both). You decide how many or how few you bring….
They also make womens' underwear, but I am unable to advise on fit, form, function or durability on this front…
Hiking Socks 3 pairs
Darn Tough Vermont makes the best hiking socks hands down. They're guaranteed for life/replaced free of charge. Really!
Gloves
Camp Shoes
Crocs are back! Well for backpacking camp shoes they never left… They're lightweight and ugly as ever. The perfect camp shoe for resting sore feat after a long day in boots/shoes.
Trail Runners or Hiking Boots
When I'm going lightweight I'll wear trail runners. I've had great luck with the La Sportiva Bushido II. When I'm carrying more gear/weight I'll wear a larger more traditional hiking boot, like the Scarpa Kailash.
Microspikes for traction (season dependent)
Microspikes slip effortlessly over your boots and make walking on snow and ice a breeze.
Low Gaiter (season and condition dependent)
Low gaiters are perfect for keeping rocks, sand, and snow out of your boots.
Tooth Brush & Toothpaste
Duck Tape ( for repairs and blisters)
Food
If you're looking for incredible dehydrated food check out Food for the Sole. Their salads are some of the best add water food I've had in the backcountry.
Final Thoughts on hiking the Howe Sound Crest Trail
The Howe Sound Crest Trail offers an incredible backcountry experience to properly prepared adventurers. If you have questions drop me a note in the comments below and I'll do my best to help you out! Happy hiking friend!