If you're mapping out the perfect Cambodia itinerary, chances are there's something in this post just for you! After living and travelling in Cambodia for years, I've put together this  guide with 5 different itineraries to chose from. If you're looking for a 1-week Cambodia itinerary we've got you covered.  If you're planning a 3-week Cambodia trip you'll find info on that too!  No matter how long you're planning to travel, this Cambodia itinerary guide has you covered.
Cambodia is one of the best countries to experience every extreme of travelling! It's home to some of the world's most jaw-dropping ancient architecture from the 12th century at Angkor Wat, but just a few hours south, the contrast is stark as you experience the country's heart-wrenching history. Phnom Penh's Killing Fields and the S-21 Genocide Museum are potent reminders that one quarter of this beautiful country's population was killed in the 1970s.
Today's Cambodia is a unique and incredible mix of this grandeur and tragedy. It has an eager, youthful population who are bright eyed and ready for change. With strikingly beautiful islands, quiet backwaters where you can kayak or SUP, lush rice fields, red roads, and some of the kindest people you'll meet, Cambodia will unabashedly capture your heart as it first captured mine many years ago.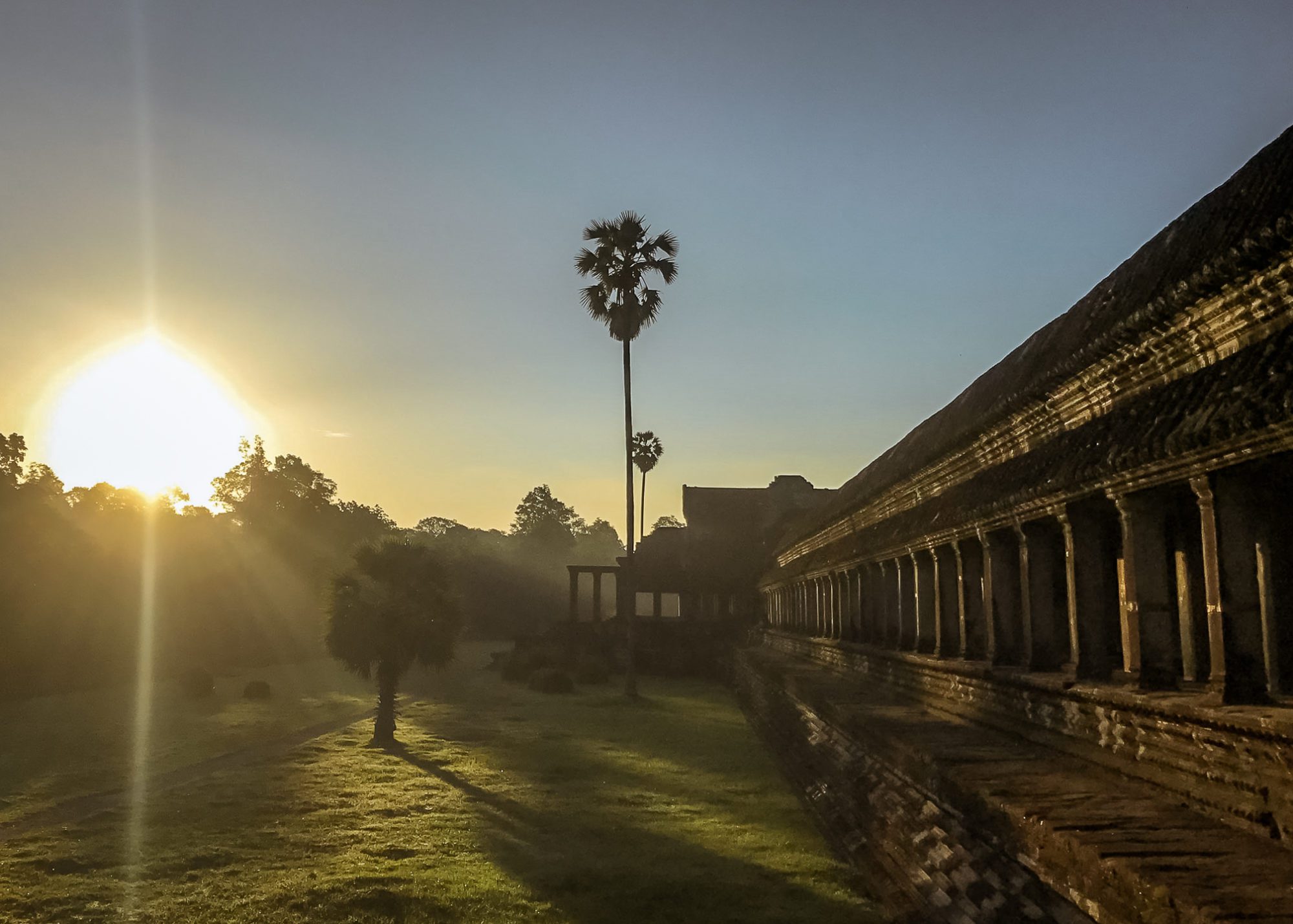 How much time should you spend in Cambodia?
Cambodia offers plenty of experiences for trips of all lengths from 5 days to 3 weeks! The following itineraries are a good starting point for your adventure with the option to speed up or slow down any of these trips as you see fit. Scroll through the whole post or click on any of the
individual
stops to skip ahead to the sections most relevant for your own Cambodia itinerary. 
10 Day Cambodia Itinerary
2 Week Cambodia Itinerary
3 Week Cambodia Itinerary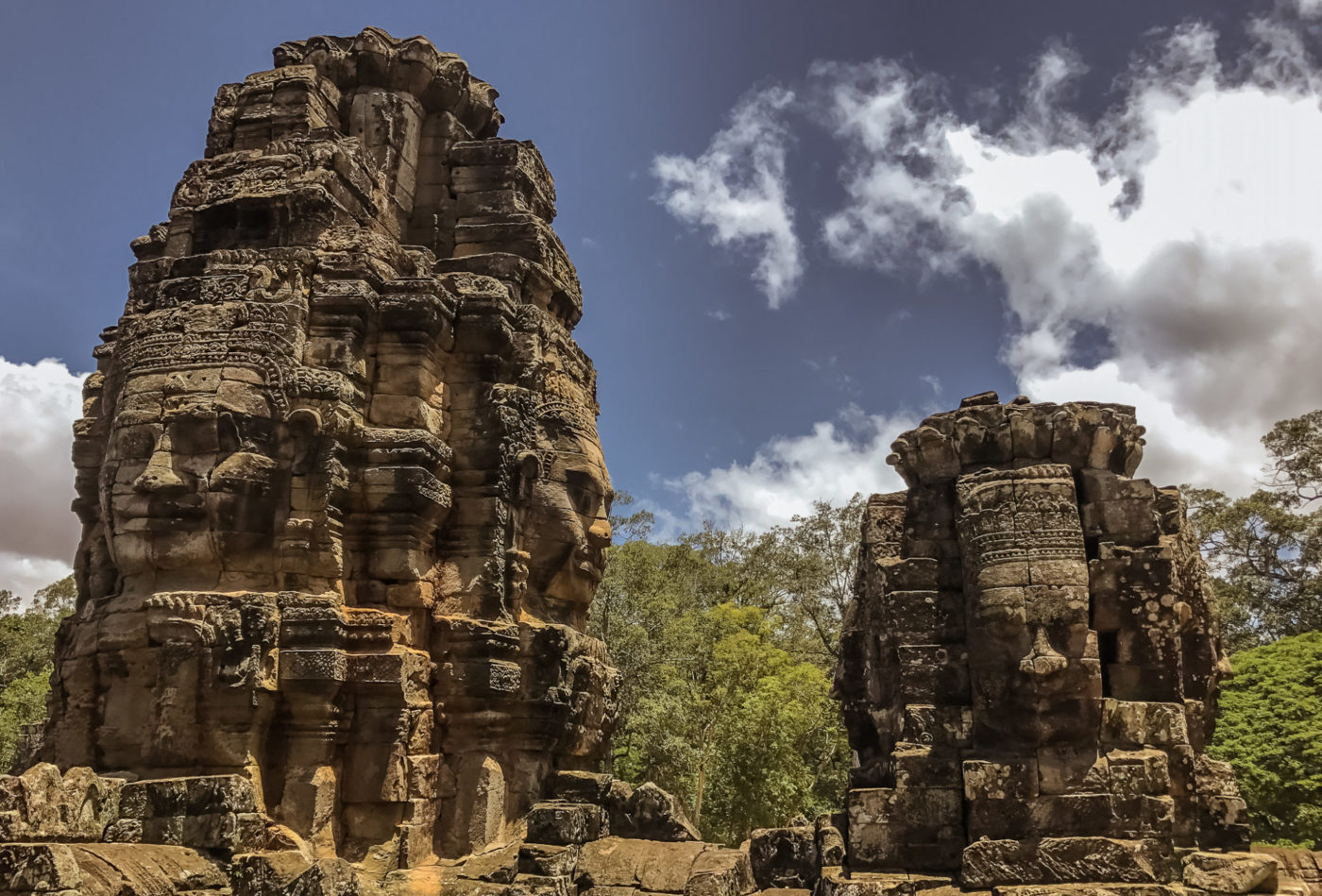 Do you need a Visa for Cambodia?
Yes, but you can purchase a visa upon arrival at Cambodia's airports. It costs $30 USD for 30 days. You can also choose to purchase an electronic visa online before you arrive through the government's website: evisa.gov.kh. This option costs $30 plus a $6 processing fee. It usually takes 3 days from submission of your information to receive the e-Visa by email.
What money do they use in Cambodia?
Cambodia's official currency is the Cambodian Riel. In practice, the country uses both US dollars and Cambodian riel. It's common to pay for anything less than 1 USD using riel (e.g. 25 cents = 1000 Riel) and anything over this using US dollars.
When is the best time of year to visit Cambodia?
To avoid the intense rain and heat in Cambodia, it's best to visit between November and March.
How to get around in Cambodia
Download Grab (the regional ride-sharing app) and PassApp (the Khmer version) on your phone when you arrive in Cambodia. These apps take away the stress of getting ripped off for a tuk-tuk or rickshaw ride and also save you having to direct your driver around a new city. If you're booking buses between Cambodia's cities you can use the online service Book Me Bus.
International flights now arrive at both Phnom Penh's airport and Siem Reap's extravagant new airport. Flights to get here don't tend to be the cheapest in Southeast Asia, so if you have some extra time to spare you might consider flying to Bangkok and overlanding to Cambodia from there.
You can take the bus into Cambodia from neighbouring Thailand, Vietnam or Laos. Buses from Ho Chi Minh City to Phnom Penh take 6-7 hours while buses from Bangkok to Phnom Penh take 12 hours and from Bangkok to Siem Reap around 8-10 hours.
How much should you budget for your trip to Cambodia?
On average plan to spend about $10 for a dorm bed, $3 for a plate of noodles, $9 for a bus ride within the country, and $1 for a glass of Angkor draft beer. Angkor Wat ticket entry will be your big splurge.
On average plan to spend about $30 for a private room in a hostel or guesthouse, $6 for a great meal, $50 for a one-way flight within the country, and $3.50 for a cocktail.
Is it safe to visit Cambodia?
Yes! Cambodia is one of the countries I've felt the safest in as a solo female traveller. That being said, like anywhere in the world (including your home country), you should keep your wits about you. On that note here are a few things to be aware of:
These have become sadly commonplace, especially in Phnom Penh. Wear your backpack with both straps on and if you're going out in the evenings, try to just carry your belongings in your pockets. Watch out for motorbikes passing by when you're taking photos with your phone, or all of those beautiful travel photos and your means of communicating will disappear in a flash! Which leads me to the next point.
Whatever you do, DON'T FORGET this
Whether you're riding on the back of motorbikes, or exploring ancient temples, medical emergencies can happen and you want to be prepared! I had a friend that was medevaced to Bangkok from Cambodia and spent several weeks in the hospital there to the tune of $750,000. Fortunately, she had travel insurance. 
If you don't already have travel insurance, check out World Nomads* . Their coverage includes medical emergencies, luggage & gear (even theft!) and trip cancellation.  Hopefully, you never need to make a claim, but if you do you'll be beyond happy you were prepared!
*We receive a fee when you get a quote from
World Nomads
using this link. We do not represent
World Nomads
. This is not a recommendation to buy travel insurance.
The powdered milk scam in Cambodia
This one used to be a favourite in Siem Reap and it still pops up from time to time. A woman will stand nearby a shop and ask a passerby to buy milk for her baby. She'll explicitly tell you she doesn't want money, just milk. Unfortunately these women have a deal with the nearby shopkeeper, so once you buy that milk and leave, they will return the milk and grab the cash. There are much more sustainable ways to support those who need help in Cambodia. Try visiting a training restaurant or donating your time or money to a reputable local NGO instead.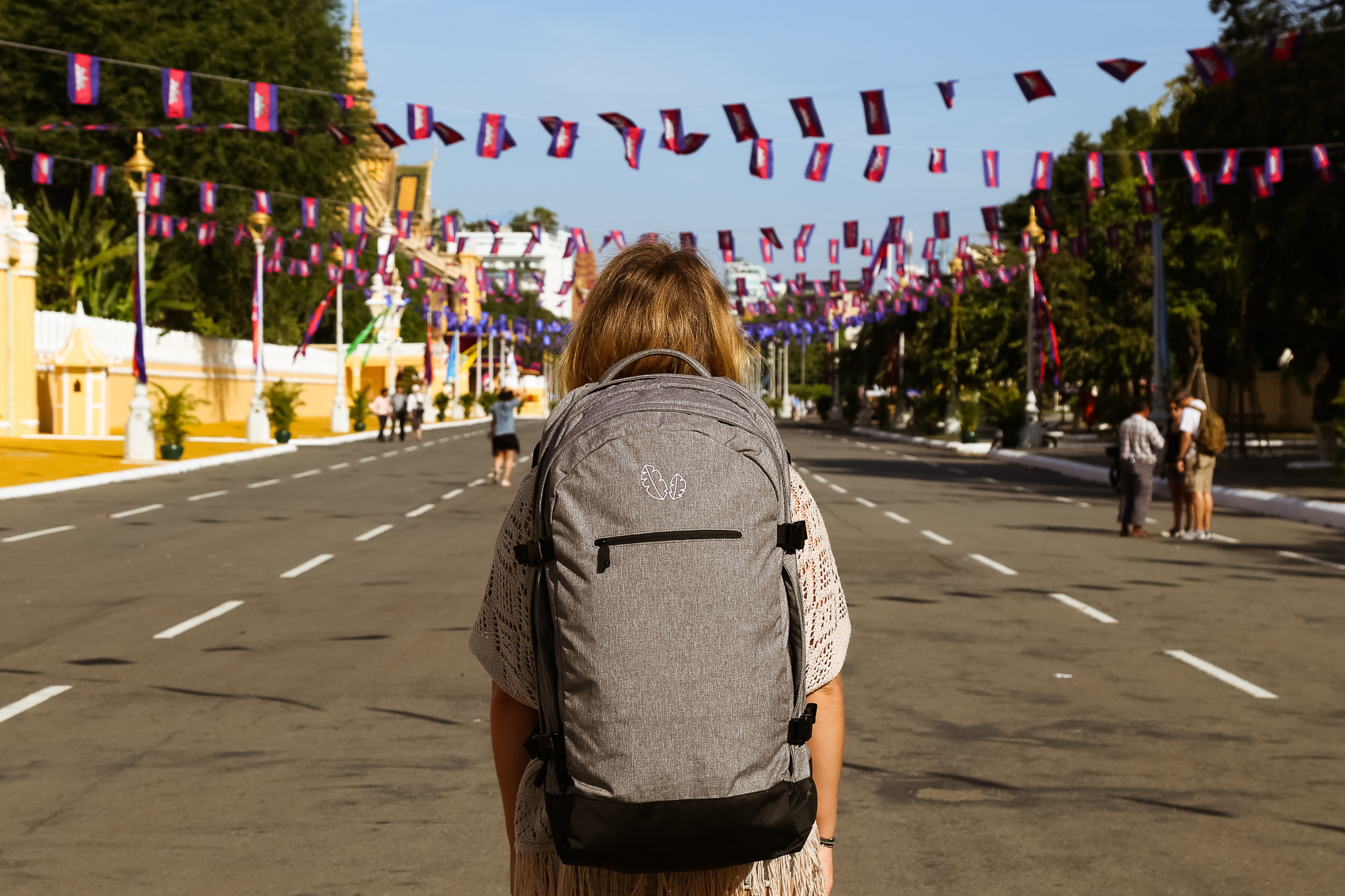 What to bring to Cambodia - a few essentials
Uneven terrain and frequent bus, boat, and tuk-tuk rides make a travel backpack the perfect luggage for your Cambodia adventure.  Your pack should be weather resistant, ergonomic, and help you stay organized. If you need a travel pack check out our Khmer Explorer Travel Set which was built for adventures  just like this. Plus every bag helps a child in Siem Reap province go to school, so you're giving back to this country before you've even landed!
Comfortable clothing for hot weather
Think linen, organic cotton, sweat wicking, quick drying, and light colours. Cambodia gets crazy hot, even during the cool season. Leave the jeans at home!
Water bottle & water purification device
Cambodia is one of the hottest countries I've every travelled too, meaning you're going to be really, really thirsty. Plastic pollution is a major problem, so grab your favourite water bottle and use the ever more readily available water coolers or your own purifier (like a steripen) to stay hydrated and cut down on plastic waste. Also, bring along some electrolyte tablets if possible. The water here doesn't have many minerals and these tablets will help prevent dehydration.
A comfortable pair of sandals or shoes for walking
If you're visiting the temples of Angkor you'll be doing a lot of walking and climbing!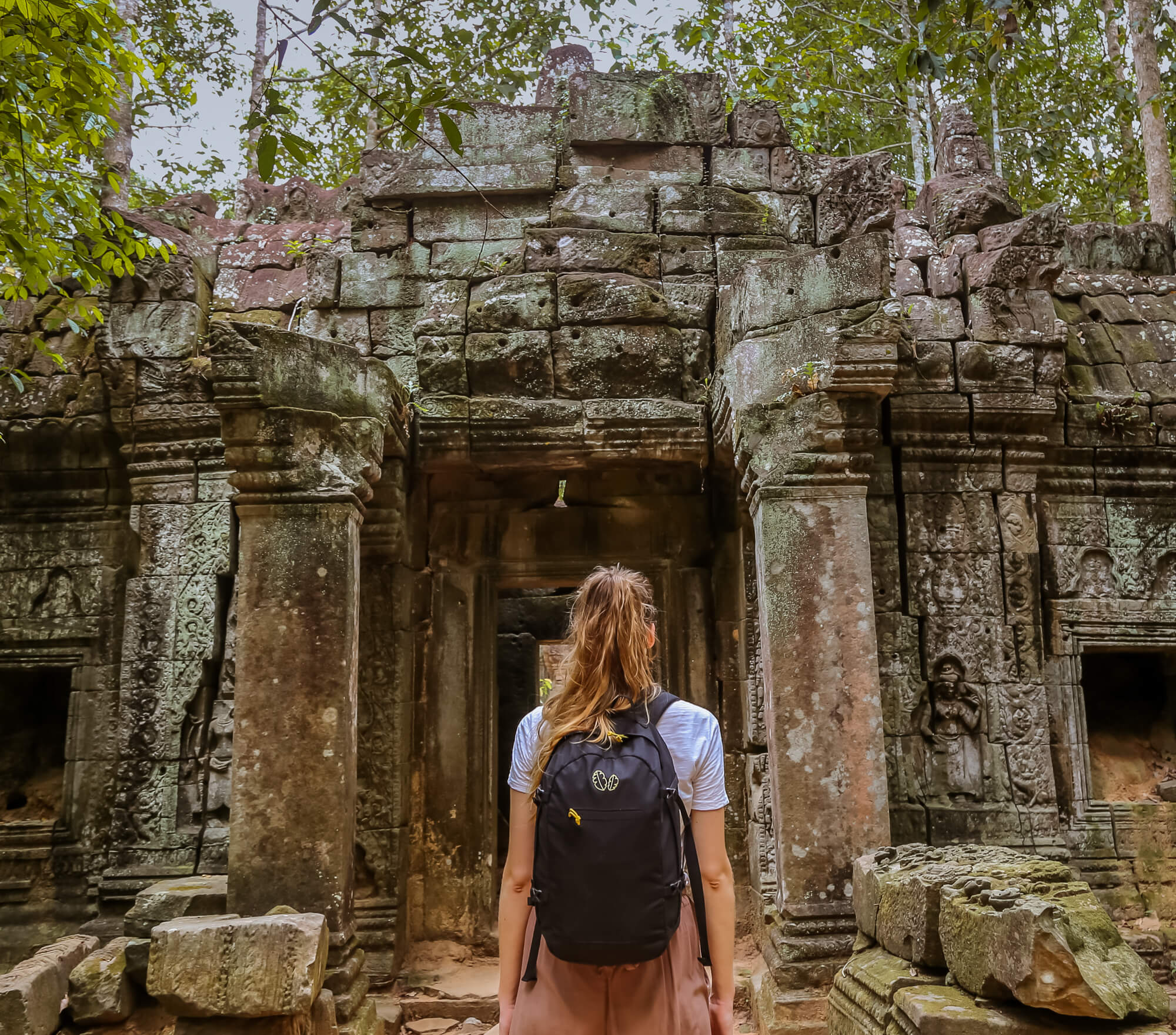 Planning your stop in

Siem Reap
Siem Reap is the jewel of Cambodia and an essential stop on any Cambodia itinerary. The jumping off point to visit the temples of Angkor Wat, many tourists make this their only destination in the country and if you're short on time in Cambodia, this is the place to see. While the town itself has become a bit of a tourist madhouse, heading just a few streets away from the notorious "Pub Street" brings you to a different world of beautiful green fields, sleepy villages, and hidden temples to explore. Many people cram a marathon visit to Angkor Wat in one day and move on, but there is so much more to enjoy in Siem Reap and it's worth spending a few more days in this little town. 
International flights arrive straight into Siem Reap, so for those limited on time, flying directly here is a great option. Your guesthouse or hostel will usually offer a free pick up service from the airport. Alternatively, you can use PassApp or Grab to book a tuk tuk. 
Buses arrive to Siem Reap from across the country. From Phnom Penh it takes about 6 hours by bus. We would recommend Giant Ibis ($15) for their great safety standards and conservation efforts. Cambodian roads can get a bit crazy at night so try to travel during the day for your own safety when possible.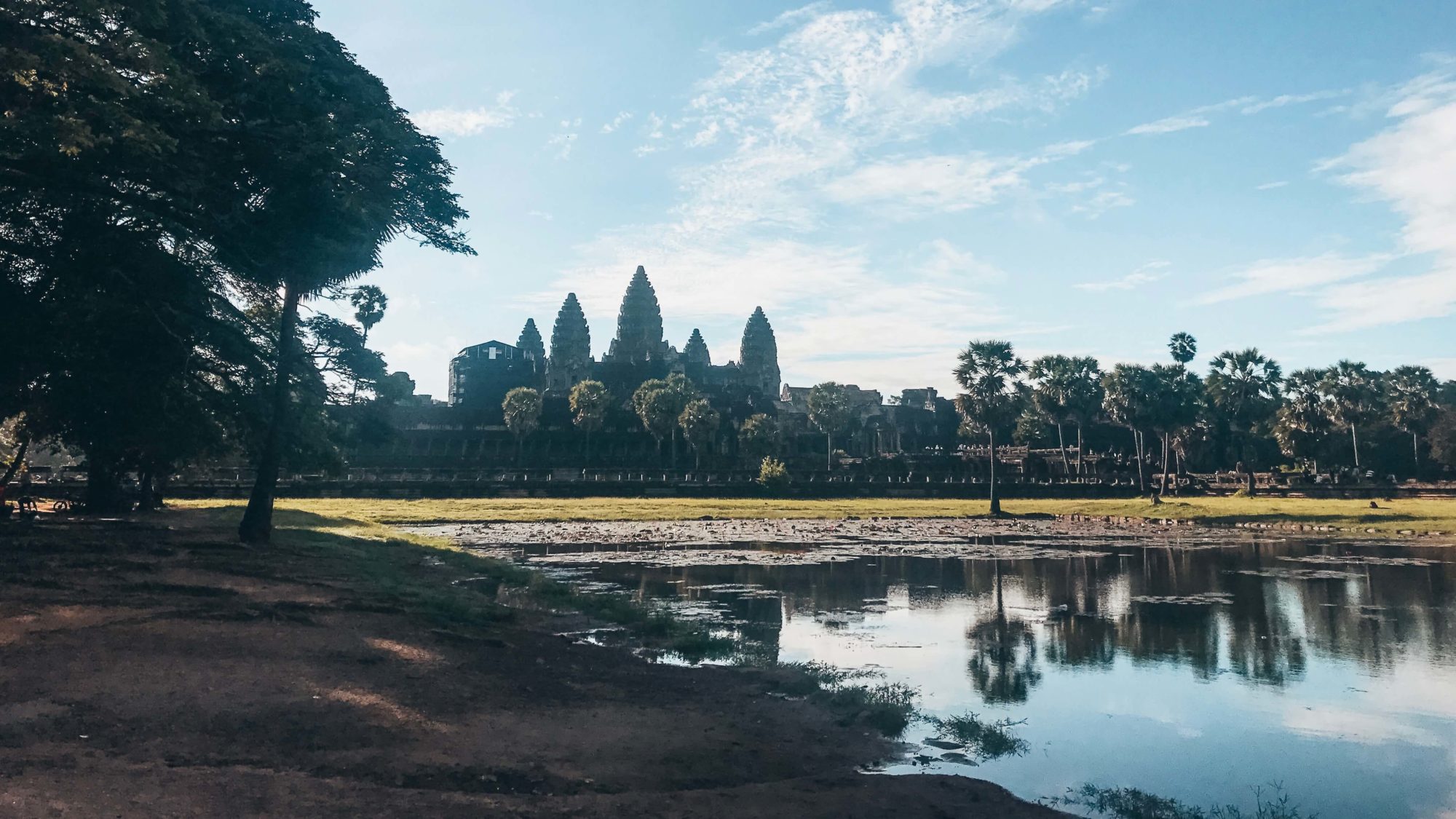 Cambodia itinerary highlights

in Siem Reap
Visit the Temples of Angkor
The ancient city of Angkor was once home to a population of over 1 million people and held the title of the world's largest city. During the period between its creation in 802 AD to its abandonment in 1431, the God Kings of the Khmer Empire constructed a series of magnificent temples and religious monuments across hundreds of square kilometres of modern day Cambodia, Thailand, Laos, and Vietnam.  The crown jewels of this era are housed within the Angkor Archaeological Park adjacent to the town of Siem Reap. From taking in sunrise over Angkor Wat, to gazing at the many faces of the Bayon, or wandering the tree-engulfed corridors of Ta Prohm, no trip to Cambodia is complete without a journey here. As tourism just begins to resume in 2022, now is an incredible time to visit. The temples still lack the crowds and you'll often find complete solitude at some of the most famous spots.  Like many of the world's great wonders, a trip here is sure to be unlike anything you've ever experienced.
Read our comprehensive guide to visiting the Temples of Angkor.