Welcome to Mondulkiri, Cambodia's wild east.  Mondulkiri is the Cambodia's most sparsely populated province and home to dusty red roads, raging waterfalls, elephant sanctuaries, and just the right dose of adventure. It's also refreshingly cooler than the rest of Cambodia, dipping down to 20°C some nights – perfect for hammock stargazing from under a blanket.
If you have a bit of extra time in the country and are craving off-the-beaten-path adventure, Mondulkiri needs to be on your Cambodia Itinerary.
While its relaxing atmosphere and incredible nature may fool you, Mondulkiri is no stranger to struggle. The province was heavily impacted by the bombing of US forces during the Vietnam War and an estimated half of the population was killed during forced relocation under the Khmer Rouge regime. In the 1980s people returned to Mondulkiri, including the province's Bunong population, the largest indigenous highland ethnic group in Cambodia.
While peaceful today, Mondulkiri's incredible forest cover faces significant threat from illegal logging. You can help make a positive impact by supporting tourism in the area and encouraging the preservation of its beautiful scenery.
** Some of the links in this post are affiliate links. If you click one of the links and make a purchase we'll earn a small commission at no cost to you. Just like the travel backpacks we build, we're very particular about travel products and we only recommend products, services, or accommodation we trust and use ourselves.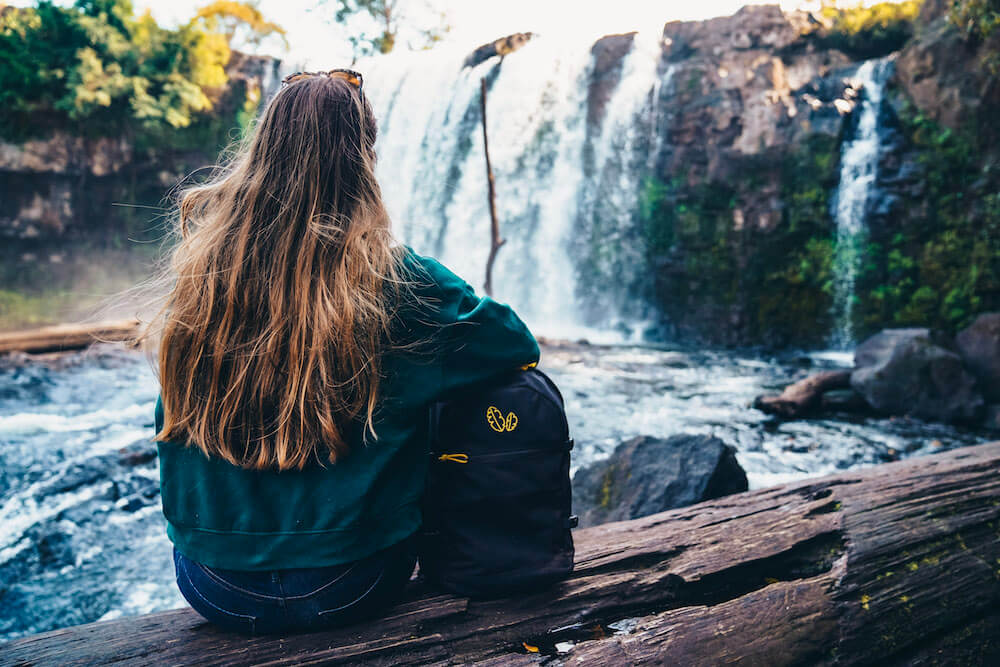 Things to do in Mondulkiri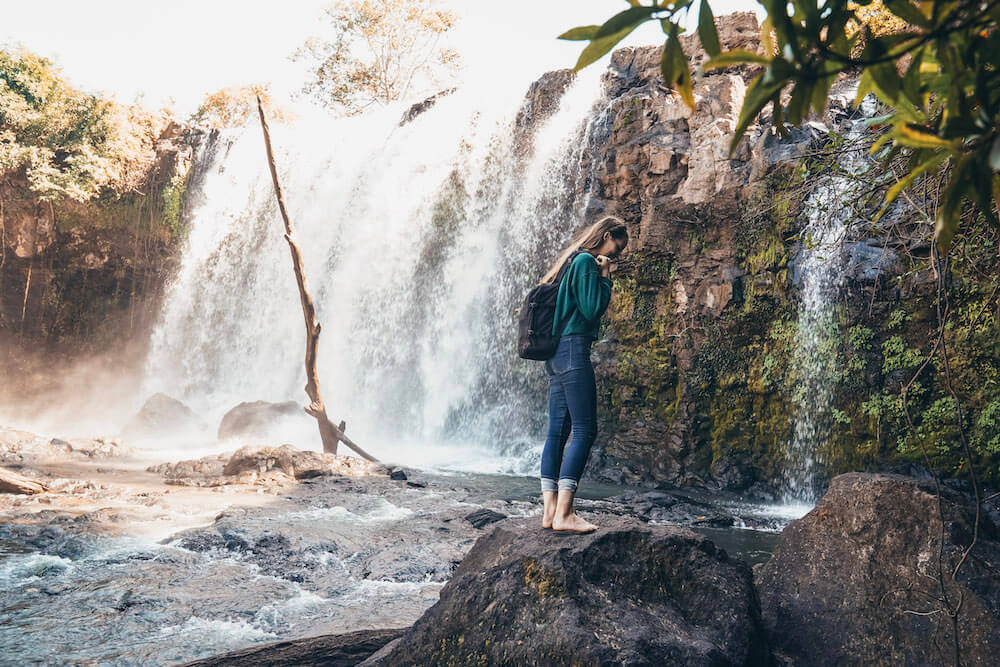 Zipline or picnic at Bousra Waterfall
Bousra is one of (if not the) most impressive of Cambodia's waterfalls. It's located under 50km outside of the province's main town, Sen Monorom, which doesn't stop the local crowds from gathering here. It's a popular picnic spot for Cambodian families, and rightfully so. Have a lunch packed up in Sen Monorom town and take it along to Bousra to join them for your own picnic. Then leave your shoes behind and explore the pools beneath the upper waterfall. The spray from the waterfall is a great way to cool down on a hot day.
If you're feeling extra adventurous, you can also go on a zipline adventure from Bousra. The Mayura Zipline is a bit more expensive by Cambodia standards, but the reviews are great, especially for the course's safety standards. 
To get here, rent a motorbike in Sen Monorom ($7 for the day). Mind the construction in parts of the road along the way.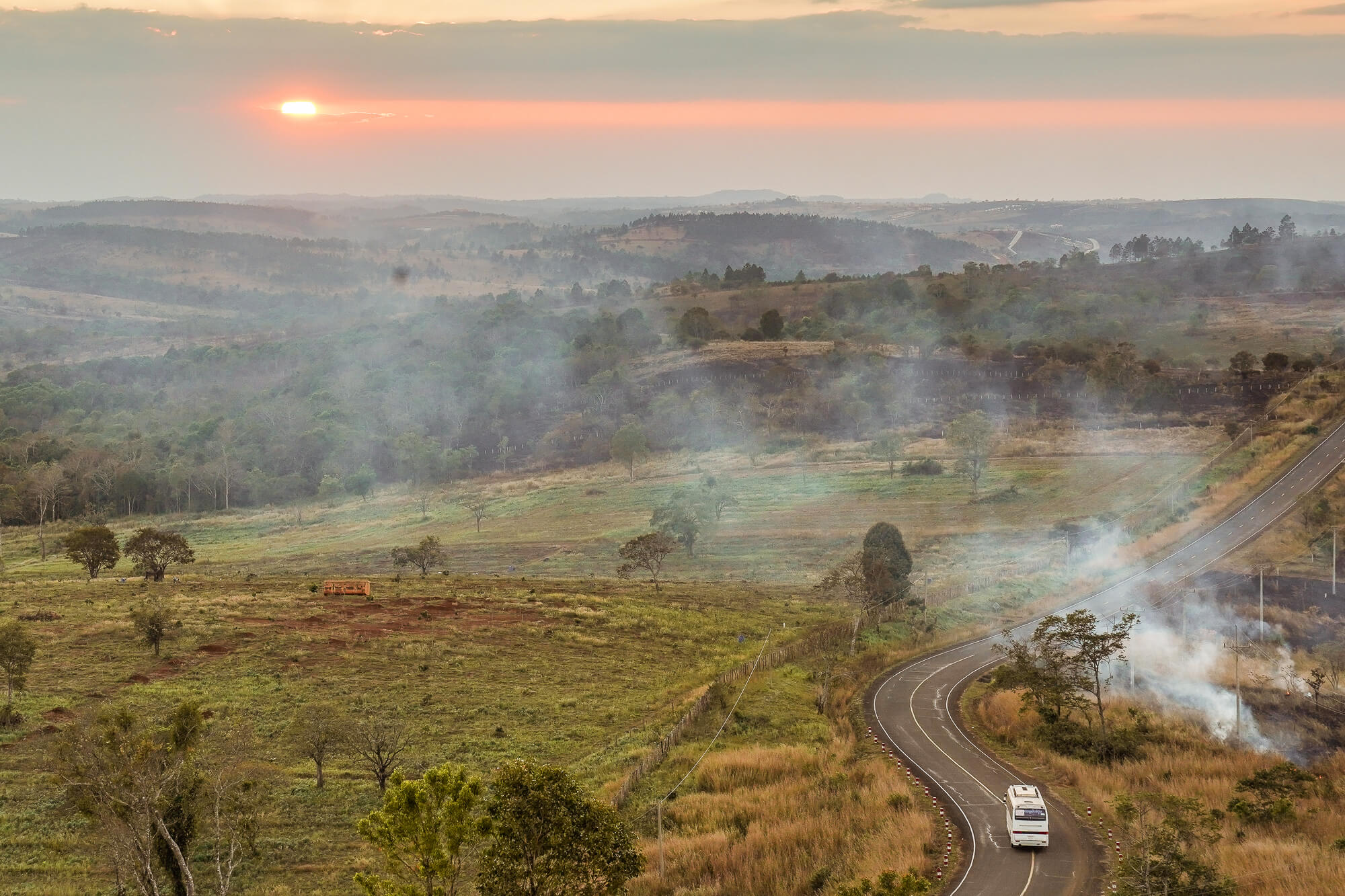 Motorbike the road to Dak Dam
The road from Sen Monorom to Dak Dam is easily the most beautiful road I've been on in Cambodia. Apparently it used to be even more beautiful, but deforestation has increasingly taken place here over the past years. It's still a stunning motorbike ride on a thankfully well paved road. Take a detour off the highway onto the side roads to smell the pine trees or up a small hill called "Build Love" (or something equally cute and kitsch) to watch the sun set.
Whatever you do, DON'T FORGET this!
Unfortunately, when you're riding motorbikes and hiking in the jungle,  medical emergencies can and do happen. You need to be prepared! A friend of mine was medevaced to Bangkok from Cambodia and spent several weeks in the hospital there to the tune of $750,000. Fortunately, she had travel insurance! 
If you don't already have travel insurance, check out World Nomads* . Their coverage includes medical emergencies, luggage & gear and trip cancellation.  Hopefully, you never need to make a claim, but if you do you'll be beyond happy you were prepared!
*We receive a fee when you get a quote from
World Nomads
using this link. We do not represent
World Nomads
. This is not a recommendation to buy travel insurance.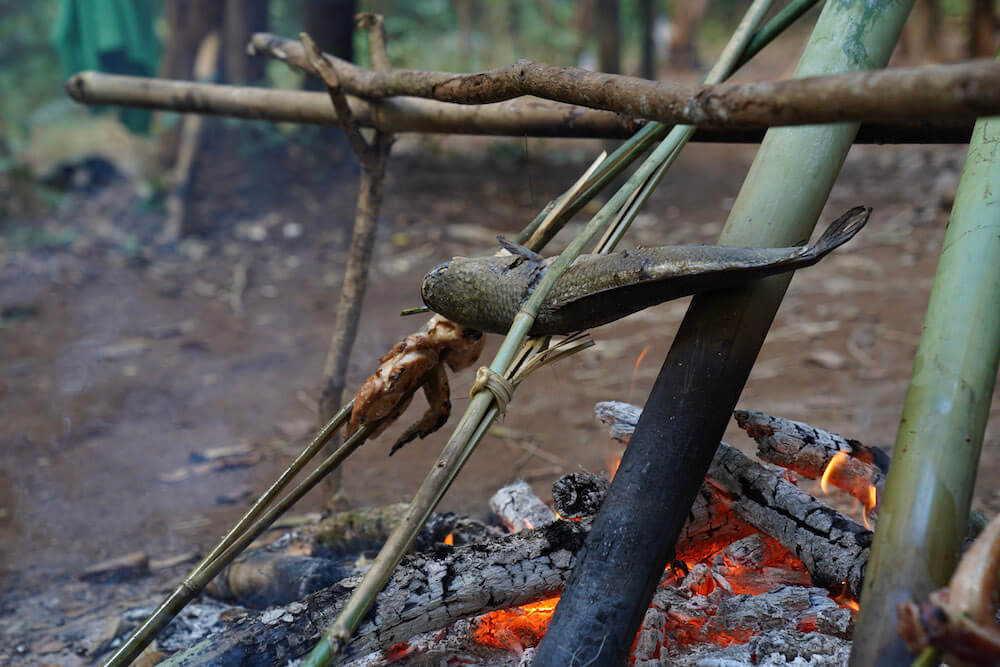 Trek through the jungle to hidden waterfalls
Seeing Cambodia's incredible jungle is best experienced by trekking. A number of companies offer an 18km day hike led by a local Bunong guide. The trail takes you past three incredible waterfalls, hidden in the jungle. You'll likely spot some wildlife along the way. I saw monkeys, a giant viper, and even an elephant (from one of the sanctuaries). Your guide will cook up vegetables and some fish or meat at camp to eat.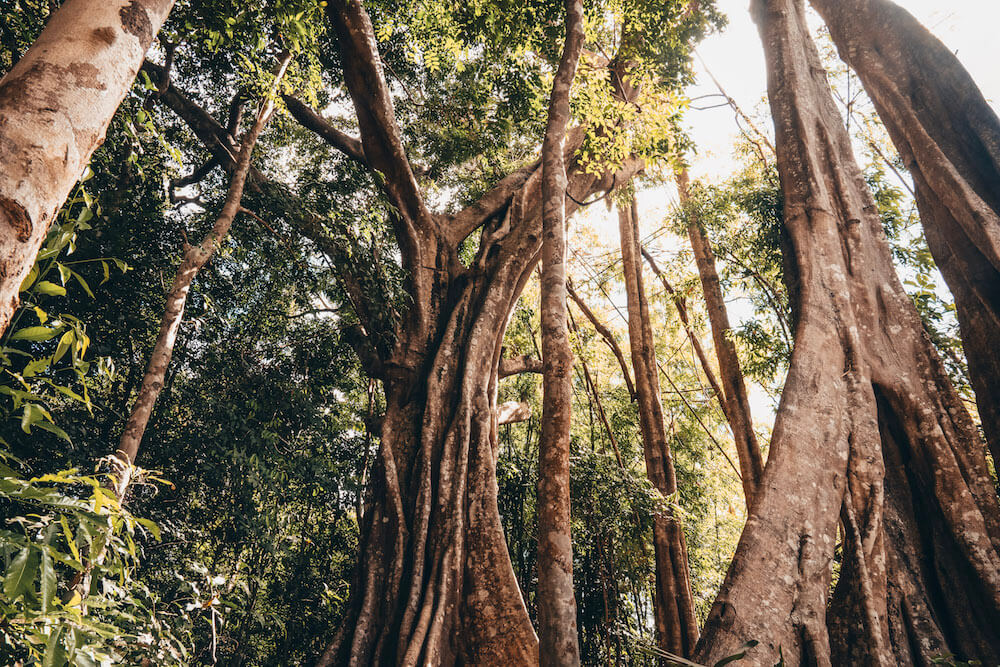 Visit the elephants ethically
There are a number of organizations in Mondulkiri that are working hard to protect elephants in the area and allow travellers to visit them in an ethical way. However, not all of these are created equal. Doing your own due diligence is important here. One traveller I met had been to one of the supposed sanctuaries and ended up sitting on an elephant there.
Elephant Valley Project
is arguably the most ethical choice in the area – allowing you to visit and watch the elephants, but not ride, touch, bathe or feed them, which can cause them undue stress. Ultimately, I had too much trouble deciding on the ethics of visiting any of the organizations, so I chose to only trek instead.
This thorough article
is a great starting place to do your homework on the organizations and make your own decision.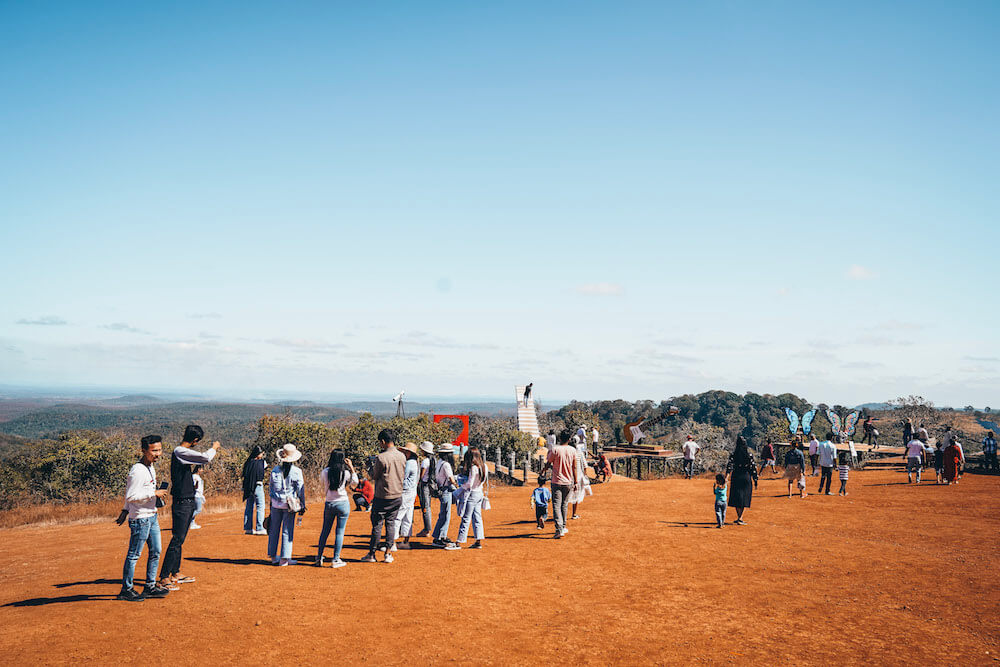 Visit the kitsch Sea Forest lookout
Like the road to Dak Dam, the Sea Forest isn't as much of a forest as it used to be. That said, it still serves as a beautiful viewpoint over the surrounding area and offers some kitsch photo opportunities. With small pedestals that include a "stairway to heaven", bird's nest and butterfly wings, it's a popular place for Cambodian crowds to snap photos. It's certainly an experience to visit.
From Phnom Penh, it will take you 5.5 – 6 hours on a bumpy bus ride to get to Mondulkiri's main town, Sen Monorom. Departure times are in the morning, afternoon or evening. You can book your ticket on the BookMeBus website.
Where to stay in Mondulkiri
The town's guesthouses. Tree Lodge and Nature Lodge are the two most popular options to stay at, offering rustic but scenic accommodation in the countryside.
Where to eat in Mondulkiri
For coffee and breakfast/lunch head over to Hefalump or Bamboo Cafes in town. Both have relaxed gardens to eat in and fairly cheap eats. For dinner, Pizza Mondulkiri and Banong Kitchen are great options with lovely staff. 
Disclaimer: Some of the links in this post are affiliate links. If you click one of the links and make a purchase we'll earn a small commission at no cost to you. Just like the travel backpacks we build, we're very particular . So any products or services we suggest, we test and use ourselves before making any recommendations or endorsements.
Banana Backpacks Inc. is a participant in the Amazon Services LLC Associates Program, an affiliate advertising program designed to provide a means for sites to earn advertising fees by advertising and linking to Amazon.com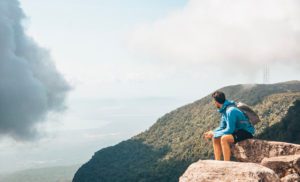 From hidden temples to deserted hill stations, Cambodia is the perfect country to go on a motorbike adventure. Here are 3 of the best!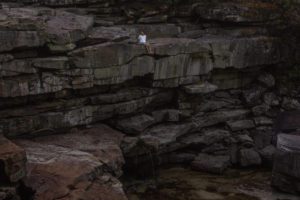 Kampot is one of Cambodia's underrated gems with many incredible things to do. It offers crumbling colonial buildings, mouth-watering food choices, and beautiful river guesthouses worthy of any adventure fairytale.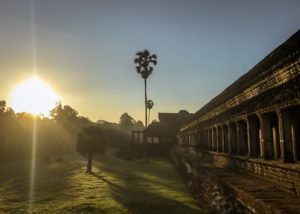 These 50 incredible things to do will help you plan the ultimate Cambodian adventure! Discover secret temples, kayak remote backwaters, and take your trip to the next level with this guide.