Myanmar is a hard place not to fall in love with. From e-biking past hundreds of temples at Bagan to taking in a sunset at the enchanting Shwedagon Pagoda, this country is full of breathtaking travel experiences. While the Bagan-Inle Lake-Yangon triangle is the most popular Myanmar itinerary, if you have the time to explore more of the country, you'll be heavily rewarded. Here is our suggested itinerary for three weeks in Myanmar, starting and ending in Yangon. Look for the ♥ next to the unique spots or experiences that you should only miss at your own peril. Now grab your travel backpack and let's go! 
Responsible travel note:
Myanmar is currently undergoing a very serious human rights crisis as its minority Rohingya population faces ethnic cleansing. As a responsible traveller, we encourage you to inform yourself about the impact of travelling to Myanmar during this time before deciding to visit. To make this easier, we've written a brief summary on whether or not to boycott travel to Myanmar at the bottom of this article. Whatever your decision may be, make sure to read about the current situation and how you can travel responsibly before you go.
Best time to visit Myanmar: 
To avoid the intense rain and heat in Myanmar, it's best to visit between October and March.

Time-saving tip:
If you're in a time (or money) crunch, it's wise to take night buses to save a day of exploration and a night's worth of accommodation expenses.
Basic information before you go: Visa requirements:

Make sure to apply for your eVisa before arriving in Myanmar. A tourist visa typically takes three working days to be processed ($50 USD) or 24 hours for an expedited tourist visa ($56 USD). You can apply online

here. Money:

The currency used in Myanmar is Kyat (around 1,300 Kyat = 1 USD). While five years ago ATMs were nearly impossible to come by in Myanmar, most places now have them.
The 3 Week Myanmar Itinerary:
Yangon -> Bagan -> Pyin Oo Lwin -> Hsipaw -> Mandalay -> Inle Lake -> Naypyidaw -> Hpa-an -> Yangon
Yangon : Days 1-2
Most international flights fly into and out of Yangon and it makes for a logical starting point on any Myanmar itinerary. Yangon is a different metropolis than most others you'll experience in Asia. Motorbikes are banned in the city, which means extreme traffic congestion and slow-moving from place to place. In a strange way this adds to Yangon's charm. Although over 4 million people live in the city, it retains an incredibly friendly vibe. There is plenty to enjoy here and it's easy to spend several days exploring its highlights.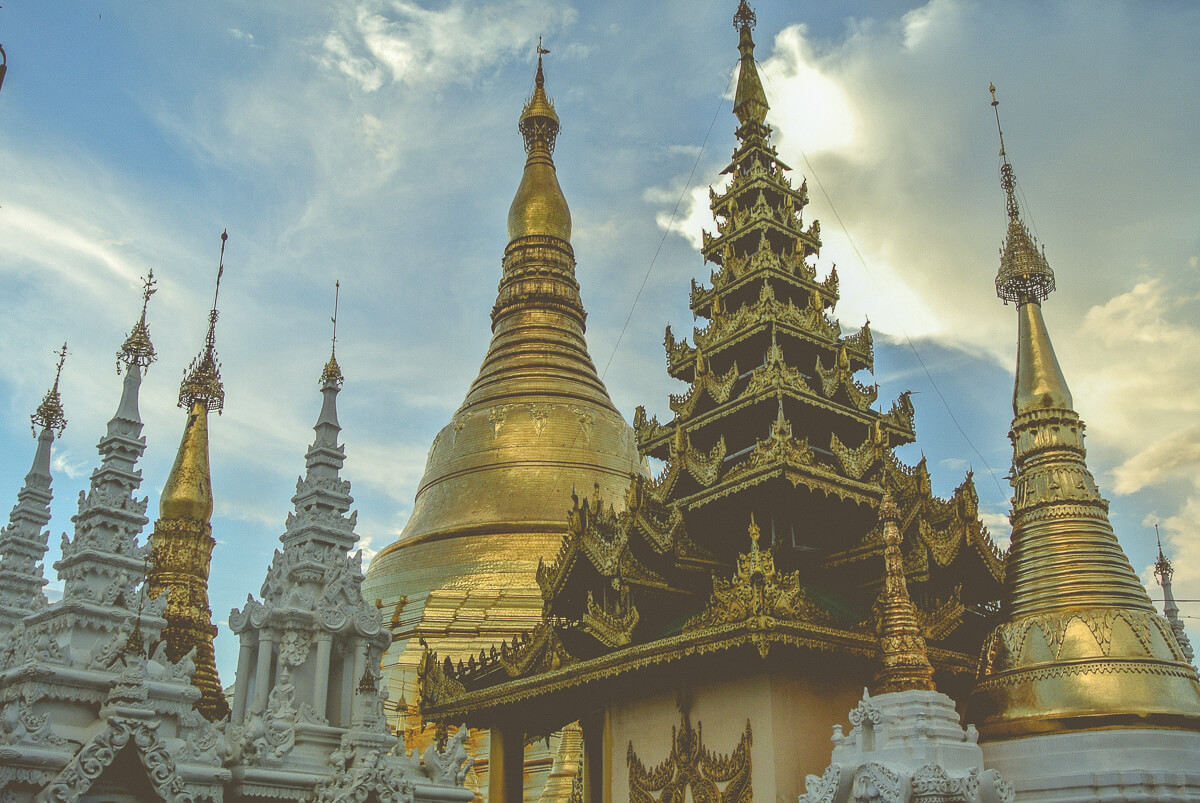 Highlights:
Sunset at Shwedagon Pagoda. This 2,500 year old Buddhist site feels more like a beautiful religious town than a single pagoda. It's a place you'll want to linger at and it's easy to slip away in time here for several hours. People from across Myanmar come here to worship, offer flowers and pour water over the planetary post that corresponds to the day of the week they were born (according to the 8-day week in the Burmese calendar). Nearby to those worshipping, families sit together to enjoy picnics of food. Given that tourism is relatively new to Myanmar, it's likely you'll be invited to join many of these families who are eager to ask you about your life and country. Shwedagon is best visited before the sun goes down to see the incredible transition from illumination by sunlight to illuminated by lights. Make sure to remember which of the four stairways you enter through as it's easy to get lost here.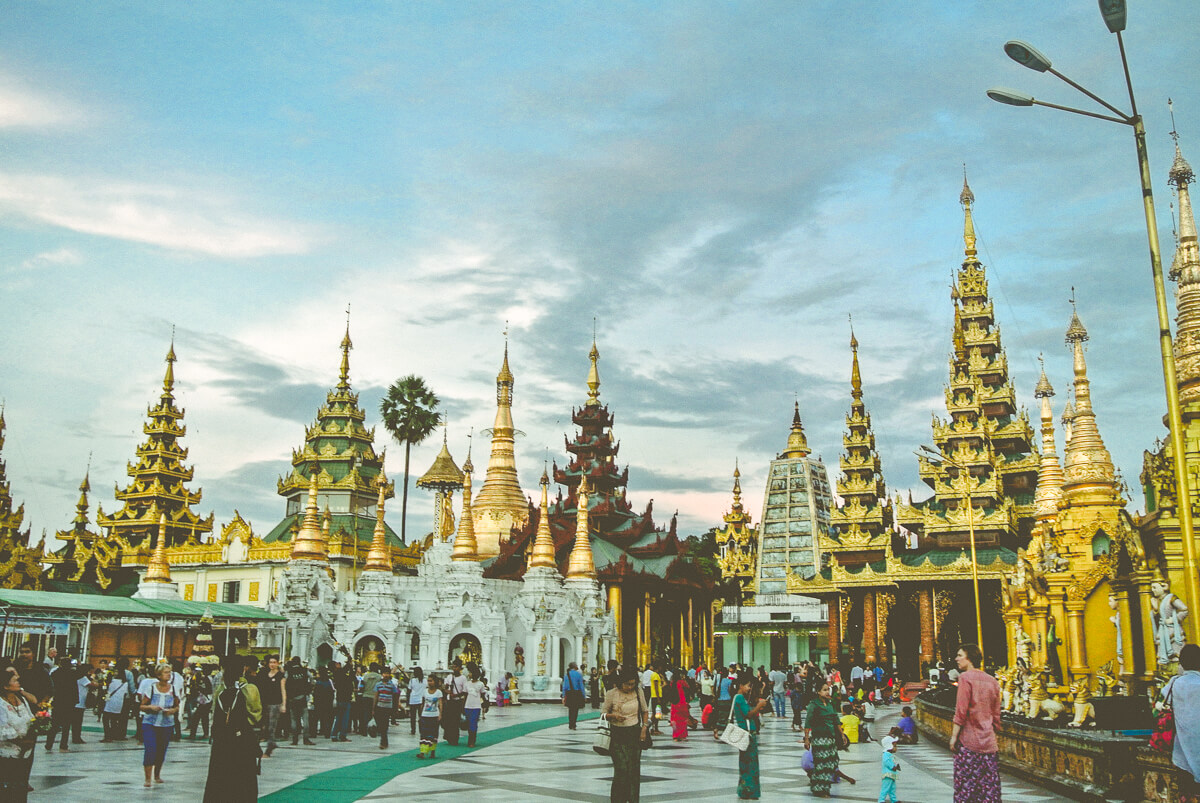 Colonial building walking tour. To see Yangon's colonial past, an easy 3 km walking route in the downtown area is a good place to start. The worn down old buildings here will transport you back in time. Lonely Planet's Myanmar guide book has a good map of the historical hot spots and where to walk. Alternatively, you can join a free walking tour if you'd rather not do this on your own.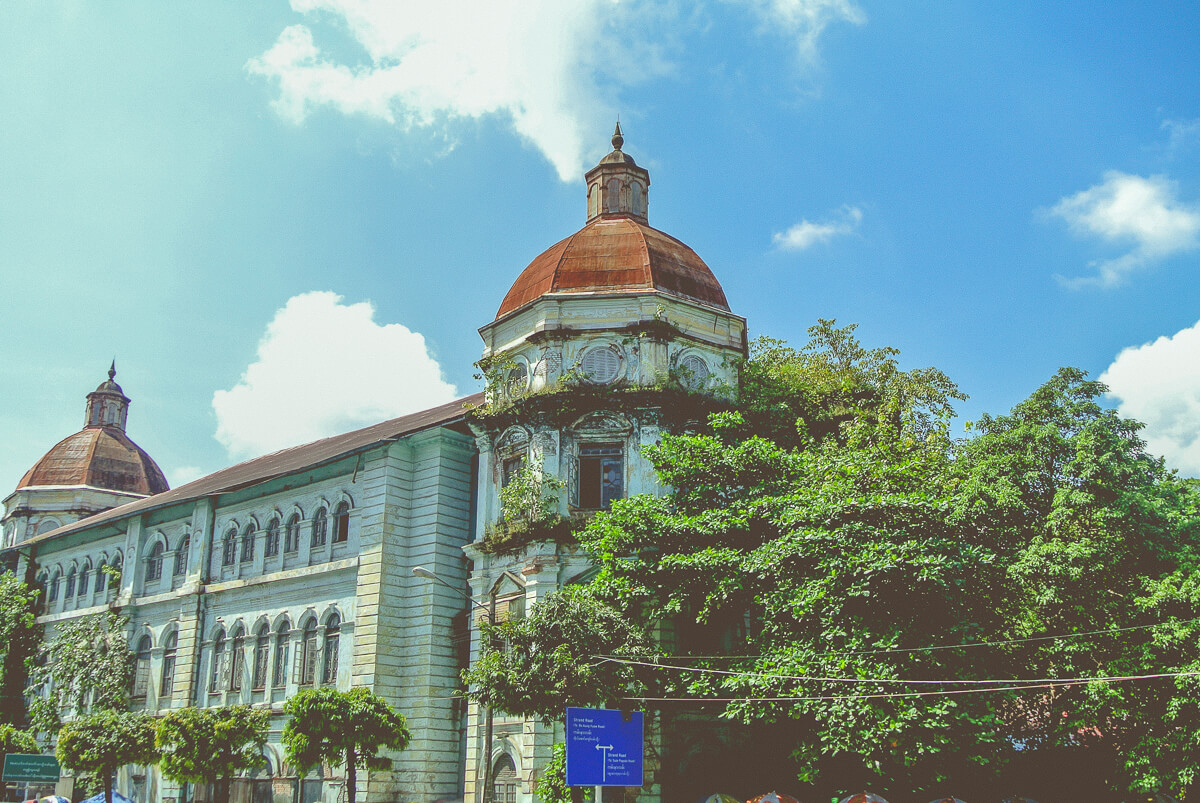 Where to stay: Yangon used to be known for its high priced and comparatively poor quality hostels, but a number of good quality options have appeared in Yangon recently. I stayed with friends living in Yangon at the time of my visit, but Hostel9 Yangon has come recommended by some of our Banana Trail travellers.
Bagan : Days 3-5
With quite literally thousands of temples, pagodas and stupas to explore, Bagan is an adventurer's paradise. While some people choose to spend just one full day exploring the temples, you can easily fill three or four full days here, especially if you incorporate a visit to nearby Mount Popa (which I highly recommend!). Climbing the temples for a sunrise or sunset view used to be permitted, however climbing many of the temples is now prohibited in an effort to prevent further damage to them. Rent an electric motorbike or bicycle and get exploring!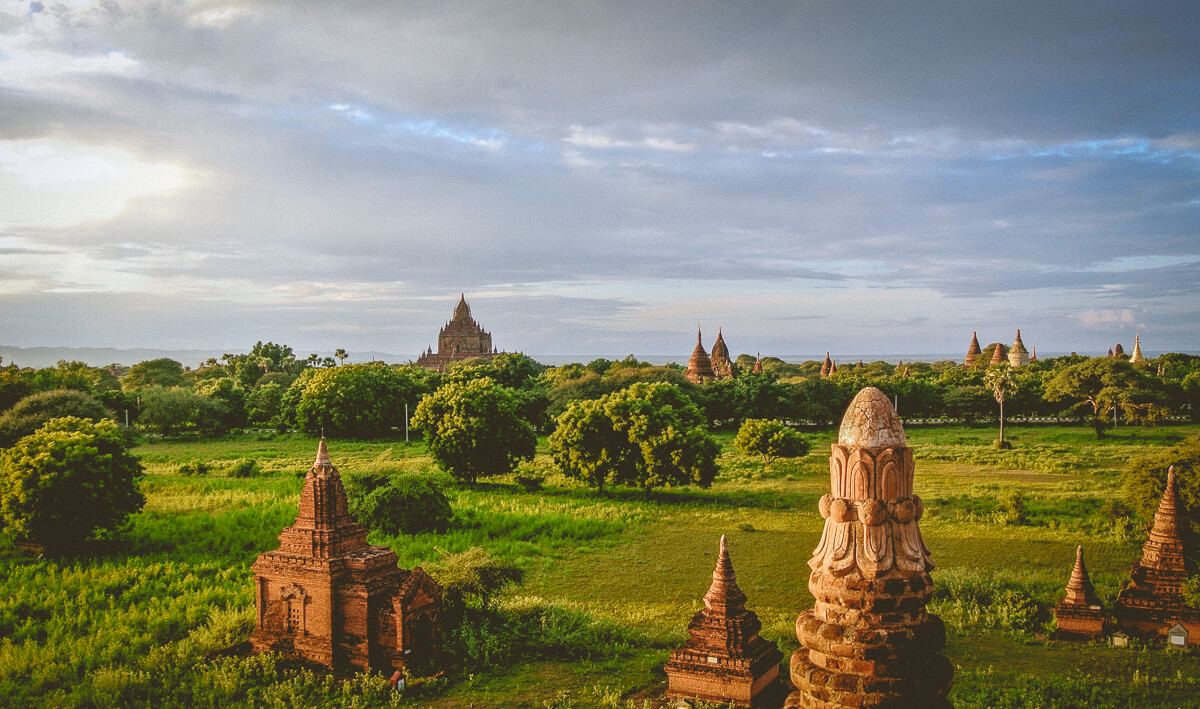 Highlights:
Explore the Bagan temples by e-bike. Tourists aren't allowed to rent motorbikes in Bagan, but the electric bikes available are a wonderful (and quieter) alternative to explore the Bagan temples without breaking the same amount of sweat as you do cycling. With a seemingly endless number of temples to see, it's a tranquil experience to watch a sunset or sunrise here compared to the craziness of Angkor Wat sunrises in nearby Cambodia. You can get a map and temple recommendations from wherever you choose to stay, but some of the best temples you'll find are the tiny ones you accidentally stumble upon.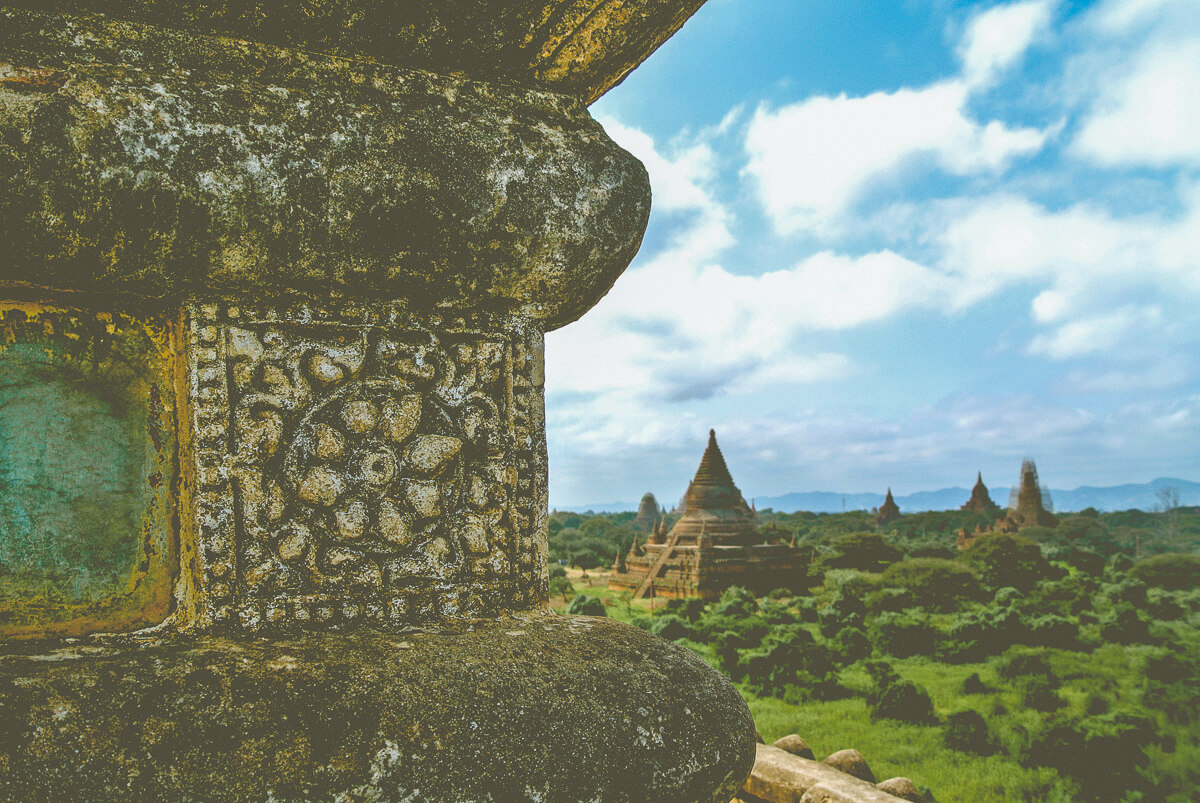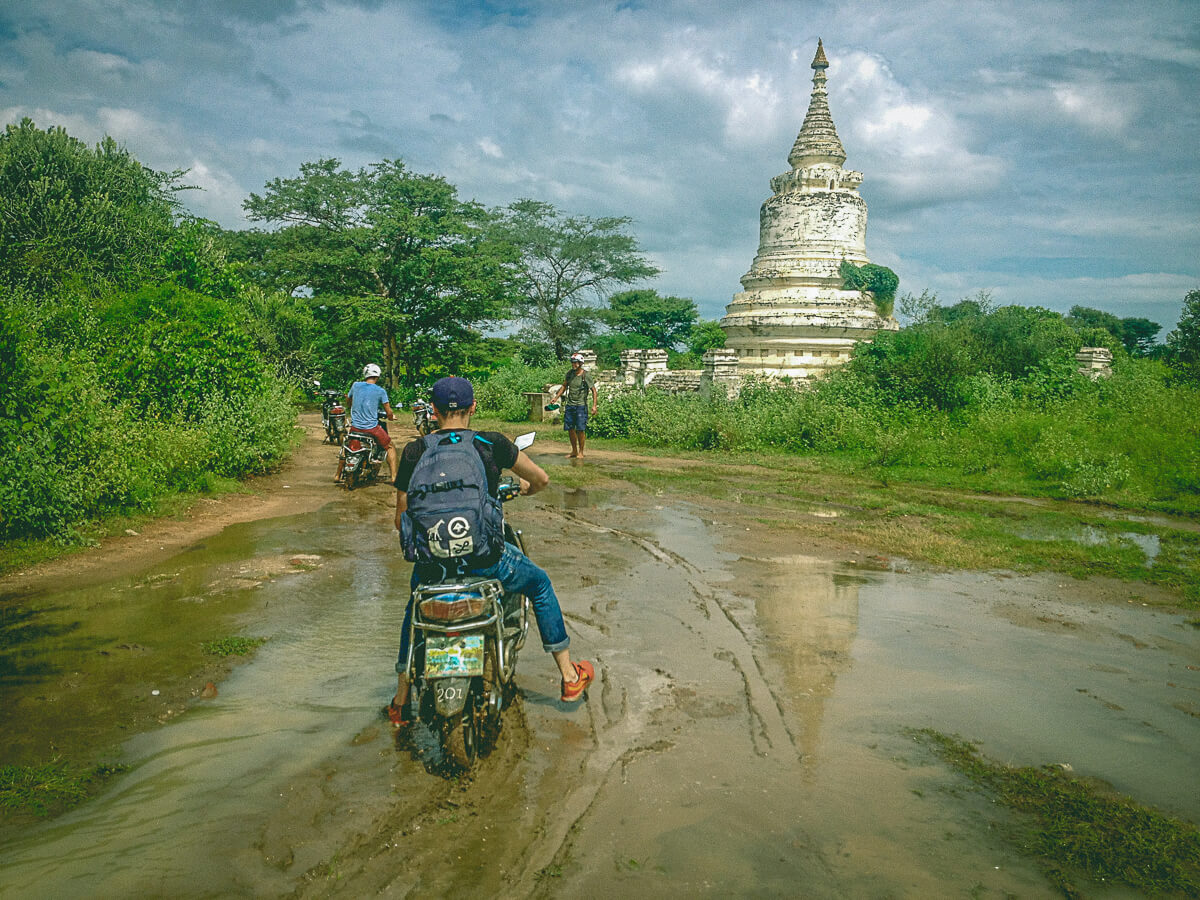 ♥ Mount Popa ♥ On the slopes of this extinct volcano is an otherworldly sight: a glistening golden monastery perched on the top of a rocky hill. It takes just over an hour by car from Bagan to reach Mount Popa, but it's worth the journey. Be prepared to sweat profusely and avoid a lot of monkeys as you climb the 777 steps required to get to the monastery. We promise it's worth every sweaty step to see the incredible 360 degree view across the surrounding area.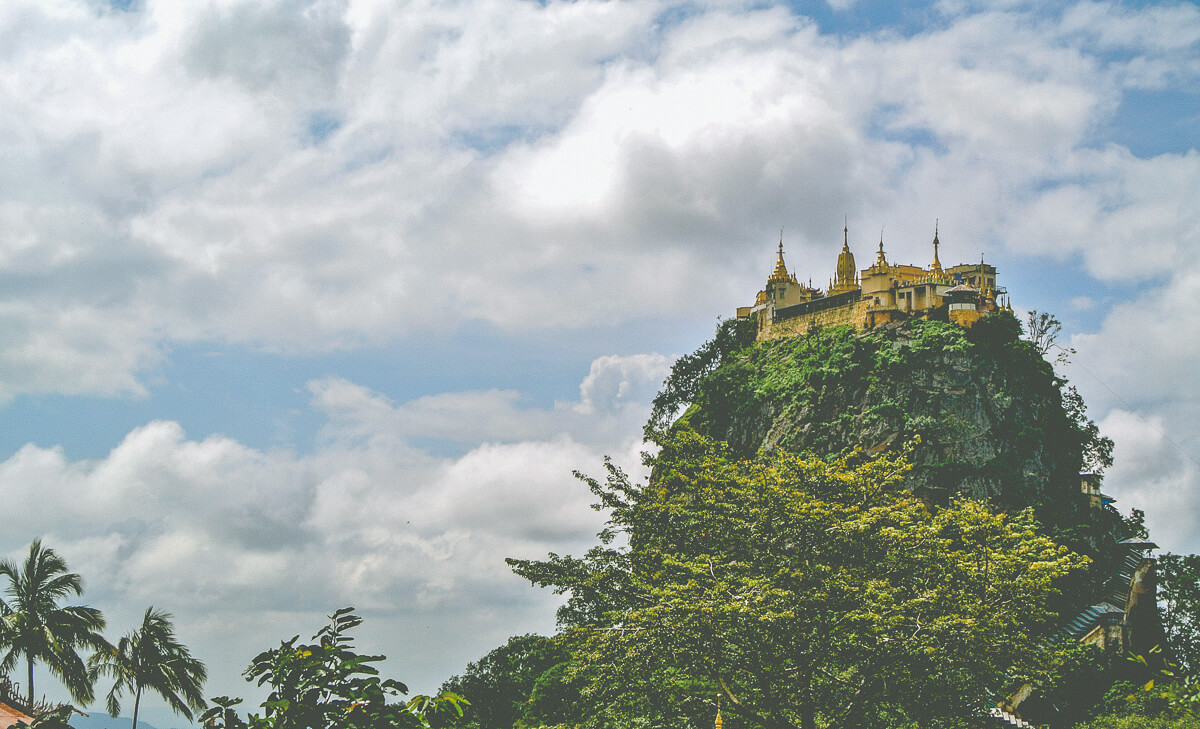 Where to stay: Ostello Bello Bagan. Offering free showers and beds on the roof to relax on when you arrive sweaty and tired from a Yangon night bus, Ostello Bello certainly knows what travellers want. This hostel is a great place to meet other travellers, particularly if you're travelling solo. Rooms are clean with good A/C.
Pyin Oo Lwin : Days 6-7
Pyin Oo Lwin is often missed by travellers visiting Myanmar, but its quaint charm and cool weather make it a worthwhile one or two day stop on your Myanmar itinerary. This hill station was once a summer getaway for the British during colonial times and its history is evidenced in a number of the city's buildings. It's a nice place to rent a bike and cycle to the botanical gardens or surrounding waterfalls, explore the local market, and generally get off the beaten path. It's also the kicking off point for the amazing train ride to Hsipaw.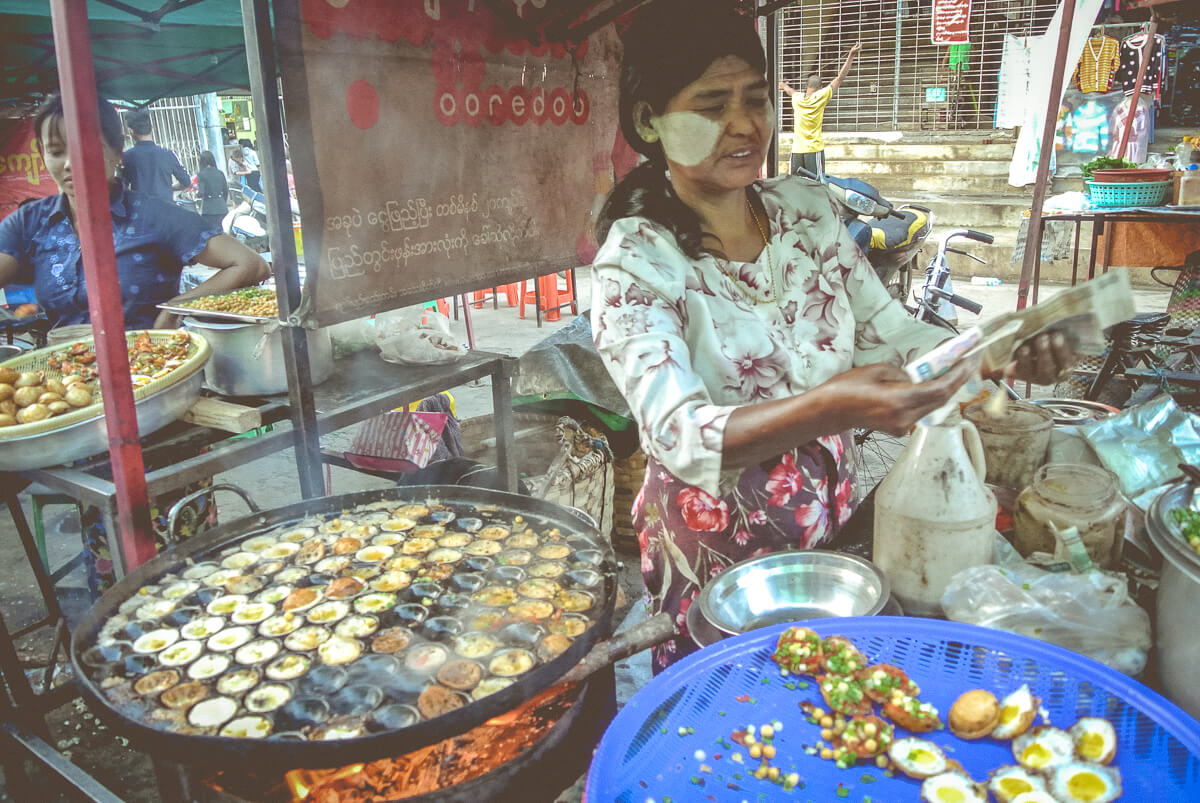 Highlights:
Pwe Kauk waterfall. This cascading waterfall and picnic spot is popular among local Myanmar families. Located just east of Pyin Oo Lwin, it's a scenic little spot with cascading water, a golden stupa, and a nearby market.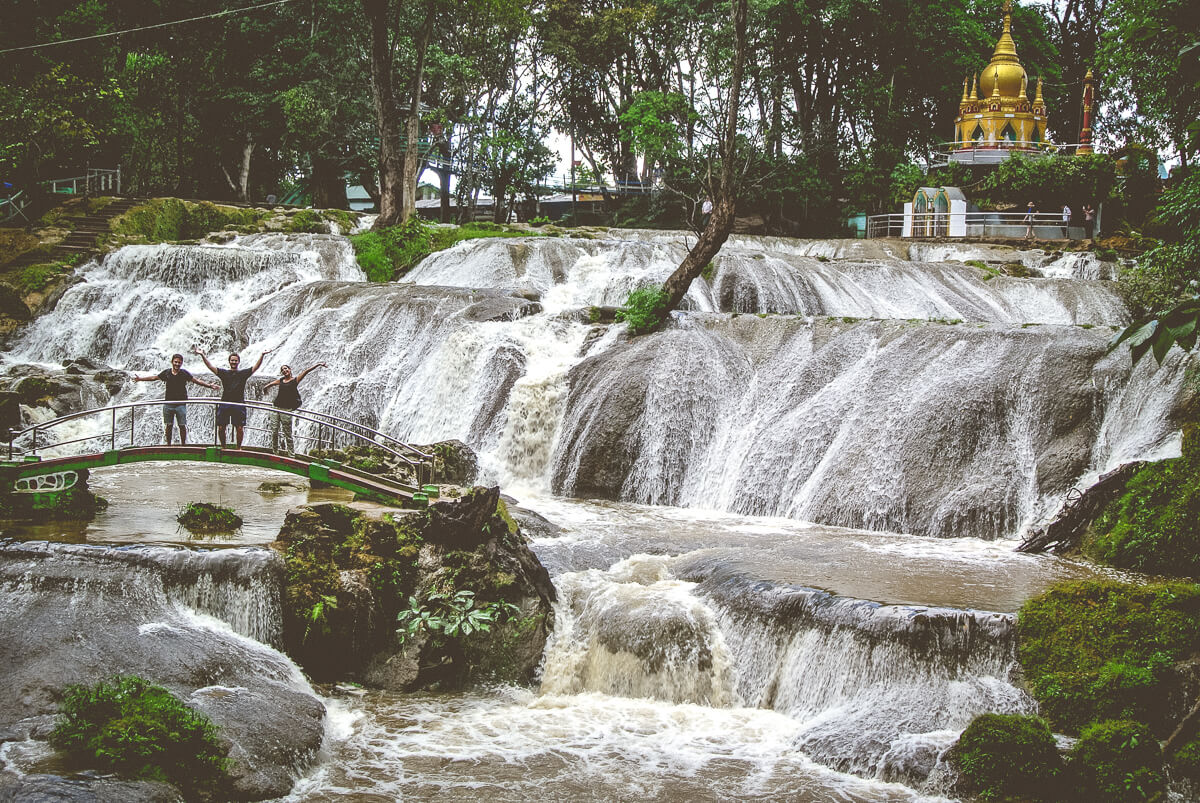 ♥ Train ride from Pyin Oo Lwin to Hsipaw ♥ Bone-rattling and jaw-droppingly beautiful, this is one of those experiences that stays with you for a lifetime. After all, what better way is there to see the countryside, meet locals, and get from A to B than by train? This journey is a bit of a wild ride, as you'll quickly realize when you see locals tightly tying their bags to the bars so they don't go flying during the journey and knock a fellow passenger out cold. While you can take this train trip all the way from Mandalay to Hsipaw, the Pyin Oo Lwin to Hsipaw stretch is the most beautiful section and passes over the famous Gokteik Viaduct (pictured below). I promise this Myanmar highlight is worth the rattled bones!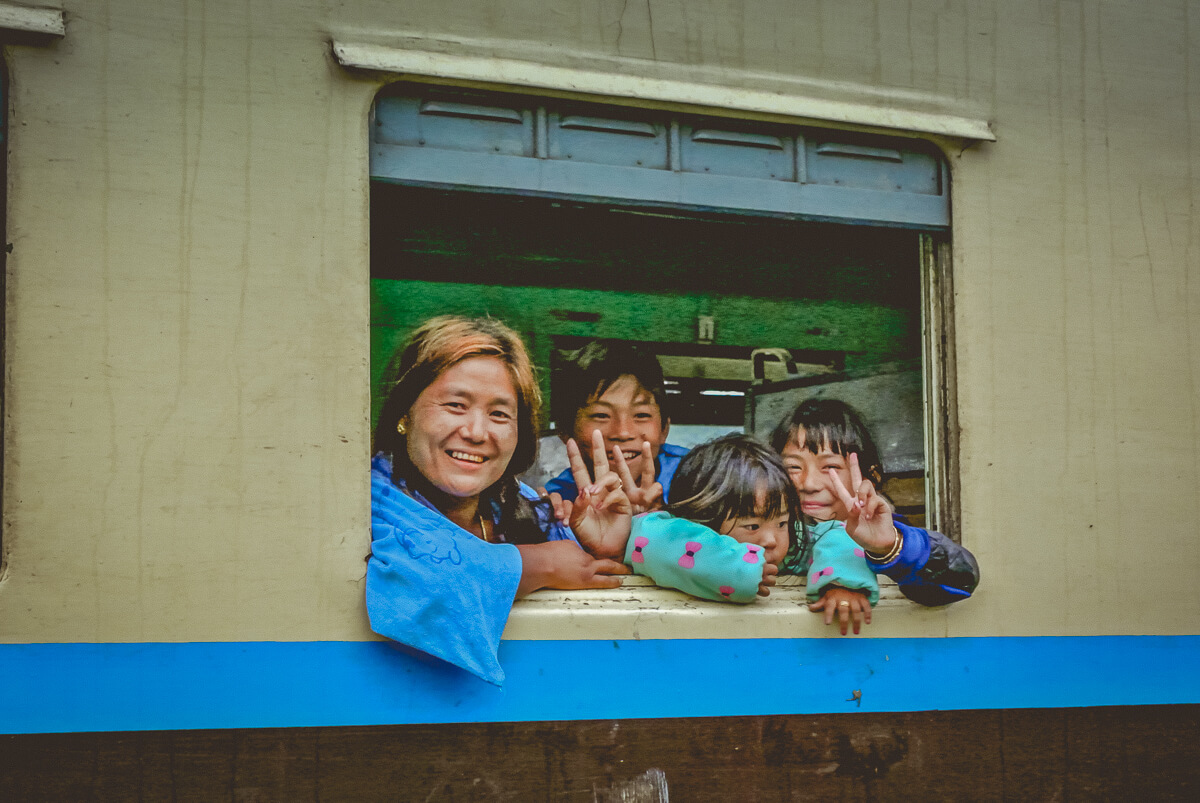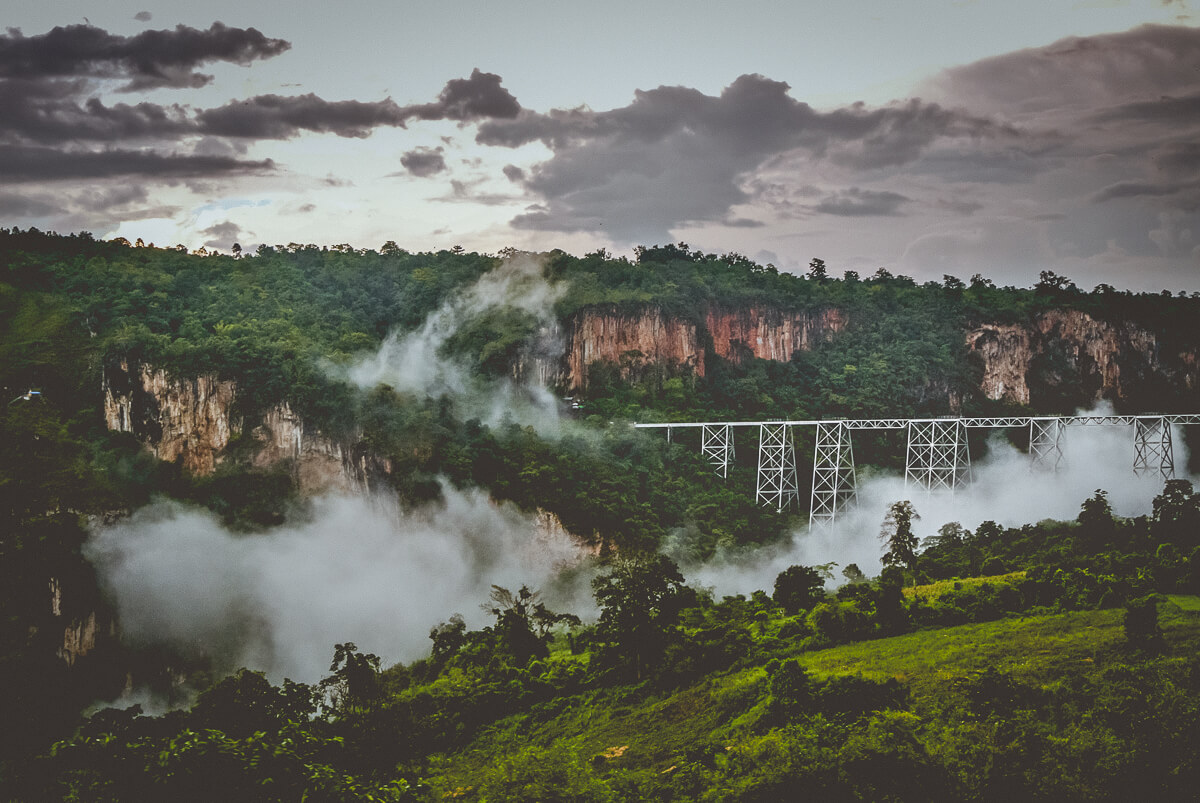 Where to stay: Hotel 99. This place is home to the loveliest staff I have ever encountered. The owner helped book train tickets and drove us to the train station – all out of the goodness of his heart. This is Myanmar kindness at its finest. The rooms are clean with a great rooftop area to eat breakfast and relax in the evenings.
Hsipaw : Days 8-10
Unassuming and underappreciated, Hsipaw is easily one of my favourite places in Myanmar. While most visitors come here to set off for hill tribe treks in the surrounding areas, the town of Hsipaw itself has a gentle charm and it may sway you into staying a few days longer than you had intended. Home to former royalty at the Shan Palace, boasting a very miniature version of Bagan, and offering quiet streets to explore by bicycle, this is the city to get lost in Myanmar's charm and to learn more about the country's difficult past and present.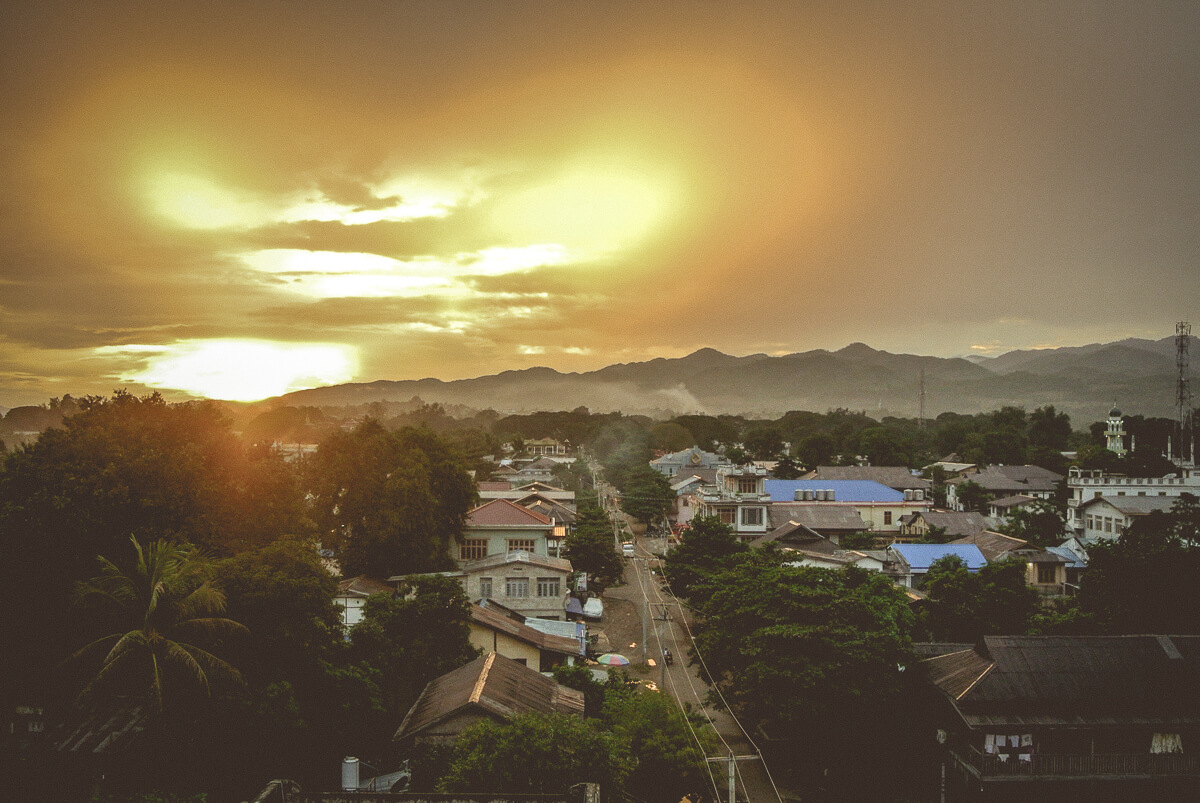 Highlights:
Cycle from ruins to a palace. Most guesthouses offer bicycles to hire and this is a lovely way to explore Hsipaw's many sights. The first of these is Myauk Myo. This ancient neighbourhood featuring stupas covered in foliage (fondly known as Little Bagan) and teak monasteries is bursting with weathered charm despite its small size. Stop for a relaxing lunch at the lovely Mrs. Popcorn's Garden before carrying on to the Shan Palace. This was the former home of the region's prince before the military junta seized power in 1962. Similar to Myauk Myo, it is a rather weathered beauty of an old mansion. The wife of the prince's nephew welcomes visitors and shares the beautiful and tragic story of their family. Her tale is really worth the visit. Pick up the book Twilight over Burma: My Life as a Shan Princess for more insight on this family.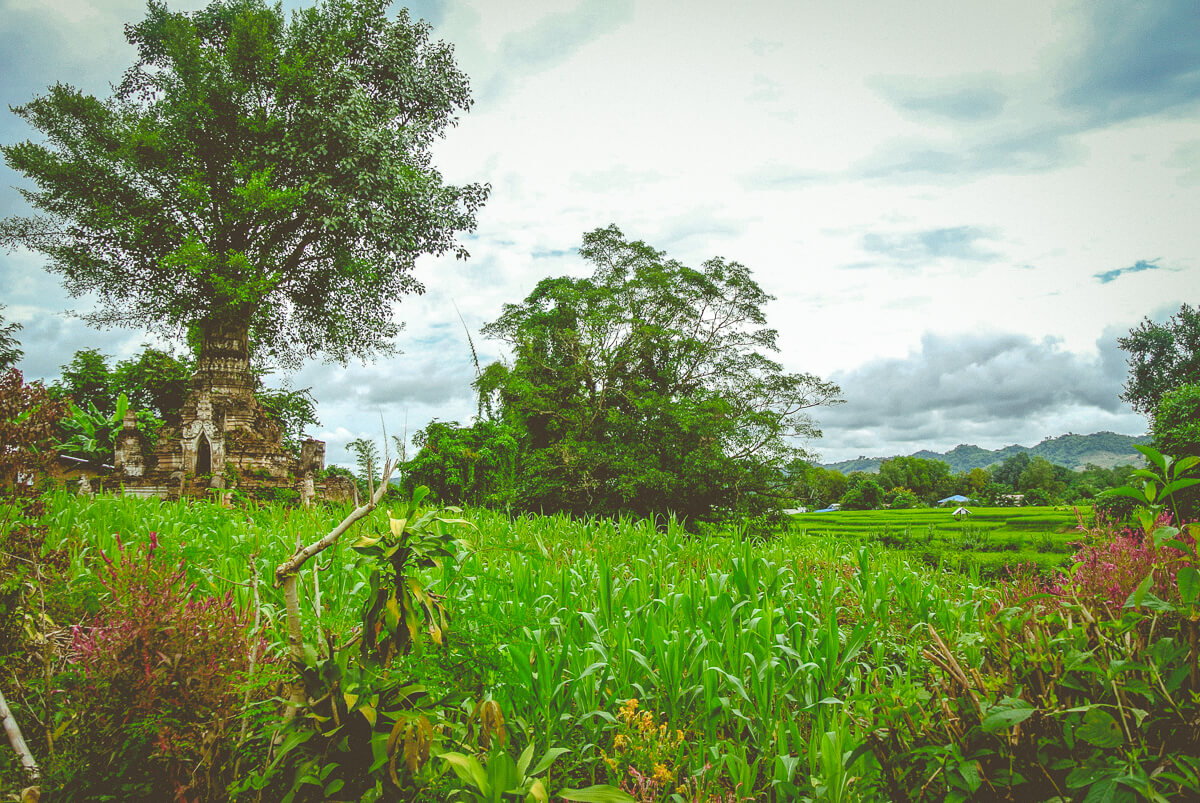 ♥ Go on a 2-3 day trek ♥ One of the main reasons people come to Hsipaw is to experience Myanmar's rural areas through a multi-day trek. In stark contrast to the crowds that flock to the Kalaw to Inle Lake hike, the area around Hsipaw is quiet and it's highly unlikely you'll run into other trekking groups. Take a two or three day trek here to really immerse yourself in rural life. Depending on your guide, you'll likely stay in the home of a local family.  Some of the best and freshest food I had in Myanmar was on this trek! Do keep informed about restrictions for visiting this area, however, as it has been closed periodically due to violence in recent months.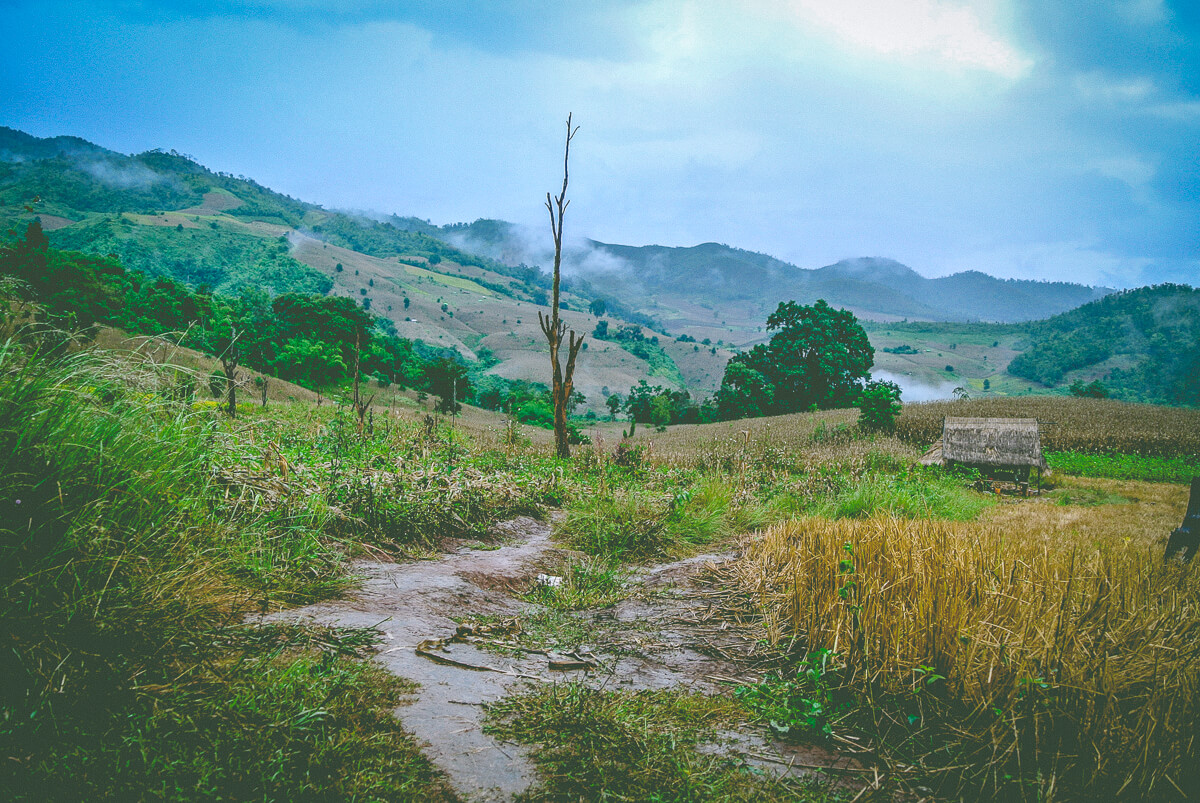 Where to stay: Hotel Lily the Home. Another first rate place for staff. Lily herself is beyond friendly and helpful. The rooftop here has a beautiful view (as you can see in the sunset photo above) and it's a great spot to eat breakfast or play cards in the evening. The rooms are clean and in good shape. You can also rent bikes here to explore the town.
Mandalay : Days 11-12
A number of travellers skip over Mandalay, but this city has a charm of its own to share with those who do choose to visit. Boasting the world's longest teak bridge (U Bein) and the world's biggest book (Kuthodaw Pagoda), Mandalay has some unique sites to behold.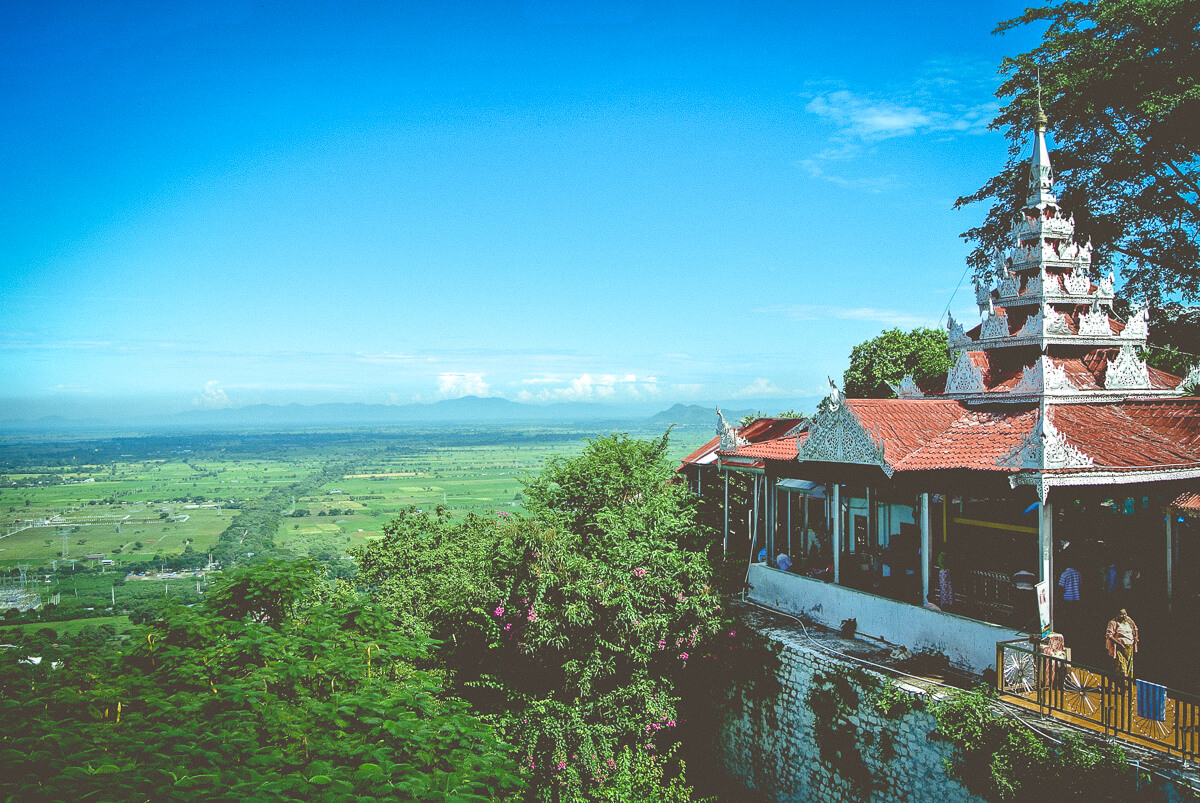 Highlights:
Sunset at U Bein Bridge. I need to confess I visited Mandalay solely for the reason of seeing the U Bein Bridge… and I wasn't disappointed. Built in 1850 and spanning 1.2 km, this is the oldest and longest teak bridge in the world. Come here before sunset to witness a jaw-dropping change of light and boats streaming out onto the water.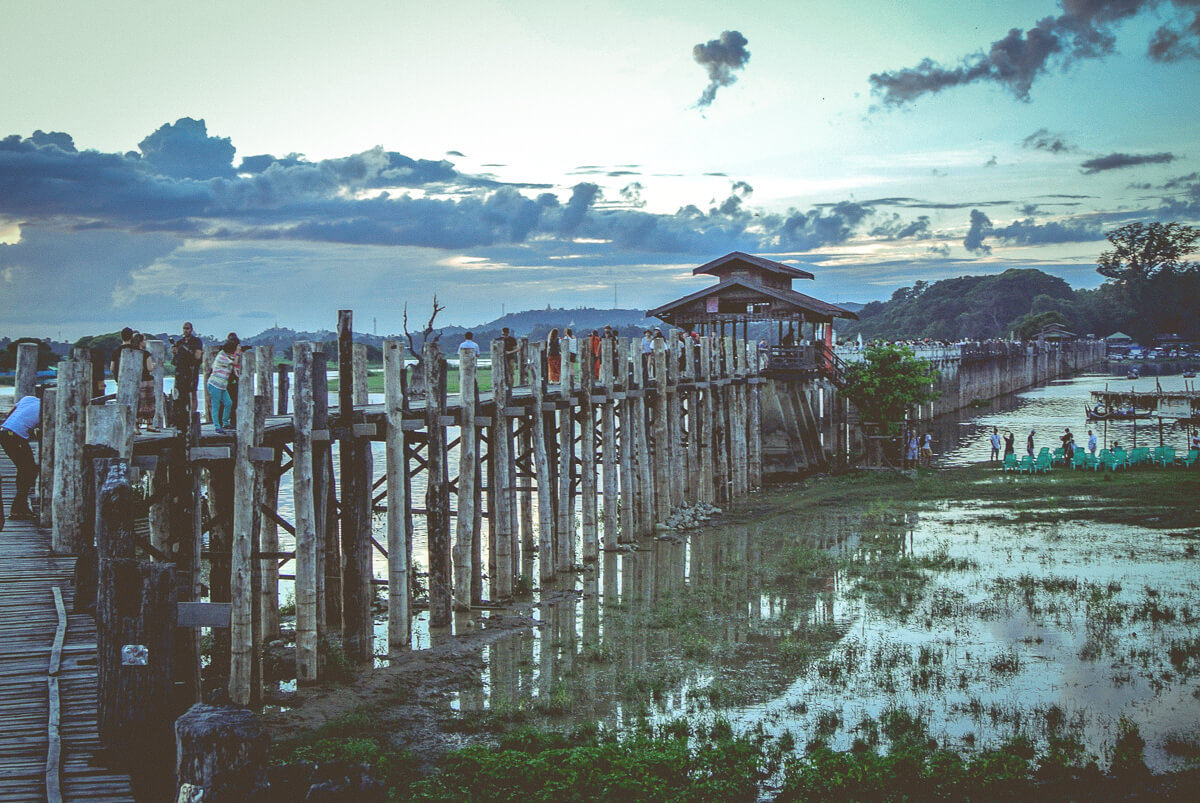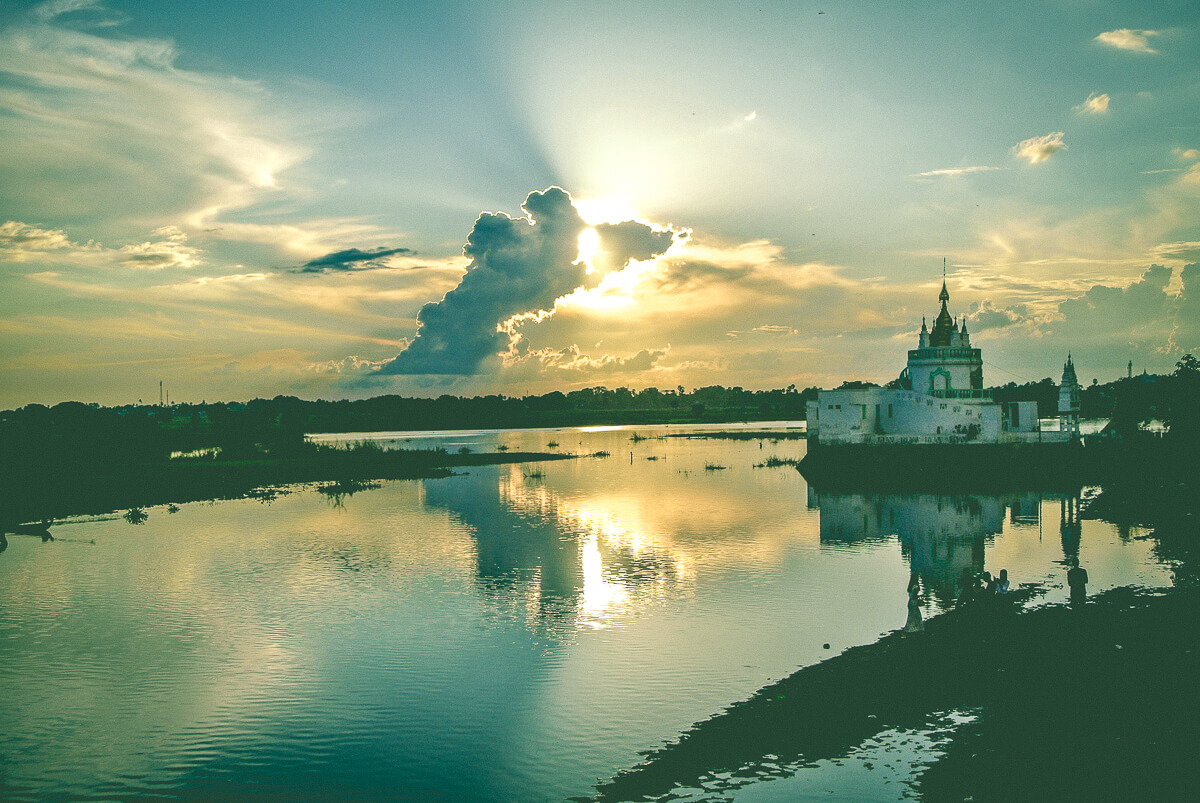 Where to stay: Ostello Bello Mandalay. Like its sister hostel in Bagan, the Mandalay branch of Ostello Bello is clean and offers all that you're looking for in a place to stay, particularly given the limited choices of hostels in this city currently.
Inle Lake : Days 13-15
Inle is Myanmar's second largest lake and is probably the most touristic place you can find on this Myanmar itinerary, besides the Bagan temples. Like most heavily visited places, there is a reason so many travellers flock here. With incredible floating villages to explore by boat, a winery in the countryside, and the famous Intha fishermen who paddle with one leg while balancing on the other, Inle is an easy place to get lost in and take a vacation from your vacation in Myanmar.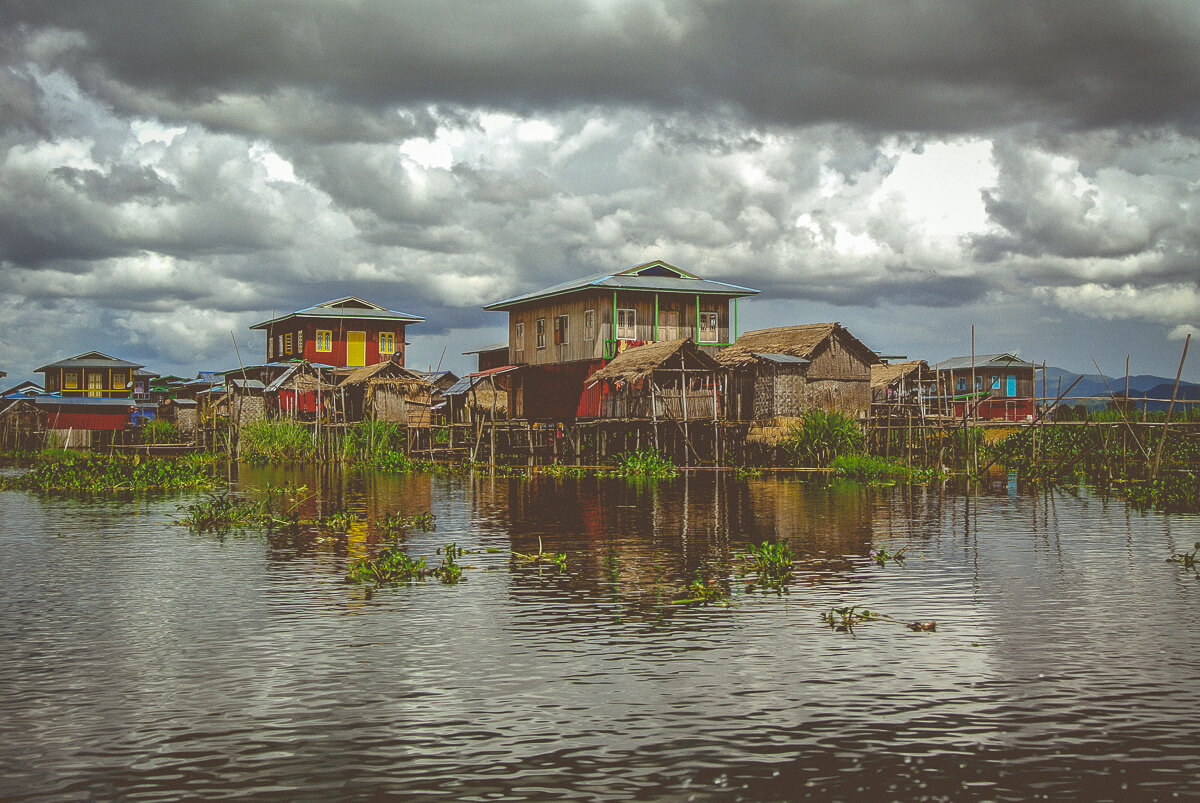 Highlights:
Take a boat trip. While a trip onto Inle Lake by boat is a touristic experience, seeing local life taking place on the stilted homes in the middle of the lake is in itself worth the trip. Boat tours typically stop off at various local handicraft shops, where you can see products being made and purchase them if you wish. You'll also pass by numerous stupas and the famous Intha fishermen. Witnessing a sunrise on the lake is a worthwhile and serene experience.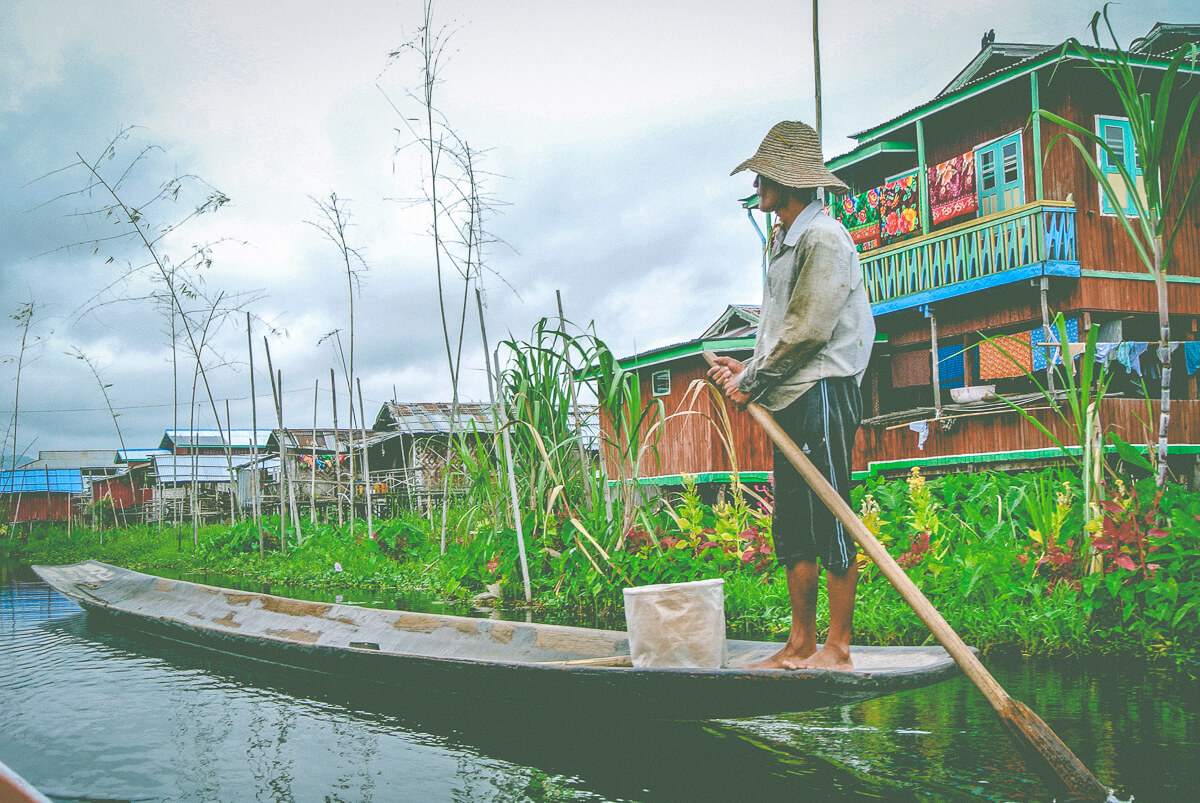 Cycle to the local winery. Okay, so you probably aren't coming here for the most amazing wine you've ever tasted. That being said, this is a unique experience to cycle a beautiful road and bask in an incredible view from the winery as you do a wine tasting of several somewhat quaffable selections.
Where to stay: Song of Travel Hostel. Designed to look like a music box, this place was Inle Lake's first hostel and it set the bar high. The dorm beds are compartment style which gives great privacy and they have free bikes to rent plus tons of activities going on every day. It's not hard to meet friends here (staff and fellow travellers alike!).
Naypyidaw : Day 16
Naypyidaw is Myanmar's (little known) capital city. Construction of this city only began in 2002 and the government was mysteriously relocated here in 2005. It's a strangely deserted place and, while there isn't a whole lot to do here (I didn't even take a photo of Naypyidaw), it can be worthwhile taking a day to see this different side of Myanmar on your way down to Hpa-an. Naypyidaw is oddly known for its deserted 20 lane highway, where you could likely take a half hour nap in any lane without a car coming by (I don't recommend trying this, however).
Hpa-an : Days 17-20
Sprinkled with mountains and limestone caves, Hpa-an is jaw-dropping in its beauty and equally so in its lack of backpackers. Located 290 km east of Yangon, Hpa-an (pronounced pah-ann) is the capital city of Kayin state. The city offers some of the most incredible scenery in the country and is worth hopping off the typical Yangon-Bagan-Inle Lake Myanmar itinerary to see. It certainly won't stay concealed for long, so make sure to plan a visit here in the near future.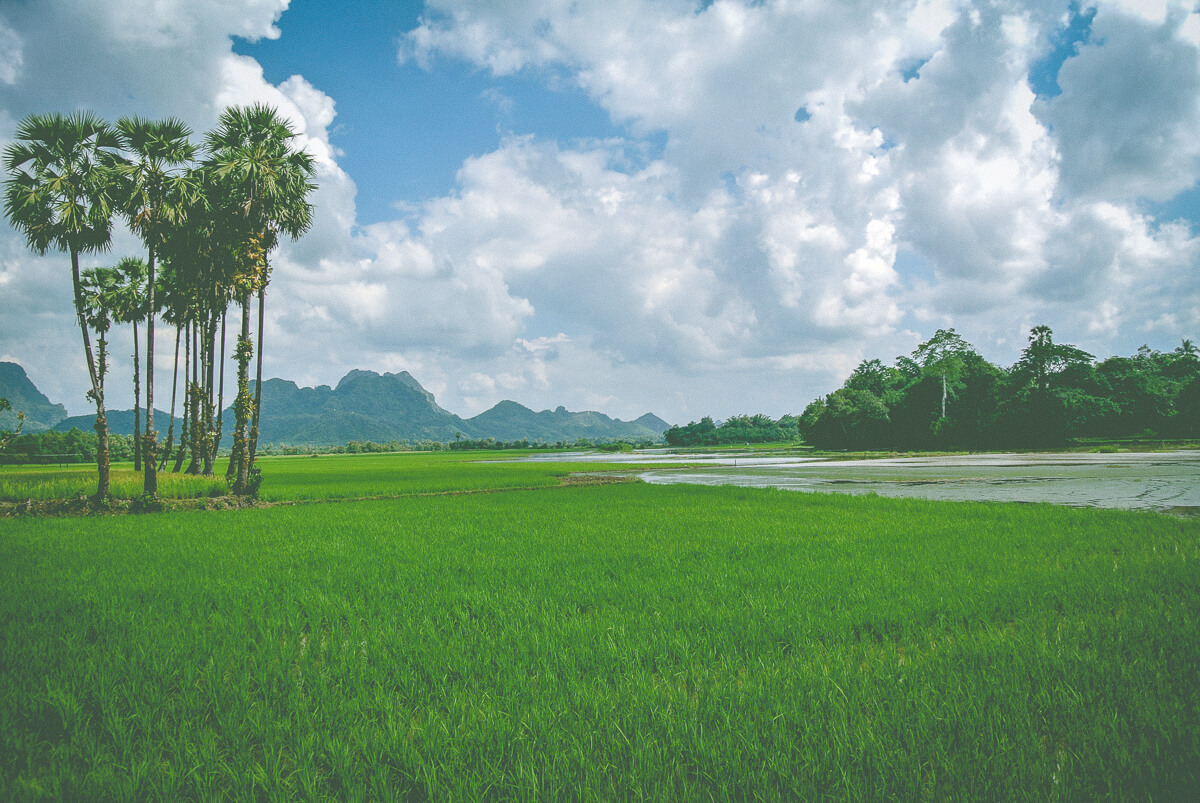 While the city itself is perhaps not the most endearing, you could easily spend countless days exploring the lush surroundings and cool caves at your own pace. The Karen people of the region are incredibly warm, and they make this city a true highlight of any visit to Myanmar.
Highlights
♥ Climb up Mount Zwegabin ♥ Located just outside of Hpa-an, don't miss the best view in the area by hiking to the monastery perched at 725 metres on top of Mount Zwegabin. While not for the faint of heart, this journey is worth everything it demands of you. It's best to plan your summit time for a sunset or sunrise at the monastery to see the surrounding mountains beautifully lit up. Visitors are sometimes allowed to stay at the monastery for the night, however, the regulations change frequently so make sure to check with your guesthouse on the current situation and bring a good headlamp to traverse down in the dark if need be. The ascent takes about 2-3 hours, depending on your speed.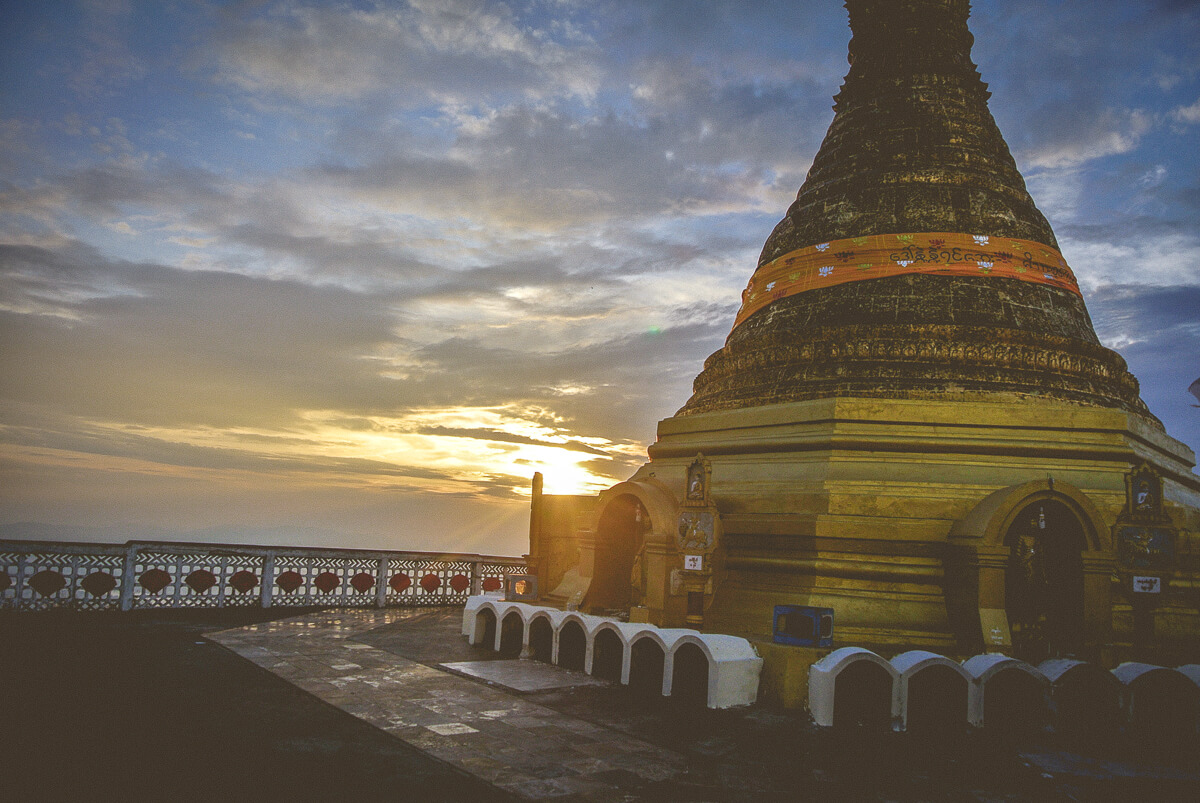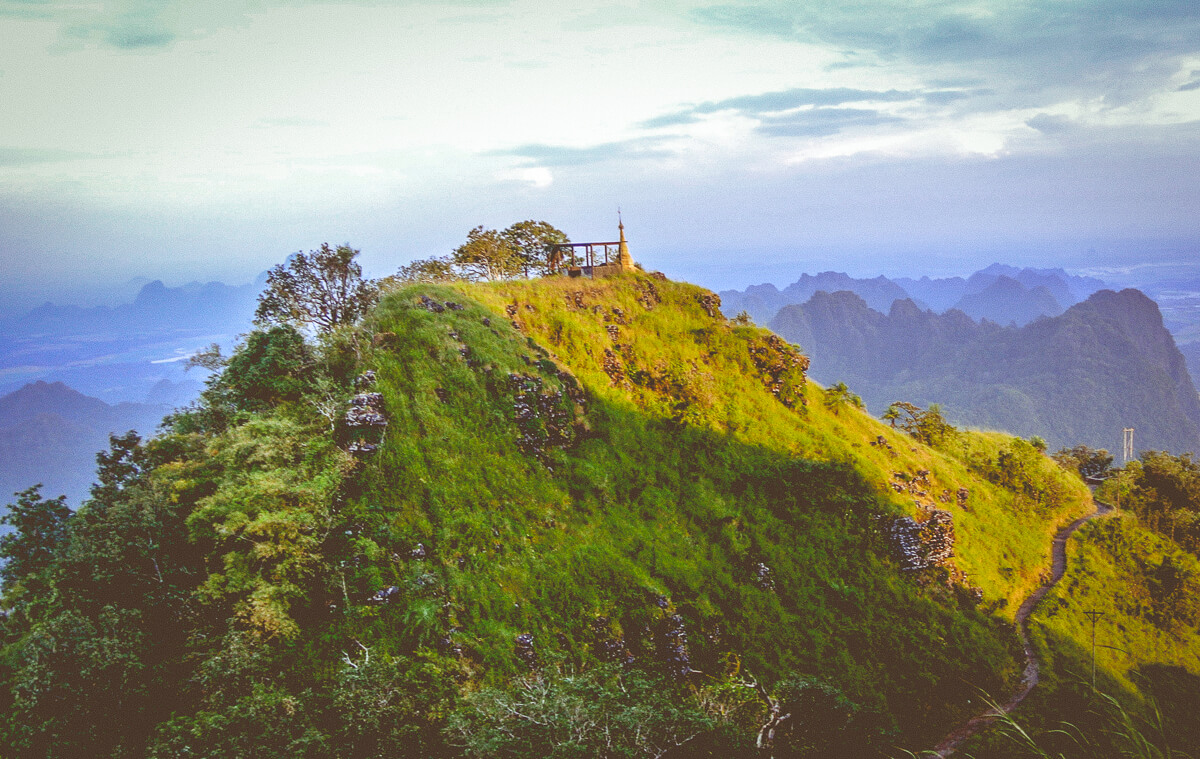 Navigate through Saddar (sometimes called Saddan) cave. Buddha-statues and bats await as you enter this astonishingly huge cave. It takes about 15-20 minutes to walk from the cave's entrance to the sunlight waiting for you on the other side. Once you get there, a serene lake opens up in front of you and you can pay to be rowed in a little wooden boat under the mountain and back around to the entrance where you came from (and collect your shoes where you left them outside of the cave).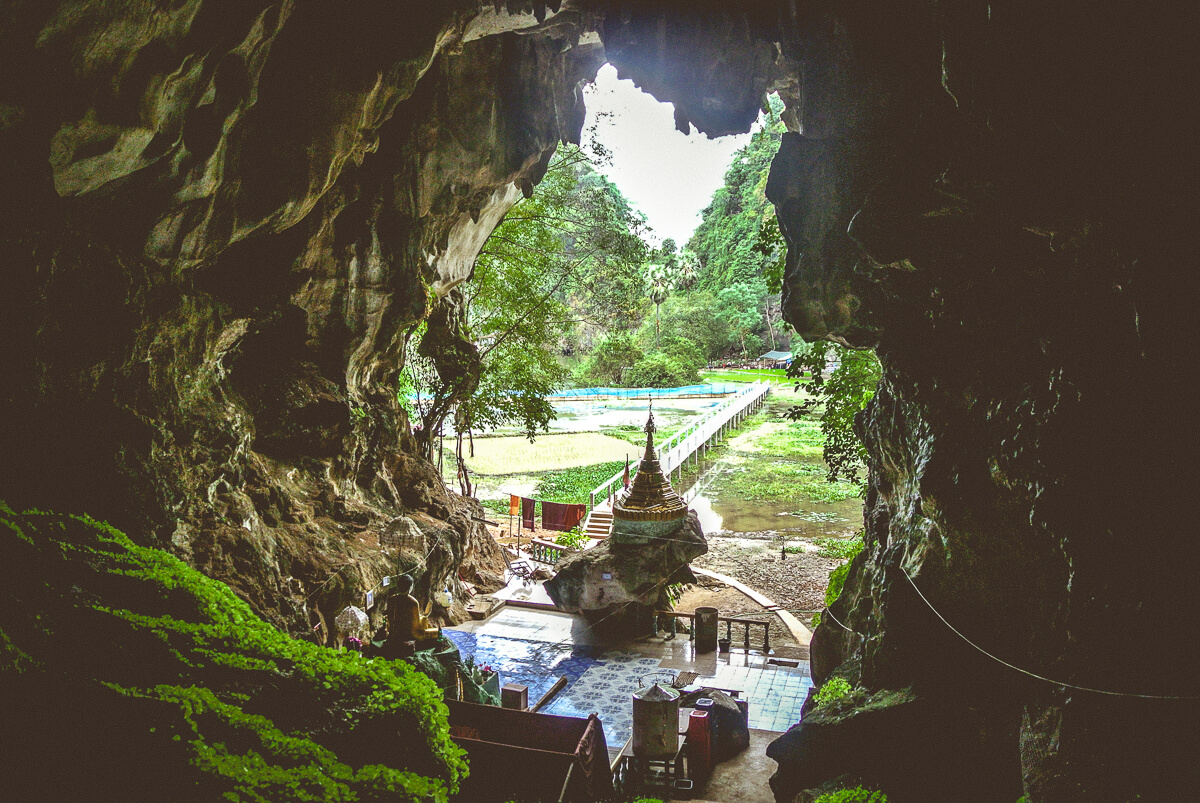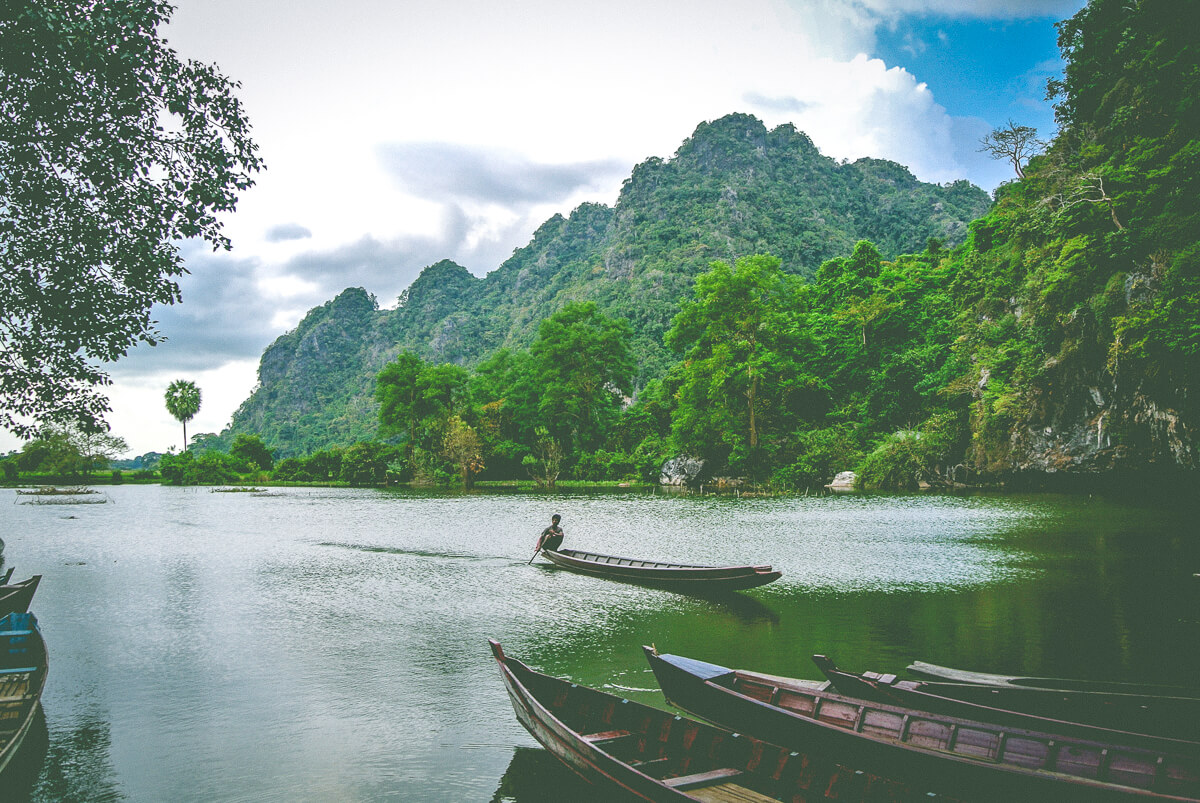 Where to stay: Galaxy Motel. This comfy spot is run by the lovely Kim and her family, who are possibly some of the most helpful owners around. Offering up a delicious breakfast, a rooftop with beautiful views, and more information than you could imagine about the area, this is a prime spot to station yourself.
Return to Yangon, travel onwards to Thailand or visit the beaches of Dawei : Day 21
End your route by journeying back to Yangon or travelling overland to the north of Thailand from Hpa-an. If you have more time in Myanmar, you can head south to the beaches of Dawei. 
As a responsible traveller, should you boycott travel to Myanmar?
Over 700 000 of Myanmar's Rohingya minority have fled to neighbouring Bangladesh since August 2017 in the wake of military abuse and human rights atrocities gravely labelled as ethnic cleansing by the United Nations. This has put the country at the very centre of the ethical travel debate. Simply put, as responsible travellers should we or should we not visit a country where such abuses are being committed? While we don't have a flawless answer to this difficult question, the following arguments for and against boycotting travel to Myanmar may help you decide for yourself whether or not you should visit the country at this time.
Reasons to boycott: Even with dedicated efforts to spend your money at local establishments, large costs like your Myanmar visa fee and entrance ticket to Bagan go directly into the hands of the government. This poses a moral dilemma because you are inevitably supporting an oppressive regime in some capacity. In addition, visiting a country committing such abuses may send a symbolic message to the government and military that its action (by the military) or inaction (by the government) will have no negative repercussions.
Reasons not to boycott: Travel boycotts can have a dark side. Within only a few short years the majority of Myanmar now uses Facebook and with misinformation abound, the country is full of misunderstandings about the Rohingya. Direct interactions are often the best or only way to create greater understanding of what is happening. Isolation through travel boycotts restricts this dialogue. Spending your money carefully at local, privately owned establishments typically benefits average civilians significantly more than it does the government.
How else can you make a difference besides boycotting? This great article by Dominican Abroad provides insight into all of the ways you can help the Rohingya people: educate yourself and spread awareness of the situation, support locally-owned establishments and engage in conversation with the local population, and volunteer valuable skills or donate to organizations working on the ground to help Rohingya refugees. We all have a role to play in ending these violations no matter our stance on boycotting travel to Myanmar. 
Questions about where to go? Feedback on the itinerary? Thoughts on boycotting travel? Drop me a note in the comments below!  
Liked the post? Tell your friends!