The Inca trail occupied the top spot on my travel bucket list for years. if you're thinking about, or already planning a hike to Machu Picchu my first hand account will give you an idea of what to expect. From the lung searing climb to Dead woman's pass, to the final race through Macchu Picchu's Sungate, I'll walk you through the day-to-day experience of hiking the Inca Trail.  First lets cover a few of the basics:
How long does it take to hike the Inca Trail?
It takes 4 days and 3 nights to hike the 38km Inca trail. The first day is a half day. The second day is typically quite long. 3rd day is more moderate and the final day typically involves a short (but very early) hike to the Sungate at Machu Picchu.
Can a beginner hike the Inca Trail?
If you're in decent shape and feel comfortable hiking up to 16 km in a day, you can do the Inca Trail!  This hike is a great option for those new to overnight hiking, you'll have an experienced guide and you don't have to carry a heavy pack. If you have the right attitude and prepare adequately, hiking the Inca Trail can be a fantastic way to determine whether overnight hiking is something you'll enjoy doing more of.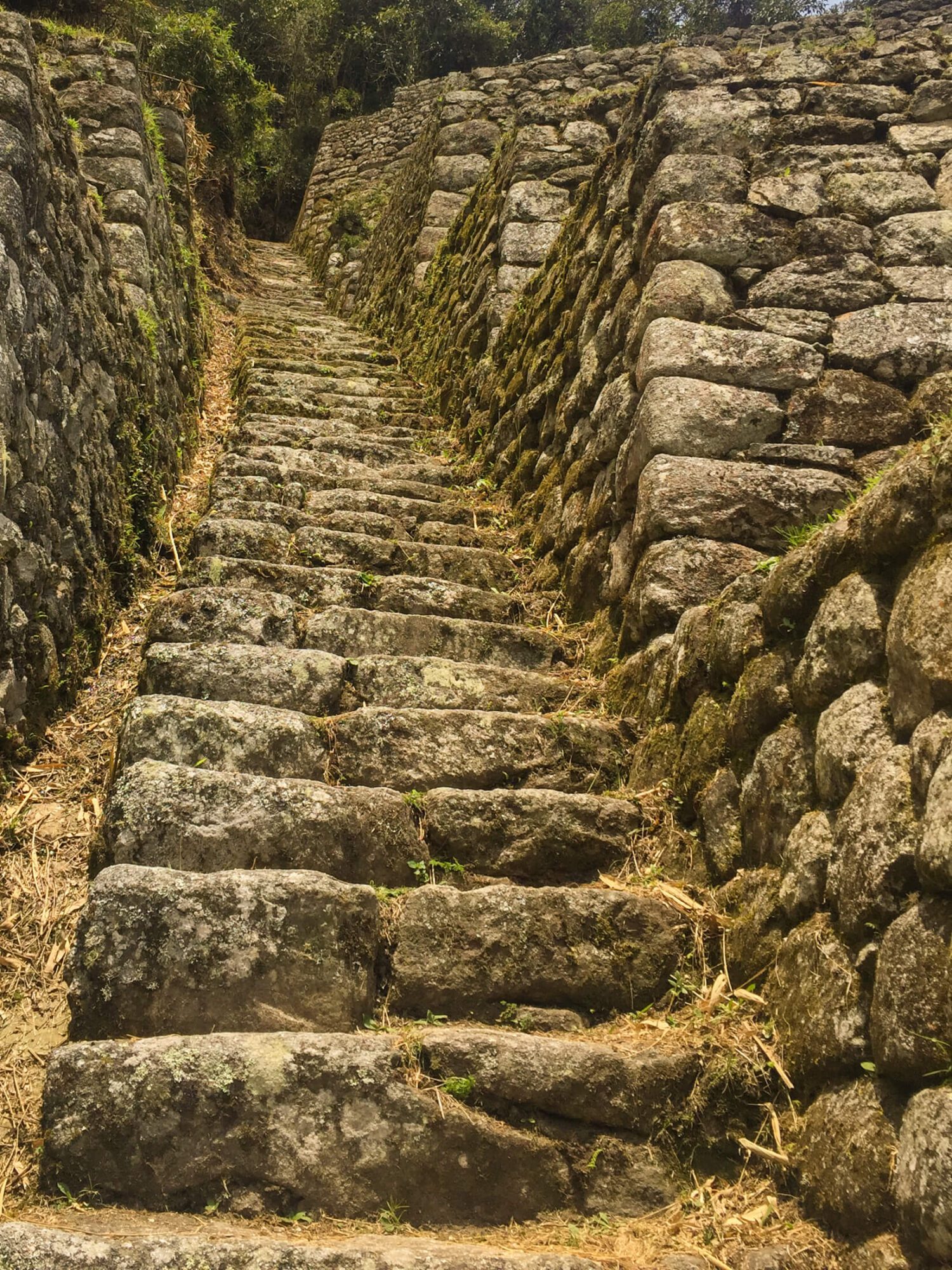 Can I hike the Inca Trail without a guide?
For any trekkers/hikers desiring a self-sustained trek, you're out of luck. You must hike with a guide or tour company.  
Yes, despite the Peruvian government limiting permits to 500 people per day (200 hikers , 300 porters. guides. and cooks) the Inca Trail still feels quite busy and solitude is elusive.  That said, apparently this quota system has reduced the daily number of people on the trail by about a third since its implementation in 2002. 
What is the best time of year to hike the Inca Trail?
The trail closes annual in February for maintenance and remains quite wet through April. May tends to be warm and dry. June, July, August, September are warm and dry, but are also the busiest months and will require permit bookings the furthest in advance. October remains dry with lower permit demand (fewer crowds). November is hit or miss. I hiked the trail at this time and had great weather, but your approaching the rainy season (December, January) so you may experience far more rain and cloudier days.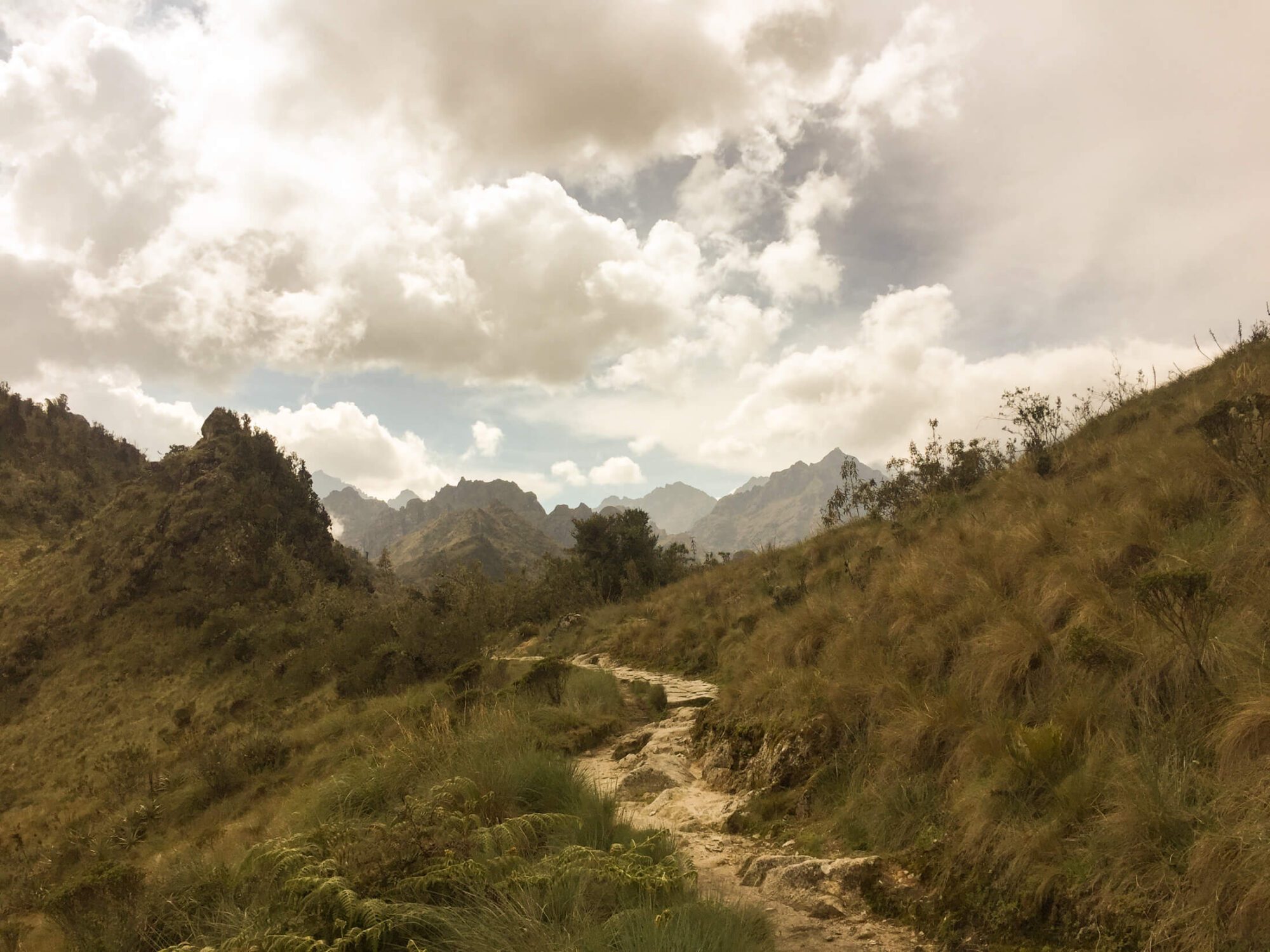 Are there toilets on the Inca Trail?
Yes. All the established camping places feature some sort of established facilities. You will not have to dig a cathole or seek out a private spot to do your business. They can be rustic though, so don't expect flush toilets.
Where do you sleep on the Inca Trail?
During your three nights on the Inca Trail you'll be staying in a tent. Tent's are typically provided by the tour operator and the porter set. up and take down your tent. All you have to do is pack up your sleeping gear and clothes. Luxury! 
How much does the Inca Trail cost?
Expect to spend over $600 USD for the classic 4 day 3 night Inca Trail.  Anything dramatically cheaper will typically mean that Porter welfare is not being considered or other major shortcuts are being taken. If you'd like to go on a private tour expect to spend about $1000 USD per person for a 2 person trip with the per person price falling as the party size increases.  In addition the cost of your trip you can also expect add ons for the following: 
Porter to carry extra items:

 8kg of personal items US$ 95.00 (half porter)
16kg of personal items US$190.00 (full porter)

Single Tent extra cost US$35
Machu Picchu Mountain Hike Permit:  USD 85.00 
Huayna Picchu Mountain Hike Permit: USD 85.00 (highly recommended if you have the energy it's hard but worth it).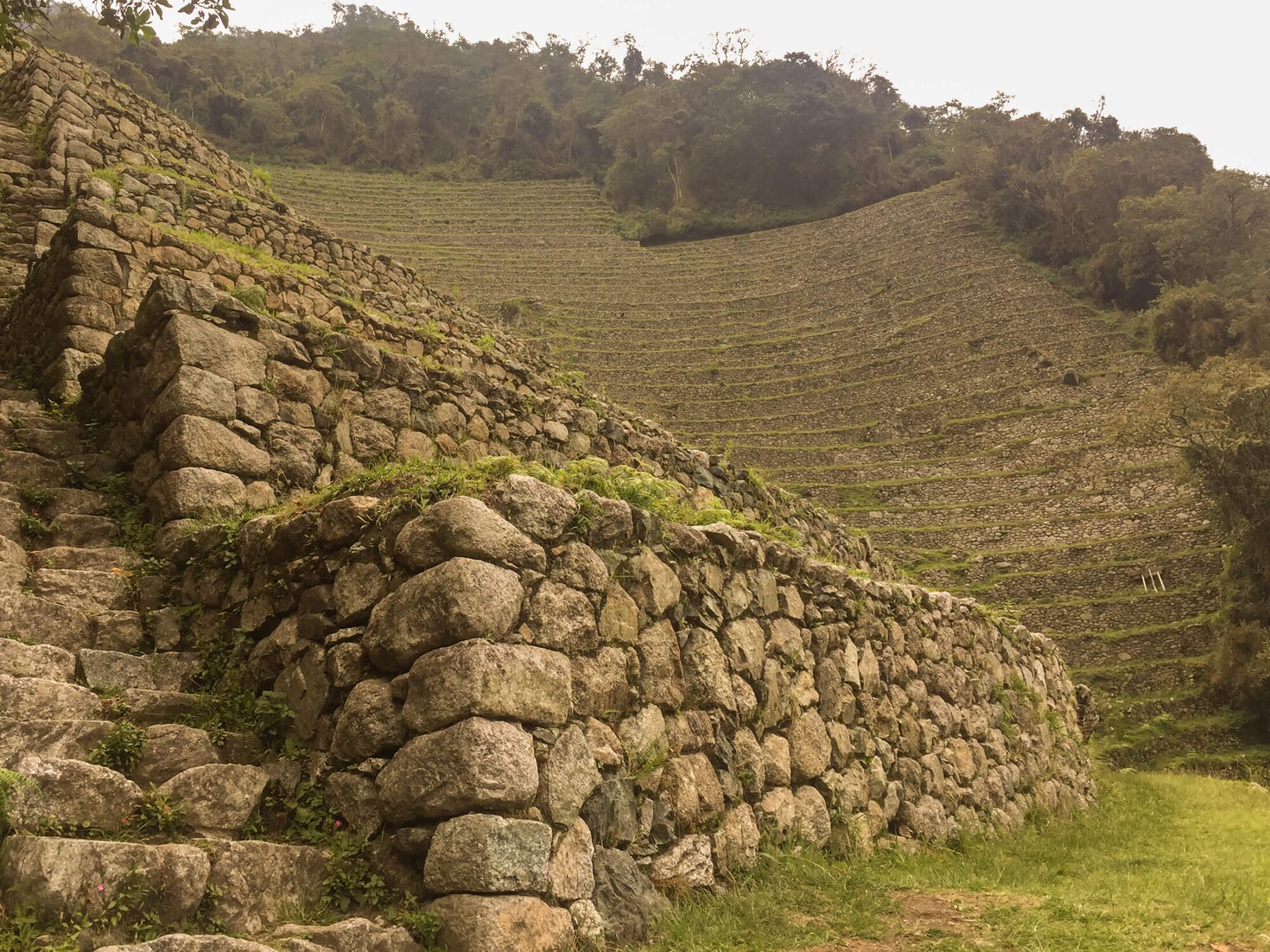 Should you hire an extra Porter on the Inca Trail?
Most operators include enough porters to carry tents, food etc. for the group. However, you are expected to carry your personal items including your sleeping bag, sleeping pad, pillow. and any clothing. If you'd like to carry a smaller pack you can pay an additional amount (typically $100 to $200) for a porter to carry any stuff you don't thing you'll need during the day. Most hikers view this as a worthwhile investment, as it allows you to carry a smaller pack on the trail. 
Is the Inca Trail hard to hike? How should I prepare?
The Inca trail features one longish day at ~16Km which features 2 high passes and an elevation highpoint of 4200m (13780ft). Fortunately, the assistance of guides and porters makes the Inca trail very accomplishable as you're not required to lug all your gear yourself. That said, you should take the Inca trail seriously. Get out for a number of hikes before your trip make sure you're comfortable hiking for 16+ KM over varying terrain.  As the trip gets closer, plan back to back long hiking days to ensure both your body and your gear are working at the level you expect before your trip to Machu Picchu. 
What about the elevation? Should I acclimatize?
Absolutely. Like much of Peru, the Inca trail is high elevation and altitude sickness is not uncommon. Spend at least 2-3 days in Cuzco prior to your trail start date. Walk up to Saksaywayman and use that as a quick and easy acclimatization walk. If you're coming from sea level try to take the bus to Cusco as opposed to flying to help with process. Consider getting a prescription for altitude pills from your heath care professional to bring along just in case you react adversely.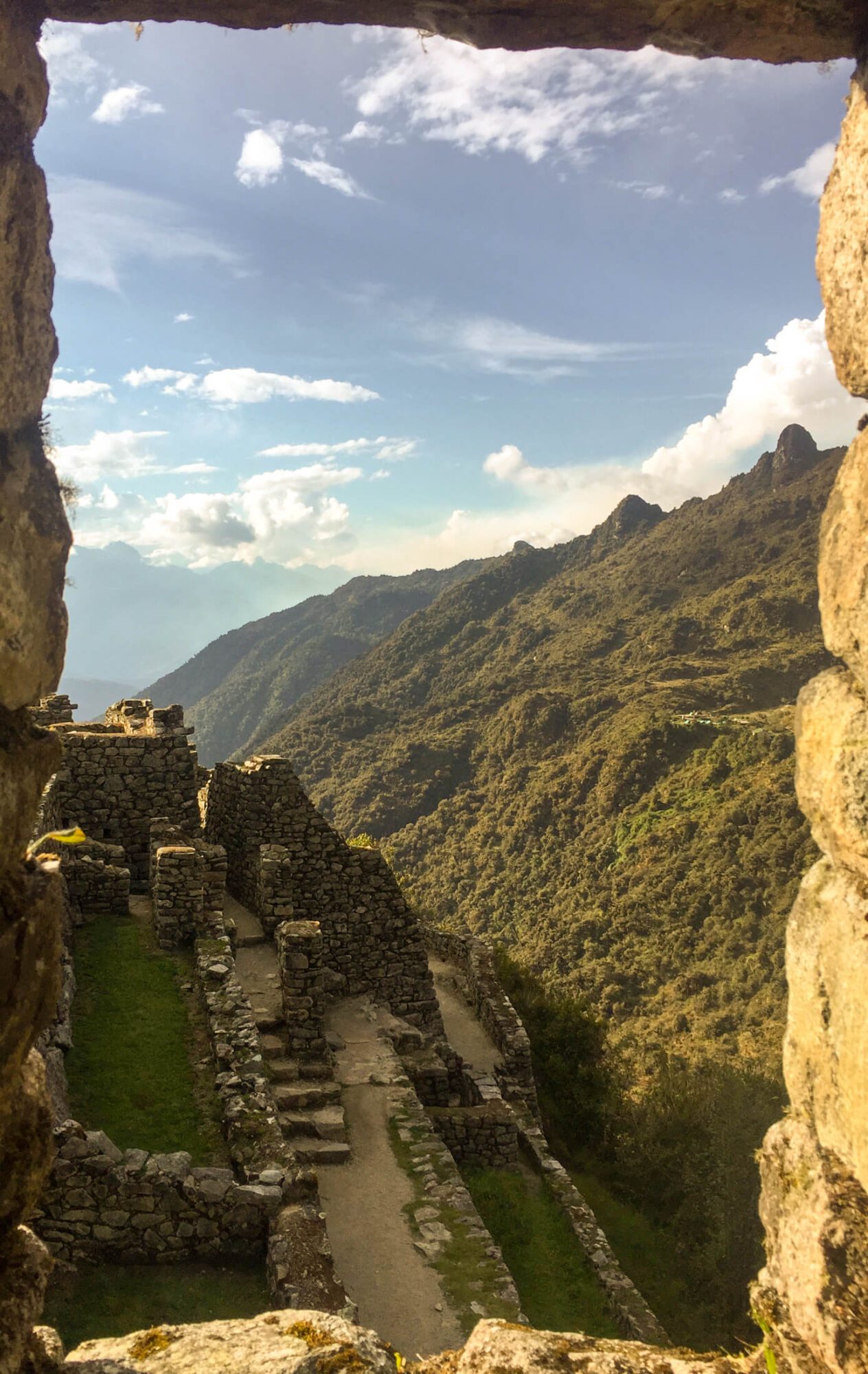 Things to remember for the Inca Trail
Whatever you do, DON'T FORGET this
In remote areas travel insurance that covers emergency evacuation or medivac is absolutely essential. I went years without making a claim on my travel insurance until a suffered a broken collarbone and racked up medical bills in excess of $15, 000. Fortunately, I had the entire bill paid through insurance and got the care I needed. That one incident made years of paying for travel insurance a drop in the bucket! Don't forget this. 
For adventure activities like hiking the Inca Trail, check out World Nomads for a quote*. Hopefully, you never need to make a claim, but if you do you'll be beyond happy you were prepared!  Don't start your trip without it! 
*We receive a fee when you get a quote from
World Nomads
using this link. We do not represent
World Nomads
. This is not a recommendation to buy travel insurance.
Break in your boots / try out your shoes
Make sure to break in your hiking boots or test out your shoes before your trip. The last thing you want is a huge blister after the first 3 hours of hiking. 
My Inca Trail trip report
After several days of acclimatization in Cusco and exploring all the local sites, including Saksaywaman, the Koricancha, Ollantaytambo, and the rest of the sacred valley, it was time for my pre-hiking brief at the Llama Path office!
I'd decided to hike with Llama Path based on their bang up job on sustainability and porter welfare. 

Porter welfare is a very important consideration when choosing an operator. No donkeys or mules are allowed on the hike to Machu Picchu (unlike the other popular treks in Peru) and everything is carried by incredibly hardworking and motivated porters. The Peruvian government has imposed formal weigh-ins and standards that have improved conditions in recent years. Unfortunately, it is still common to see many porters, employed by less responsible operators, making the 38km trek in sandals and bearing backpacks clearly not suited to the task.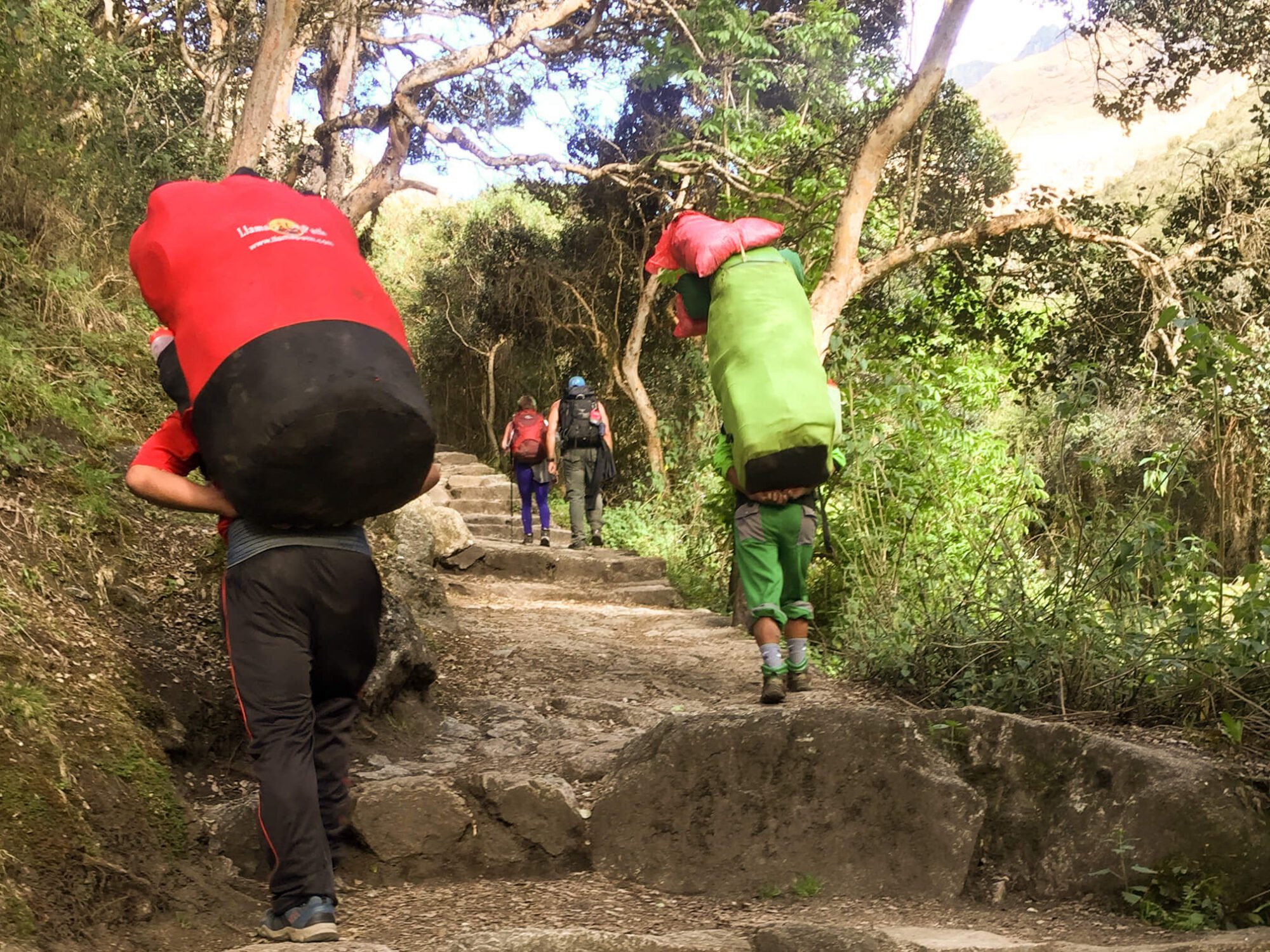 Orientation and hiking companion introduction
After parting with the second half of my payment, I was ready to get to the briefing and meet my trek mates. 
We were a small group of trekkers, 5 total. Mike from Canada (me), Ontario (Canada) girl, and Washington State family (mom and 2 adult daughters). After the customary introduction formalities, I had learnt the following:
Ontario (Canada) girl had decided to stick with her Peru trip despite a bad breakup, that had ended her ex-boyfriend's participation in the pilgrimage. She replaced his presence in Peru with that of her parents (who would be sticking around in Cusco).  An interesting, yet resourceful substitution (when viewed in the light of individual financial preservation).
Washington State Family had come to Peru to do the Inca Trail, see Machu Picchu, and GTFO. Flying back with a multi-day stop in NYC to decompress from Peru… before recompressing to life north of Seattle.
After meeting the other travellers, we were introduced to our charming guide, John. An excitable young Peruvian and experienced guid with the endearing trait of using the word "guys" as his filler word.
Following Llama Path's thrilling introduction video, we were given our instructions for pickup early the next morning and sent on our merry way!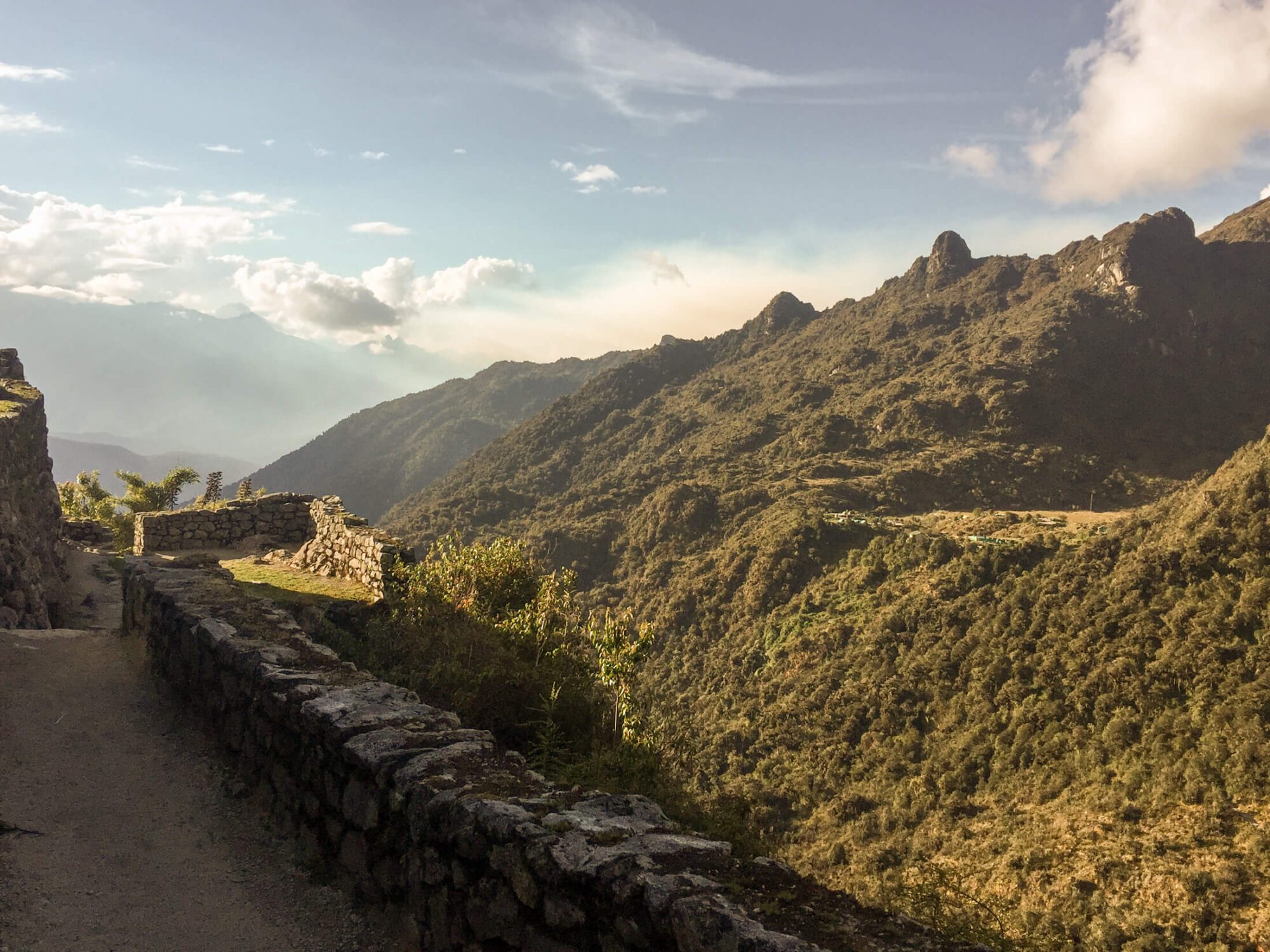 KM82 and the start | Day 1
The Llama Path luxury bus picked us up bright and early at 4 or maybe 5 am, too early for me to remember. After another stimulating introduction video, introducing the features of the bus including the onboard oxygen masks, we were bouncing down the road toward KM 82, the official starting point of our pilgrimage. The trek is frequently referred to as a pilgrimage because the Incas built their incredibly complex road system to connect their empire while simultaneously finding their way closer to the Apus (sacred mountain gods). This ethos for design resulted in a road network that at its peak connected Colombia to Chile. Allowing for rapid communication across an empire and tragically a very accessible path for the conquistador, Francisco Pizarro, and his gang of pillaging compadres.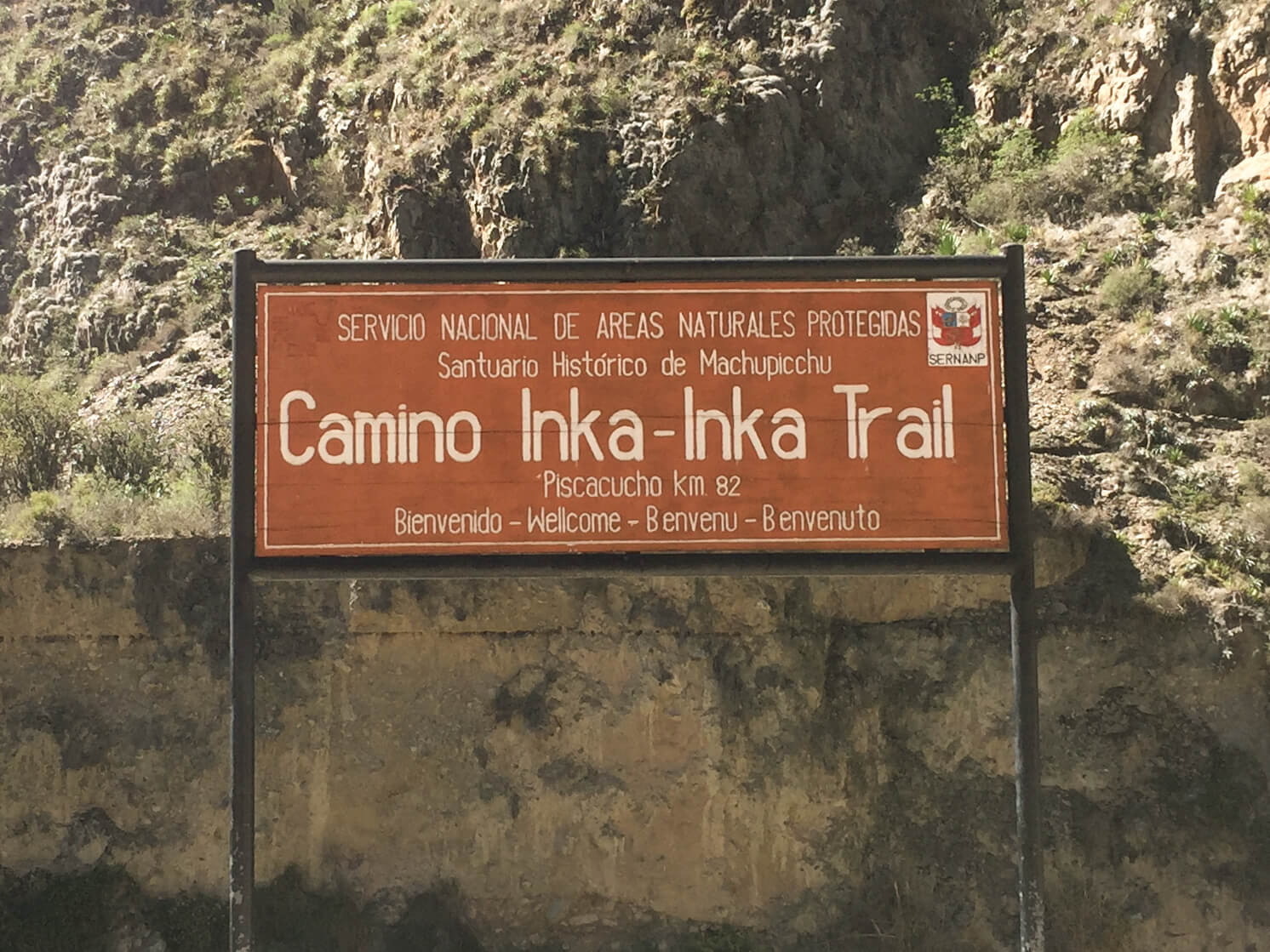 KM 82 serves as the point where you first get acquainted with other hikers beyond the realm of your own group. People unload from various forms of transportation, purchase last minute supplies (bandanas, drinks, or coca leaves for elevation) and chat gaily amongst themselves. For many, this is a pilgrimage that has been years in the making. It was at this point that John first pointed out the green team to us… an ominously foreboding event that would haunt us through the duration of our journey to Machu Picchu…
After a customary photo under the KM 82 sign, we were off! Or for at least 100m… until we were stopped at the permit booth to verify passport information and permits.  After passing through a small queue, I was finally on my way.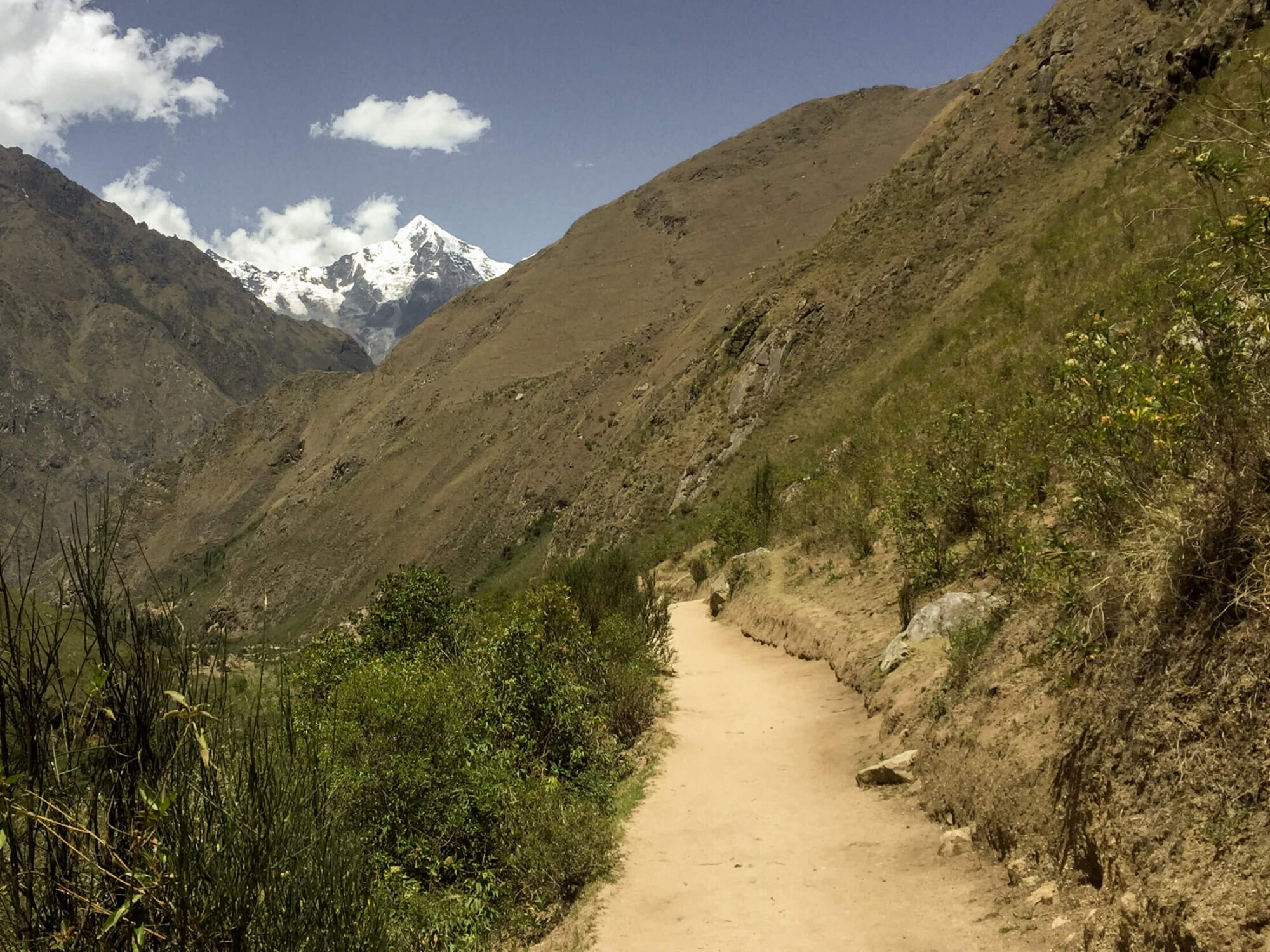 The gentle and dusty uphill slope proved to be a nice, tame re-introduction to walking at altitude, after my several week break following the Santa Cruz trek in the Cordillera Blance. The only interruptions to my rhythm came courtesy of "local traffic only" motorbikes that would occasionally crash and bang their way up the dusty slope. Apparently, the first several kilometres provides town access for local residents. Before we knew it, our group had been stopped to check out our first Inca archaeological site, Llactapata.  John invited us closer, loudly proclaiming "Guys! Here guys! Is the first tale guys! About guys! Who guys? THE INCAS GUYS!"    
John spoke of the Inca Trail as a fully functioning people highway complete with inns and food storage facilities. His tale served as a fantastic re-introduction to the material covered in my university class on the Incas, but without the pain of the test at the end. Furthermore, John concluded his story with a cliff-hanging question we would become very accustomed to over the next several days, "So guys…. How do we know this guys?" The chronicles guys!" (A reference to the Spanish chronicles, a series of documents that the first Spanish visitors left behind and tragically one of the only formal records of Inca culture, as the Incas had no formal written language).
Just as we were about to depart and continue our way up the trail, the loud chanting, singing, and cheering of the green team troupe cracked the silence of the high Andean air.  "Who are we? The Green Team! Where are we going! Machu Picchu!"… Whether that is exactly how the chant went I cannot recall, but the ruckus broke the silence like a wine glass shattering in the middle of Central (one of Lima's finest restaurants). As the green team leader silenced his zealots, he began his narrative of the story John had just rendered. Naturally, he began with a joke… informing his troupe excitedly that they had reached Machu Picchu! To which one of the troupe answered, "Really? What are we to do for the next 4 days?!". To which a large well-muscled gentleman replied in all seriousness, "Steve only brought 1 bottle of Pisco! (Peruvian liquor)"  It was at that moment, that I made a resolute promise to myself: The next four days I would find solitude on this sacred pilgrimage through the strength of my legs and the steel of my lungs (fingers crossed no altitude sickness…).
Pushing onwards I was able to carve out my first individual piece of solitude, before halting for a delicious multi-course lunch.  The meal was highlighted by ceviche and prepared by our amazing chef, Caesar. Did I forget to mention we had a chef? The experience of hiking to Machu Picchu isn't cheap, but it certainly does include a few luxuries not included with self-sustained trekking.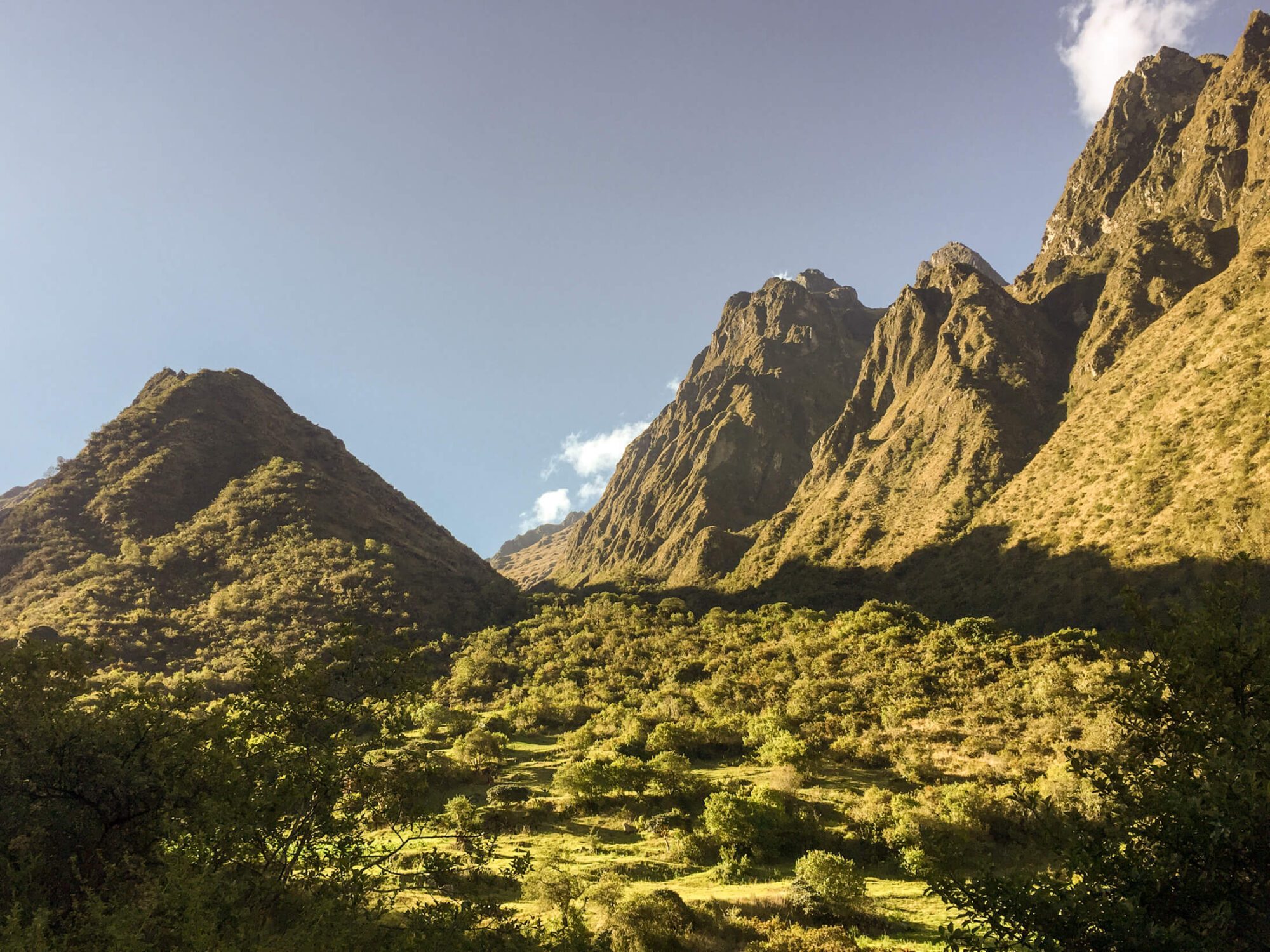 After gorging myself on Caesar's meal, we pass the last small hamlet of Wayllabamba. The final checkpoint now behind us we begin to make our way upwards steeply before finding reprieve at our first night's camp, Ayapata.  Enchanted by the views, I was able to relax and meditate on the beams of light that Inti (sun) casts over the majestic peaks. After settling into camp, Caesar presented another magnificent feast, which more than made up for the surface level dinner conversations between our team. With a full stomach, warmed up legs, and the peace of the mountains in my heart, I retired to my tent at the ripe hour of 8 pm. After tucking into my sleeping bag, I'm soothed to sleep by the chanting of the green team, camped uncomfortably close by.
Dead Woman's Pass | Day 2
The dawn was already beginning to crack as I rose and poked my head out of the front of my tent.  Our team of llama path porters were already busy bustling around and preparing our small expedition for departure. They greeted me cordially, bringing me a delicious mug of hot coca tea and my daily shower in the form of a warm bucket of water to splash on my face.  After a satisfying breakfast and a customary 4th cup of Nescafe (it grows on you), we were ready for liftoff. Day 2 is frequently considered to be the biggest test with two high passes and approximately 16km of hiking. The highest of the passes, Dead Woman's Pass, reaches 4250m. As John completed our briefing for the day he concluded with the an ominous question, "Soooo guys, why is it called the Dead Woman's Pass guys?" Not knowing the answer, I took a moment to glance around at my Llama Path teammates. Ontario girl had the look of casual neutrality, a perfect blend between interest and disinterest, equivocal in nature. She would continue to perfect this look for the duration of our pilgrimage. Washington family was ready to rock. Brand new hiking gear glistened in the high alpine sun. Their image would have fit perfectly in the latest edition of Outside magazine or perhaps a Patagonia ad, had it not been for fearful glances they exchanged at the ominous question about Dead Woman's Pass. After briefly indulging these distractions, I returned my attention to John who explained that the Dead Woman's Pass received it's name due to the shape of the pass, which at distance, appeared to resemble a deceased female. This news was well received by Washington family, and taken with the usual degree of stoicism from Ontario Girl.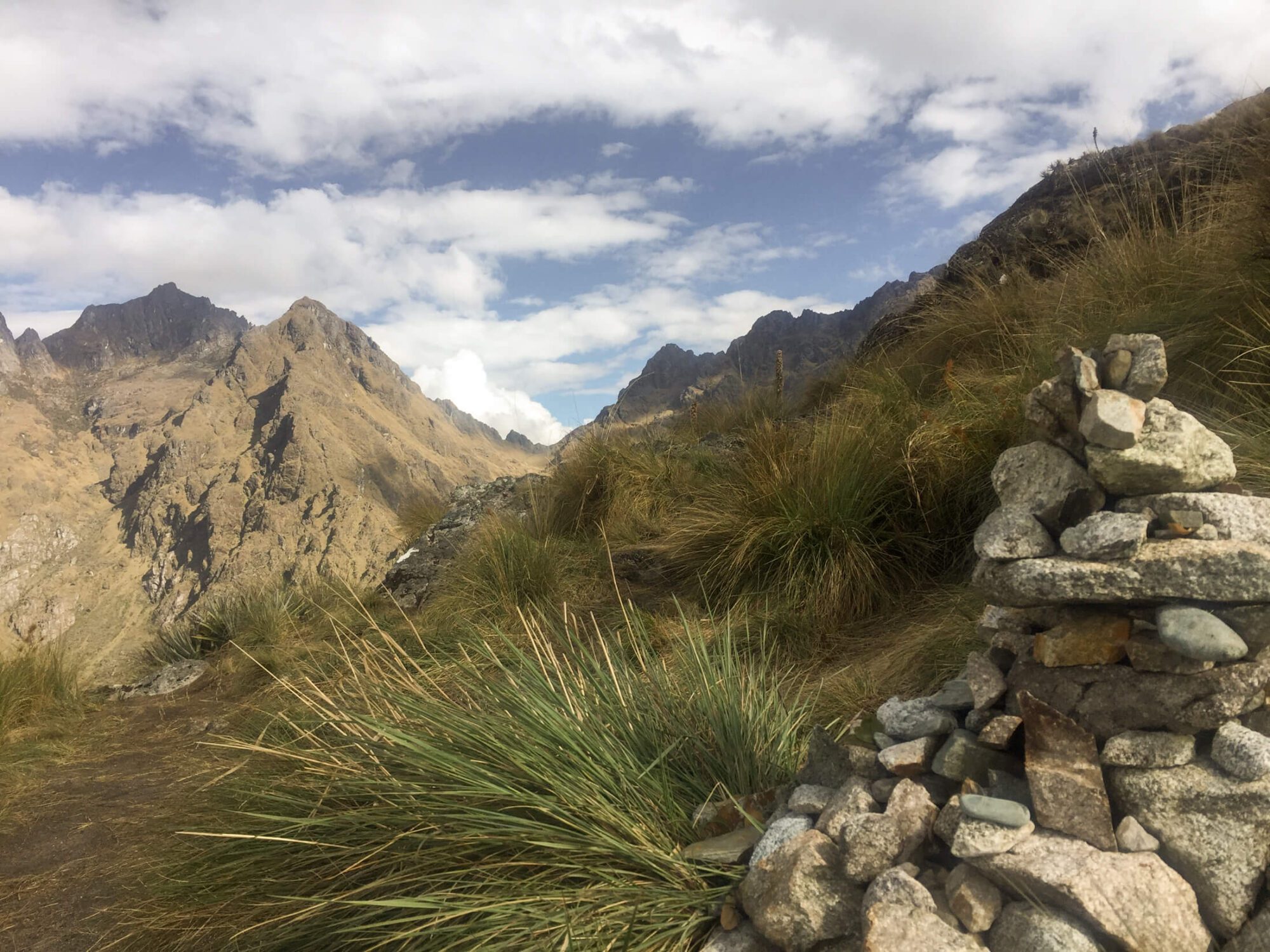 As the green team began their morning chants, we were ready to begin our day and exit camp. I knew that to stay true to my promise of finding some peace and quiet on this well-trodden trail, I'd have to push myself hard to get ahead of the majority of the groups. After setting out, it didn't take long before the path transformed into the series of massive steps and stones that the Incas meticulously placed hundreds of years before. To the un-indoctrinated, the Inca Trail is a 1.5 m wide cobblestone road that transforms into stairs the minute an elevation gain is required. The trail continues in this fashion all the way to Machu Picchu. We were treated to our first taste of Inca Up (full on climbing) as we make the ascent through wooded areas, along the never ending staircase. I passed other trekking groups and was passed by gangs of porters, with massive bags and seemingly indefatigable endurance. The porters continued onward to the lunch stop with limited rest and as such inflicted limited damage on my desire for solitude. After several hours of walking, I am the first of the non-porters to arrive at rest stop number one, Llulluchapampa (3800m). My hasty ascent afforded me the opportunity to enjoy several minutes of solitude with  the company of two llamas who glance over at me with the typical camelid look of disinterest. Once John and the rest of the team arrived, we are treated to further relaxation and a small snack. To my dismay, this rest afforded the other groups, including the green team, the opportunity to catch up. It is clear that my battle for solitude would be ongoing. Summoning up my strength once again and taking a big gulp of the ever thinning air, we continued upwards towards the Dead Woman's Pass. Noting my cadence, John was kind enough to advise me to wait at the top of the pass for the rest of the group. Permission slip in hand, I raced for my independence. Once in the comfort of solitude, I allowed myself to stop and savour the incredible scenery that the thinning trees provided. Deep valleys and high Andean peaks, Amazing! I drunk in small gasps of air as my legs pushed me onwards. My lungs felt like I was sprinting, but my eyes confirmed that, no, I was in fact still walking. No matter, I was not about to sacrifice my position of solitude when the Dead Woman's Pass lay so close ahead. Fighting on through the final 500m ascent, I reached the summit of the Dead Woman's Pass at 4250 meters above sea level. Several porters casually acknowledged my summit, but I am pleased to find the top hiker free. I take the time to meditate on the views afforded in both directions, and pay homage to the feeling of stillness that the Andes afford. Before long, the top is swarming with fellow hikers clambering over one another in frenzied panic for the ultimate piece of photographic evidence to share with their social networks.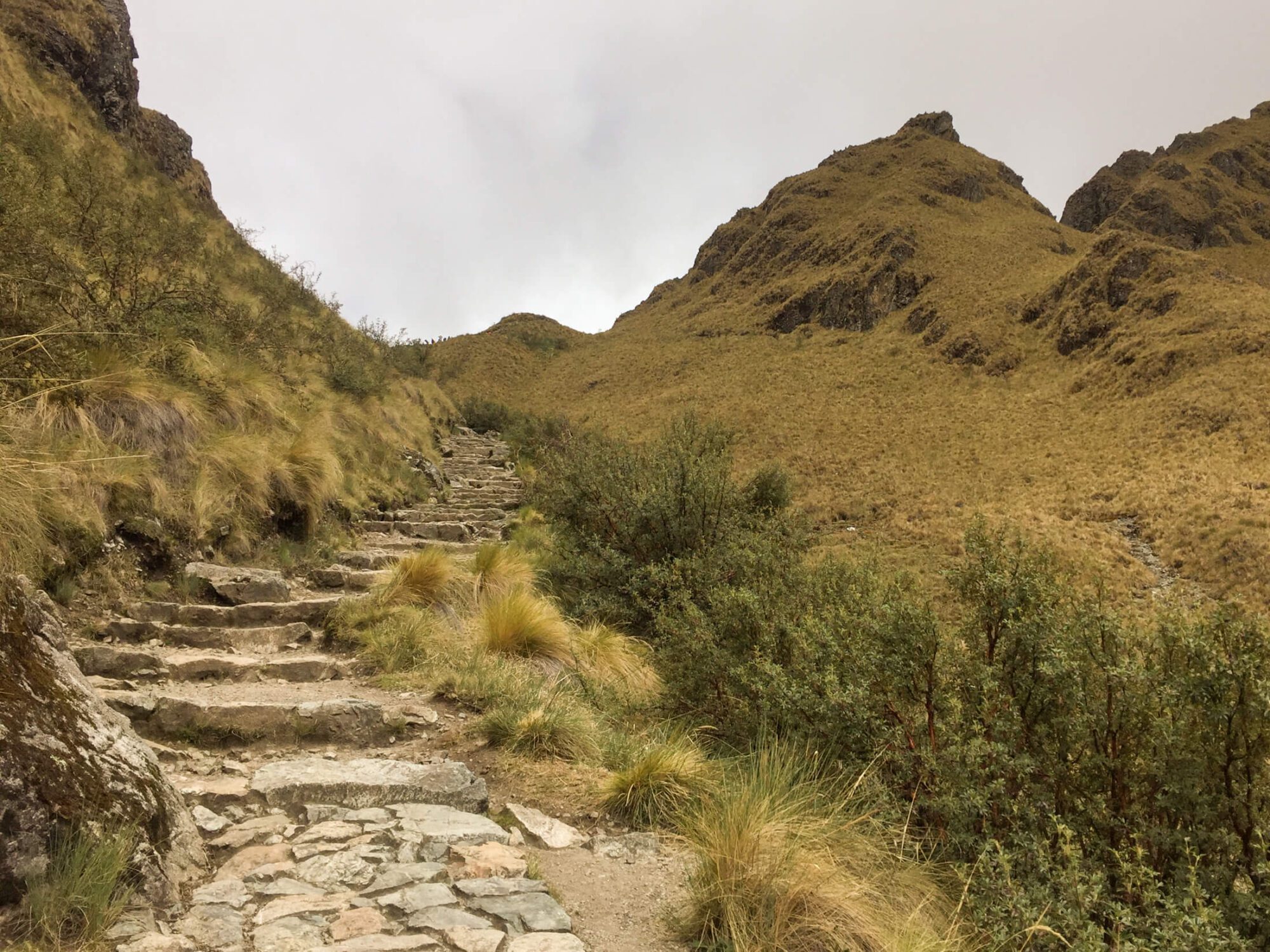 Once customary summit formalities (awkward group photo, etc.) were completed, we commenced our descent towards lunch at Pacaymayu. Word of advice for any future trekkers with knee-related issues, bring walking poles to help with the bone-rattling descents down the Inca steps. The descent took us past alpine grassland and beside bubbling creeks, until at last the red uniforms of the Llama Path porters greeted us with our next multi-course meal (despite the constant walking/exercise, weight loss should not be a problem on this journey).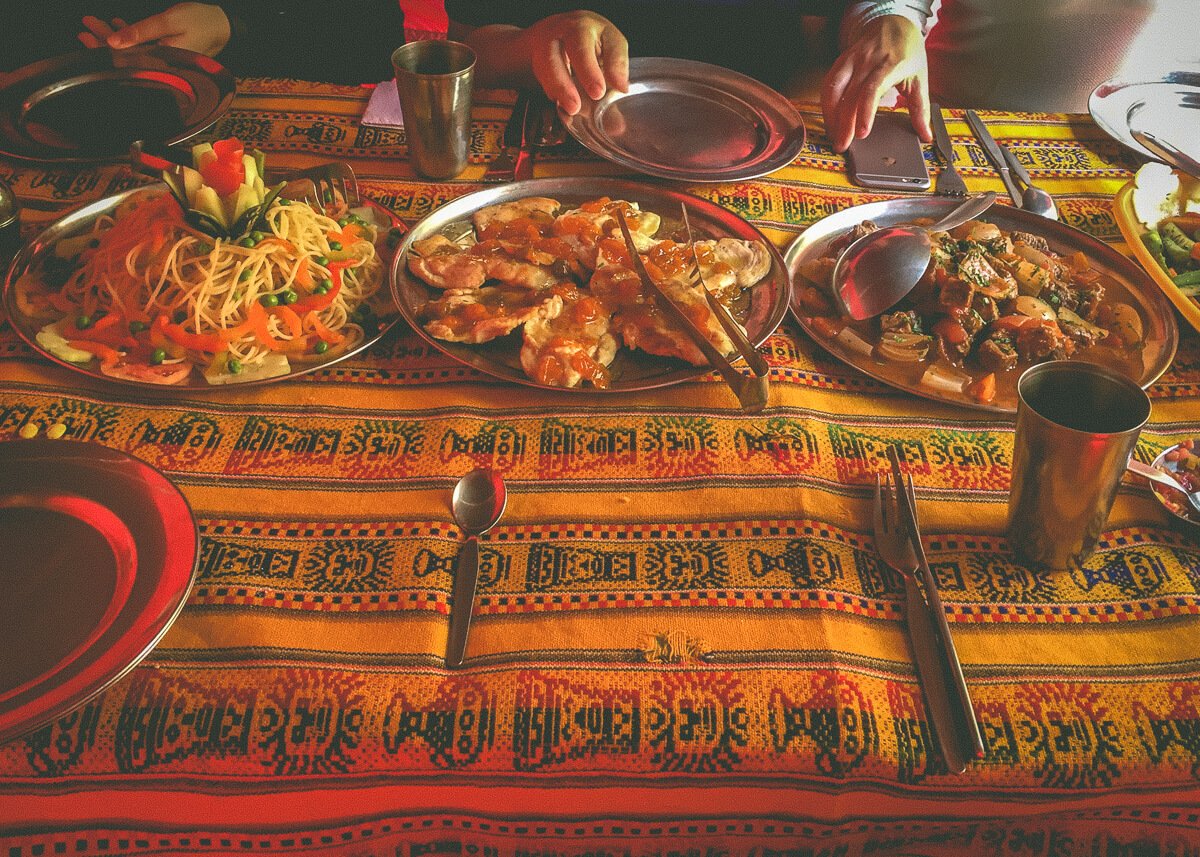 Our stomachs bulging once more, our team set out to triumph over the second summit of the day. Setting out for the shorter afternoon portion, I was immediately greeted by the chanting members of the green team singing their best rendition of "We're on our way to Machu Picchu". They lumbered slowly towards the second summit, undoubtedly weighed down by the Pisco in their daypacks, and the after effects from consumption at elevation the night before. Fortunately, my non-hungover legs skipped rapidly past these green obstacles and I found myself enjoying the majestic views of Runkurakay in no time. From this egg-like building I was able to peer back down the valley from whence we came and back up at the Dead Woman's Pass. As John, Ontario, and Washington family arrived, John was eager to point out that we were now able to see the full figure of the dead woman transpire in the distance.  In observing the image of the woman in the pass, I thought to myself that it could probably be called the sleeping woman pass. This renaming of the pass would save many future trekkers a great deal of unnecessary grief and dread. I couldn't help but think that John was having the same thought as he finished another gripping rendition of "How do we know this guys?" "The chronicles guys!" After a bit more climbing we reached the second pass of the day with stunning views back towards the valley from which we came and into a new, lusher valley. We are about to enter into the realm of the cloud forest.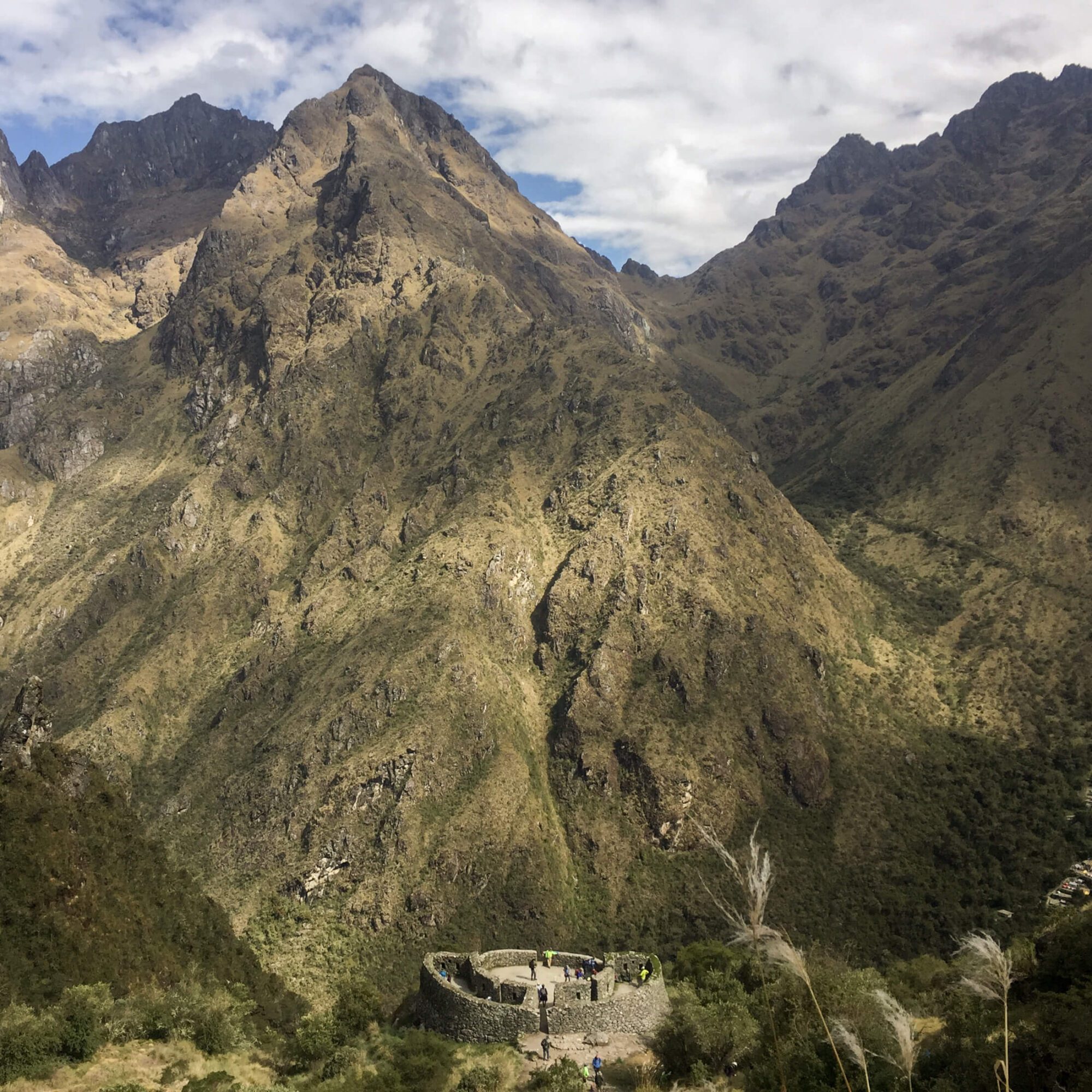 As the scenery greened up and we descended downwards, we were left to explore the remarkable ruin of Sayaqmarka in the fading sunlight. The ruin lies perched nearby the camp, and as such, afforded me the opportunity to sit in silence and watch the sun fade behind the peaks. After satisfying my desire to embrace this mountain sanctuary, I skipped down the remaining distance to our camp Chaquicocha.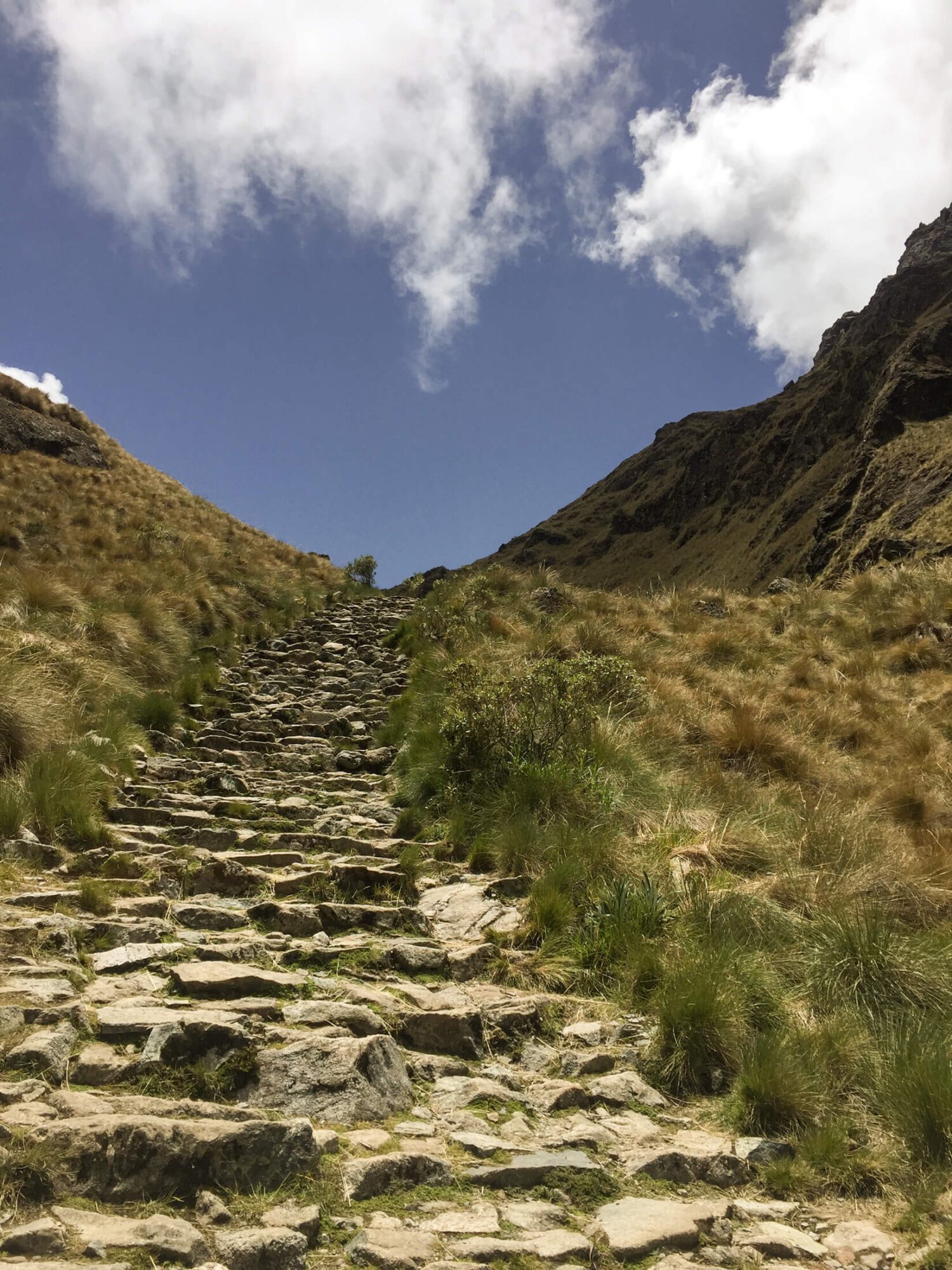 Once my belongings were properly placed within my tent and I had changed out of the clothes that so graciously carried me through the tribulations of the day, I was ready to eat. Fortunately, another elaborate spread awaited. Dinner conversation was no more lively today. Fortunately, John was there to break the ice and squeeze the conversational orange of our group for all it was worth! After enjoying the multi-course meal (including dessert) it was tent time again! Fortunately, no soothing melodies are heard from the green team camp this evening! Here's to the joys of high elevation trekking! 
Less hiking, more solitude | Day 3
Tap Tap Tap! Is that an Andean grizzly bear? Nope, just one of the friendly porters waking me up for Day 3. After relieving my overfull bladder and gulping back a few Nescafes, it was time for our morning briefing. John informed us that today will be predominately Inca Flat (gentle ups and downs) and we should make camp by early afternoon, allowing for plenty of time to explore some substantial Inca ruins near our final night's camp.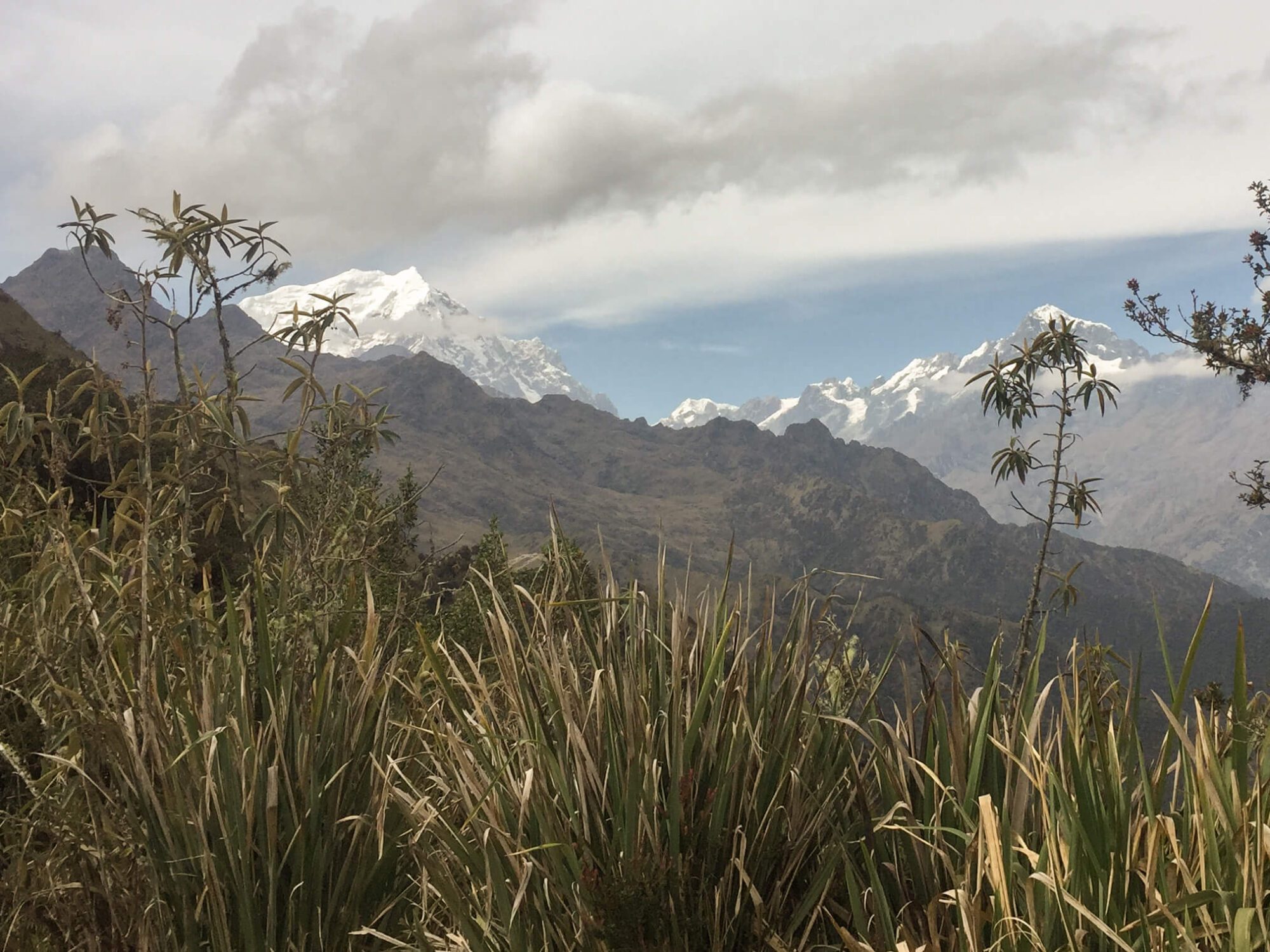 We were treated to spectacular views of the nearby Salkantay Mountain (6271M) as cloud cover dissipated. Salkantay translates to savage mountain and speaks to the ferocity of the avalanches that rain down from its slopes. The peak is magnificent in its enormity and rivals the titans found in the Cordillera Blanca in Northern Peru. Taking a few moments, I sat on a rock in silence observing the beauty and majesty of the mountain. The scenery was so breathtaking with its juxtaposition of snowy peaks on cloud forest, that I became oblivious to the whereabouts of my group, John, or the chanting green team. After allowing my thoughts to wash away into nothingness for several moments, I allowed myself to return to the present just as Salkantay was swept behind cloud cover once more.  
I continued the journey along the Inca Flat, meandering along the intricate placed stones and passing through an Inca tunnel, before reaching the final pass of the pilgrimage. It is at this point that our team reunited in entirety: John, The Porters, Ontario Gal, and Washington family.  We were all there and jubilantly bathed in the exhilaration of our accomplishment. Photographs were taken and we were encouraged to make a Llama hand gesture in each one, a clever deviation of the rock-on gesture. Once we had our fill of producing marketing material, the porters continued on to camp and we wandered down slightly to the beautiful ruin  Phuyupatamarca.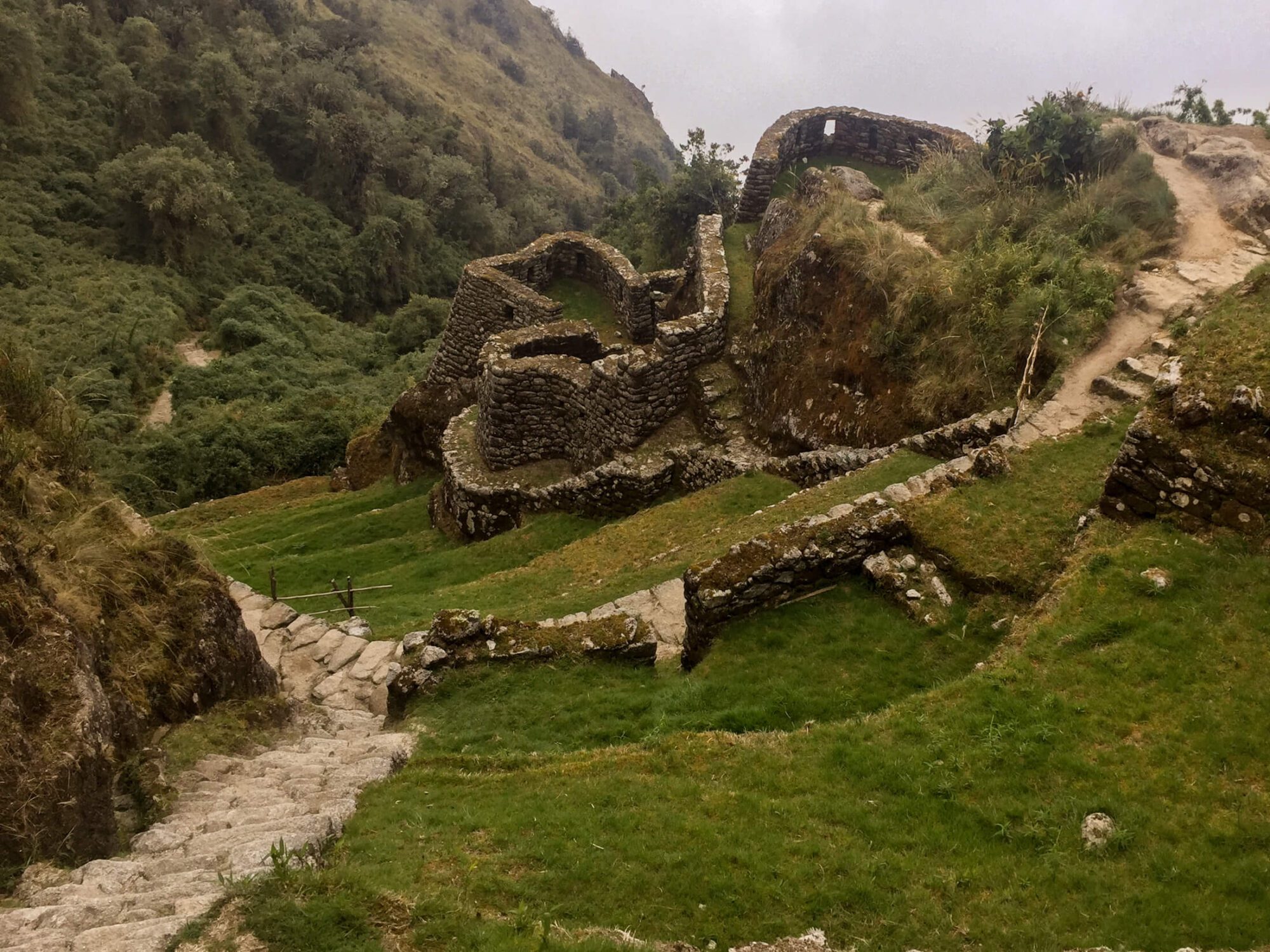 The chronicles once again served as the source of John's inspiration for our tune-up on Inca history and cosmology at this beautiful site. Following the lesson, we continued another bone-jarring descent down Inca steps. Eventually, we reached the site of Intipata, a miraculous set of terraces, where we are treated to spectacular views of the Rio Urubamba below. After savouring the views at this site, we wander into our final camp having concluding the majority of the trekking the classic Inca Trail had to offer.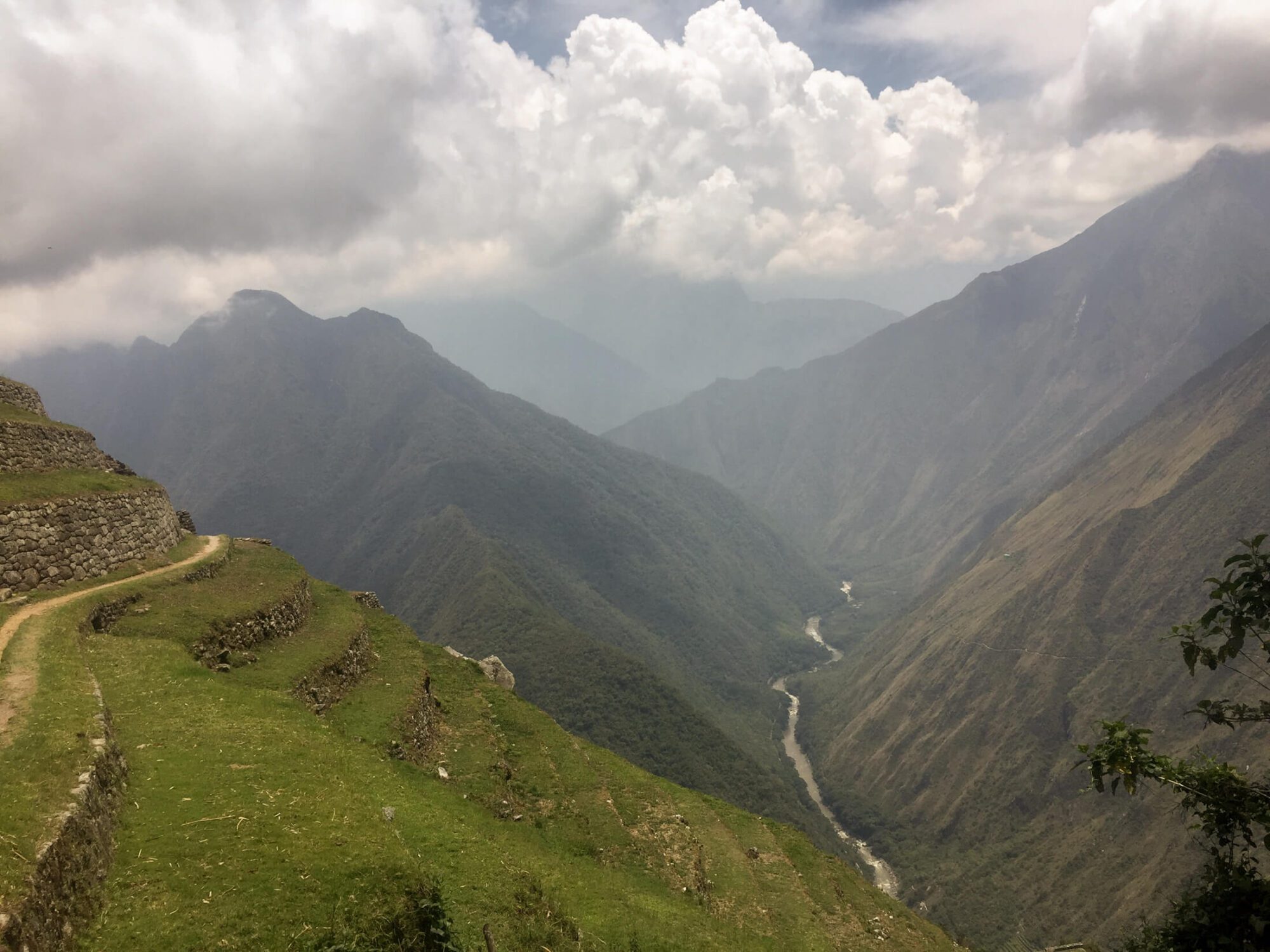 The afternoon afforded the amazing opportunity to explore the nearby site of Winay Wayna and a small waterfall. Look closely and you'll pass the ruins of the Winay Wayna pub along the way, the former centre of debauchery on the Inca Trail. The pub served its last Cusqueña (Peruvian beer) in 2012, but many tales remain of when the final night's campsite was a little less peaceful than it is today.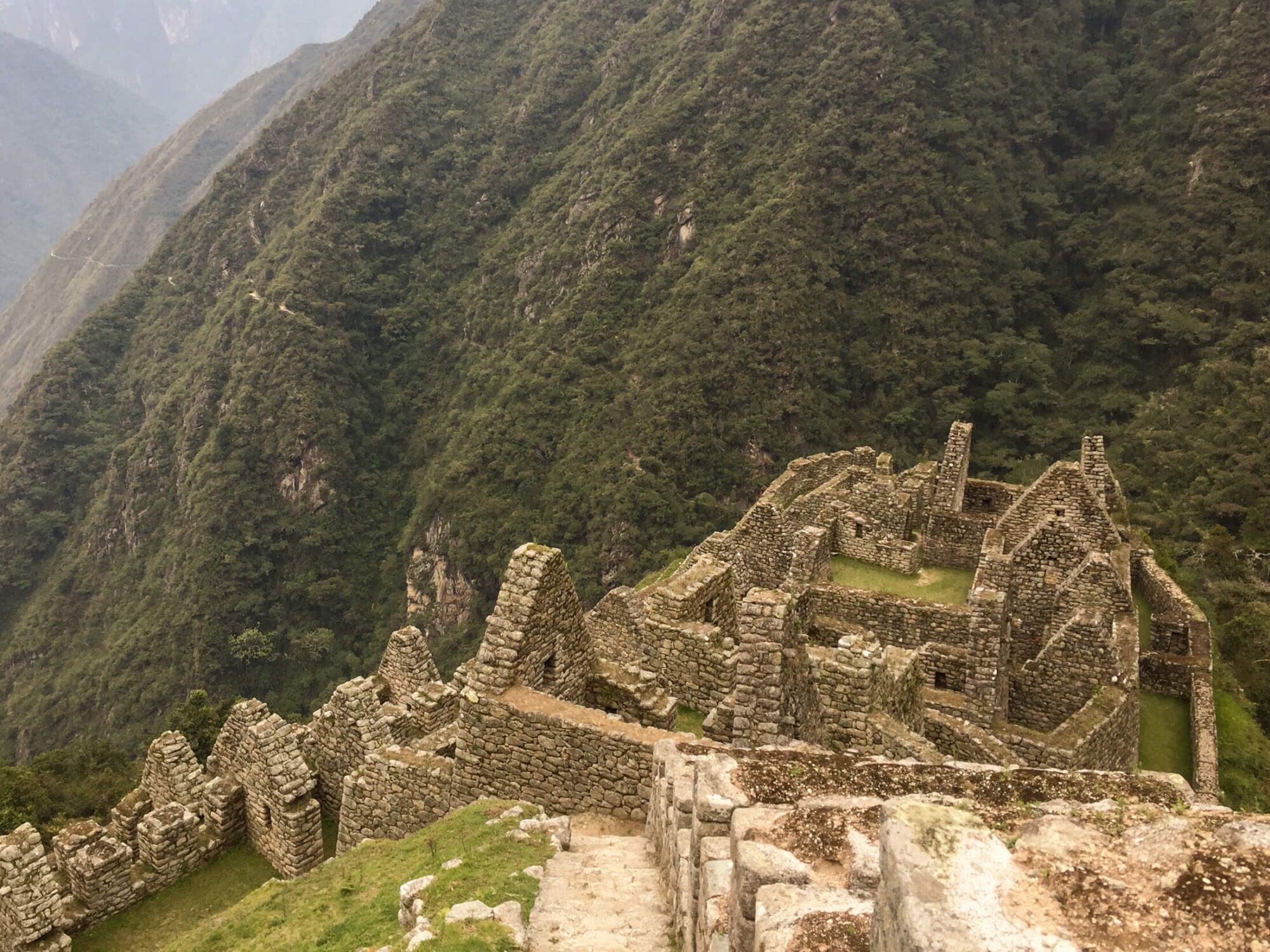 Thanks to John we were able to time our visit to Winay Wayna perfectly. We avoided the dreaded green team and were able to experience the majestic sites in total isolation. The countless terraces, archaeological ruins and nearby waterfall provided me with the perfect means to completely envelop myself with the enormity of the environment the Incas called home.
After our final night's dinner, John ushered in the llama path porters and the chef so we could formally thank them and reward them (monetarily) for their outstanding work. The cumbersome train schedule dictates that the porters depart to the train station shortly after 4 am, forcing last goodbye formalities (tipping) to be scheduled for the last night. Side note: If planning a trek on the Inca Trail in the future, bring many small bills; a master of change is always a welcome addition to any trekking group!
Once we finished thanking the porters, I retired to my tent for the evening.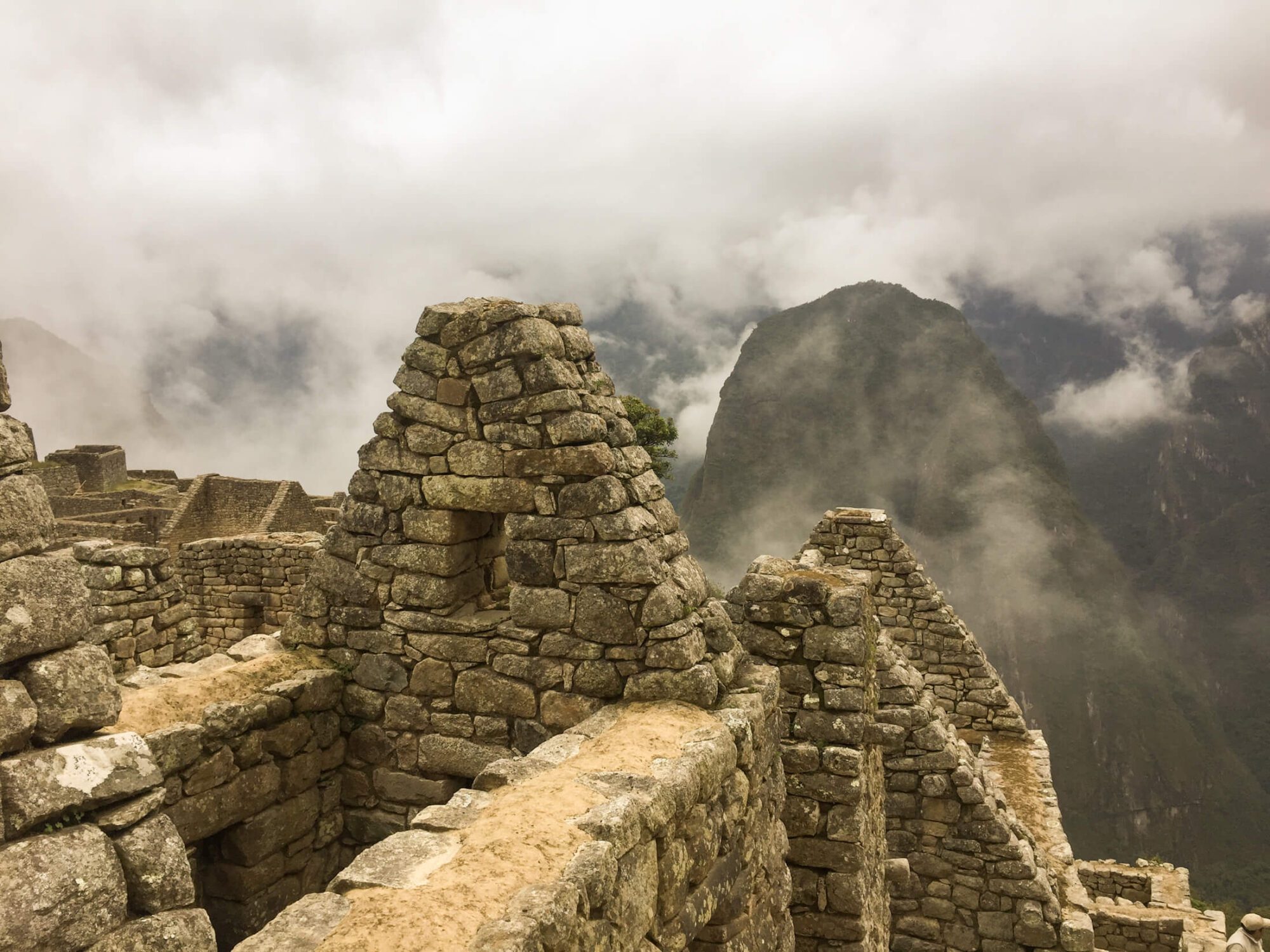 Rustle! Rustle! Rustle! What's going on? It must be the Andean Grizzly this time! Nope, just another llama path porter wake up call. I'd almost forgotten that the cumbersome porter train schedule dictates that we'd be waking up at 4:00 am with them. We'd surrender our tents and gear to the porters, before waiting at the final ticket checkpoint until it opened at 5:30 and allowed us to complete the final hour to the sun gate.
As ticket wicket came to life, I felt myself rearing to go. John nodded to me approvingly as if sensing my excitement. He then told me to wait at the sungate and with a last word of encouragement looked me in the eyes as if to say, "Beat the green team!". I looked back at him and nodded. No words were needed on this day as his look said it all, "I wish I could be there with you my friend, but I have to stay behind with the troops". Like any good leader, he was ready to sacrifice his own glory for those he had sworn to protect (or at least guide safely to Machu Picchu).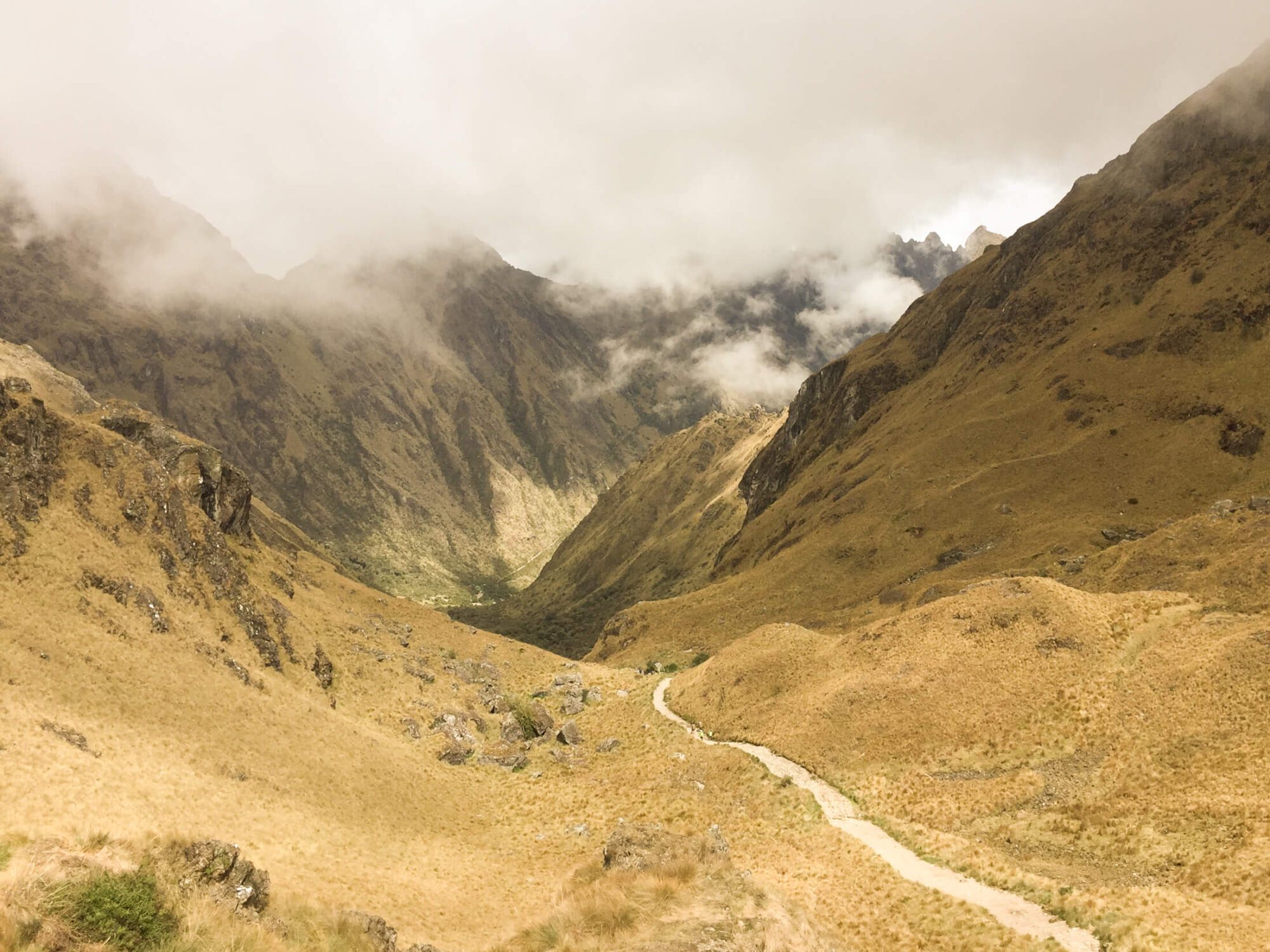 Formal entry ticket in hand and checkpoint completed, I surged forward like a bat out of hell. Prime queue position had put the green team well in front of me. Nonetheless, I continued to push my pace (brisk hiking/walking pace) knowing in my heart that I would catch them. As I sped along the final stretch, I found encouragement in the smiles of the other hikers I passed along the way. Many of these fellow pilgrims I had come to know and love over the previous three days on the trail (okay maybe just know). I was pleased to see California Dad and his son devouring the last leg of the trail. A feat all the more spectacular, given that not two mornings before I had witnessed California Dad's violent trail-side vomit attack. Further down the trail, I encountered the Canadian couple who at the summit of Dead Woman's Pass had very politely asked me to take their photograph. They smiled their greetings to me as well, spurring me onward.  
Suddenly, disaster struck!  I rounded another corner, only to see the green team guide facing me and blocking the path. As I attempted to skirt around him, he held out his staff (hiking pole) and yelled, "YOU SHALL NOT PASS!". What was the holdup? Why was he doing this? Were they onto my plan? Did the success of their Trip Advisor account ride on testimonials saying "first to the sungate"? So many questions and so few answers. That was until I saw one of the green team's female compadres emerging from next to a tree, pulling up her pants. Gandalf had been protecting a private pee, simultaneously foiling my plan for victory. Lumbering along the final stretches of the Inca Trail, I caught the green team and fell into line with them  just as we passed through the sungate. Them in first and me, the sole Llama Path representative, in second.  An eerie silence fell over the group as 3 days of hiking and months/years of planning culminated in the first view of Machu Picchu… or in this case, clouds. Lots of clouds. Also some fog. In fact, nothing but white. We stood in the sungate and peered out towards the whiteness, doing our best to squint to make out any sign of the lost city. Nothing. I took this as a great excuse to hang out and wait for the rest of my Llama Path companions to show up. Once they arrived, they smiled and greeted me with a level of cordiality that could only be built after trekking and eating together for three and a half long days, while simultaneously still managing to not really care.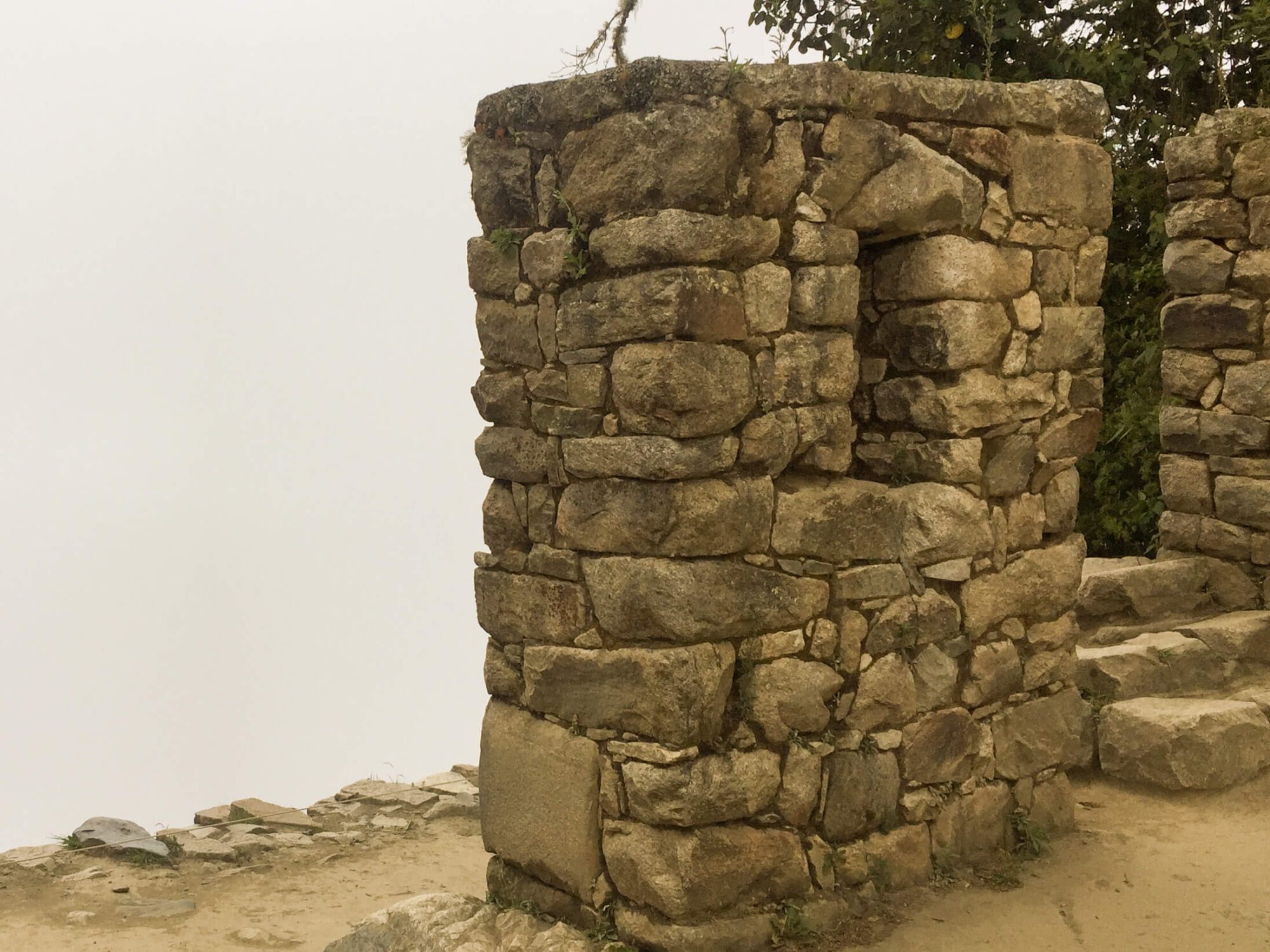 When John arrived bringing up the rear of the group, he nodded to me as if he knew without me telling him that I hadn't been successful in my mission. At the same time, his look said it didn't matter and we'd have an awesome time at Machu Picchu nonetheless. He also said the clouds and fog would clear out soon. Third bonus, he chose this moment to hook us all up with awesome Llama Path t-shirts. The tees not only showed the route we took (elevations and all), but also proudly displayed the Llama Path logo.
Pumped on the high of my new T-Shirt, we wandered down from the sun gate to Machu Picchu itself and the clouds and fog slowly began to clear. When we reached the entrance, we were greeted by a view our eyes had seen in countless images and videos, but never before in real life. Machu Picchu.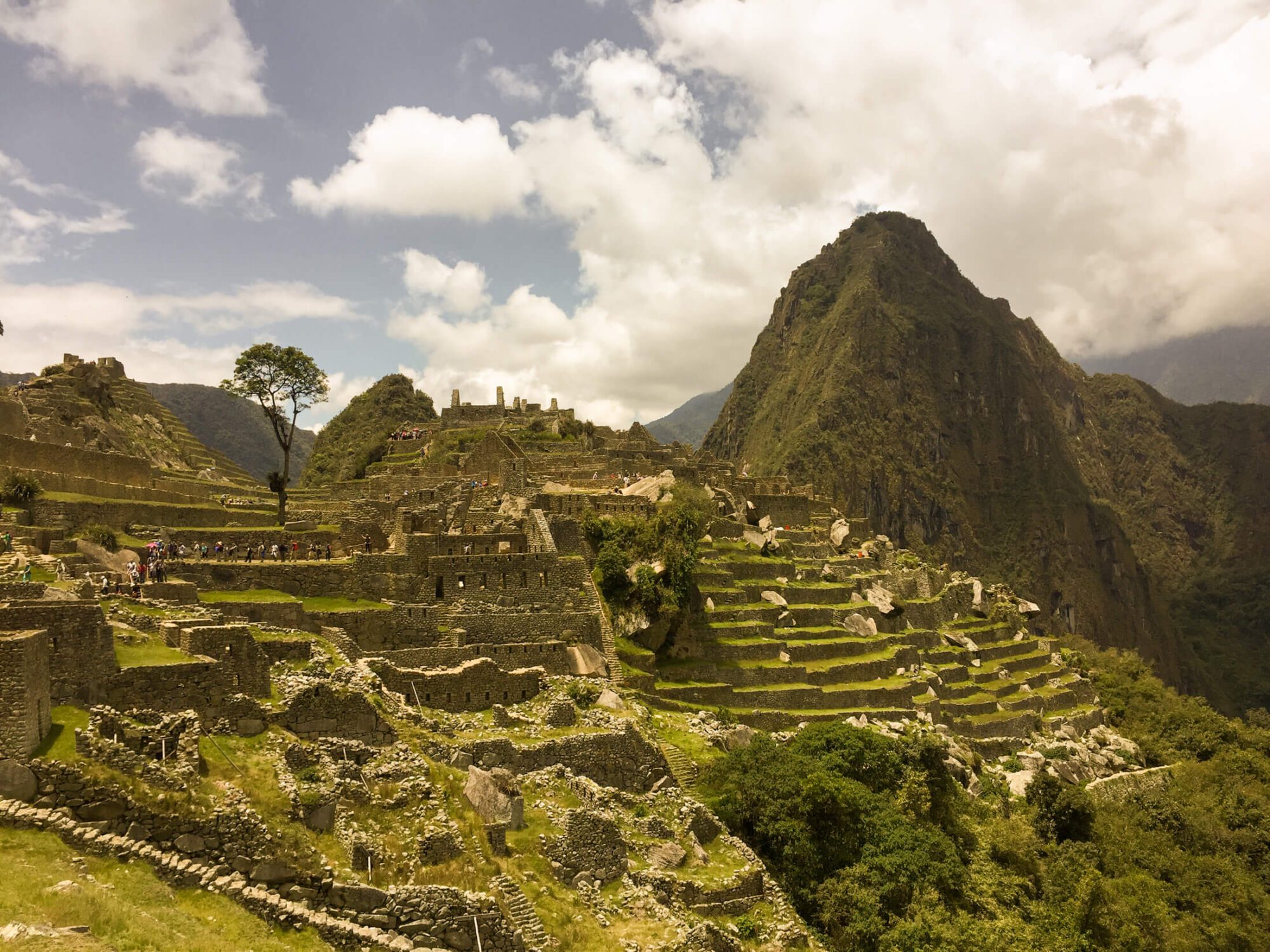 The reality of the majestic lost city was everything I could have imagined.  I found myself staring, awestruck, at the ruins that appeared to levitate between mountain and cloud.