Exploring new cuisines around the world is one of the best parts of travelling. It gives you insight into other cultures, it brings you together with people around the world, and it is, simply enough, a delicious way to explore. One of our favourite places for food also happens to be the country where our Khmer Explorer backpacks are made. Vietnam is full of culinary delights and while a trip here to sample the foods is ideal, why not fuel your wanderlust from your own kitchen? These are our favourite recipes from Vietnam, courtesy of Red Bridge cooking school in Hoi An. If you're paying a visit to the country, this place is a must visit. In the meantime, let's get cooking!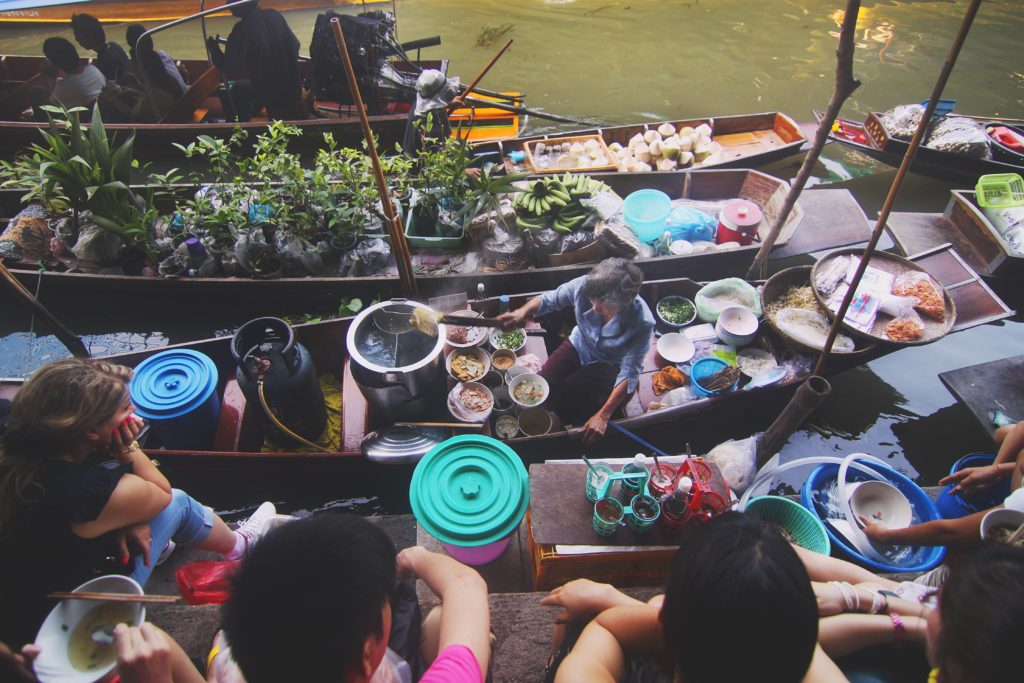 Hoi An Pancakes (Banh Xeo)
Gluten Free
*Note that this recipe can easily be made into a vegan version as the pancake contains no eggs. Simply exclude the pork/chicken and shrimp.*
Ingredients:
Rice Batter:
1 cup rice flour
1 ½ cups water
Pinch of salt
½ tsp turmeric powder
Filling:
200 grams pork or chicken
Vegetable oil for frying
300 grams small shrimp
2 thinly sliced spring onions
250 grams bean sprouts
Mint, coriander, basil, carrot and banana flower for the topping mix
Packet of rice paper
Instructions:
Mix Rice Batter ingredients together and let the mixture stand for one hour at room temperature.

Cut the pork into thin slices. Heat some of the oil in a wok or non-stick frying pan and cook 3 or 4 slices of pork or other meat for a minute or two. Add 3 shrimp and cook for 1 minute longer.
Stir the batter and pour just enough into the pan to create a thin layer. Top with a few bean sprouts and spring onion – fry over medium high heat until the bottom of the pancake is crisp. Fold the pancake in half and turn it out onto a plate. Repeat this process with the remaining ingredients, adding a little oil to the frying pan for each pancake.
To serve, each person takes a piece of pancake, adds some filling and wraps it in a piece of rice paper. 
Dip it into peanut sauce if desired (recipe for peanut sauce can be found below) and enjoy this taste of Vietnam!
Fresh Rice Paper Shrimp Rolls 
Gluten Free
Ingredients:
Fresh Rice Paper 

Ingredients:

1 cup white rice (jasmine or basmati)
Pinch of salt
1 bamboo or kebab stick
100 grams peeled shrimp that has been deveined and sliced down the middle
2 pinches of sugar and salt
10 medium sized lettuce leaves
½ cup grated carrot
½ cup grated green papaya (or green mango, bean sprouts or cucumber)
2 tsp white vinegar
1 tbsp finely chopped white onion
1 tsp vegetable oil  
Chopped fresh herbs (coriander, mint, basil, etc.)
Instructions:
Soak the rice in 3 cups of water overnight. Wash the rice at least 3 times, draining the water each time. After the final wash, ensure all of the water is drained away.
Mix 1 cup of the rice with 2 cups of water, and add a pinch of salt. Place in a blender and blend for 7 minutes. Let stand for one hour.
Cover a pot of boiling water with a sheet of thin white cotton and secure it using an elastic band.
Using a big soup spoon (about 2 tbsp), scoop out the batter and pour it onto the cotton. Use the bottom of the spoon to move the batter around to form a circle. Steam the batter for one minute, then use the bamboo stick to lift the rice paper from the cotton.
Filling Preperaration: 
Pour vegetable oil into a wok at medium heat. Add onions and fry for 30 seconds.
Add shrimp, 1 pinch of salt and sugar, and cook for 1 minute more before removing from heat.
In a separate bowl make the vegetable mix. Add carrots, green papaya, vinegar and 1 pinch of salt and sugar, mixing together.
Rolling Instructions:
Place some vegetable and herb mix on the rice paper. Then place some of the wok mixture on top of the vegetables and roll up the rice paper. Take care to tuck the edges of the paper as you roll.
Tips:
When removing the rice paper from the pot, flip the paper over, so the top "dry side" of the rice paper is facing down.
When stacking the rice paper, place a portion of a lettuce or bamboo leaf between each one to prevent them from sticking. This makes it easier to take one piece at a time when needed.
Dried rice paper in packets is a suitable substitute for making your own fresh rice paper. To soften dried rice paper for rolling, remove the contents from the packet and place them with fresh vegetables or leaves for 3 hours or immerse them in water.
Dip rolls into a sweet and sour sauce before eating (see sauce recipe below).
Peanut Sauce:
1 tsp crushed garlic
2 tbsp crunchy peanut butter
2 tbsp soy sauce
1 tsp brown sugar or honey
1 pinch chili powder
¼ cup of water or coconut milk
Instructions:
Place all ingredients in a saucepan, and mix over a moderate heat for 10 seconds (add lime juice if desired).
Sweet and Sour Sauce:
1 tbsp water
½ tsp sour chili sauce
½ tsp tomato puree
½ tbsp finely chopped white onion
½ tbsp finely chopped pineapple
½ tbsp finely chopped tomato
½ tsp crushed ginger
½ tsp vegetable oil
INSTRUCTIONS:
Heat a wok with vegetable oil and add all ingredients (except water and sour chili/tomato sauces), starting with the onion. Fry for a few seconds, then add the remaining ingredients. Bring to a simmer and serve.
There you have it! Cultural exploration of Vietnam from the comfort of your own kitchen. Let us know how your Hoi An pancakes and rice paper rolls turn out in the comments below!