In this three-part series, we'll share with you why supporting education in Cambodia (as our Khmer Explorer travel backpacks do) is so important! As with past tales, we'll still be focusing on exploration and education, but instead of jumping around the globe we'll be narrowing in on incredible Cambodia.
The Past (Part I) 
Imagine an empty school corridor. It's eerily quiet. A large classroom beckons you in. As you enter it, thousands of faces stare at you. They seem to peer into your soul and you into theirs, but they're not the faces that were intended to be here. The students left this school nearly half a century ago. This is now Tuol Sleng Genocide Museum in Phnom Penh, formerly Security Prison 21 (S21), and the faces that meet you in the classroom are the photographs of its victims.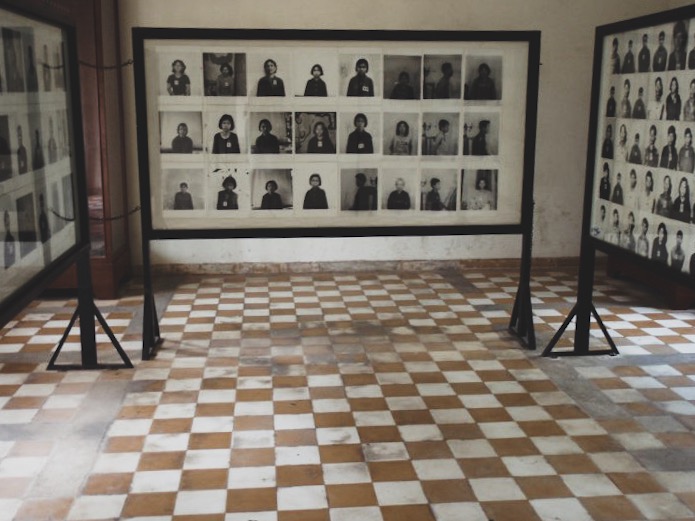 While S21 is not a name often mentioned in the history textbooks of most countries' education systems, it is a place commemorating one of the world's most recent and heartbreaking tragedies. From 1976-1979 the Khmer Rouge imprisoned, tortured, and executed an estimated 14 000 people at this former school. Only seven people held at S21 survived. In a quest to build an agrarian society, the Khmer Rouge regime persecuted any individuals they deemed to be "new citizens", including those considered to have a colonial education. This meant a majority of the country's teachers, lawyers, doctors, those who wore glasses, and those who spoke French. Throughout the country, the lives of one-quarter of Cambodia's entire population, nearly 2 million people, were taken.
S21 itself is an essential place to visit on a trip to Cambodia to begin to understand the difficult past the country is pushing itself out from underneath. This former place of education once home to young minds and vast potential is a stark reminder of humanity's dark side. Yet this darkness affords us as travellers the opportunity to educate ourselves and each other.  While S21 may have been closed in 1979, the effects of this time period continue to be felt throughout the country.
In part two of this series, we'll share how.