Welcome to Bolivia's Wild West. Usually a brief stopover city on travellers' routes from Argentina to Bolivia's incredible salt flats, Tupiza is red, dry, and dusty. Legend has it that the area around this city was the setting of Butch Cassidy and the Sundance Kid's last stand. It's not hard to imagine a showdown happening in this land of cacti and dramatic red cliffs. Against this rugged backdrop, the city of Tupiza (located at 2850m) is a further splash of colour. Local women wearing traditional, vibrantly coloured dresses and sweaters stand out against the red backdrop and the tree-lined plaza looks strikingly lush against the hills. Offering an easy way to introduce yourself to Bolivia, Tupiza has a laid-back liveliness with locals bustling about its large market and public pool tables. While Tupiza itself offers a place to get acquainted with Bolivian life in a smaller centre, the surrounding area is full of exhilarating adventure. Ready to channel your inner Western movie personna?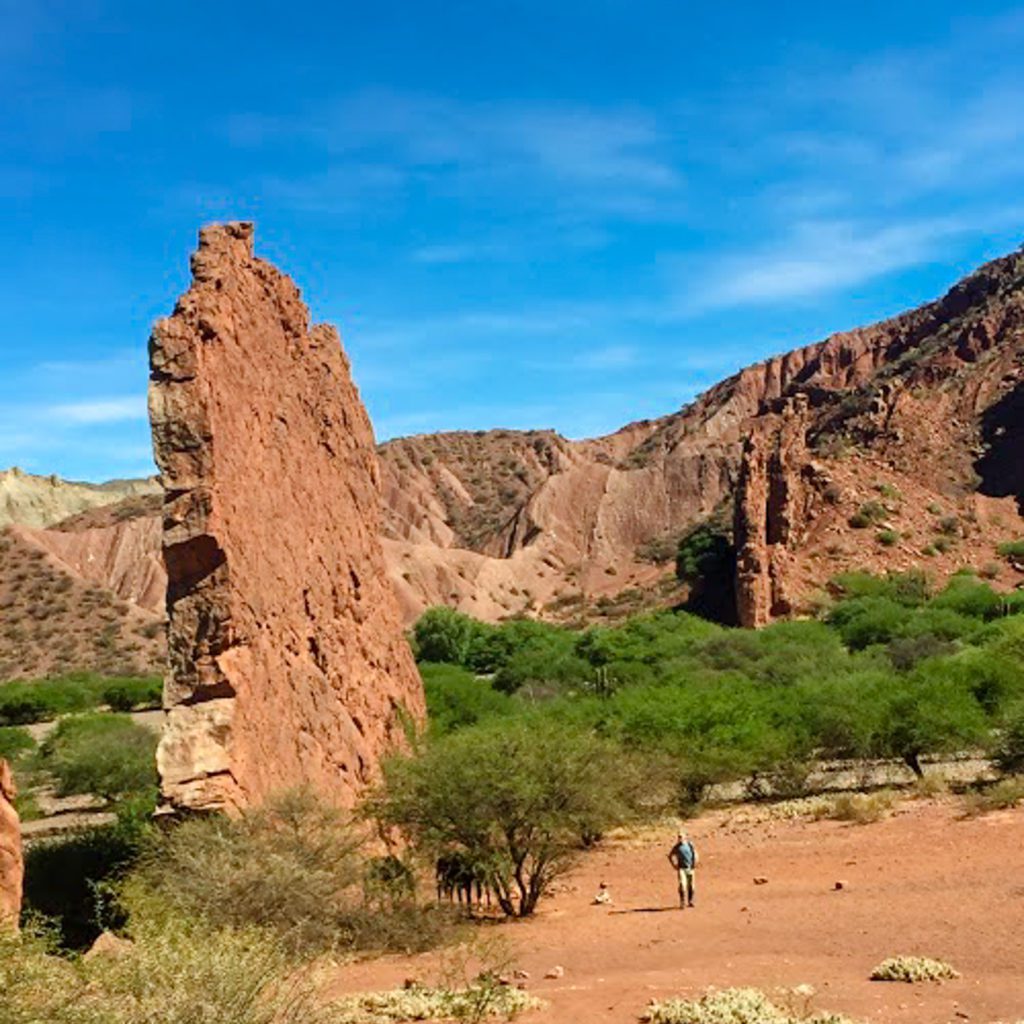 What not to miss:
Horseback ride Bolivia's Wild West – Even if you aren't the biggest horseback riding fan, exploring the incredible red canyons around Tupiza by horseback is unforgettable. You can choose a quick trip of three hours or several days in the saddle if you're feeling in the spirit of creating your own Western story. Either way you're in for a breathtaking journey as you ride along a dusty trail past red cliffs and rock spires that cast incredible shadows. It's a fairly flat and relaxing ride for even the inexperienced riders out there, but do make sure you bring lots of water for your journey.
Hike to Mirador Cristo – While the idea of hiking at this elevation may seem an outlandish suggestion, this short 15 minute hike from Tupiza's main plaza is worth your extra breath. At the top of the hike a statue of Jesus overlooks the city and offers an impressive 360 degree view (especially considering how short of a climb it requires). Soak in the view of the surrounding rugged red cliffs and then head back into the town where you can feast on a well deserved, local meal on the second floor of the central market (or find pizza from one of the many pizza restaurants around the city).